Get the ball into the hands of your playmakers.
It's a cliché that's as old as time and transcends sports – you're just as likely to hear it on the baseball diamond as on the basketball court as on the football field – but for the 2018 Carolina Panthers, that might just be their mantra for the season. It certainly seemed like it Thursday night in Buffalo as the three-headed quarterback of Cam Newton, Garrett Gilbert and Taylor Heinicke completed 20 passes to 13 different receivers – and one word could be used to describe almost all of them.
YAC.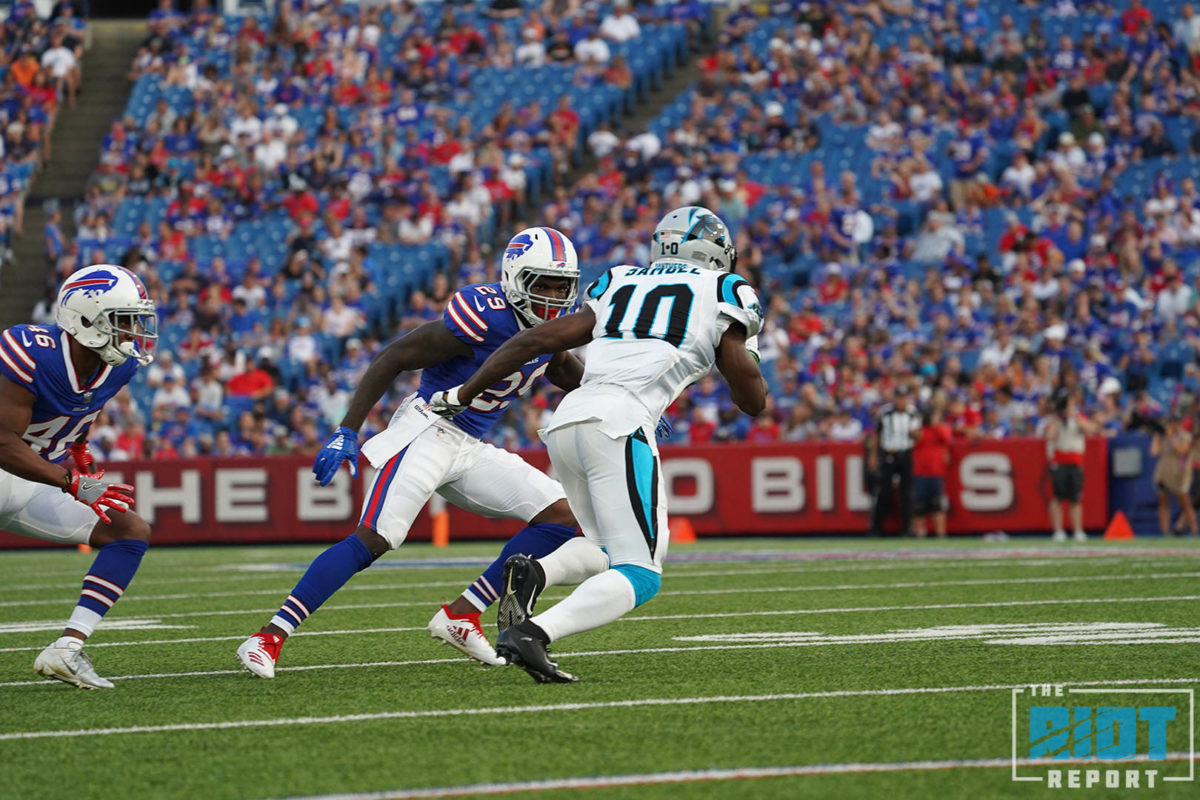 "It was really good to see the different weapons utilized today, and as we continue to develop and grow this offense, as Norv continues to do the things that he feels we can do, I think we still have potential for growth," said Ron Rivera about the offense which generated 298 passing yards over the course of the game, many of which came after the catch, including the best example, a nifty catch-and-run on third-and-nine that had rookie DJ Moore turn a five-yard gain into a 16-yard first down inside the red zone. And it wasn't just Moore taking the pressure off the quarterbacks.
"Not just him, but we saw Curtis Samuel do it, we saw Christian do it; we saw Jarius Wright do it,"  Rivera said after the game. "We've got guys that run well with the ball in their hands, and that's one thing that we need to be able to do is get the ball into these playmakers hands and let them make plays."
A lot has been said about Norv Turner's offense and the efficiency that comes with it – everyone wants to talk about whether or not Cam Newton can turn in a 65% completion percentage this season, and while that goal may not necessarily be indicative of a successful season, it's a lot easier for a quarterback to complete a lot of passes when the receivers are less then ten yards in front of you. In fact, Cam Newton completed six passes in Buffalo and not one of them traveled more than ten yards in the air, including his longest of the day, a 28 yard catch-and-run to Jarius Wright that ended at the Bills' two – that pass was only ten yards until Wright made a man miss and accelerated up the sidelines.
Last year it was about "taking the layups," this year it's about "getting the ball in the hands of your playmakers" – while the language has changed, the core competency stays the same.
"Not just necessarily shorter passes, but taking what they give you, as well," said Rivera. "Again, it's up to the quarterback to make those decisions and the one thing he's done is he's made consistently good decisions throughout training camp."
While all three of the quarterbacks started out rocky – Newton missed two of his first three attempts, Gilbert missed on his first two and Heinicke overthrew two short passes to begin his time in the second half, once the jitters settled, all three led touchdown drives.
"Our goal as quarterbacks is getting the playmakers the ball and letting them do what they want," said Garrett Gilbert, who finished 7-for-12 for 93 yards and a beautiful touch pass to Mose Frazier for a 26-yard score – no YAC required. "I think that's something that I can continue to improve upon, get those guys the ball and let them make some plays for you; you saw what happened as we started to get into a little bit of a rhythm offensively with those guys able to have some catch-and-runs."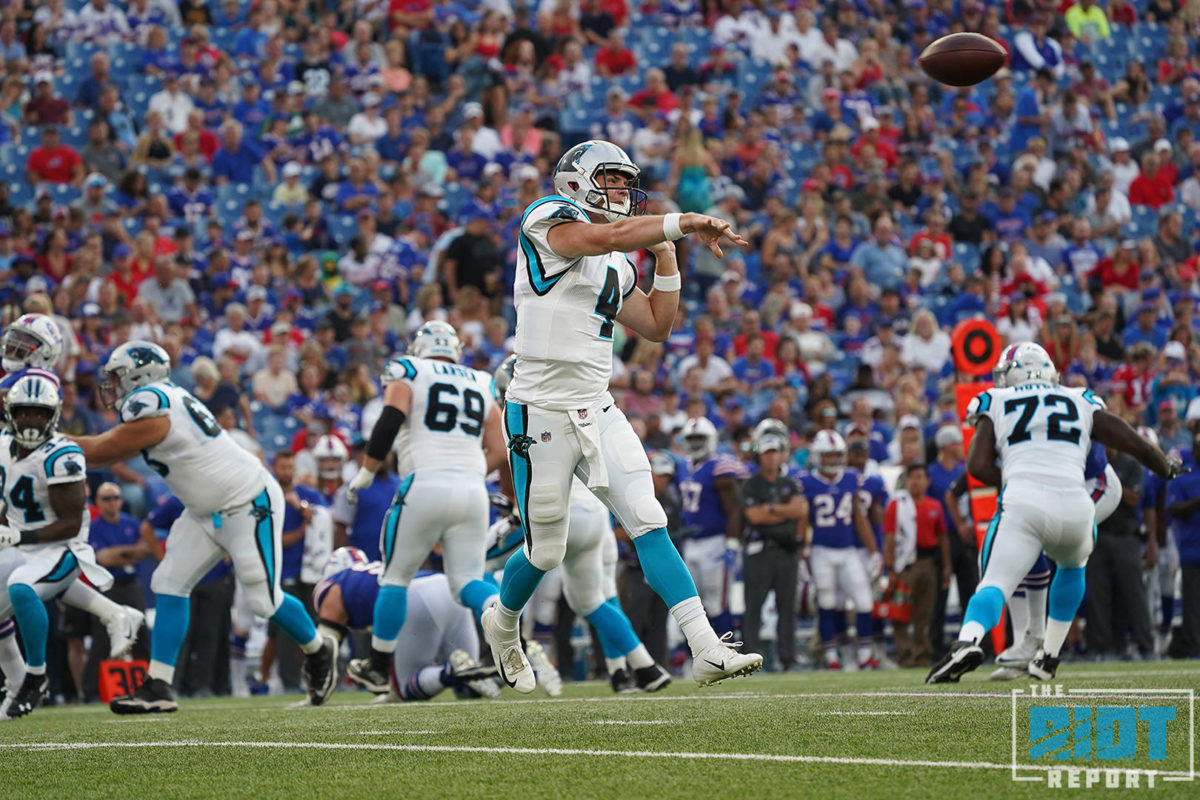 One of the reasons why the team drafted DJ Moore with the 24th pick in the first round was his ability to make people miss, although his ability to adjust on an underthrown ball that Heinicke managed to deliver as he took a hit was an unexpected bonus tonight – Heinicke said after the game that it made taking the hit a little bit more worth it to know that Moore had come down with the 32-yard gainer. But it was the rookie's shifty third-down conversion that had Heinicke, who finished with a 155.8 quarterback rating in just over a quarter of work, beaming from ear to ear in the locker room after the game.
"It was a third-and-[nine] down in the red zone, and I just threw a little drag to DJ and he made about three or four guys miss," Heinicke recounted – the next play would be a CJ Anderson touchdown run. "It's pretty neat to see what he can do with the ball. It's a quarterback's dream – throw the ball five yards and he makes a fifteen-yard gain."
Get the balls in the hands of the playmakers and watch them go.
A quarterback's dream.