With minicamp now in the rear-view mirror, the players will now take a month off before coming back together in Spartanburg for training camp. While there are a number of position and role battles that are going to come down to what happens in the South Carolina heat, we now have a much clearer picture of how some of these competitions are taking shape following the conclusion of minicamp. With that in mind, what is our best guess at what the Panthers' roster will look like come September?
Quarterbacks: Sam Darnold and PJ Walker
Darnold is the unquestioned starter and the only way he doesn't start week one is through injury. With the release of Tommy Stephens during the second week of OTAs that leaves a clear competition between Walker and Will Grier for the back-up spot. While Walker didn't exactly star in his audition game against the Lions last season, the fact that he got the nod to play in place of the injured Bridgewater over the 2019 3rd round pick is an indication of where things stood then, and there is no reason to think things have changed a huge amount since.
There is a chance that the Panthers could look to carry three quarterbacks as they did last year but, with Walker and Grier now a year more experienced and some expectation that there won't be quite the same restrictions around bringing a player in during the season if there is an injury, the Panthers could well opt to use that roster spot elsewhere.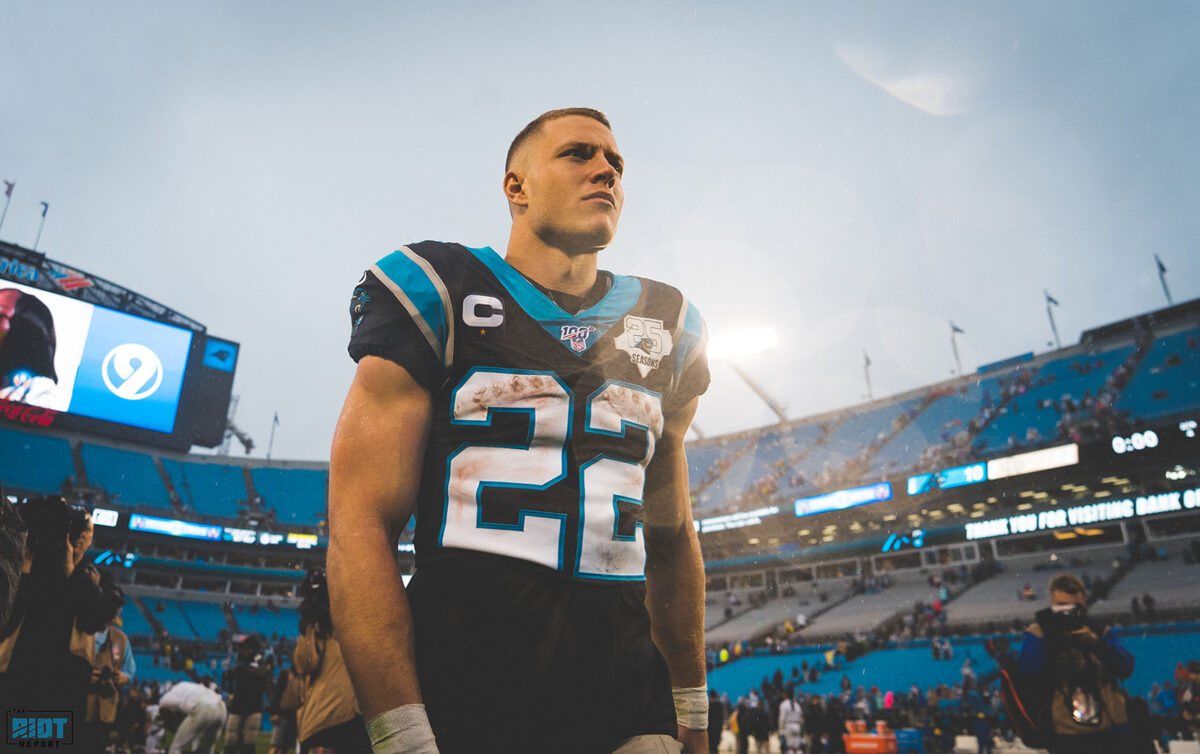 Running Backs: Christian McCaffrey, Reggie Bonnafon and Chuba Hubbard
Again, no surprises with CMC making the roster and, as a rookie fourth round pick, Hubbard would need to do something special to not make the final roster if healthy. Bonnafon is another who should compete to see some playing time in any rotation behind McCaffrey, as while he missed most of last season due to injury, he has been effective when he has seen the field in his time in Carolina and the converted receiver is certainly the most proven option outside of McCaffrey in the passing game.
Rodney Smith and Trenton Cannon should both also have some chance of making the roster but with another running back added in Hubbard it is hard to see how Smith would get any playing time on offense, and while Cannon made the roster in 2020 as a special teams ace, from what Matt Rhule said after the draft, they expect Hubbard to be able to make a real impact on special teams and Cannon's inability to contribute on offense got exposed at times last season.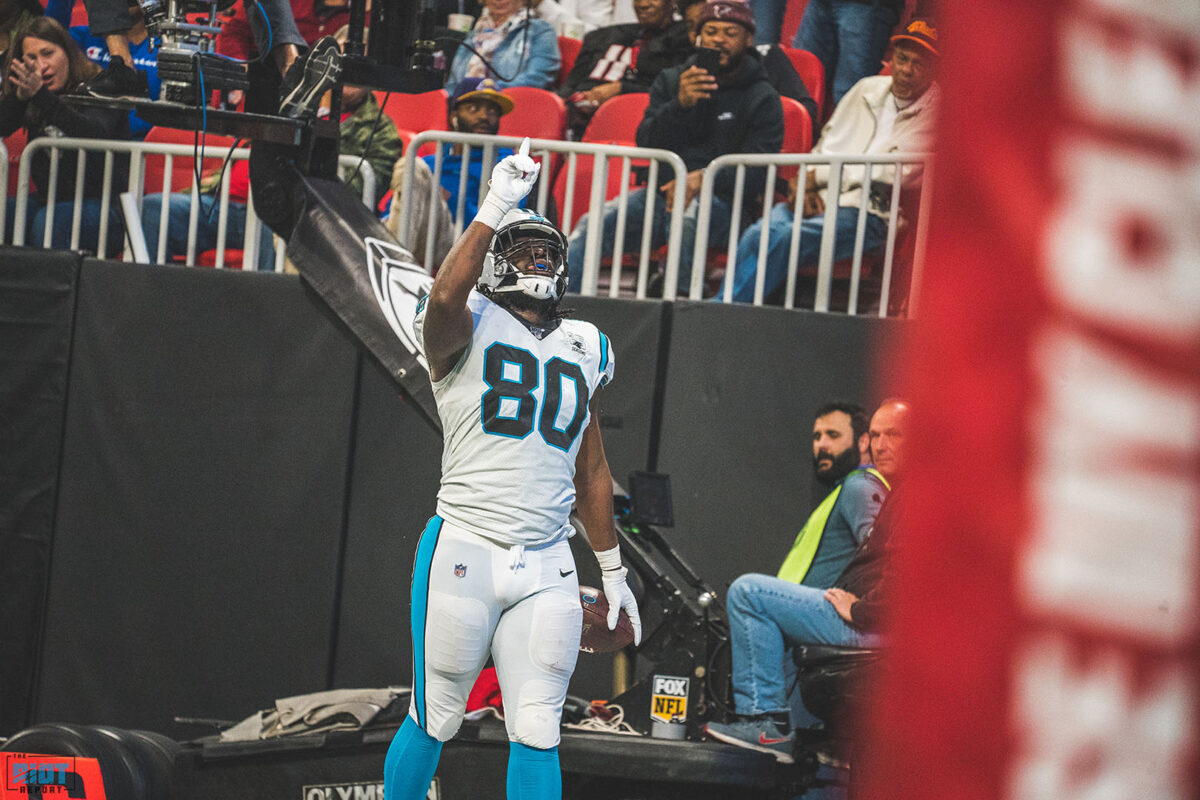 Tight End/Fullback: Ian Thomas, Dan Arnold, Tommy Tremble and Mikey Daniel
Arnold and Tremble give the Panthers two true specialists at the tight end position, with Arnold an excellent receiver who is yet to show much blocking capability while Tremble is an excellent blocker who will need to continue to develop as a receiver in the NFL. It seems likely that both will get a large amount of playing time, with Ian Thomas being the jack-of-all trades who can contribute in both facets without excelling in either. He has a chance to take a step and become the clear #1 option again in camp given the current limitations of the other two, but that was a jump he had a chance to make last offseason and well.
Daniel might be an outside bet for many to make the roster, but with the loss of Alex Armah and Mike Davis in free agency, the Panthers are really short of options to carry the ball in short yardage situations, and while McCaffrey is better at that than many realize, having somebody who can punch the ball in while being able to contribute on special teams is something that there is room for among the existing skill position talent. Colin Thompson has a chance to compete for a spot as well, but the addition of Tremble and Arnold means that he will likely have to beat out Thomas to do so.
Wide Receiver: DJ Moore, Robby Anderson, Terrace Marshall, David Moore, Shi Smith and Brandon Zylstra
The Panthers have a lot of receivers to compete for spots in camp and, after Joe Brady made use of a lot of two and even three tight end formations in 2020, there should be room for a wider cast of receivers to contribute in 2021. With that said, expect DJ Moore and Robby Anderson to play the vast majority of snaps, but there should be a genuine rotation behind them with a variety of skill sets.
Second round pick Terrance Marshall has been eased back into action following injuries from college, but is the best positioned to win a major role with a good training camp, while David Moore is the most proven of the other receivers on the roster and the favorite to be the primary return specialist. After that there is really a very open competition for spots, and while sixth round pick Shi Smith will have a step on the competition it will likely be the best two or three of him, Omar Bayless, Brandon Zylstra, Ishmael Hyman and Keith Kirkwood who make the roster. Here, that means Smith and special teams veteran Zylstra make the cut.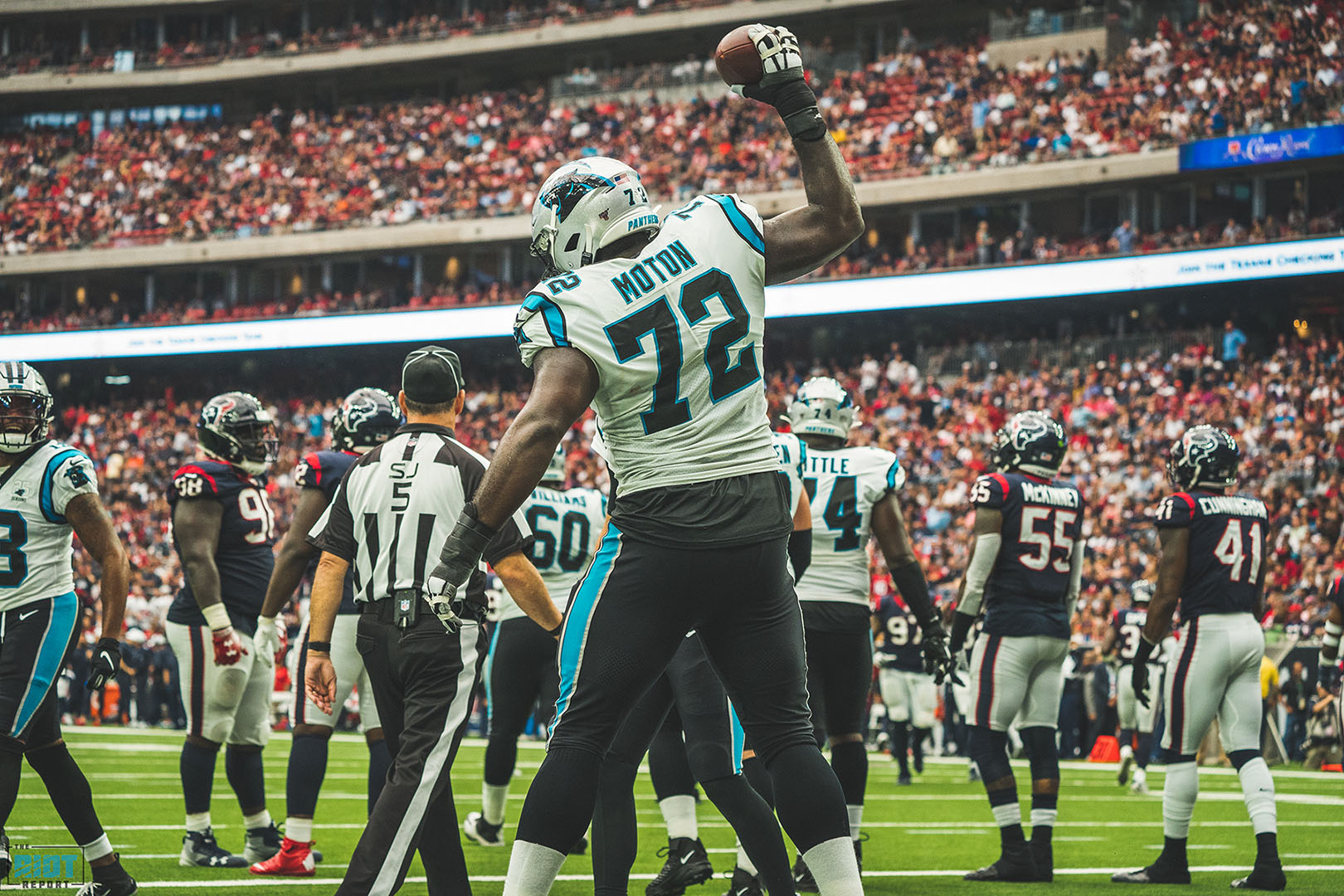 Offensive Line: Cam Erving, Pat Elflein, Matt Paradis, John Miller, Taylor Moton, Greg Little, Brady Christensen, Dennis Daley, Deonte Brown and Trent Scott
Who of these players actually ends up starting where is something that we won't have a clear picture of until we get to the preseason, but the likes of Moton and Paradis can probably be written in as starters at right tackle and center respectively. Beyond that, the left tackle battle looks to be between Cam Erving, Trent Scott, Dennis Daley and Greg Little, with Scott, Erving and Daley also likely to have a chance to win a starting spot at guard.
In terms of decisions the Panthers have to make regarding the 53-man roster, it really comes down to how many offensive linemen they chose to keep and which of the more fringe players are most likely to miss out. Here we have opted for ten offensive linemen meaning the Panthers will likely have to make on notable cut. While the likes of Greg Little and Trent Scott have a chance of finding themselves on the outside looking in, UDFA David Moore seems like a prime candidate for a practice squad spot unless he wows coaches in camp.
Interior Defensive Line: Derrick Brown, DaQuan Jones, Daviyon Nixon, Bravvion Roy and Phil Hoskins
The Panthers are likely to alternate between a four- and three-man front, with the four man front being the default on early downs, but as they did last year that will likely mean using bigger edge rushers as 3-techs which will be covered in a bit. What this also means is that the focus for the interior defensive line will be on creating solidity inside against the run, with the presumed starting pair of Derrick Brown and DaQuan Jones both being more run stuffers than pass rushers.
The real question is what the depth behind those two will look like, with fifth round pick Daviyon Nixon having the most secure spot as the only true 3-tech on the roster. While there are a few other options on the roster who have an outside chance to impress in camp, the real question at the position group is whether the Panthers will carry four or five defensive tackles and if they carry four whether that will be 2020 6th round pick Braviyon Roy or 2021 7th round pick Phil Hoskins. Here, we've opted for five true interior defensive linemen, but if they do only carry for then the battle between Roy and Hoskins could continue well into camp.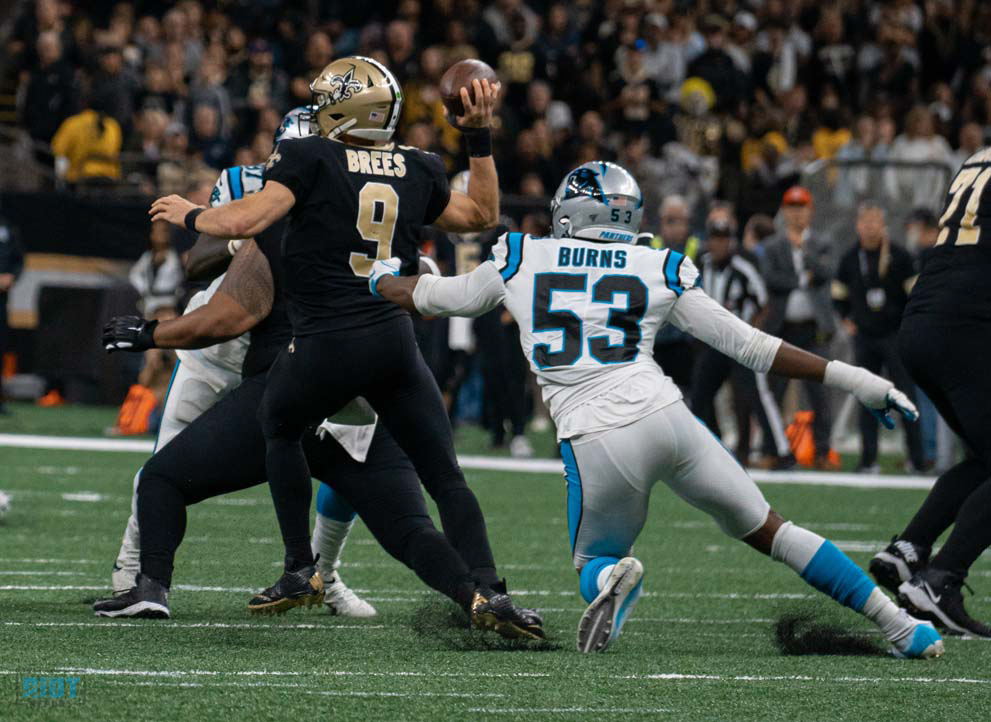 Edge Rushers: Brian Burns, Haason Reddick, Yetur Gross-Matos, Morgan Fox and Marquis Haynes
Burns and Reddick have a chance to be one of the NFL elite pass rushing units this year, and while both might be smaller than the stereotypical 4-3 defensive ends, the Panthers seem convinced that they can put them on the field at the same time regardless of the situation. The question then becomes who plays behind them, and how exactly they look to balance between more conventional 4-3 strong-side defensive ends and smaller "EDGE" type guys.
What makes this a little easier is that in Fox and Gross-Matos the Panthers have a pair of players who can play on the edge in a four-man front and then kick inside if they go to a more conventional three man front, which should also help to make up for the lack of pass rush from the more conventional defensive tackles. Besides those four, the question then remains whether the Panthers can justify carrying eleven players on the defensive line, and if not whether it is 2019 fourth rounder Christian Miller or 2018 fourth rounder Marquis Haynes that makes way.
Miller is hard to judge in this regard after opting out of 2020, and he has a chance to make a real impact when the pads come on in camp, but after Haynes saw something of an uptick in production last year, we're going to give him the nod here.
Linebackers: Shaq Thompson, Jermaine Carter, Denzel Perryman, Julian Stanford and Frankie Luvu
What the Panthers' linebacker room ends up looking like is really hard to judge, in part because it's not clear how the Panthers plan to use their linebackers should they move Jeremy Chinn back to safety. Last year they rarely used more than two linebackers and often had just Shaq Thompson on the field. The Panthers have talked about wanting to reduce his workload slightly, and so we might see more of a genuine rotation between him, Carter and Perryman depending on the situation, with Perryman having been used largely as a two-down 'backer by the Chargers in the past.
Behind these three, the Panthers need to have some depth but there is a distinct lack of proven options in this regard. There are a lot of young players who have a chance to prove themselves in camp, and the likes of Clay Johnson shouldn't be dismissed, but given how much Matt Rhule has talked about the importance of special teams in the past it's easy to see how Julian Stanford could sneak on. The other player who makes the cut here is Frankie Luvu, who can switch between a conventional linebacker and more of an edge rusher role and who the coaching staff have seemed very enthusiastic about to this point.
Cornerbacks: Jaycee Horn, Donte Jackson, AJ Bouye (after week 2), Keith Taylor, Stanley Thomas-Oliver and Rashaan Melvin (until Bouye returns)
The Panthers have drafted four cornerbacks over the past two years in addition to signing another two veterans this offseason in free agency to compliment 2018 2nd round pick and established starter Donte Jackson. What this means in practice is that there are a lot of players competing for spots with limited certainties outside the top three of Jaycee Horn, Donte Jackson and AJ Bouye. Bouye will be suspended for the first two weeks of the season, and so the Panthers will effectively get to extend the competition for depth spots for an extra two weeks.
The leader in the race for the fourth CB spot appears to be 2021 fifth round pick Keith Taylor, who Phil Snow spoke glowingly of during OTAs, and in terms of replacing Bouye for the first two week the logical replacement is Rashaan Melvin who is the only other corner not on a rookie deal. That likely leaves a fairly direct competition between 2020 fourth round pick Troy Pride and 2020 seventh round pick Stanley Thomas-Oliver, which is another which might go all the way to the wire. While neither were especially good as rookies, Thomas-Oliver gets the nod here as a converted receiver who would logically have significant room for growth.
Safety: Jeremy Chinn, Juston Burris, Kenny Robinson, Sam Franklin and Myles Hartsfield
What Jeremy Chinn's role actually ends up looking like is anybody's guess, and from what has been said by Matt Rhule and others to this point, a lot of it will come down to what Chinn feels comfortable with when he gets on the field during training camp. In all likelihood, he is likely to spend snaps all over the place as he did a year ago and so there is likely to be something of a rotation of personnel alongside him based on the situation.
Another player who seems highly likely to have a major role on the defense is Juston Burris, and while he wasn't elite in his first year in Carolina in 2020, he is a solid man coverage player who has the flexibility to play in both deep coverage and in the box, though his best fit seems to be as the big nickel against tight ends. While the Panthers might not spend as much time with three safeties on the field in 2021 as they did in 2020, it is hard to imagine he won't have a decent role.
The other players who seem likely to make the roster as things stand now are the three rookies from a year ago. Franklin is a good back-up for Chinn who can also offer a lot on special teams. Hartsfield is more similar to Burris and ended up as the starting nickel corner towards the end of last season, though the much greater depth at corner might mean he moves back to a more conventional safety role. Finally, and possibly most interestingly, we have Kenny Robinson, last year's fifth round pick, who failed to make the initial 53 but is still extremely young and is the most natural fit for the role that Tre Boston had a year ago.
Ultimately, the Panthers could well bring in another veteran safety to compete with what is a very young group, as evidenced by bringing in Ha Ha Clinton-Dix for a try-out, but as of right now this looks to be the group.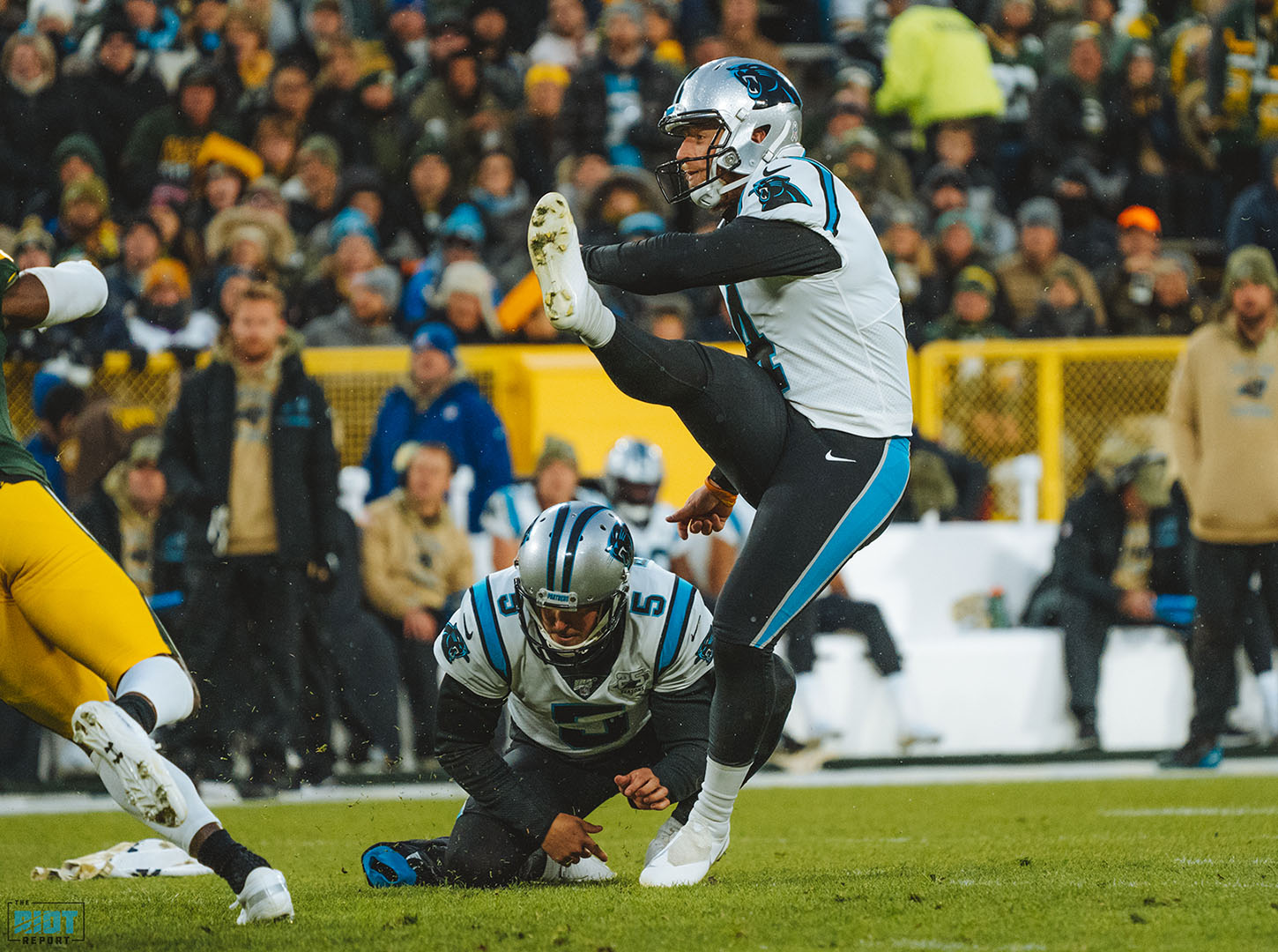 Specialists: Joey Slye, Joe Charlton and Thomas Fletcher
Joey Slye is clearly not in a position where his name is being written in already, and it wouldn't be a surprise to see the Panthers bring in another kicker during camp, but he has been solid through his two years in Carolina and has put himself in a position where somebody is going to have to take this job from him. Similarly, Joe Charlton had some patchy moments in his rookie year but, overall, he was about as good as you could expect a rookie punter to be, and it will need something special for him to lose this job at this point.
Long snapper is less simple, and this is a battle that is likely to go down to the line. Yes, the Panthers drafted Thomas Fletcher for a reason and if you're looking over the next three or four years then he is clearly the better option given Jansen's age, but the Panthers would also be foolish to cut Jansen if he is clearly the much better player right now. This battle with therefore come down to whether Fletcher does enough for them to have confidence in him right now, and here that's what we've opted for.
There are some players who are only going to miss out in case of injury (Darnold, McCaffrey etc.) and other who would have to have a really quite poor camp to put their position at risk, most notable the rookies selected through the first five rounds, but there are also a number of spots which are going to come down to how players play throughout camp and the preseason. Of course, there is also a chance that some of the players who might make the roster who are not currently on the roster but, based on the roster as it stands right now, this is who we think will comprise the week one roster.
(Top photo via Brandon Todd/Carolina Panthers)