With Cam Newton having the night off in the Panthers preseason opener against the Bears, the spotlight shined brightly on both Kyle Allen and rookie Will Grier in Chicago – while both were hoping to get a leg up in the competition to be Newton's backup, the results for both players was a bit of a mixed bag.
Allen finished his night early in the second quarter 7-of-11 for 76 yards on three drives. During his quarter and some change, Allen helped the Panthers drive down to score two field goals by backup kicker Joey Slye. Although he didn't throw a touchdown pass, Allen also displayed his athleticism and pocket awareness as he avoided sacks on a couple of occasions.
Instead of taking shots down the field, Allen took what the Bears defense gave him as he didn't try to force things down the field, something Ron Rivera pointed out after practice this week was when Allen shined. Considering the defense was pressuring Allen a bulk of the night, the second-year player had a solid performance in his short tour of duty.
During training camp, coaches have been impressed with the way Allen's game has advanced and his knowledge of the offense, dating back to the Panthers Week 17 victory over the Saints last year. Allen has received the same reps in practice as Grier as the team has rotated both QBs with multiple players to see them in as many situations as possible.
Allen said he wanted to show coaches his performance in Week 17 wasn't a fluke.
"It's a long process," Allen said after the game. "It's OTAs; it's training camp. This is just another step in it. I think just every day, I'm trying to play consistently and today was just another notch."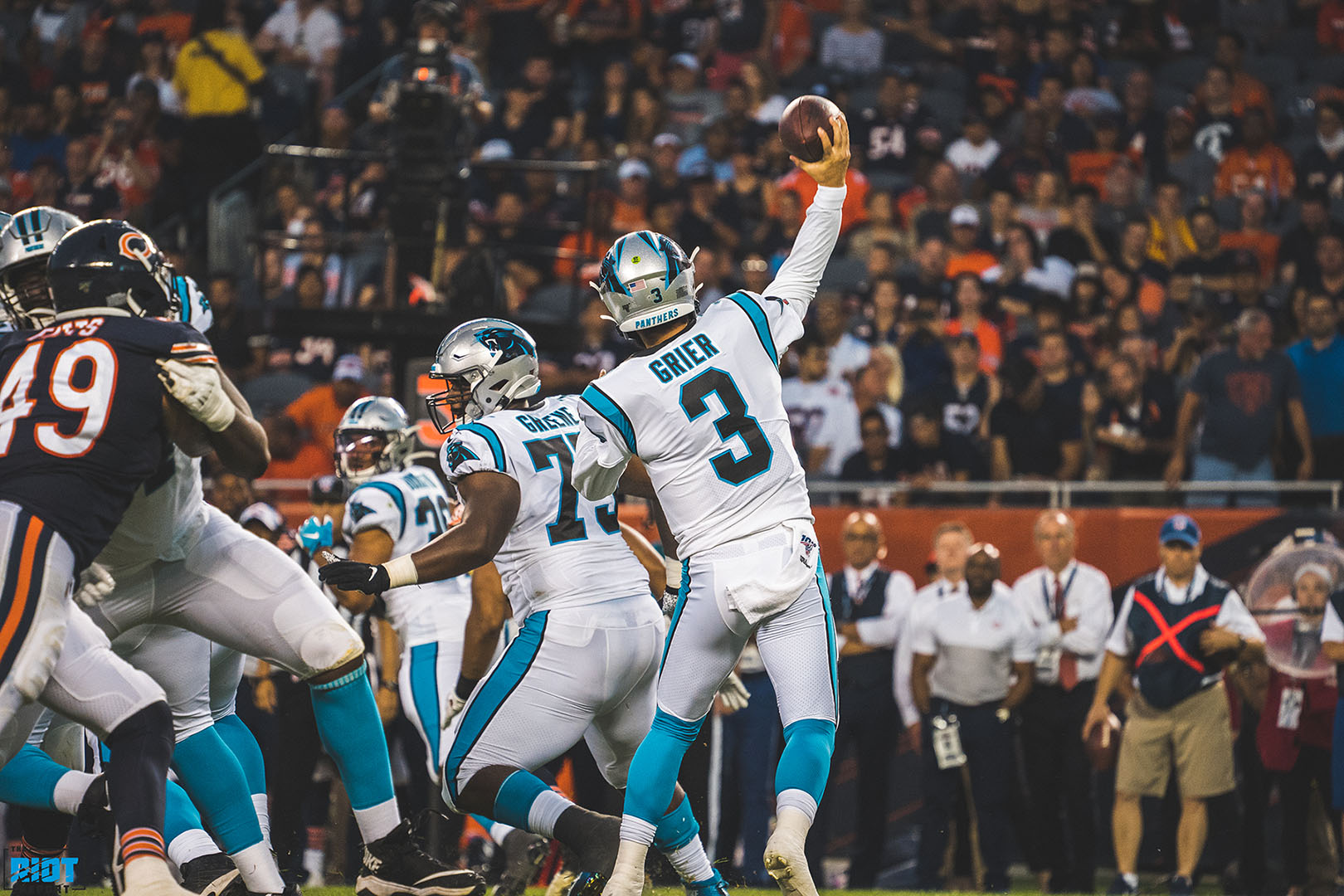 Similarly to Allen, Grier finished the night 9-of-18 for 77 yards with one touchdown and one interception. As he came into the game with 11:22 left in the second quarter, his first NFL drive would come to a dramatic end quickly.
Running back Elijah Holyfield lost the football as the ball popped out, a play that would eventually lead to a David Montgomery touchdown.
Then on his second drive, Grier would follow Holyfield's early-turnover lead and throw an interception to Deon Bush – the pass was over wide receiver Terry Godwin's head and into double coverage – Grier said after the game that he misread the defense and was actually trying to throw to tight end Jason Vander Laan. Right before the second half, Grier was running a bit of the Panthers' two-minute offense, but the drive ended with a Panthers' punt.
Grier said tonight was good to finally get on the field and work on areas of his game he needs to improve on – and mostly get the jitters out and his first NFL experience out of the way.
"Everything is different, unfamiliar," Grier said. "It's a good learning experience. I had a good time, it was fun, but I've got a lot to learn, and it was a good first step. Just becoming familiar with the process, the process of calling plays on gameday."
"Everything was unfamiliar so it was a good learning experience."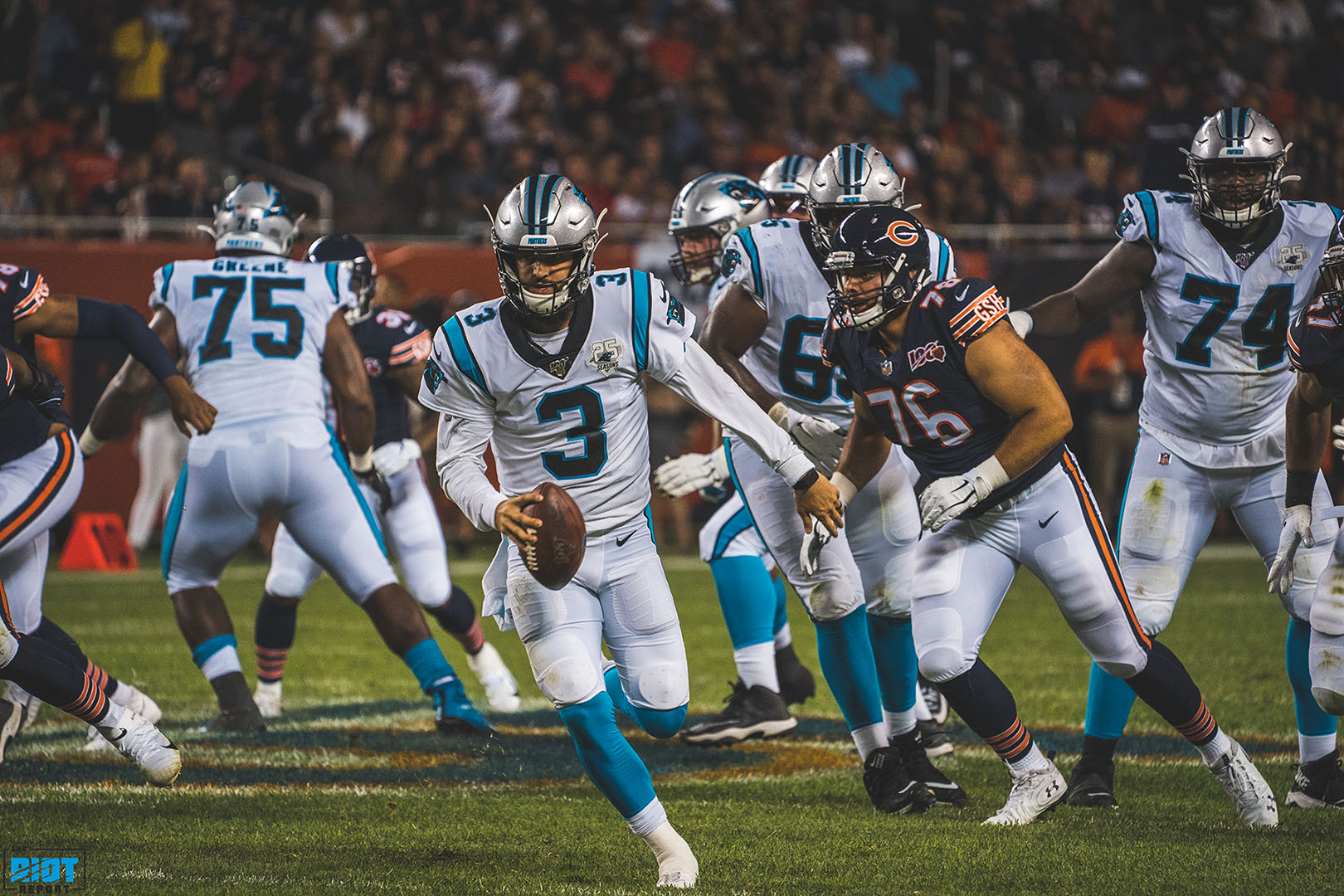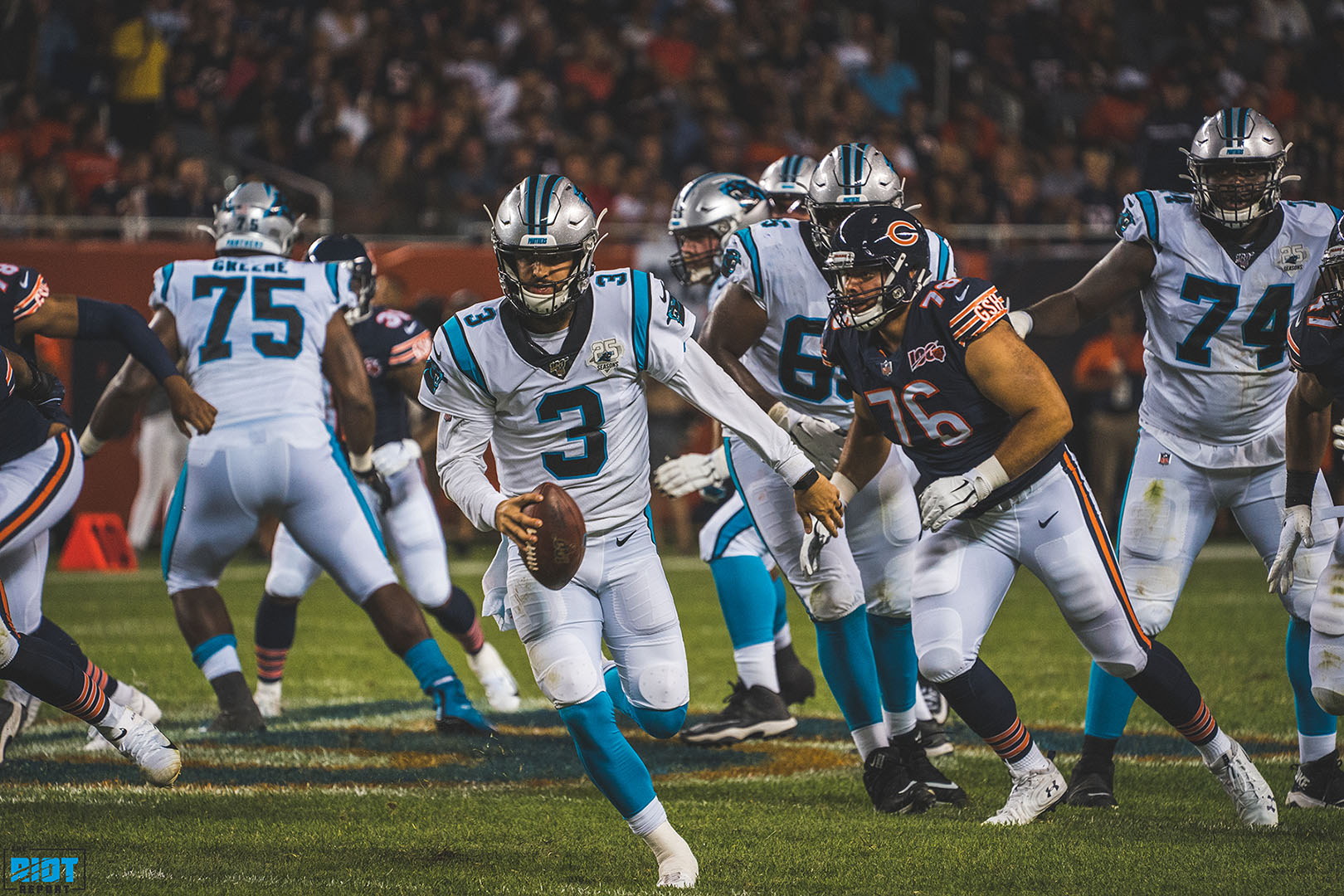 After halftime, Grier definitely looked more composed as he led the Panthers to their first touchdown of the game, a seven-yard pass to Elijah Holyfield on their opening possession of the second half. Grier also led the Panthers down for a 29-yard field goal after a 12-play, 60-yard drive.
"I think so much of it is reps," Grier said. "Game reps are different than practice reps, and that is kind of how it goes. I will continue to get better and learn, but those game reps are valuable."
In the end, Grier had his moment where he looked like a rookie and someone that was playing in his first NFL game and Allen looked more composed, but not a world beater – both Allen and Grier's stats were very similar, so after one game, neither player has a clear edge in the battle for the backup quarterback spot.
Panthers head coach Ron Rivera thought both Allen and Grier had their positive moments.
"Looking at it from the outside in, without looking at the tape, I would say they were very efficient," Rivera said. "They both had their moments early on where they struggled a little bit just trying to settle themselves down. You can tell because they threw a couple of balls high early. As they got more and more comfortable, you saw them get to become more proficient with their decision making. If there's one thing I'll say if you look at Will, Will just needs to speed up his process a little more. Kyle, I thought handled everything very well. A couple of times, I think I'd rather just see him pull the ball down and run and take what they gave him."
"But again, they were efficient when they needed to be."
Allen, as the incumbent, had the slight advantage coming into Thursday's game and there wasn't anything out on the field that likely changed that; Grier is still trying to learn the Panthers offense and the speed of the pro game. As the quarterback competition will carry on to preseason Week 2 against the Buffalo Bills on Aug. 16, expect to see Grier get reps ahead of Allen as the team continues the quarterback rotation.
The battle rages on.