One of the goals this offseason for the Carolina Panthers was to improve on the offensive line – a group that performed poorly in 2021 was completely revamped, adding the sixth overall pick Ikem Ekwonu and a former Super Bowl champ in Austin Corbett while moving Pat Elflein back to center, where he won the Rimington Trophy at Ohio State as the top center in the country. With Taylor Moton as the stalwart right tackle leading the group, Brady Christensen swung inside to guard after spending last season filling in at multiple spots and the result has paid dividends. Through four games, they rank in the top 12 in both pass block win rate and run block win rate after flirting with the bottom of the league in 2021.

Ekwonu has gotten better each week and the interior has shined – depending on what kind of stock you put into Pro Football Focus, Christensen, Corbett and Elflein rank among the top interior linemen in the league while Christian McCaffrey has rushed for over 100 yards two of the past three weeks; they've also been able to continue to build continuity as every snap the first four weeks has featured the same five linemen.
View this post on Instagram

The Riot Report had a chance to catch up with Christensen for a quick chat in the locker room ahead of the Panthers tough matchup with the #1 defense in the league to talk about his comfort level as a guard, how he plans to deal with the 49ers this week and how he expects to play next to Ikem Ekwonu for a long time.
The conversation has been lightly edited for brevity and flow.
Four games in, it looks as if you've been improving every week as a group, is that just building chemistry?
Definitely. Every game we feel more comfortable with each other – as we should. We've still got a long way to go to reach our goals and what we want to accomplish in the run game, but I feel like we've been making some good steps.
Are those specific goals?
We have some numbers that we want to reach, but overall our demeanor and physicality of the whole group that we want to reach. Each week is a little bit different because of game plan – there's not just one number for the rest of the year, it changes each week.
What do you mean by demeanor?
That we're going in and knowing that you're going to be the most physical team on that field that day – that's what we want to be every week. We want to set the tone because we feel that if we go, the offense is going to go – so we've got to have that confidence and swagger up front.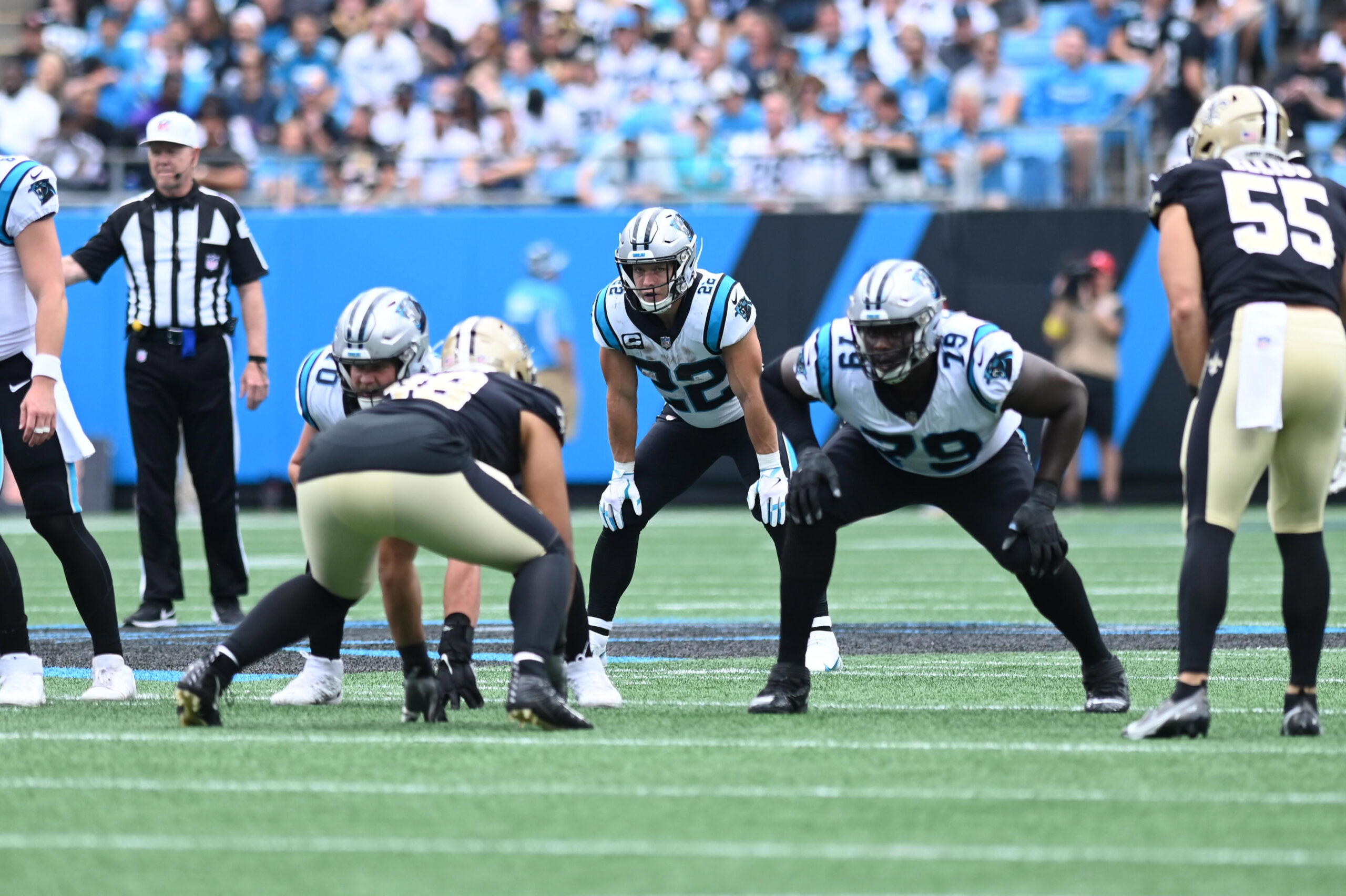 What kind of specific challenges does the 49ers defense present this Sunday?
We're ready for a physical battle. That's what they present and that's what we're excited for – up front, that's what you want. You want to go in ready for a physical battle and we're going to get that from them for sure. Especially on third down, they have a lot of good packages and stunts that we've got to be ready for; we've got to be top notch in our communication to know what our assignment is and what to do to stop it. They present a lot of different things to get you off your game and off your assignment, so you've got to be real focused on what you're doing each play.
It starts with Pat up front and then Baker as well; me communicating with Ickey and Austin communicating with [Moton] so we're all on the same page. Because when we're all on the same page, even if we might be a little wrong, if we're all doing it together it's going to work out good.
You've got to be able to communicate and know what everyone's doing.
Is Bosa someone you just always have your eye on?
Absolutely. You've got to know where he is at all times – he's an unbelievable pass rusher and an unbelievable all-around defensive player; he's going to be one of the best we'll face all day so we're excited for the challenge and we're going to be ready for it.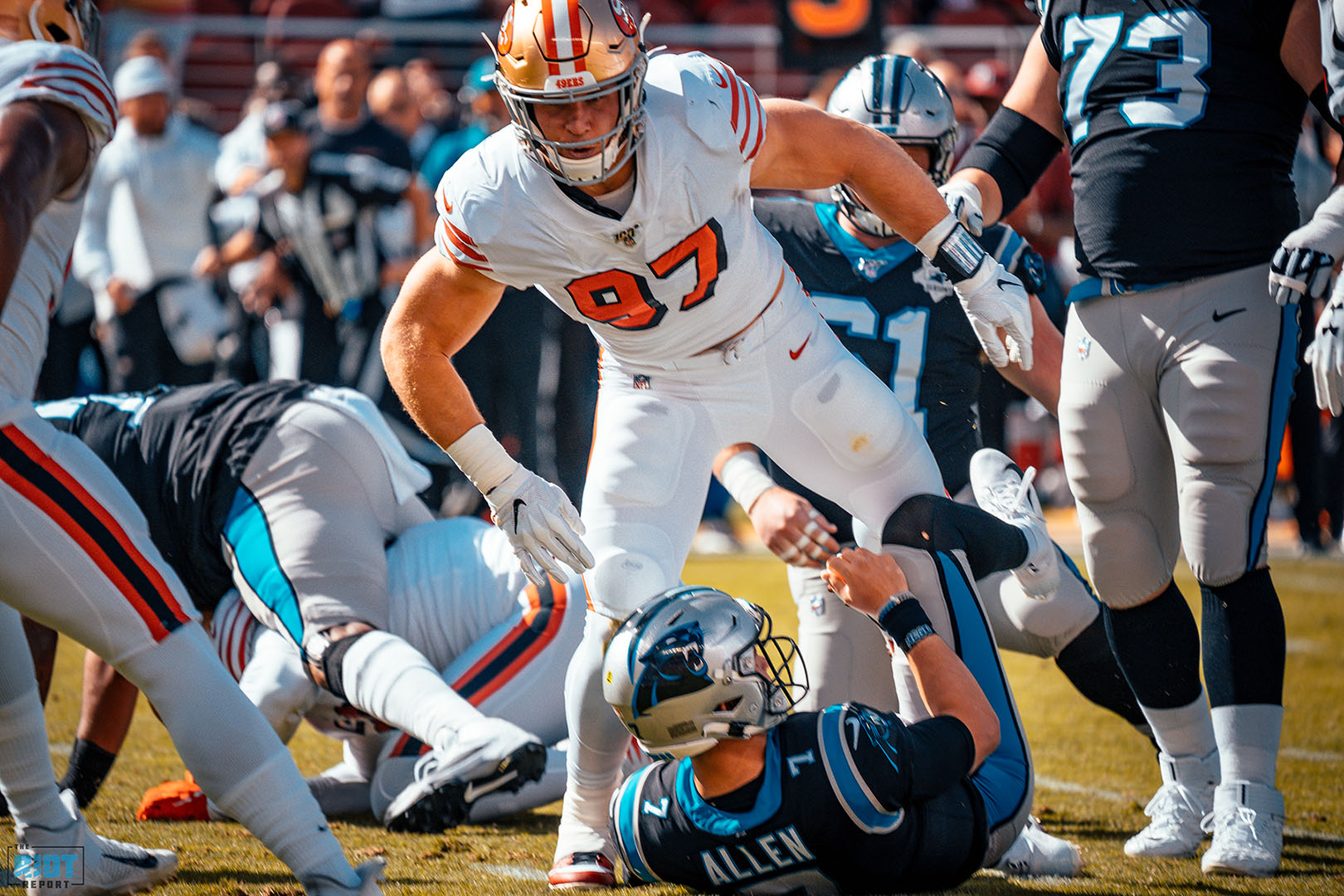 How are you settling into that guard spot?
I'm getting more used to it – it's been good. I've really enjoyed the position; there's a lot of different things than tackle. From the outside perspective, you might think it's like the same position, but there are definitely things that are different and I'm really enjoying learning more about it and just really honing in on my craft and getting better everyday.
It's a smaller space and there are bigger guys in the middle – in the run game, you've got to be more physical….not that you don't have to be physical at tackle, but if you're that lowest guy, you can really spring runs in the middle and that's kind of the goal in the middle. Move those 300+ pound guys from point A to point B and that's what you do as a guard and I really enjoy it.
You're a second-year player, Ickey's a rookie, you guys play next to each other – there's a real 'Left Side of the Future' kind of vibe. Do you feel that too?
That's the goal. We plan to be close together for years and years to come. That's the goal – our relationship has really grown, both on and off the field. We're just getting more comfortable around each other, we sit next to each other in all the meetings so we can communicate and know that we'll be on the same page when it comes to gameday; so it's definitely coming. It's still got a ways to go, but it's come a long way already – we're excited for what's ahead and we've just got to keep working together.
(Featured Photo Via Carolina Panthers)