It didn't quite crack ninety in today's rookie mini-camp session, but the play heated up as time went by, especially as the clock grew closer to one o'clock and certain invited tryout players sensed that their chance to make an NFL roster this year might be slipping away from them. As we entered the Bank of America practice fields, it occurred to me that a lifetime of football for most of these players would either culminate in a successful tryout here or perhaps send them hurtling back into real life – it's no surprise that some potential invitees had their real jobs already lined up if their football dream didn't become a reality. It also wasn't a surprise when multiple players stopped and took a knee to say a silent prayer before they hit the field his morning – every little bit helps.
Here are some quick impressions I gathered from today's morning session, the final rookie mini-camp of the weekend:
DJ Moore was again as advertised, taking jet sweeps, reverses and passes over the middle for what would have been big gains even if the defenders had been allowed to tackle them, which they weren't. We also got to see him try his hands at punt returning for the second day in a row, although it wasn't so much returning as simply catching punts, but it was still exciting to see.
Also back to practice catching punt returns? Cornerback Donte Jackson, who certainly has the swagger of a punt returner – at one point, he transitioned from one drill to another by running down the field with his arms outstretched like an eagle. Picture Cam running out of the tunnel before a big game, except with no crowd and ninety-degree heat.
Ron Rivera made a point to point out certain invited tryout guys that caught his eye: Wide receivers Da'Ron Brown and Bug Howard, running back Kalif Phillips, defensive linemen Ashaad Mabry and Karter Schult, cornerbacks Brad Watson and James Caine, and offensive linemen Quinterrius Eatmon and Kyle Friend. The Panthers have three empty spots on their roster, expect those three to come from the names above, although I'd bet the following: Phillips, Schult, and Eatmon – Phillips in particular was excellent catching passes out of the backfield in all sessions, saying after today's session that he believes he "can play in this league".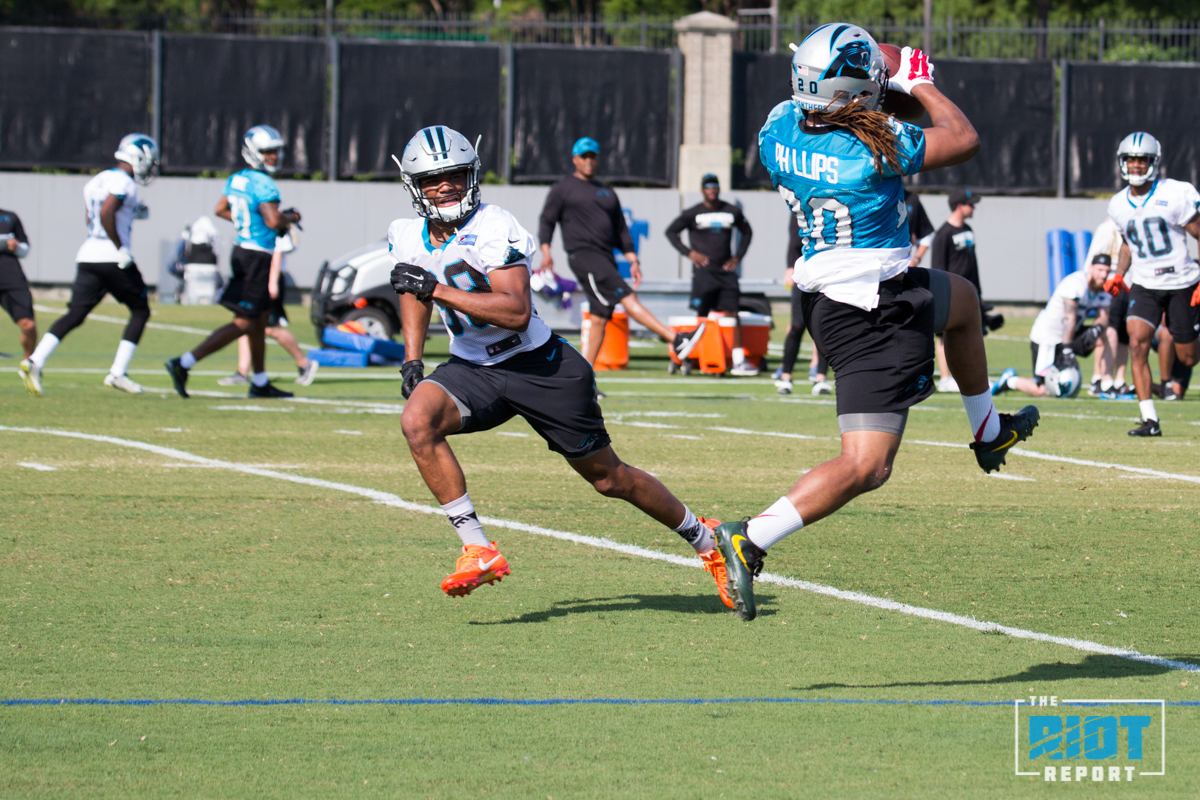 While Kyle Allen looked sharper than yesterday, he still didn't look ready for primetime action, with Rivera saying after the session that he would put Garrett Gilbert as the "leader in the clubhouse" for backup quarterback – former Sacramento State QB Marcus McDade had a tipped interception returned for a touchdown followed by a fumbled handoff exchange that was jumped on by seventh-rounder defensive tackle Kendrick Norton.
In speaking to UDFA Kyle Bosch after practice, he said that one of the biggest differences between practices like this in college vs. the NFL is the quality of effort from play-to-play – everyone's going full speed, "balls to the wall" on every play, so it's easier to get a good look every rep.
"First to Practice" award went to LB Chris Frey today, although he was in a group of walking up the path – Frey broke the plane first, though.
One of DJ Moore's catches came across the middle where, had this been a full-contact practice, Rashaan Gaulden would have been waiting for him.
Fourth-round pick Marquis Haynes was excused from practice this morning for a very good reason – he was walking in his college graduation from Ole Miss with a degree in social work. Good for Haynes and good for the Panthers for letting him celebrate this milestone.
Congratulations, all of @OleMissFB on your big day! Hotty Toddy! #GraduationIsOurNationalChampionship @Quishaynes38 pic.twitter.com/HKdvQOGhHM

— Ole Miss S-A Dev (@UMTrueRebel) May 12, 2018