The process of roster creation is a tough one – not only must you find the best players to fill your 53, but you've got to ensure there's enough depth to protect yourself should injuries occur, take care to evaluate who will go on the practice squad and actually stay there because those players are available to the rest of the NFL. Not to mention that at the same time the Panthers will be cutting players to go from 90 to 53 on August 31st, so will the rest of the league – so Marty Hurney, Ron Rivera and the rest of the pro scouting team at Bank of America Stadium will be evaluating almost 1,200 players against the 52nd and 53rd guys on their roster.
The past few seasons have also seen the Panthers make a trade before Week 1 to help secure more depth, whether it's been Corey Robinson at tackle or Kevon Seymour at cornerback – someone in Panthers camp right now is not only competing against the players next to him, but the entirety of the NFL when working for the 10th offensive lineman or sixth defensive lineman spot. While we tend to focus on the preseason games, those are only 60 minutes against hours and hours of tape from practice that's available.
"We've been doing this since the middle of April, so obviously there's a lot of opportunity for everyone, young guys especially, to show [what they can do]," said long snapper JJ Jansen, who's been on the team since 2009 and is the longest tenured Panther on the roster, after practice Sunday in Charlotte. "For as much as we worry about the preseason games, I think the practices are even more important – it kind of earns your right to get on the field and to be put in situations where you can be evaluated against other team's best players. Practices, even at this point, are super important."
While there are a lot of battles for roster movement on the Panthers, most of the ones you're hearing about are less for a spot on the roster and more about their spot on the depth chart – the amount of battles that will actually determine who is going to be wearing a Panthers jersey come September 2nd are actually few and far between.
But that doesn't mean they don't exist. With just under two weeks until cut day, here's my best guess at what the roster might look like come August 31st.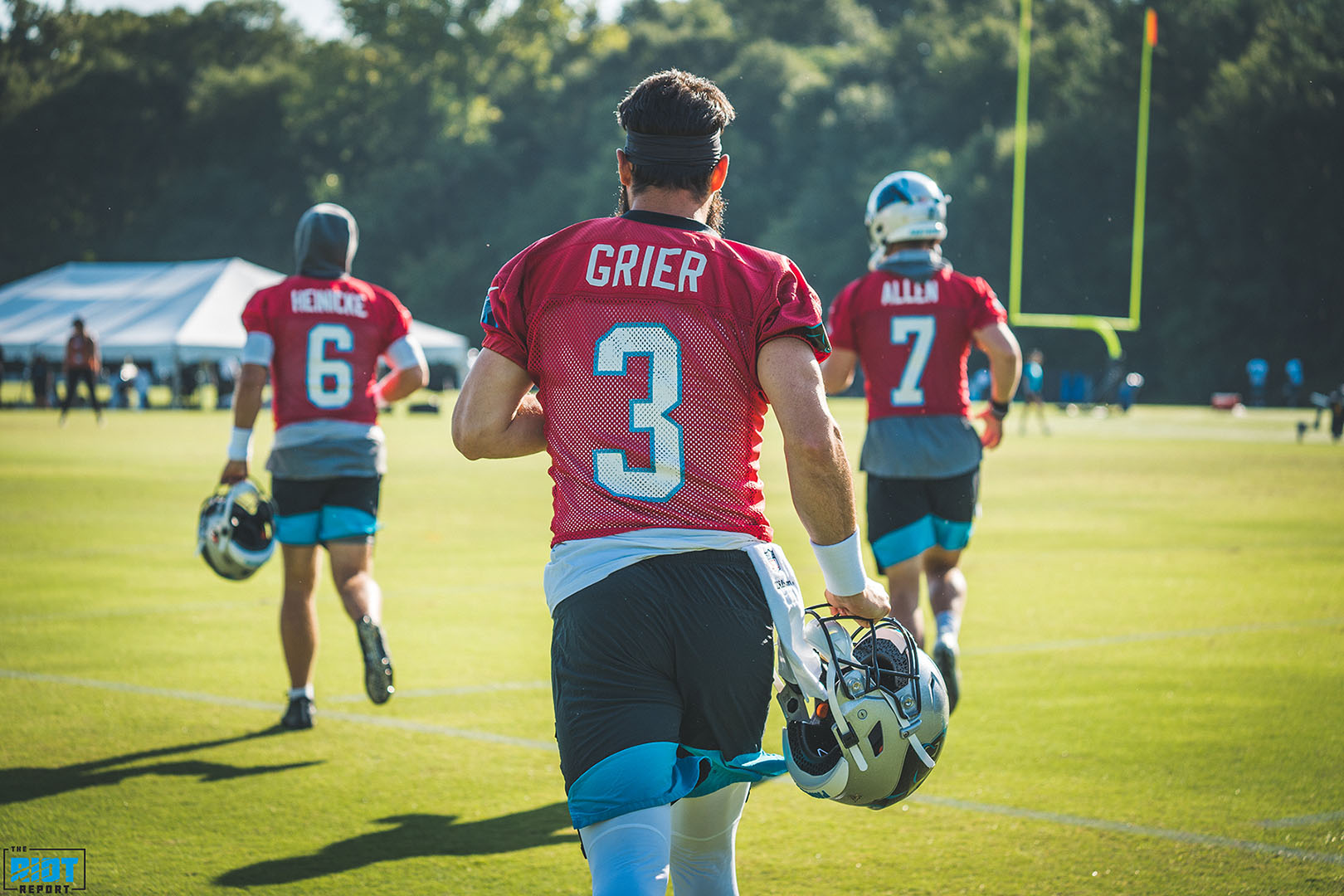 Quarterbacks (3): Cam Newton, Kyle Allen, Will Grier. I've been saying all along that the Panthers would carry three quarterbacks heading into the season and thus far Grier, the only player that can change that fact, hasn't played well enough to prove he can handle being the only backup. Taylor Heinicke has likely played the best of the three backups, but he gets so few reps during practice, it's hard to see the team keeping him over Allen, for whom the memories of his play in Week 17 still loom large. The team would love to see Grier claim the backup spot, but that hasn't happened yet – and they're not going to give up on a third-rounder a few months after drafting him.
Running Backs (4): Christian McCaffrey, Jordan Scarlett, Cameron Artis-Payne, Alex Armah. I'm not quite ready to give up CAP's spot on the roster, but if the Panthers do decide to go younger, Reggie Bonnafon might have a better chance than Elijah Holyfield. Bonnafon has shown the hands and route running the Panthers value in a backup to McCaffrey and has gotten looks on third down early in preseason games in addition to looking impressive in practice, but the fact that he has practice squad eligibility and could likely be stashed there might be enough to tilt the scales in Artis-Payne's favor. Scarlett, the fifth-rounder, likely is the most safe, especially after gaining 49 total yards in his preseason debut, including two catches.
Wide Receivers (6): DJ Moore, Curtis Samuel, Jarius Wright, Torrey Smith, Chris Hogan, Terry Godwin. The Panthers clearly liked Godwin's skillset enough to draft him in the seventh round and he's outperformed Aldrick Robinson, Jaydon Mickens and Rashad Ross during practice thus far – the Panthers would like to find someone to make flash plays on special teams and Godwin has been the only one that's been able to do it. Add that to his smooth routes and sticky hands during practice that haven't surfaced in a preseason game – yet – and Godwin has a strong lead on a roster spot.
Tight Ends (3): Greg Olsen, Ian Thomas, Chris Manhertz. Barring an injury, the Panthers like their tight end group a lot – look for more two tight end sets as Ian Thomas works his way back from various injuries (leg, rib) during the offseason.
Offensive Line (9): Daryl Williams, Taylor Moton, Greg Van Roten, Trai Turner, Matt Paradis, Tyler Larsen, Greg Little, Dennis Daley, TACKLE TO BE NAMED LATER. The Panthers are a tackle short. While Brandon Greene has gotten the reps at backup right tackle, their depth on the outside of the offensive line is already lacking and that was before Greene left Friday's game and didn't practice Sunday; look for them to look to add a tackle via waivers or trade since Greg Little has only taken reps on the left side. With Daley showing he can play both sides on the inside and Larsen/Van Roten able to play both inside positions, they'll likely add someone on the outside – they've kept nine on the offensive line every year since 2014 except last year and that was due to the injuries up front to Matt Kalil, Williams and Amini Silatolu.
Defensive Line (6): KK Short, Dontari Poe, Gerald McCoy, Vernon Butler, Kyle Love, Efe Obada, Vernon Butler's spot is more tenuous than it's ever been, but the former first-round pick can still provide some value as a rotational tackle in what will almost certainly be his final season in Carolina. The battle between Obada and Bryan Cox, Jr is one of the few true battles for a roster spot – albeit one that won't get a jersey most weeks – and Obada has the lead right now after Cox's speeding/marijuana citation and Obada's play on the inside Friday night. The coaches value the rawness and willingness to learn that Obada has shown since coming to Carolina and he won't survive the practice squad.
Edge Rushers/Outside Linebackers (5): Bruce Irvin, Mario Addison, Brian Burns, Marquis Haynes, Christian Miller. This is likely the easiest position group to predict – the question is less about who will make the roster and more about whether the Panthers will use a three or four man rotation on the outside. Miller is still raw, so it will be tough for him to earn a jersey most weeks – that doesn't mean he isn't a good depth piece as a rookie. His abilities shined against Buffalo as he showed tremendous bend/speed on a sack that was waved off by a penalty.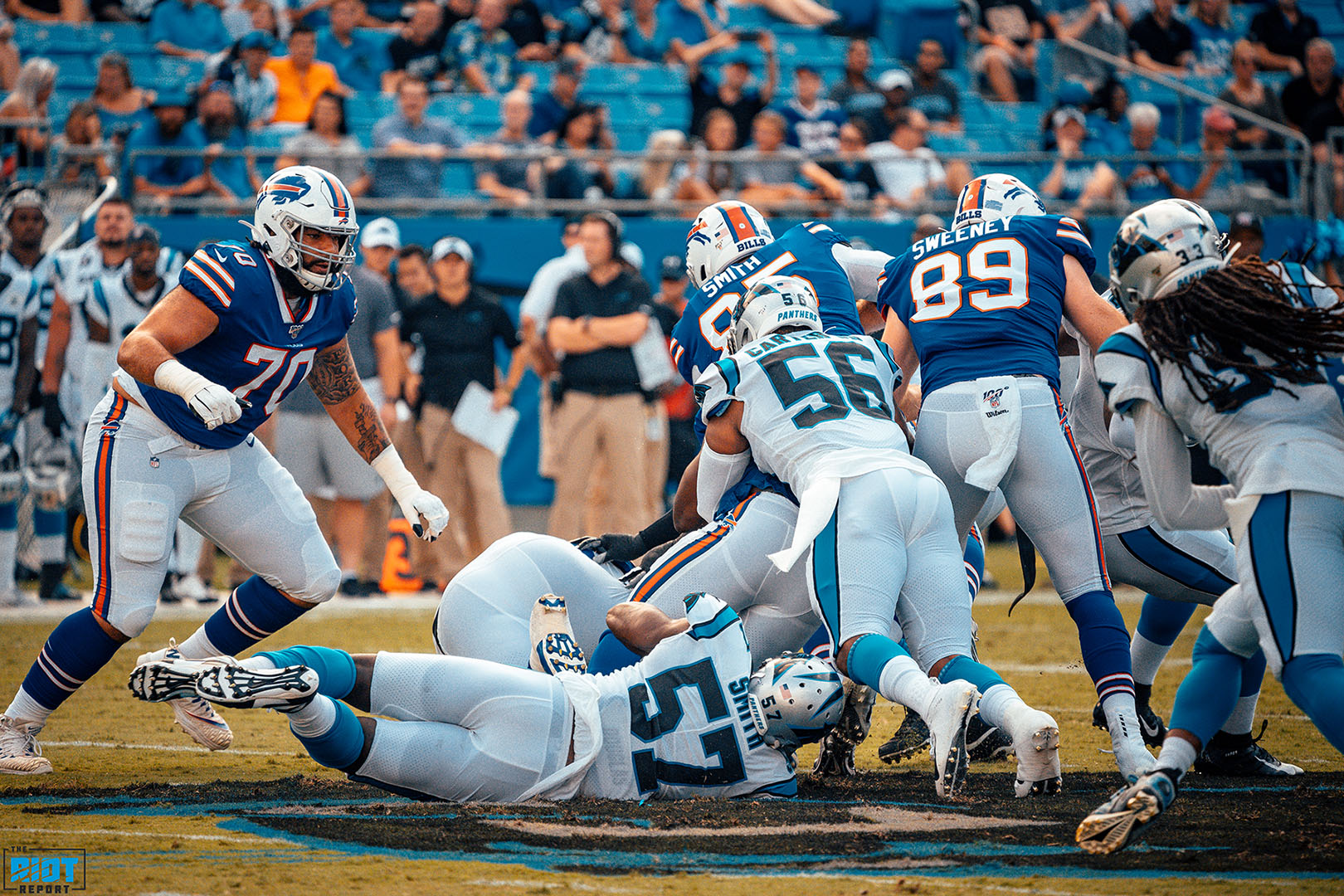 Inside Linebackers (5): Luke Kuechly, Shaq Thompson, Andre Smith, Jermaine Carter, Jr, Jared Norris. Norris' special teams play – he's likely the second leader in that room along with Colin Jones – will get him on the roster and the Panthers really like the two young backups they have to Thompson and Kuechly. The amount of reps and accolades that Smith has gotten during practice and games makes me wonder if Shaq Thompson is expendable when his contract is up after this season.
Secondary (9): Donte Jackson, James Bradberry, Eric Reid, Tre Boston, Colin Jones, Ross Cockrell, Rashaan Gaulden, Javien Elliott, Kevon Seymour. The final spot in the secondary is likely the other battle that can still be decided over the next two weeks, but a lot will depend on whether Seymour can come back from the hamstring strain he's been battling since before the Chicago game. If Seymour can't return, look for him to spend another season on injured reserve – the small nickel spot is a battle between Elliott and Elder and I'll give the nod to the veteran Elliott, but it's as close to a toss-up as you can get. Elder could technically spend a year on practice squad if he'd survive the designation and would take Seymour's spot if he can't make it back in time for the regular season. With Gaulden secure at the big nickel spot and Cockrell's flexibility making him the top backup at both outside corner and safety, there's a lot of flux in the secondary currently. This list will likely change at least once before the final cuts are made.
Specialists (3): Mike Palardy, Graham Gano, JJ Jansen. Gano is still the kicker – for now. It would cost the Panthers more money than they would save to release him ($5.6m in dead cap vs. $1.15m in cap relief) but between an aggravated injury to his plant leg and the impressiveness of Joey Slye – he's 5-for-5 including a 55-yarder – in the preseason has made this at least a question.
Practice Squad: Joey Slye, Corn Elder, Jordan Kunasczyk, Lorenzo Doss, Brandon Greene, Temarrick Hemingway, Andre Levrone, Cole Luke, Taylor Hearn, Woodrow Hamilton.