The Panthers suffered multiple injuries in New Orleans, forcing some odd lineups throughout the Panthers' 34-31 loss to the Saints; on the offensive line, Greg Van Roten (23) suffered a toe injury and missed his first snaps since he took over the starting job at left guard last season and Daryl Williams (53) played his fourth different spot on the offensive line this season. Greg Little (55) suffered an ankle injury but declined to update his status in the locker room after the game and fellow rookie Dennis Daley (23) took his spot at left tackle; when Taylor Moton also tweaked his leg and missed six snaps, Little was forced to return and Daley kicked over to right tackle for a few snaps – Little was clearly limping during his return.
After three snaps last week, Donte Moncrief (13) saw more extended action as DJ Moore (63) battled through some injuries; Moore still scored two touchdowns for the first time in his career despite playing his lowest percentage of offensive plays since Week 3. Ian Thomas had his first reception of the season and was targeted on both snaps he played.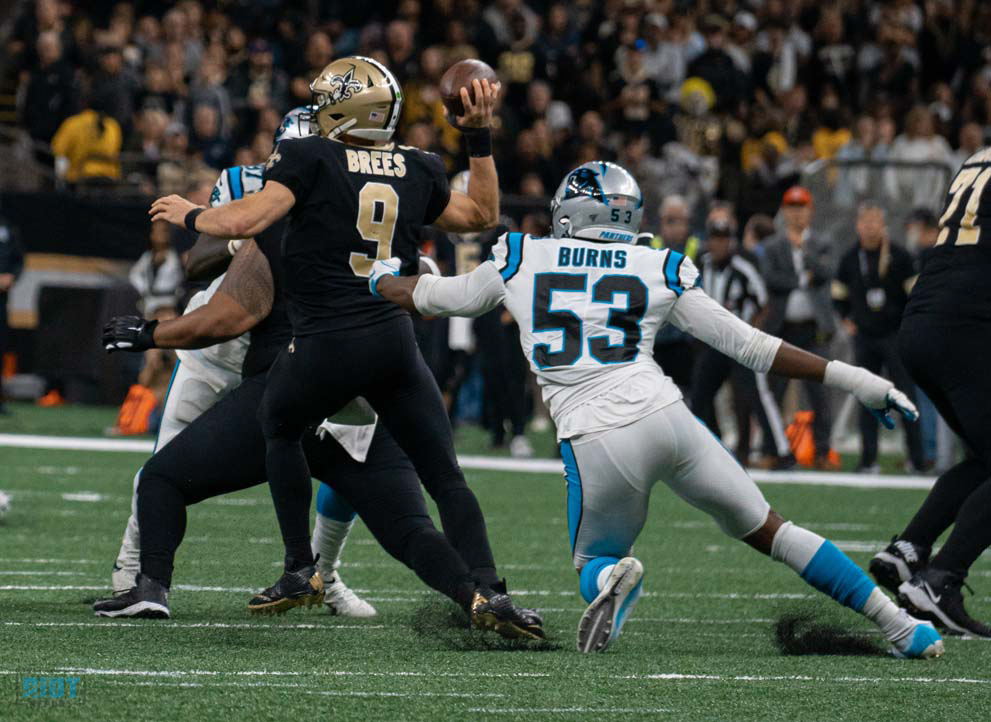 On the defensive side of the ball, with Dontari Poe (16) exiting early, Gerald McCoy (53) played his highest percentage of snaps in a game this season and Kyle Love (22) saw additional action. Eric Reid (63) tweaked his ankle but was able to return, so Colin Jones (3) was only needed to fill in at safety for a few snaps. Mario Addison and Bruce Irvin led the edge rusher group in snaps again with 52 each and Brian Burns (22) saw more playing time than the past two games but still stayed on the sidelines for over 65% of the snaps for the fourth time in five weeks.
Burns was able to pick up one of the Panthers' two sacks late in the game – his first since before the Panthers bye week. Check out the full snap counts below:
| Player | Position | Offensive Snaps | Percentage | Defensive Snaps | Percentage | Special Teams | Percentage |
| --- | --- | --- | --- | --- | --- | --- | --- |
| M Paradis | C | 76 | 100% | | | 6 | 19% |
| T Turner | G | 76 | 100% | | | 4 | 13% |
| C McCaffrey | RB | 76 | 100% | | | | |
| K Allen | QB | 76 | 100% | | | | |
| T Moton | T | 75 | 99% | | | 6 | 19% |
| G Olsen | TE | 70 | 92% | | | | |
| C Samuel | WR | 64 | 84% | | | | |
| D Moore | WR | 63 | 83% | | | 3 | 10% |
| G Little | T | 55 | 72% | | | | |
| D Williams | T | 53 | 70% | | | 6 | 19% |
| J Wright | WR | 38 | 50% | | | 1 | 3% |
| C Manhertz | TE | 37 | 49% | | | 6 | 19% |
| D Daley | G | 23 | 30% | | | 6 | 19% |
| G Van Roten | G | 23 | 30% | | | 2 | 6% |
| A Armah | FB | 13 | 17% | | | 18 | 58% |
| D Moncrief | WR | 13 | 17% | | | | |
| T Larsen | C | 3 | 4% | | | 6 | 19% |
| I Thomas | TE | 2 | 3% | | | 8 | 26% |
| S Thompson | LB | | | 66 | 100% | 8 | 26% |
| J Bradberry | CB | | | 66 | 100% | 7 | 23% |
| L Kuechly | LB | | | 66 | 100% | 7 | 23% |
| D Jackson | CB | | | 66 | 100% | 6 | 19% |
| T Boston | FS | | | 66 | 100% | | |
| E Reid | SS | | | 63 | 95% | 5 | 16% |
| G McCoy | DT | | | 53 | 80% | 6 | 19% |
| B Irvin | LB | | | 52 | 79% | 2 | 6% |
| M Addison | LB | | | 52 | 79% | | |
| J Elliott | CB | | | 47 | 71% | 15 | 48% |
| V Butler | DE | | | 38 | 58% | 7 | 23% |
| B Burns | LB | | | 22 | 33% | 11 | 35% |
| K Love | NT | | | 22 | 33% | 5 | 16% |
| D Poe | NT | | | 16 | 24% | 2 | 6% |
| E Obada | DE | | | 14 | 21% | 14 | 45% |
| C Miller | LB | | | 14 | 21% | 11 | 35% |
| C Jones | FS | | | 3 | 5% | 25 | 81% |
| R Gaulden | SS | | | | | 20 | 65% |
| A Smith | LB | | | | | 18 | 58% |
| D White | WR | | | | | 18 | 58% |
| J Carter | LB | | | | | 18 | 58% |
| C Luke | FS | | | | | 16 | 52% |
| R Bonnafon | RB | | | | | 15 | 48% |
| J Slye | K | | | | | 12 | 39% |
| J Jansen | LS | | | | | 9 | 29% |
| M Palardy | P | | | | | 9 | 29% |
| J Scarlett | RB | | | | | 3 | 10% |