In Week 1, the Panthers did not limit Christian McCaffrey's snaps in any way as he was one of a dozen Panthers to play every single snap on their side of the ball – along with the offensive line, Cam Newton, Luke Kuechly and the defensive secondary. Alex Armah (12) was the only other running back – although he's a fullback – to get snaps, aside from some special teams work for Jordan Scarlett and Reggie Bonnafon.
Not that that's a bad thing – McCaffrey was the straw that stirred the Panthers' offense as he racked up over 200 total yards for the second time in his career and seemed to get better as the day went on.
DJ Moore (63) and Curtis Samuel (62) both played over 90% of the snaps and Jarius Wright (40) saw action in the 3WR set – down the stretch, it looked as if Chris Hogan (5) got some work as the third wideout. The Panthers did not run many 2TE sets as Ian Thomas (4) saw limited action.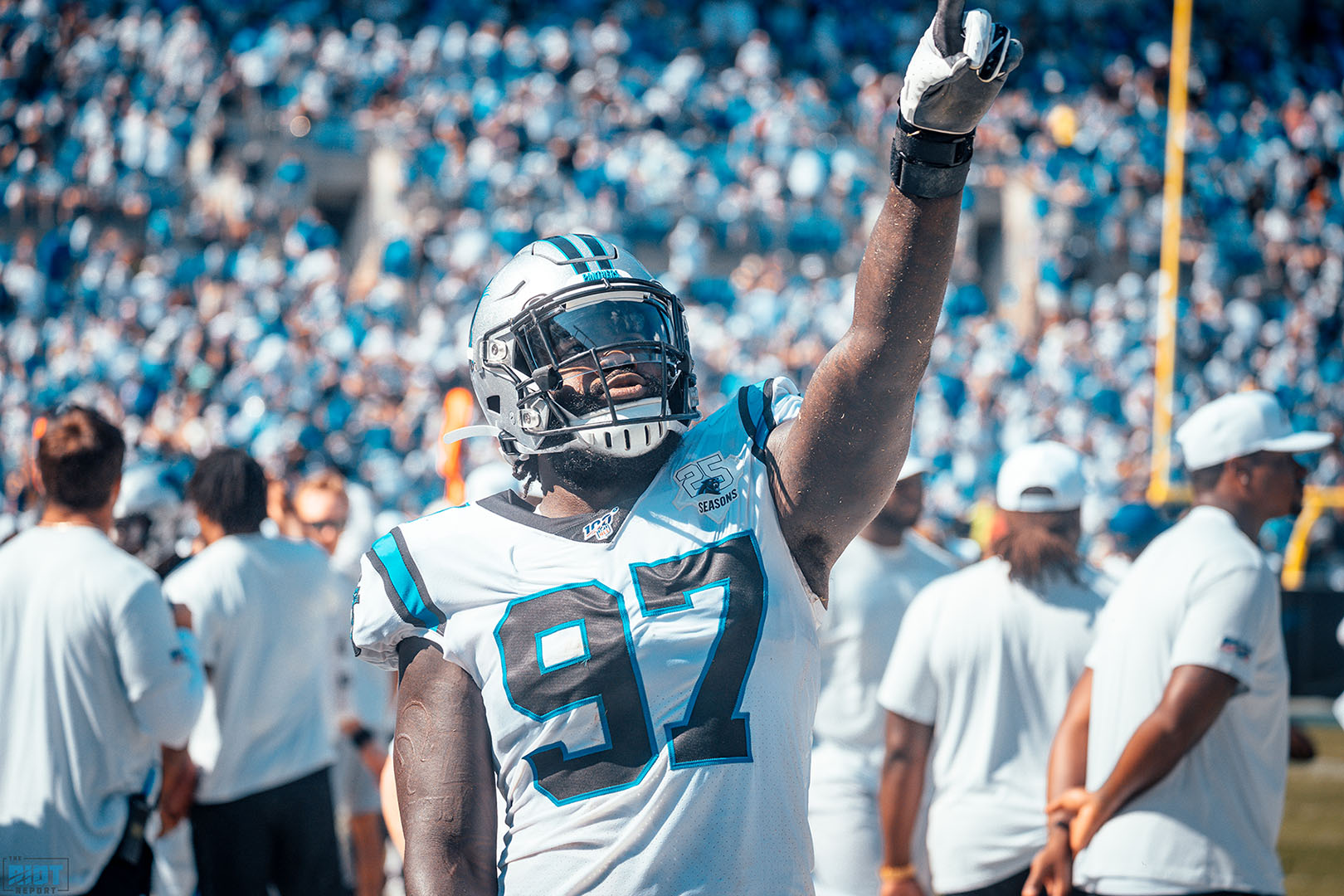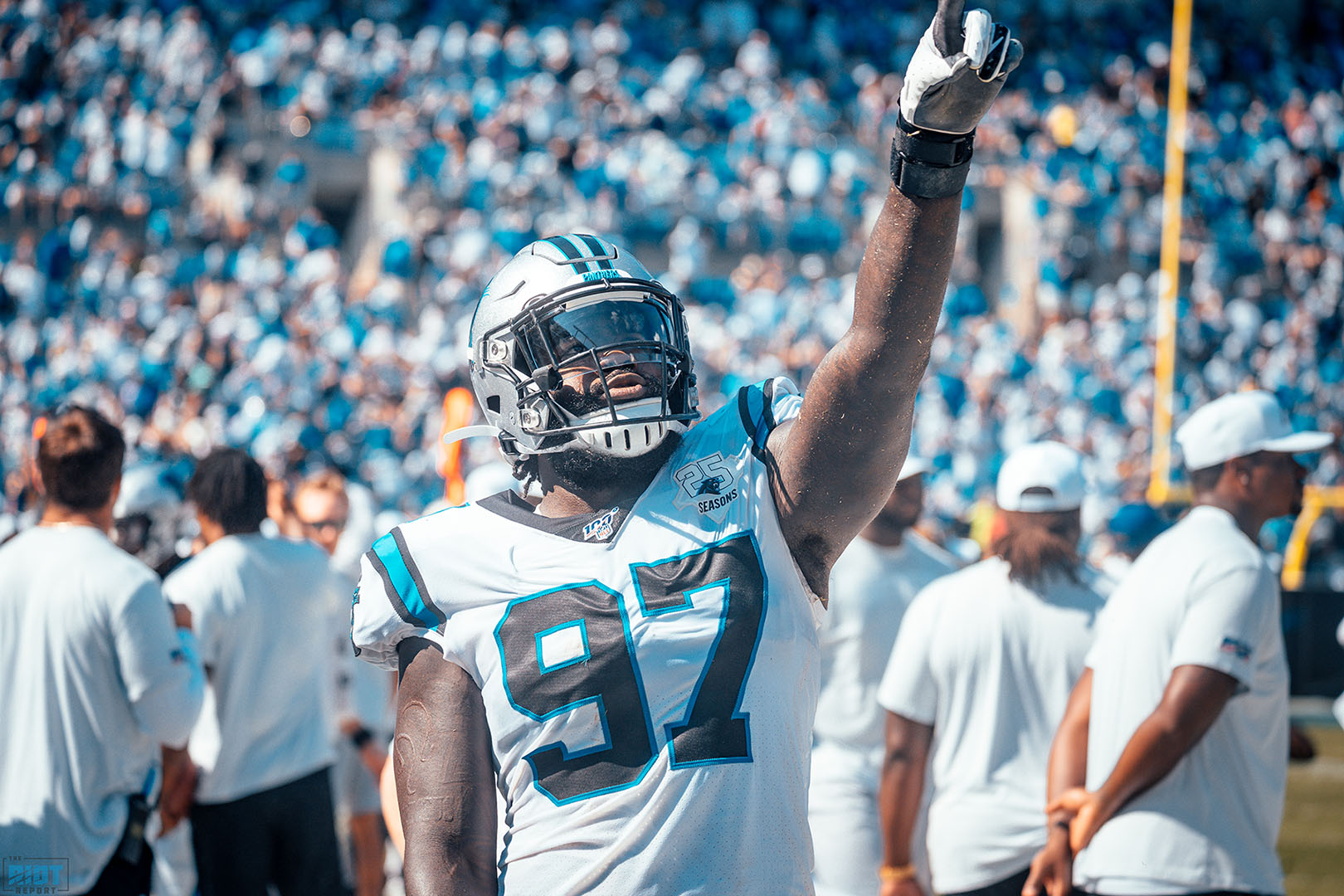 On defense, the Panthers continued to rotate their defensive line – as they've always done – with Mario Addison (48) and Brian Burns (44) getting the most burn on the outside and Gerald McCoy (40) getting the majority of the snaps at defensive tackle – but McCoy said after the game that the rotation may have hurt his rhythm.
"They rotated more than I'm used to," said the six-time Pro Bowler. "But I'll get used to it. They just rotated a lot; I'm used to playing a lot more snaps than that, but I think we're better [when] we rush more four-man. But with the offense that they ran, with the extra DB on the field – which was fine because it was working for us early on – I think if we get in certain situations with other teams, with other teams' schemes, where we can rush four, we'll get a lot more pressure."
"It's tough to get a rhythm going, you finally start getting your mojo and then you're out the game. It keeps you fresh, but you're still trying to get in the rhythm – but it's opening day, we'll get used to it."
That six-defensive-back lineup that the Panthers hadn't employed at all last year led to snaps for Ross Cockrell (11) and nickel corner Javien Elliott (35) – Rashaan Gaulden (18) saw some action in the big nickel and Ron Rivera said after the game that they would like to use Gaulden more moving forward. With Bruce Irvin missing the game, rookie Christian Miller (7) saw limited action but Addison and Burns presumably got more run than they would had Irvin been able to go on Sunday.
With the Panthers using a four-man front and three linebackers in their nickel formation, Jermaine Carter (26) saw some action as well and had three tackles – fellow linebacker Shaq Thompson (75) only missed two snaps and led the team in tackles with nine, adding a pass defense as well as he drew accolades from both players and staff.
"I thought Shaq played a great game," said Ron Rivera. "That's the [thing] when you lose a player like Thomas [Davis] – you have to have a young man who can step in and that's what happened. Shaq stepped up and played the kind of game we needed from him. He was all over the field."
Check out the full snap counts here:
| Player | Position | Offensive Snaps | Percentage | Defensive Snaps | Percentage | Special Teams Snaps | Percentage |
| --- | --- | --- | --- | --- | --- | --- | --- |
| D Williams | T | 67 | 100% | | | 6 | 17% |
| M Paradis | C | 67 | 100% | | | 6 | 17% |
| G Van Roten | G | 67 | 100% | | | 6 | 17% |
| T Moton | T | 67 | 100% | | | 6 | 17% |
| T Turner | G | 67 | 100% | | | 1 | 3% |
| C Newton | QB | 67 | 100% | | | | |
| C McCaffrey | RB | 67 | 100% | | | | |
| D Moore | WR | 63 | 94% | | | | |
| G Olsen | TE | 63 | 94% | | | | |
| C Samuel | WR | 62 | 93% | | | 1 | 3% |
| J Wright | WR | 40 | 60% | | | 1 | 3% |
| C Manhertz | TE | 18 | 27% | | | 18 | 51% |
| A Armah | RB | 12 | 18% | | | 20 | 57% |
| C Hogan | WR | 5 | 7% | | | 12 | 34% |
| I Thomas | TE | 4 | 6% | | | 2 | 6% |
| D Daley | T | 1 | 1% | | | 5 | 14% |
| D Jackson | CB | | | 77 | 100% | 9 | 26% |
| J Bradberry | CB | | | 77 | 100% | 9 | 26% |
| L Kuechly | LB | | | 77 | 100% | 9 | 26% |
| E Reid | SS | | | 77 | 100% | 7 | 20% |
| T Boston | FS | | | 77 | 100% | | |
| S Thompson | LB | | | 75 | 97% | 10 | 29% |
| M Addison | DE | | | 48 | 62% | | |
| B Burns | DE | | | 44 | 57% | 7 | 20% |
| G McCoy | DT | | | 40 | 52% | 9 | 26% |
| K Short | DT | | | 35 | 45% | 9 | 26% |
| D Poe | NT | | | 35 | 45% | 7 | 20% |
| J Elliott | CB | | | 35 | 45% | 3 | 9% |
| K Love | NT | | | 30 | 39% | | |
| M Haynes | DE | | | 29 | 38% | 24 | 69% |
| E Obada | DE | | | 29 | 38% | 6 | 17% |
| J Carter | LB | | | 26 | 34% | 20 | 57% |
| R Gaulden | FS | | | 18 | 23% | 18 | 51% |
| R Cockrell | CB | | | 11 | 14% | 14 | 40% |
| C Miller | LB | | | 7 | 9% | 1 | 3% |
| C Jones | SS | | | | | 29 | 83% |
| R McCloud | WR | | | | | 22 | 63% |
| A Smith | LB | | | | | 20 | 57% |
| N Jamerson | FS | | | | | 16 | 46% |
| J Jansen | LS | | | | | 11 | 31% |
| M Palardy | P | | | | | 11 | 31% |
| J Slye | K | | | | | 11 | 31% |
| R Bonnafon | RB | | | | | 7 | 20% |
| T Larsen | G | | | | | 6 | 17% |