The Panthers' 2022 season is very nearly here and, while expectation levels may vary significantly, it is hard not to start a new season with a sense of optimism and hope. With that, at least for the Panthers, comes the added edge of having a new starting quarterback in Baker Mayfield who is facing his former team.
The Browns, for their part, are coming off a disappointing season in which they struggled to live up to the potential they showed in 2020 en route to an 8-9 finish and a play-offs spent on the sofa. However, with both teams getting a fresh slate and a chance to create a new narrative, we've broken down the three key areas in which the Panthers need to be successful in order to come away from their first game of 2022 with a winning record.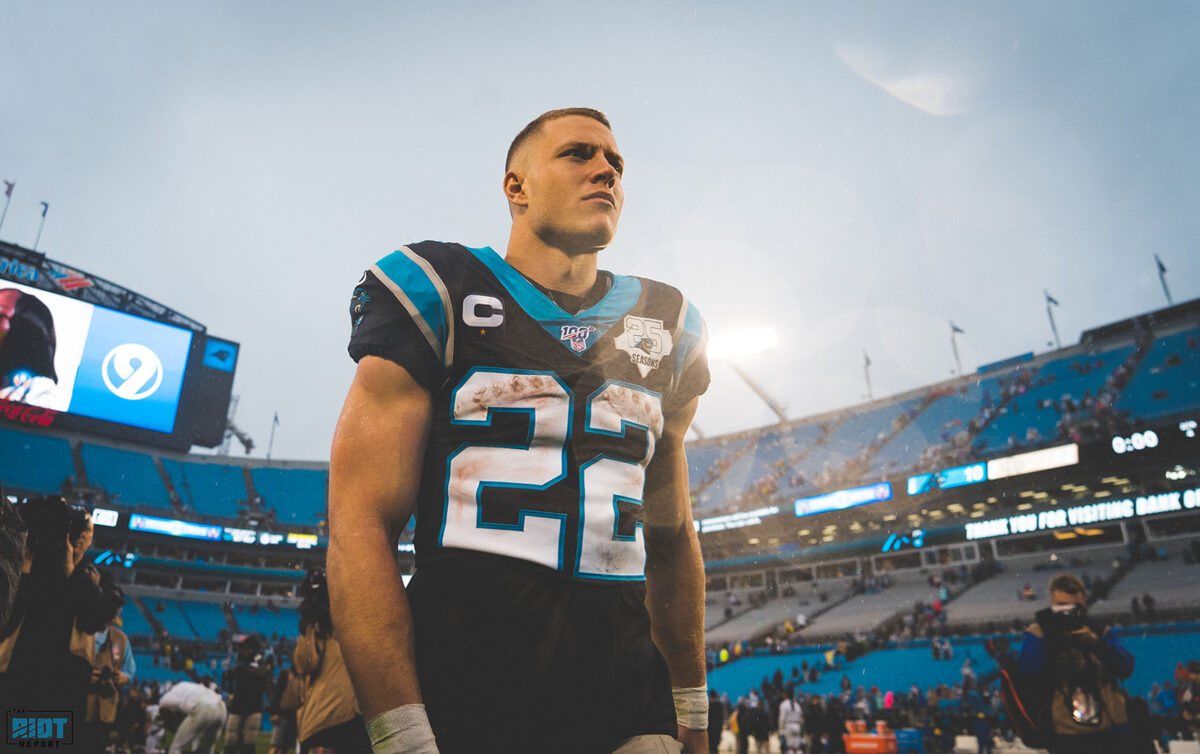 Find A Way To Run The Ball Without Sacrificing CMC
Christian McCaffrey might not have spent much of the Matt Rhule era on the field, but when he has he has made it abundantly clear why the Panthers made him one of the highest paid running back in football following the 2019 season. However, as good as he is, the Panthers have struggled to find a happy medium when it comes to maximizing his offensive impact while limiting his injury risk.
What hasn't helped that is their inability to run the ball without him on the field. 2021 4th-round pick Chuba Hubbard struggled to 3.6 yards-per-carry last season and, while the Panthers have made significant improvements to their offensive line this offseason, they still struggled to run the ball at all during the preseason while McCaffrey watched from the sidelines. Of course, the preseason is just the preseason, but if the Panthers struggle to keep ahead on the chains on the ground this season then it is going to make things very challenging.
In terms of how they can do this, a lot starts with the improvements along the offensive line, and the speed with which the new players can develop chemistry. Pairing reigning Superbowl champion Austin Corbett with Taylor Moton should give the Panthers a potent right side and rookie Ikem Ekwonu has a chance to be a difference maker from day one. Free agent acquisition D'Onta Foreman should also make a difference, and his downhill running style should be a nice compliment to CMC, but there is only so much he can do by himself.
However, as with all of these things, this will also be a huge test for new offensive coordinator Ben McAdoo and his ability to make the most of what the roster has to offer.
Don't Let The Browns Run Game Run Rampant
It's no secret that the Browns run game is potent, as they are coming off a 2021 season in which they ranked 2nd in the NFL in yards-per-carry, 4th in yards-per-carry and 7th in rushing touchdowns. While Kareem Hunt is certainly no slouch, the heart and soul of the Browns' run game in All-Pro Nick Chubb and finding a way to slow him down is going to be the Panthers' primary goal on defense on Sunday.
Stopping Chubb is certainly going to be a team effort, but it should be a great opportunity for some of the Panthers' new faces to make an immediate impact. One issue the Panthers had last season was a lack of diversity in their defensive line room, with a lack of 3-techs and true 4-3 DEs to complement their arsenal of nose tackles and rush linebackers, and that should be helped by the additions of Matt Ioannidis and Henry Anderson. Not only are both players good run defenders, but they should help prevent the Browns from being able to isolate more undersized players like Brian Burns and Frankie Luvu on the edge.
It should also be a significant first test for Damien Wilson, who is expected to play the majority of the linebacker snaps alongside Shaq Thompson, who is likely to see a reduced role in his first game back from injury. Wilson was signed primarily for his run defense and, though he won't be able to stay on the field if he can't keep his end of the bargain against the pass, he should be expected to counter any attempts by the Browns to run the ball down the throat of the Panthers' defense.
The Panthers don't need to completely shut down the Browns' running game to win, and that certainly isn't a fair standard to hold them to, but even though Jacoby Brissett is an often-underrated quarterback, if the Panthers are able to keep the Browns around the chains on the ground, then they will give their secondary a chance to keep things interesting through the air.
Involve Receivers Not Named DJ Moore
DJ Moore is one of the best young receivers in the NFL and has been pretty much from the moment he stepped on the field in Carolina, but the Panthers have really struggled to get the rest of the passing game to work around him. Robbie Anderson showed he can be a highly potent weapon alongside Moore in 2020 but struggled to just 519 yards last season. Finding a way to increase the production of Anderson and the other non-Moore receivers is obviously a major focus for the season as a whole but could be key to facing a Browns' secondary that is one of the best in the NFL.
Part of the problem has been the receivers themselves, with Anderson struggling with drops while 2021 2nd-round pick Terrace Marshall Jr. struggled to get open, and none of this was helped by the lack of effective pass protection and limited quarterback play. Some of that should be better this season. The offensive line has seen significant investment and a new quarterback offers hope if not guaranteed returns. They also have a new offensive coordinator, and with him a new set of ideas of how to get his weapons open.
That's a lot of potential for improvement, but it's also a lot of uncertainty.
There are promising signs. Second year receiver Shi Smith had an excellent preseason, Baker Mayfield certainly looks to be an improvement over 2021 Sam Darnold and the offensive line, while not perfect, showed encouraging signs during the preseason. That last part will certainly be put under more scrutiny when Myles Garrett and the Browns come to town on Sunday, and they will certainly have easier games to show their growth as the season goes on, but if they stand a chance of moving the ball effectively through the air against the Browns' secondary then they are going to need to have a plan beyond DJ Moore.
The Panthers go into their season opener with a real chance to get things started the right way. The Browns should certainly not be underestimated but they aren't without flaws, and this is, on paper, the best Panthers team of the Matt Rhule era. This might not be a roster built to chase games, but with one of the best young secondaries in the NFL and an improved offensive line they are in a far better shape to control games if they get a lead.
A new NFL season always brings a mix of unrealised expectation and Cinderella stories, with nobody really knowing exactly how good any other team is going to be.
For better or worse, we will have a much better idea of just how good this version of the Panthers is come Monday morning.
(Top photo via Brian Westerholt/AP)