Sometimes the changes are easy to see.
Sometimes it's a new bubble for the Panthers to practice in for a few years until their billion-dollar practice facility is finished a couple dozen miles – and one state border – away. Sometimes it's a draft class that's lauded – and loaded – not only because of the selections, but because of the sheer volume of picks. A franchise that seemingly preferred trading up to trading down in the past has now become the type of team that is "in on every deal" and knows the value of getting good value. Sometimes it's a logo at midfield, a Rolling Stones concert or even a new sporting franchise that will play alongside the Panthers at Bank of America Stadium from 2022.
Sometimes, however, in order to see the changes, you have to peek under the hood a bit.
With the hiring of Matt Rhule and Scott Fitterer, the way the Panthers have looked build their team has changed. Now, it's about value, character, and an unflinching laser focus on 'the brand' and what it means to be a Carolina Panther in 2021. It's easy to throw out words like 'value' when talking about roster building, but to make that a reality it takes an attention to detail at all levels of the roster. For the Panthers, a lot of this responsibility has fallen on salary cap guru Samir Suleiman.
Back to those signs that are easy to see – at Wednesday's practice, defensive coordinator Phil Snow wore a Panthers shirt emblazoned simply 'THE BRAND' while a few feet away, owner David Tepper chatted for the beginning chunk of the session not with a coach or the GM, but with Suleiman.
In recent months, Suleiman has been flexing his cap-managing muscles, building void years into deals to alleviate the current cap contraction while structuring deals to get maximum value on a sustainable basis. This forward-thinking approach applies not only to the upcoming season but to the future moving forward – the mark of a good franchise is one who is not only building a winner for the present, but for the future.
That starts with a three-year model that has been driving recent decisions on extensions and how the roster will be shaped in the future – from Taylor Moton's four-year, $72m deal last month to Robby Anderson's deal this week that will keep the 28-year-old wide receiver in Carolina for an additional two years.
"We hear where the cap may be this year or the year after and with that in mind, that's how we build our model moving forward," explained Fitterer. "Which players are coming up in the next year or two, who's a priority and then we build it from there."
The deal that essentially works out at three-years and $37.5m is one that Suleiman had been working on for a while with Anderson's camp as the two-year deal he signed last offseason was more of a one-year prove-it deal with all of the guarantees coming last season. That provision was known by both sides when Marty Hurney inked the former Jet last season and talks began this year when Fitterer was hired, and Anderson's team approached the GM to talk about an extension once Anderson had held up his end of the bargain and taken a prove-it deal and done exactly that.
"The agreement … was, 'If he does what he has to do, we'll get back to the table. If not, pretty much release him,'" Anderson said. "Pretty much last year was a one-year deal. That's why we're in the situation we're in now."
Anderson's extension this offseason makes it possible to stagger the rest of the deals as, while there are still players in the final year of their deal (starters like Donte Jackson, Jermaine Carter and Matt Paradis are all scheduled to hit free agency next offseason), Fitterer says there's "nothing pressing" before the season starts, and that deals will be made when the time is right. The bigger negotiations that will need to get done can wait and knowing Anderson's deal is done makes it easier to draw out what things will look like as potential superstars like DJ Moore and Brian Burns come up for extensions.
"Since Robby's been here, he's performed. His contract was going down this year; we wanted to stagger all of our receivers, all of our future players [and] this was the right time to do a deal with Robby," said Fitterer. "We're happy about it."
"This isn't going to affect us doing those guys in the future," he added.
With Anderson now in Carolina for the long term and the salary cap expected to rise the next two seasons, there is room to project the deals on the horizon for more players who can continue to 'prove it' themselves.
"Salary caps going to go up next year and it's going to go up the next year after that," explained Rhule. "We wanted to sign some of our own. It was Taylor [Moton] and [Anderson] and hopefully there's many more of them – I mean, we like our team."
Haason Reddick, who signed a one-year deal below market value in the hopes that a reunion with Rhule and Snow will spike his value going into next season and Sam Darnold, who is hoping a change of scenery will change the narrative about the former Top-3 pick who is under contract next season after the Panthers picked up his fifth-year option following the draft.
Not to forget DJ Moore, who has been the only wide receiver in the NFL with over 1,200 yards from scrimmage in each of the past two seasons and has quietly been one of the most impressive young pass catchers in the league, despite having five different starting QBs throwing passes to him over the past two years. The Panthers may have drafted two wideouts in this year's draft in Terrace Marshall and Shi Smith, but that wouldn't preclude them from locking up Moore for the long-term. After exercising Moore's fifth-year option, the Panthers have a little bit of time to make that decision – although a spectacular season from Moore or an impressive showing by either of the two rookies might complicate things.
"If [Marshall and Smith] come along and they produce this year, that's great, it's a nice problem to have, but we just want to have that continuity," Fitterer said this week.
The way Fitterer spoke Wednesday, it certainly seems that Moore is part of the Panthers future – his contract, however, is not something that needed to be addressed immediately.
"Robby was the right guy, at this time, to do it and we'll keep going with other guys as we move forward."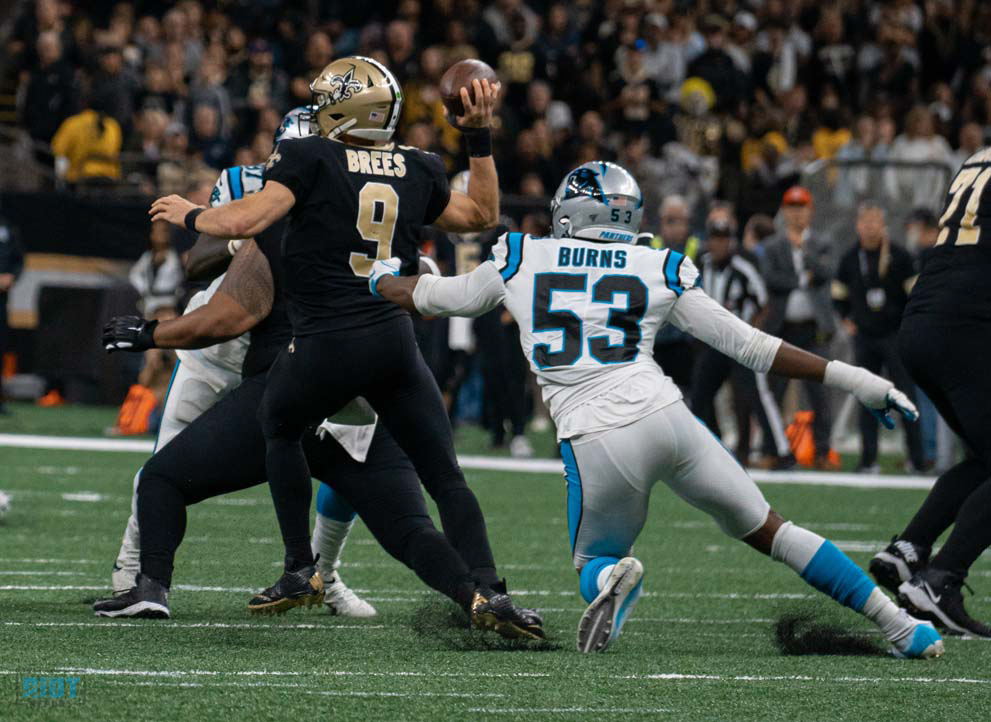 The Panthers are a team that is still building and, while they would unquestionably like to be relevant come January, that is not the marker for success in 2021.
Instead, this is a team that is looking to get better and then continue to build upon that success and, in order to do that, they need to have an eye on 2022 and 2023. Having a lot of good young players pushing for long-term extensions is a good problem to have, but in making their decisions with the help of a multi-year model, the Panthers hope to prevent the mid-ascent cap hell that has befallen promising young teams of the past who failed to be suitable judicious in handing out contracts in the early stages of their growth.
Of course, for all of this to matter, the Panthers have to continue to improve on the field – it's going to be harder to convince young players to stick around long-term if the team itself is treading water outside of the playoffs, but while Rhule and the coaching staff continue to focus on the here and now, Scott Fitterer, Samir Suleiman and others work to anticipate the potential issues of tomorrow.
It certainly sounds good in principle, now all they have to do is make it work in practice.
(Top photo via Harrison Barden/Carolina Panthers)