With talk of their effort and skill level swirling around the Carolinas after Steve Smith's vitriol-fueled words this week, D.J. Moore (71) and Curtis Samuel (53) produced their third-best game yardage-wise as a pair with 165 yards in the Panthers 30-20 win over the Titans. In his second-highest snap total of the season, Moore logged his best game with seven catches for 101 yards, including a key reception to the one-yard line that resulted in one of Christian McCaffrey's three touchdowns. McCaffrey (61) got some snaps off this week with the Panthers up two scores and the MVP candidate having been evaluated for a concussion after his 58-yard touchdown run; McCaffrey said after the game that he was fine and could have returned if necessary.
But it wasn't necessary – let Reggie Bonnafon (8) and Jordan Scarlett (3) handle the suicide carries in mop-up duty.
The Panthers gave Alex Armah (19) his highest usage of the season – the use of an additional blocker in either the run or pass game meant fewer snaps for Jarius Wright (36), who played just over half the snaps on Sunday and didn't record a catch on four targets. With Dennis Daley getting the nod at left tackle, Daryl Williams (2) was only used in jumbo packages.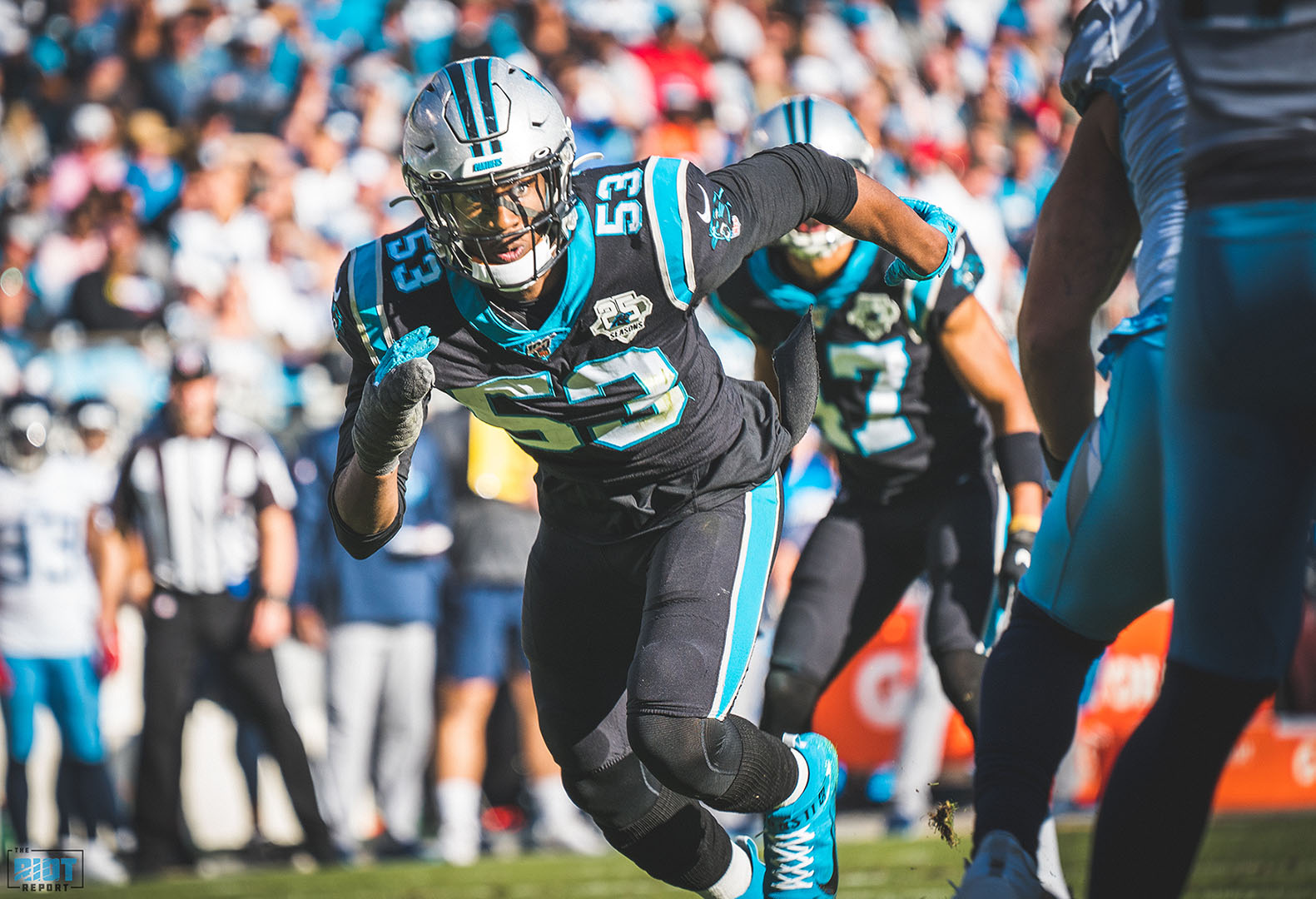 After expressing his frustration at having limited snaps last week in San Francisco, rookie edge rusher Brian Burns led the DE/OLB group with 52 snaps, with Bruce Irvin (50) close behind. With Mario Addison missing the game after the death of his brother, Marquis Haynes (30) logged his first sack of his career and Bryan Cox, Jr. (11) saw the field for the first time this season.
Shaq Thompson (75) and Eric Reid (75) both played every snap and shared the team lead with 11 tackles each. Vernon Butler (39) has seen his snaps increasing each week that Kawann Short has missed – Sunday marked the second-highest playtime percentage of his career.
James Bradberry (57) tweaked his groin near the end of the game and missed the last few series, which allowed for playing time for Javien Elliott (22) at the nickel slot while Ross Cockrell (59) bumped outside. Bradberry said after the game that he was feeling better, but groin injuries tend to linger, so it's worth keeping an eye on as the team practices this week and prepares to face the Packers and Davante Adams.
Check out the full snap counts below:
| Player | Position | Offensive Snaps | Percentage | Defensive Snaps | Percentage | Special Teams | Percentage |
| --- | --- | --- | --- | --- | --- | --- | --- |
| G Van Roten | G | 71 | 100% | | | 6 | 21% |
| M Paradis | C | 71 | 100% | | | 6 | 21% |
| T Moton | T | 71 | 100% | | | 6 | 21% |
| T Turner | G | 71 | 100% | | | 4 | 14% |
| D Daley | G | 71 | 100% | | | | |
| K Allen | QB | 71 | 100% | | | | |
| D Moore | WR | 67 | 94% | | | 1 | 3% |
| G Olsen | TE | 65 | 92% | | | 1 | 3% |
| C McCaffrey | RB | 61 | 86% | | | | |
| C Samuel | WR | 53 | 75% | | | | |
| J Wright | WR | 36 | 51% | | | | |
| C Manhertz | TE | 34 | 48% | | | 7 | 24% |
| A Armah | FB | 19 | 27% | | | 18 | 62% |
| R Bonnafon | RB | 8 | 11% | | | 18 | 62% |
| I Thomas | TE | 5 | 7% | | | 5 | 17% |
| J Scarlett | RB | 3 | 4% | | | 14 | 48% |
| D Williams | T | 2 | 3% | | | 6 | 21% |
| B Zylstra | WR | 2 | 3% | | | 1 | 3% |
| S Thompson | LB | | | 75 | 100% | 6 | 21% |
| E Reid | SS | | | 75 | 100% | 5 | 17% |
| L Kuechly | LB | | | 75 | 100% | 5 | 17% |
| D Jackson | CB | | | 75 | 100% | 5 | 17% |
| T Boston | FS | | | 75 | 100% | | |
| R Cockrell | CB | | | 59 | 79% | 7 | 24% |
| J Bradberry | CB | | | 57 | 76% | 4 | 14% |
| B Burns | LB | | | 52 | 69% | 3 | 10% |
| B Irvin | LB | | | 50 | 67% | 2 | 7% |
| D Poe | NT | | | 42 | 56% | 6 | 21% |
| G McCoy | DT | | | 39 | 52% | 5 | 17% |
| V Butler | DE | | | 39 | 52% | 5 | 17% |
| M Haynes | LB | | | 30 | 40% | 9 | 31% |
| K Love | NT | | | 29 | 39% | | |
| J Elliott | CB | | | 22 | 29% | 9 | 31% |
| E Obada | DE | | | 20 | 27% | 11 | 38% |
| B Cox | DE | | | 11 | 15% | 5 | 17% |
| C Jones | FS | | | | | 23 | 79% |
| J Carter | LB | | | | | 18 | 62% |
| A Smith | LB | | | | | 18 | 62% |
| D White | WR | | | | | 17 | 59% |
| R Gaulden | SS | | | | | 16 | 55% |
| M Palardy | P | | | | | 12 | 41% |
| J Jansen | LS | | | | | 11 | 38% |
| J Slye | K | | | | | 11 | 38% |
| T Larsen | C | | | | | 6 | 21% |