After rumors swirled that the Panthers were looking to trade 2015 MVP Cam Newton and a report from last week's NFL Combine that the Panthers were taking calls on almost everyone on their roster, ESPN's Jenna Laine continued the parade of names being whispered in NFL circles as 26-year old guard Trai Turner, who has been to the Pro Bowl in every season of his career since beginning the season as a starter at right guard in 2015, is reportedly being shopped by the team.
Turner, who had become one of the leaders for the Panthers not only on the offensive line, but in the locker room, after the semi-retirement of Ryan Kalil ahead of last season, signed a four-year, $45m extension ahead of the 2017 season and is due to count $12.8m against the cap in 2020.
A trade would grant the Panthers only $3m in cap relief while accounting for just over $9.6m in dead cap space, according to Spotrac – but it would give the new Matt Rhule regime additional draft capital in what appears to be a complete rebuild. A source confirms to The Riot Report that the Panthers are indeed answering the phone about trade offers for almost everyone on the roster outside of a select group of young players, likely those drafted in the past two seasons.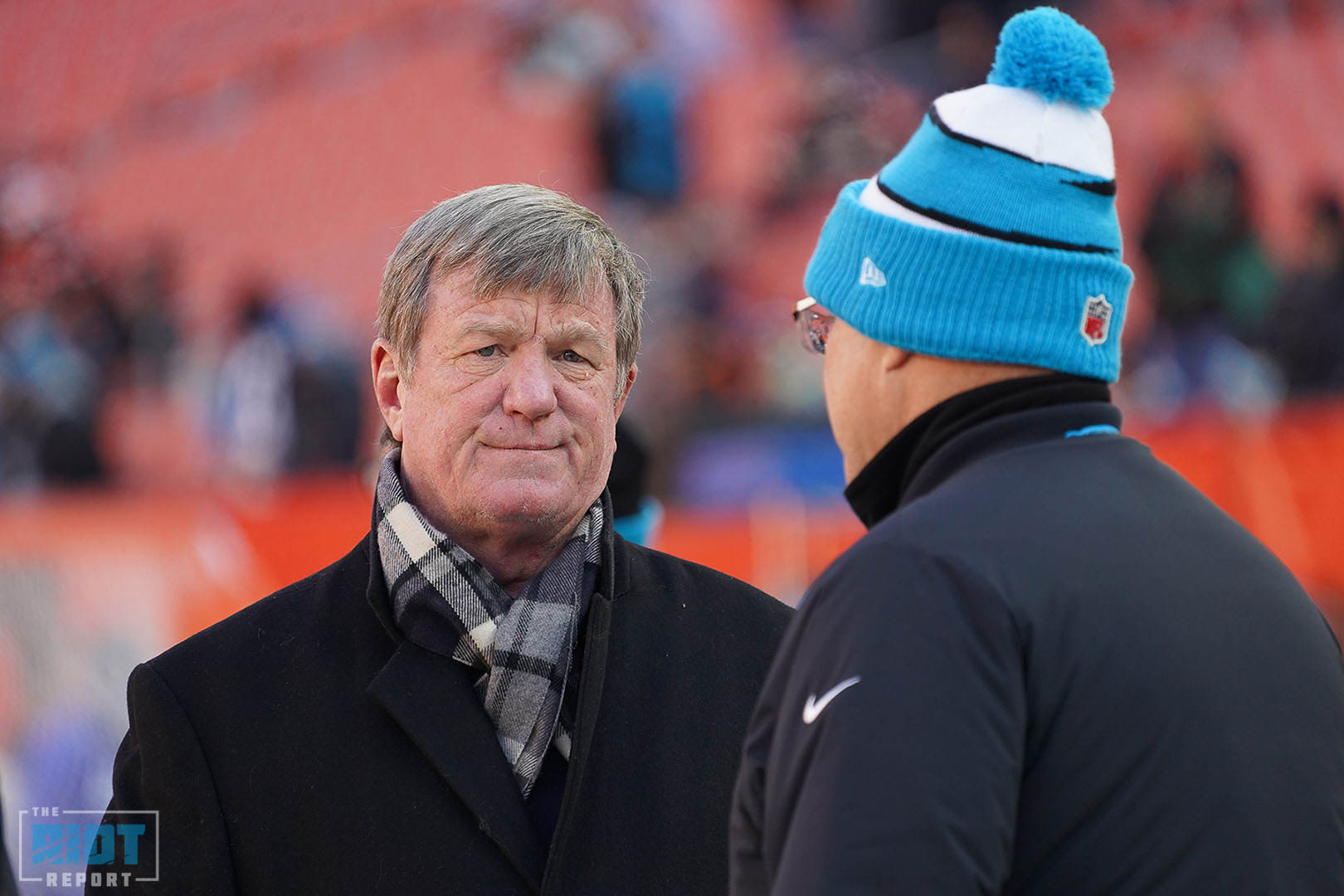 That list would almost certainly include players like Christian McCaffrey, who last season became only the third player in NFL history to top 1,000 yards both rushing and receiving – the Panthers' running back is entering the final year of his rookie contract, and while the team can pick up his fifth-year option, McCaffrey likely will be looking to negotiate one of the largest contracts for a running back sooner rather than later.
"But just philosophically, we will always – whether it's in the business office or roster-wise – we will always explore every opportunity to improve our roster," said Rhule last week at the Combine. "But again, that has nothing to do with any one player. That's us in general – I think the best teams in this league think outside the box and listen to everything."
Panthers owner David Tepper said in a letter to fans that urged them to renew their season tickets for next season that sometimes "you have to do a little tearing down before moving forward" and emphasized Rhule's ability to develop and build a program – the Panthers are clearly trying to accumulate draft capital to develop and build that program from scratch with as many pieces as they can find.
And if that means a poor season in 2020, then so be it.
That draft capital would include compensatory picks, as the Panthers are also unlikely to retain free agent cornerback James Bradberry, who has said in the past that he would like to be paid as one of the top cornerbacks in the NFL – and while the option to assign Bradberry the franchise tag (at a price tag north of $16m) and try to trade him in a deal similar to what the Chiefs did with Dee Ford last season is available, that seems unlikely for the Panthers as tagging Bradberry would be a calculated risk that a trade would bring in more than the 2021 compensatory pick, which would almost certainly be a third-rounder.
Bradberry has already expressed that he would agree to signing the franchise tender, which would put the Panthers on the clock in terms of finding a trade partner, with the options being to pay Bradberry a huge one-year salary in a season that will be the first of a rebuild or to find a trade haul that would be more than the third-round pick they're all but guaranteed to receive if they were to let him sign elsewhere in free agency.
Whatever happens over the next few months, there will be a lot of options available for the Panthers – and it's clear that they will be exploring all of them.