Luke Kuechly called him a constant. The epitome of what the Panthers are about. One of us.
But two words kept floating around the locker room after the Panthers' 30-20 win over the Tennessee Titans that the team dedicated to defensive end Mario Addison, who missed the game after the tragic death of his younger brother last Sunday evening.
Brother. Family.
And their brother Mario, who was still dealing with the aftershock of a tragic accident and wasn't ready to leave one family in Alabama to be with his other family in Carolina, had one message for his brothers when he spoke to them throughout the weekend – just win.
And that's what they did.
"We came out here to play for our brother," said Donte Jackson. "We break practice everyday and we break meetings on 'family' – that's a huge staple of what we do in this organization. So when one of our brothers goes down with something like that, we all take it as our family, too. Him not being here, that just really made us turn up even more and want to go out there and play for him and play for his family."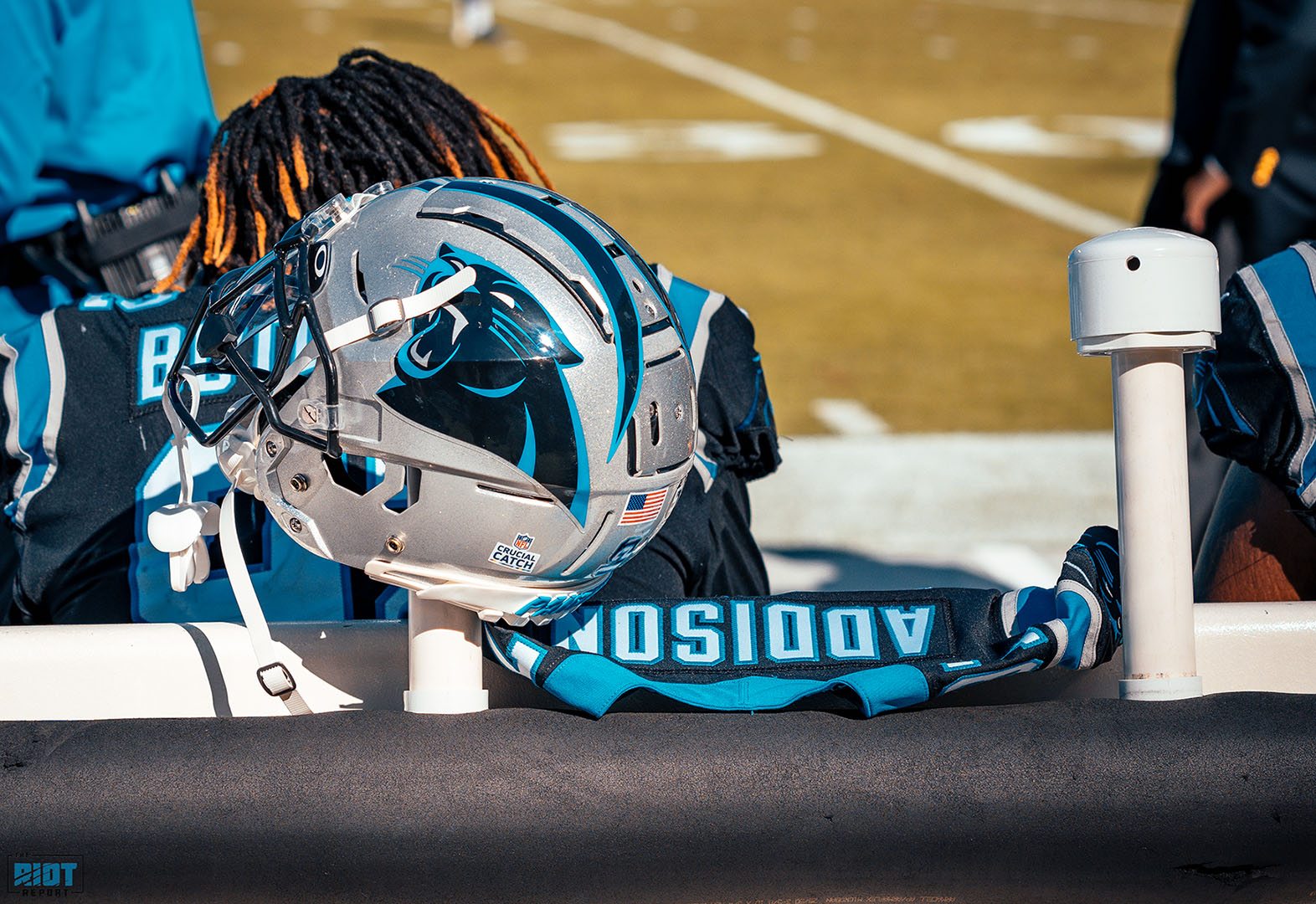 The team was rallying around not just Addison, but Shaq Thompson, who lost his mother on the eve of the Panthers' win over the Buccaneers in London; two deaths less than a month apart could be a huge blow to a locker room – but they rallied around their brothers.
"It's huge," said Dontari Poe, whose locker is next to Addison's. "That's a brother that's feeling a lot of emotions right now – tough times right now. He's a brother and we feel it with him; so we're trying to do anything that we can to kind of lift his spirit. What he's going through, we know he's watching – he counted on us to pull one out and we did that for him and his brother today."
The team had Addison not only in their hearts, but in their physical actions on the field – Gerald McCoy wore a hoodie during warm-ups adorned with The Joker, who Addison has adopted as his alter ego this season; in fact, the entire defensive line broke their pre-game huddle with a Joker laugh. And sitting next to the defensive line every time they returned to the bench after each of their three turnovers and seven third-down stops was Addison's jersey – slung over the back of the bench, reminding them of who they were playing for.
"We put his jersey on the bench because he's always going to be with us regardless of [whether] he's here or not," said Brian Burns.
The team dedicated this game to Mario Addison.

We miss you @HIT_STIQ4 💙#KeepPounding pic.twitter.com/oJqmL8AO4h

— Carolina Panthers (@Panthers) November 3, 2019
"When you see 9-7 sitting there," said Poe. "To see that jersey gave us a little bit of him, not the whole thing – but it was good to see."
While he may not have been there physically, it was clear that Addison's spirit was with the defense – the Panthers' leader in sacks with 6.5 through the first eight games would have been proud of an effort that saw the Panthers harassing Titans quarterback Ryan Tannehill, sacking him three times and forcing him into two interceptions.
"Obviously, a lot of guys have been thinking of him this week," said Greg Olsen, who has been Addison's teammate since he arrived in Carolina in 2012. "It's kind of hard to really wrap your head around it. For him to just realize that he's got a lot of guys here that care about him, not that it makes it any better, not that it takes away what happened, but when he's ready to get back, we're ready to wrap our arms around him."
Ready to wrap their arms around a brother.