Unsurprisingly, with the Panthers losing to the Colts 18-21, not everything that happened on the field on Sunday can be taken as a positive. While there was ultimately a lot to like about the Panthers' performance, there were also some areas that the Panthers will hope to rectify, and performances that individual players will hope to move past.
It is obviously important not to overreact to a handful of snaps from the first preseason game, but here are the players (or coaches) whose stock dropped slightly following the Panthers' loss.
1. Trent Scott
Trent Scott didn't have an abysmal game against the Colts and, given his versatility and the fact that the Panthers' coaches clearly admire what he can offer them, he is unlikely to be at much risk of losing his roster spot, but in a game where neither Taylor Moton, Dennis Daley nor Cam Erving were playing, he certainly didn't make a convincing argument for being seriously viewed as a potential starter.
Not only was he flagged twice for false starts, but he struggled to make a notably positive impression either with his pass protection or his run blocking, as the Panthers struggled up-front at times in the first half. He will almost certainly get a chance to rectify this as the season goes on but, having being talked about as a potential contender for the left tackle spot through the early stages of training camp, his performance against the Colts is not one that is going to do his case a huge amount of good.
This wasn't a disastrous performance, and Scott is likely to be active on game days throughout the season, but if this was his audition for the starting left tackle role then he likely won't get the part.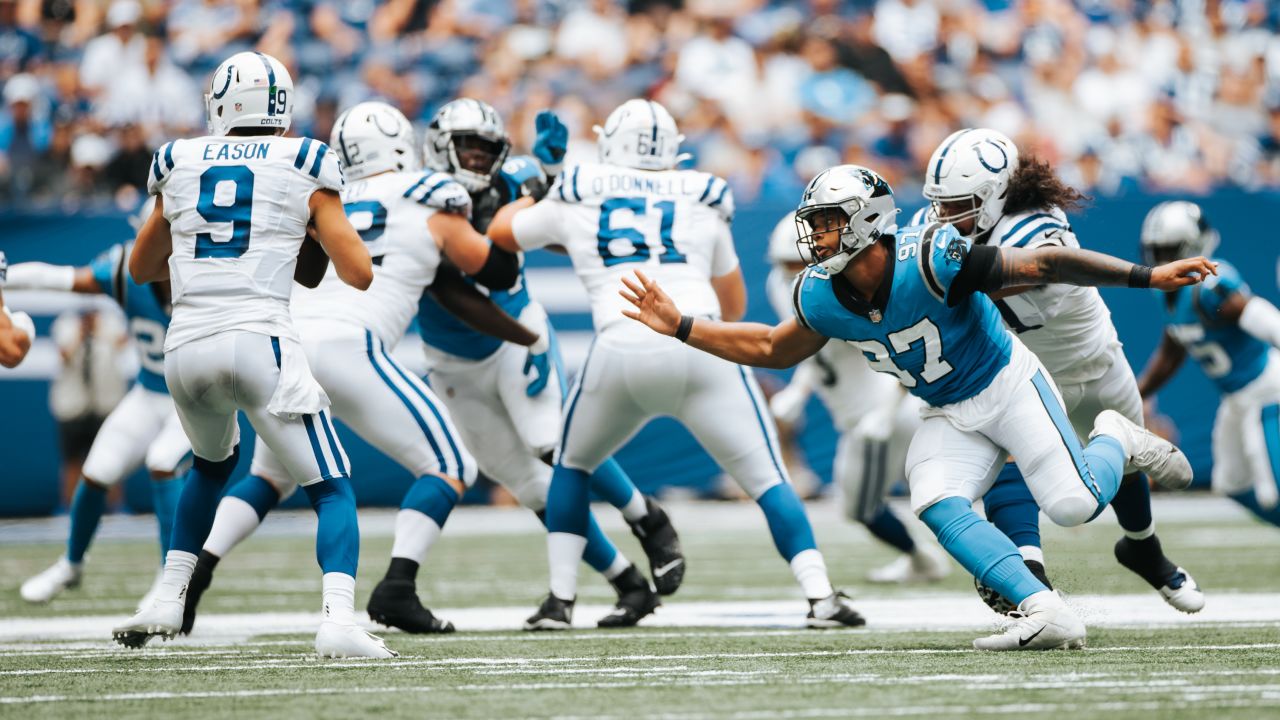 2. Interior Pass Rush
The Panthers' struggled to generate consistent pass rush outside of Brian Burns a year ago, and while they added the likes of Morgan Fox and Haason Reddick in free agency, as well as developmental options in Daviyon Nixon and Phil Hoskins in the draft, one of the big questions for the Panthers' defense for this season is whether they will be able to generate consistent interior pass rush. Based on the game against the Colts, the answer is mostly no.
This isn't to say the Panthers didn't generate any interior pressure, as Nixon and Hoskins did have a number of flashes, especially in the second half, but early on Jacob Eason consistently had a lot of time to throw, and even when the Panthers were able to generate pressure of the edge, he had a clean pocket to step up into.
It is early in the preseason, and the Panthers are likely to have much more in their pass-rushing arsenal than they showed on Sunday, but if the hope is that the likes of Bravvion Roy are going to be able to consistently push the pocket and force the quarterback back into the arms of the edge rushers then this wasn't a hugely encouraging performance. Hopefully things improve as the Panthers start to involve their starters.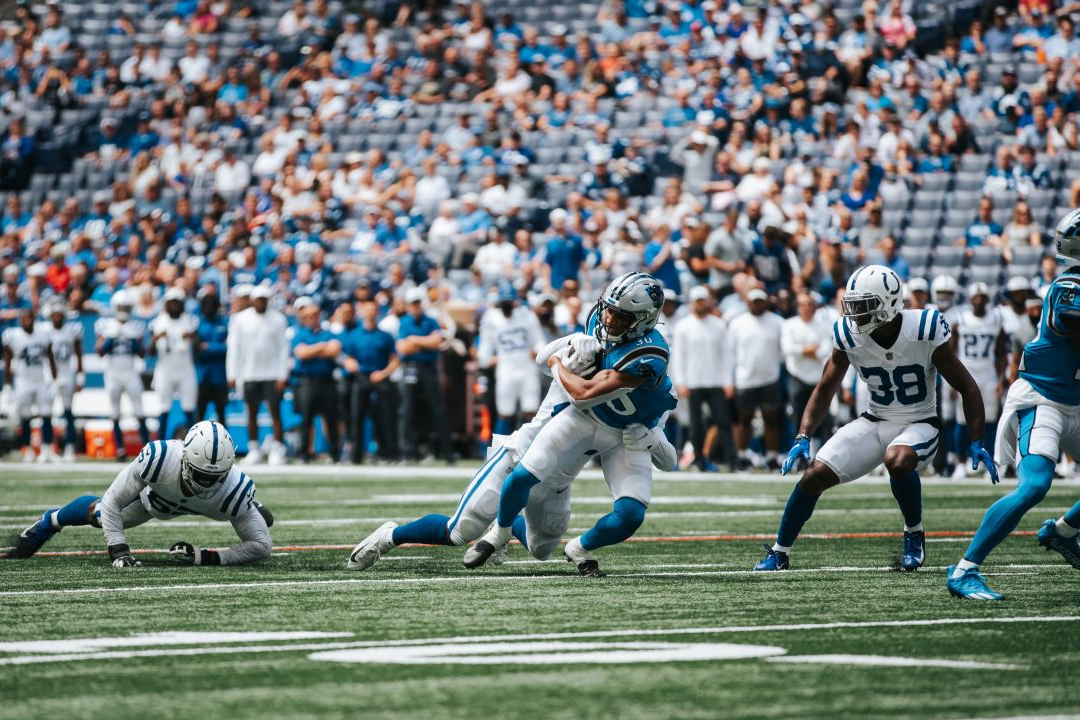 3. Interior Offensive Line
With Dennis Daley, Pat Elflein, Matt Paradis and John Miller all not playing against the Colts, and Brady Christensen starting out at tackle, the Panthers were admittedly rather short-handed on the interior offensive line on Sunday, but even with that in mind they looked to be consistently under pressure against what is admittedly a strong Colts' front.
Running the ball, their numbers were boosted by a long Chuba Hubbard run that was the result of some questionable defending by the Colts, but aside from that the Panthers' managed just 64 yards on 21 carries for the game, 15 of which came on one play on third-and-ten before the half. In the passing game, while the Panthers only allowed one sack, both quarterbacks were consistently forced to break the pocket and scramble when dropping back to pass, often as the result of interior pressure.
Matt Rhule admitted after the game quite how short-handed the Panthers were on the interior, especially as the game went on, and this is an area that should be much improved by having the full complement of players available, but if the Panthers were looking for a commanding offensive line performance on the interior, then they unfortunately didn't get one.
4. Chuba Hubbard The Receiver
Chuba Hubbard might have shown some encouraging signs as a runner on Sunday, but as a receiver he was notably less impressive with two drops including a frustrating play on a screen. This play in particular is hard to put down to much more than a lack of concentration, but having failed to make a massively impactful contribution as a receiver in college, this is going to be a question mark about his game until he proves otherwise.
This is especially relevant because any player who is asked to spell Christian McCaffrey is going to need to be able to contribute to the passing game in order to allow the Panthers' offense to continue to flow as usual. Importantly. the other two primary options at depth running back are both high-quality receivers, with Reggie Bonnafon even playing as a wide receiver for a season at Louisville.
Two drops are not the end of the world, and Hubbard had a decent showing overall, but proving that he is somebody that can be trusted to see the field in obvious passing situations is a must-do for Hubbard throughout the rest of the preseason.
5. Discipline
It is hard to make much of a coaching staff based on preseason action, with teams running reduced schemes and decisions being made to evaluate players rather than win games. However, one way in which the Panthers players didn't do their coaches any favors on Sunday was with their discipline.
While this was highlighted by a number of false-start penalties by the offensive line that Will Grier attributed to a louder crowd than they were anticipating (also not a ringing endorsement of their preparation) the Panthers also committed a number of other frustrating penalties throughout the game that the coaches are going to have to work on in the coming week.
Right now, these flags aren't the end of the world, but having made a real point of wanting to create a team that doesn't beat itself, the coaching staff are bound to be disappointed with the frequency with which the Panthers did exactly that on Sunday.
There is still plenty of time this preseason for players to show they are better than their performances against the Colts suggest and for coaches to get things rectified in anticipation of the preseason. However, for as much good as there was on display for the Panthers on Sunday, these were the areas where things could have gone better, and probably should have gone better.
Ultimately, it's still the preseason and there is no point overreacting to a handful of plays by any player or players, but there is certainly work still to be done and questions still to be answered ahead of week one against the Jets.
(Top photo via Chanelle Smith-Walker/Carolina Panthers)