Last week against the defending Super Bowl champion Philadelphia Eagles, the Patriots defense had their way with the offensive line, racking up eight sacks and hitting the Eagles' quarterback group 11 times over the course of the game – this week, against a banged-up offensive line that featured a second-year player getting his first NFL start at left tackle and lost the starter at right tackle after only eight snaps?
Zero sacks, one quarterback hit. Not bad for a group playing together for the first time – not bad at all.
"From what I can see I thought our offensive line as a whole played very well," said Ron Rivera about his line's performance that featured a 16-play, 77-yard opening drive that ate up almost ten minutes of game time. "I was very pleased with some of the things the veterans did in protecting the quarterback, giving him time to throw the ball, some things that we did right early on I was really happy about that."
"[I was] Pleased with the second bunch, would like to see us run block a little better, but man they did a nice job in terms of pass protection for the most part, and again, it's a tribute to how hard they work, but also to the coaching and I really appreciate what Coach Matsko and Travelle Wharton have done with those young guys."
This offensive line has already been decimated by injuries; 60% of the presumed starters – Matt Kalil, Daryl Williams and Amini Silatolu – did not practice this week and have no timetable for return, and the loss of Sirles early in the game hurts the team not only from a depth standpoint, but from an emotional standpoint. One of the reasons Sirles came here in the offseason was for the opportunity to start, and only eight snaps after getting the nod at right tackle, he was limping to the sidelines and being carted to the locker room with a hamstring injury.
Ron Rivera said after the game that Sirles would be evaluated over the weekend and the team would go from there – their solution on Friday night was Blaine Clausell, who played a team-high 60 snaps as he worked with both the first and second-team offensive lines; Clausell spent all of 2017 on the Panthers' practice squad before being called up to the main roster for the playoff game against the Saints, although he wasn't activated.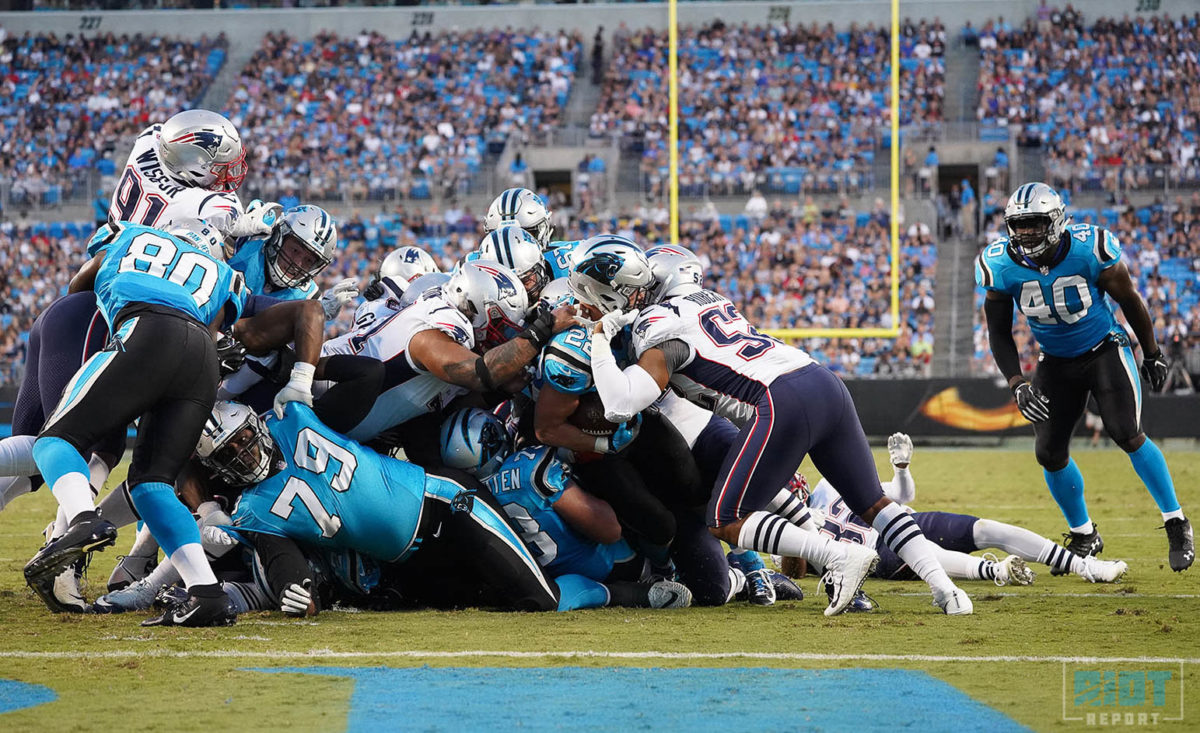 So an offensive line combination of Moton-Van Roten-Kalil-Turner-Clausell played the majority of the first half and allowed the Panthers to rush for over four yards per carry and kept Cam Newton relatively clean as he completed nearly 65% of his passes. Just the way the coaches drew it up, right?
"I think we're a tight-knit group," said Taylor Moton after the game, adding that he was relatively pleased with his performance but still had some things to clean up. "I think we have a lot of chemistry between each other so when we go out there, I think that whoever has to go anywhere, we're ready to rock and we're all on the same page. Having leaders like Ryan Kalil, he does a great job making sure that the chemistry is how it's supposed to be and we're all working together as one."
"Ultimately, whoever goes down, I know we have someone to go in and step up to the plate."
With Amini Silatolu perhaps available to return to practice this upcoming week and Sirles' status up in the air, it seems a foregone conclusion that the Panthers will be starting their fourth offensive line combination in as many preseason games as they hurtle towards a Week 1 matchup with the Dallas Cowboys, who have allowed the fifth-fewest rushing yards per game thus far in the preseason; whoever is filling the gaps along the front, whatever position they're playing, if they can produce another performance like the one they had Friday night, it might be enough to be successful.
Before NFL games, sheets are distributed in the press box to notify the media of any changes to the starting lineups – last night's featured three changes – Van Roten replacing Silatolu at LG; Sirles replacing Kalil at left tackle (he actually started at right tackle) and Moton replacing Daryl Williams at right tackle, when he would actually be replacing Kalil at left tackle – the names were right, but the positions were incorrect.
With the amount of changes along the line in only a month since training camp began in Spartanburg, you can forgive even the Panthers' PR team for a little confusion.
"We're offensive linemen – we're not guards, we're not tackles," said Greg Van Roten, who played last season mostly as the scout-team center and has moved into the starting left guard role with Silatolu out. "You need to be flexible and be the next man up; it's a cliche but it's true, you need the next guy to step up and to play well."
"It's an adjustment and it takes a little bit of time – each week you get a little better and a little more confident. "