While at the University of Kentucky, Phil Hoskins was asked if he had a hashtag to describe himself.
His answer was #MuddMade: A nod to his roots in Toledo, Ohio, where the wetland along Lake Erie represents both a point of civic pride and an impediment to those who live there. Toledo is a city proud of the mud, as evidenced by their love of the Toledo Mud Hens baseball team, but one that not many can simply trudge their way out of.
"A lot of people call Toledo the mud because it's hard to make it out of Toledo. They say either you make it out the mud, or you get stuck in it," Hoskins told The Riot Report. "I made it out, and I'm proud to claim that I'm from Toledo, Ohio and I'm from the 419. So my hashtag would be #MuddMade."
One of two defensive tackles drafted by the Panthers in 2021, Hoskins now has a chance to add an extra dimension to a Panthers' defensive line that already features rising stars in Brian Burns, Haason Reddick and Derrick Brown. Speaking exclusively with The Riot Report, he details how aims to be part of that group of stars, as well as what he is going to give himself the best chance of making an impact year one.
Hoskins' emergence from the swamps and marshes of Toledo has brought him to the red clay of the Carolinas, and a month after being drafted with the 232nd-overall pick by the Panthers the former Kentucky defensive tackle has had a chance to get to work both through the Panthers' rookie minicamp and the first week of OTAs, as well as adjusting to life in the Carolinas.
"The thing I enjoyed the most, honestly had to be just being able to be an NFL football player and just come out here and work," said Hoskins. "But transitioning to Charlotte, I would say it was much different than Kentucky because the city life here is, honestly, beautiful. Every day, it does not matter what day it is, there's somebody walking around. They don't even have to have an event going on, but there's just always people engaging with others and just walking around and being social. So that's probably my favorite thing about Charlotte so far."
As well as his transition going well off the field, barring an adjustment to a warmer climate to that surrounding the Great Lakes which Hoskins admitted he does prefer, he is also making strides on the field as well, developing a relationship with his coaches and teammates while he gets up to speed with the defense.
His first month with the Panthers, though, has given him a first-hand look at the level of work and dedication that it takes to be an NFL player – which is unlike anything he saw in his college days.
"It was honestly one of the most beautiful things when the vets came back after the rookie minicamp, because I got to see how they push themselves, how much faster they are, how much stronger, how much they put in to being a great football player," said Hoskins. "It was just a change of speed.
"My coach told me that when the vets got back, they were 'gonna show you guys how it's done.' But I wasn't expecting that the first day they came back – I wasn't expecting to see what I saw. That honestly gave me a new level to work to, so that was really nice to me."
Hoskins believes that the Panthers have what is "a great defense for a defensive lineman" and it only takes a walk through the building for Hoskins to prove his point, as Panthers' history is littered with great defensive tackles from the likes of Brentson Buckner and Kris Jenkins to more recent examples such as Kawann Short and Star Lotulelei.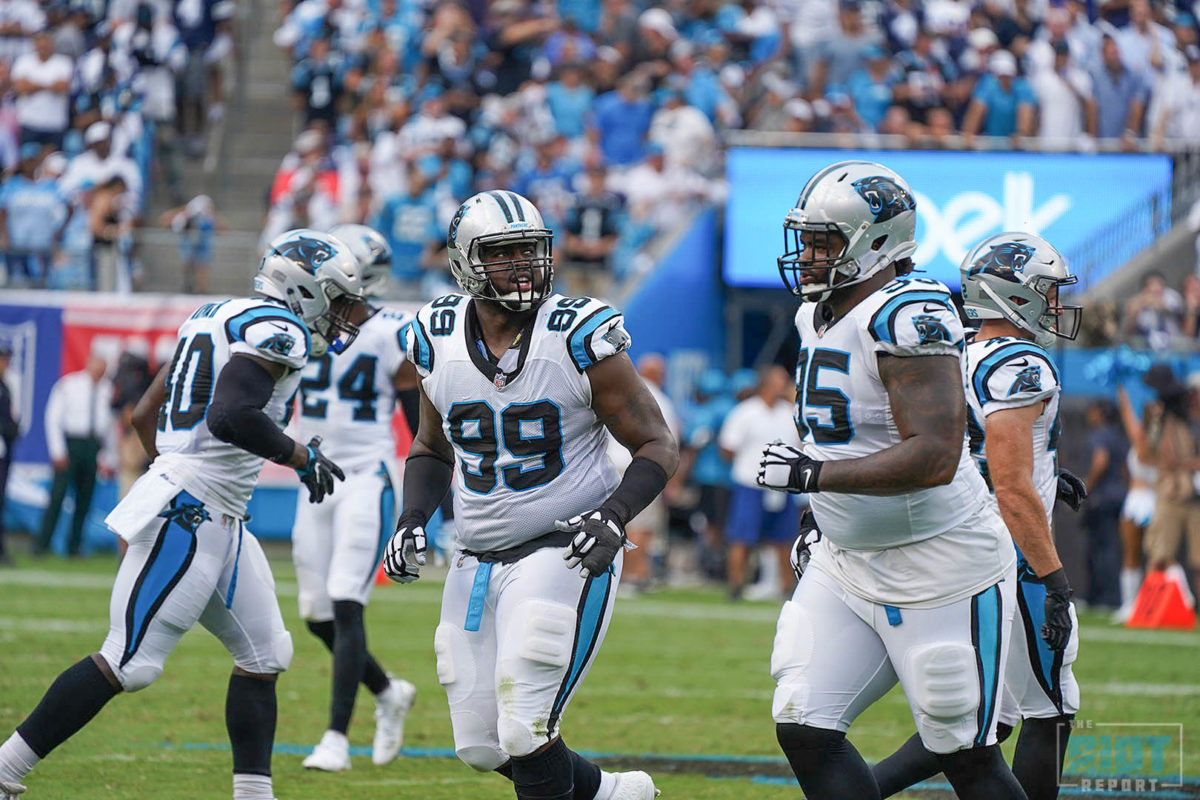 Upholding Carolina's traditions on defense is important to Hoskins, and he comes to the Panthers following a few great examples. One of the players Hoskins tries to model himself after his Pro Football Hall of Famer – and former Panthers defensive lineman – Reggie White. But his main inspiration is All-Pro defensive tackle Ndamukong Suh, whose early career with the Detroit Lions gave Hoskins an example to emulate.
"He was so aggressive and so physical. And it was just like, that's how I play – I play a very powerful game," said Hoskins. "It's sometimes finesse, but I like to use my power, and I felt like he was unstoppable."
Listed at 6'5 and 280 pounds, Hoskins has the physical tools it takes to be an unstoppable force but, as a seventh-round pick, he is aware that nothing is guaranteed from this point on. While seventh-round picks have the distinction of having been drafted, very little is guaranteed to them – While most higher draft picks are penciled in for roles as starters or key reserves, the expectation for seventh-round picks is that they compete with undrafted rookies and other free agents for a position on the 53-man roster.
Faced with that reality, everything has become a competition for Hoskins, whether that's in note taking, in taking coaching, or simply in arriving at the building first. Lately, Hoskins has been engaged in hotly contested battles with rookie fullback Mason Stokke to be the first player at the facility for morning COVID tests.
Although it's a stressful and "weird" position to be in, Hoskins believes the situation he has found himself in is "God-given", and that everything will work out if he continues to do what he's doing.
"It's like Coach Rhule said: 'It doesn't matter what round you got drafted in or if you're an undrafted free agent – You're here now. So, what are you gonna do with it?'", said Hoskins. "And all I ever needed was the opportunity, and that's been my thing my entire life. Because I've always been an underdog, but all I've ever needed was an opportunity. I'm just grateful that I got this."
Instead of shying away from adversity, Hoskins is the sort of player that embraces a challenge – a large factor in why he's looking forward to training camp and the preseason. And he has also set the bar incredibly high for himself: After being drafted, Hoskins commemorated his selection into the NFL by tweeting that "'I came along way but I ain't as far as I'm finna be' … This the road to my Gold Jacket."
"I came along way but I ain't as far as I'm finna be" I woke up a Carolina Panther. A real NFL player. This the road to my Gold Jacket.. 🚀

— Big Snacc (@phil_hoskins) May 2, 2021
All NFL players dream of one day being a Pro Football Hall of Famer – The sort of honor that comes after a career of being a perennial Pro Bowler, All-Pro, and one of the best at their positions. And a Hall of Fame gold jacket is, indeed, one of Hoskins' goals.
"One of" being an important distinction, as Hoskins' ultimate goal as an NFL player is not one of individual glory – It's one of the love a father has for his son, and one born of a father's guidance.
"My ultimate goal in the NFL is to make my son proud," said Hoskins, speaking of his young son Noah. "That truly has nothing to do with the NFL, but it gives me more motivation than just getting the gold jacket. Because I remember my freshman year of high school, I told my dad that I was gonna get the gold jacket. And every couple months he would text me: 'Don't forget your end goal, Phil. Don't forget your end goal, Phil.' That alone is driving me to be the best."
It is that goal, and making sure he achieves it, which gets Hoskins out of bed each morning and thrusts him forward into the competition he now finds himself in. As of now, with training camp still a ways away, Hoskins' battle to make the 53-man roster – the starting point for his long-term goal – is only beginning.
As long as it is in his power, Hoskins is determined to see to it that his path towards his goals doesn't end anytime soon.
"Nothing is given to me – I'm a seventh rounder, so it's possible I could get cut, you know? And that's just the reality of the NFL," said Hoskins. "But if I treat it the way that I'm treating it, I don't see that happening. I see myself making it long term, and I see myself getting that gold jacket. Because it's just about the little things that I've been doing: Getting up out the bed, being the first one there, making sure I'm taking the best notes possible. Asking for help, asking questions, talking to the vets, getting around those guys.
"I'm doing everything that I possibly can to make sure that I'm in the best position to make those goals happen. So I'm just being accountable to the things that I said that I would do."
(Top Photo via Brandon Todd/Carolina Panthers)