After having one of the worst defensive seasons in franchise history, the Carolina Panthers did something no other team in the modern era has ever done during April's draft.
All seven of their draft selections were on the defensive side of the ball.- and with the way their defense looked last season, the Panthers certainly needed every one of them. Carolina finished the year 23rd in total defense as they gave up an average of 374.5 yards per game, but that wasn't the worst of it. Their defense allowed an average of 143.5 yards per game on the ground and tied a dubious record by allowing 31 rushing touchdowns on the season, the most since the AFL-NFL merger in 1970.
That was then and this is now – on the Panthers roster currently, there are a whole lot of young, moldable players on the defense – and one man to teach them.
Hello, Phil Snow.
"A good teacher makes the complicated simple," Snow said when he was first hired. "And the only way to do that is [by knowing] your subject matter. Anybody that really knows their subject matter can make it simple and we believe we know our subject matter – we've been doing this a long time."
Trying to get to know his team virtually certainly won't help the new defensive coordinator initiate a turnaround; while they have a brand new coaching staff, several notable changes to their defensive personnel and Snow says he hasn't met 97% of the players on the team in-person yet, the 64 year old defensive coordinator who has been coaching for over four decades says he won't make any excuses in his first season with the club.
"No one wants to hear them, and we don't give them," Snow said. "So it would have been a better situation if we would have been on the field the last two and a half months, obviously with a new staff. But it is what it is – and I think we got a lot of work done over the last two, two and a half months with [the players]. We've been with them on the internet a couple of hours a day with the vets, and the rooks have been a little longer. And so we've gotten a lot of stuff done."
"Obviously, we haven't seen these guys move in person. You would really like to see each guy move in person, so you know what they can and can't do, and that's what we would have gotten over the last two and a half months along with learning the system from an execution standpoint."
"But we've done the best job we can, we've really worked hard at it. I'm not sure any team in the National Football League has outworked us."

Snow and the Panthers will have their challenges entering 2020 – they've lost nine starters defensively, including former NFL Defensive Player of the Year Luke Kuechly, edge rusher Mario Addison, cornerback James Bradberry, and safety Eric Reid. Last season, Carolina's base defense was in a 3-4 set after years of playing in a 4-3 scheme. With Snow as their defensive coordinator, the Panthers will return to a four-man front after the failed experiment.
Getting one of their better players on their defensive line back from injury certainly should help. Defensive tackle KK Short's 2019 season was cut short after only two games due to a partially torn rotator cuff.
Having Short back healthy, the selection of Derrick Brown with the seventh overall pick and a combination of quality rushers on the outside gives Snow some optimism headed into the season – especially about the defensive line.
"I have big hopes for KK," Snow said. "I think he has quickness, he understands the game, he can rush the passer for a big man. I think it is really important how we use him and Derrick inside in their roles. They will create a lot of problems for people inside."
"[Burns] is kind of a unique guy. He's long, he can move, and you can do different things with him. [Stephen] Weatherly, I think he can become an elite pass rusher at this level. So we have some pieces, in my opinion. Now we have to develop them, and how long that takes to come together and play the type of defense that it takes remains to be seen."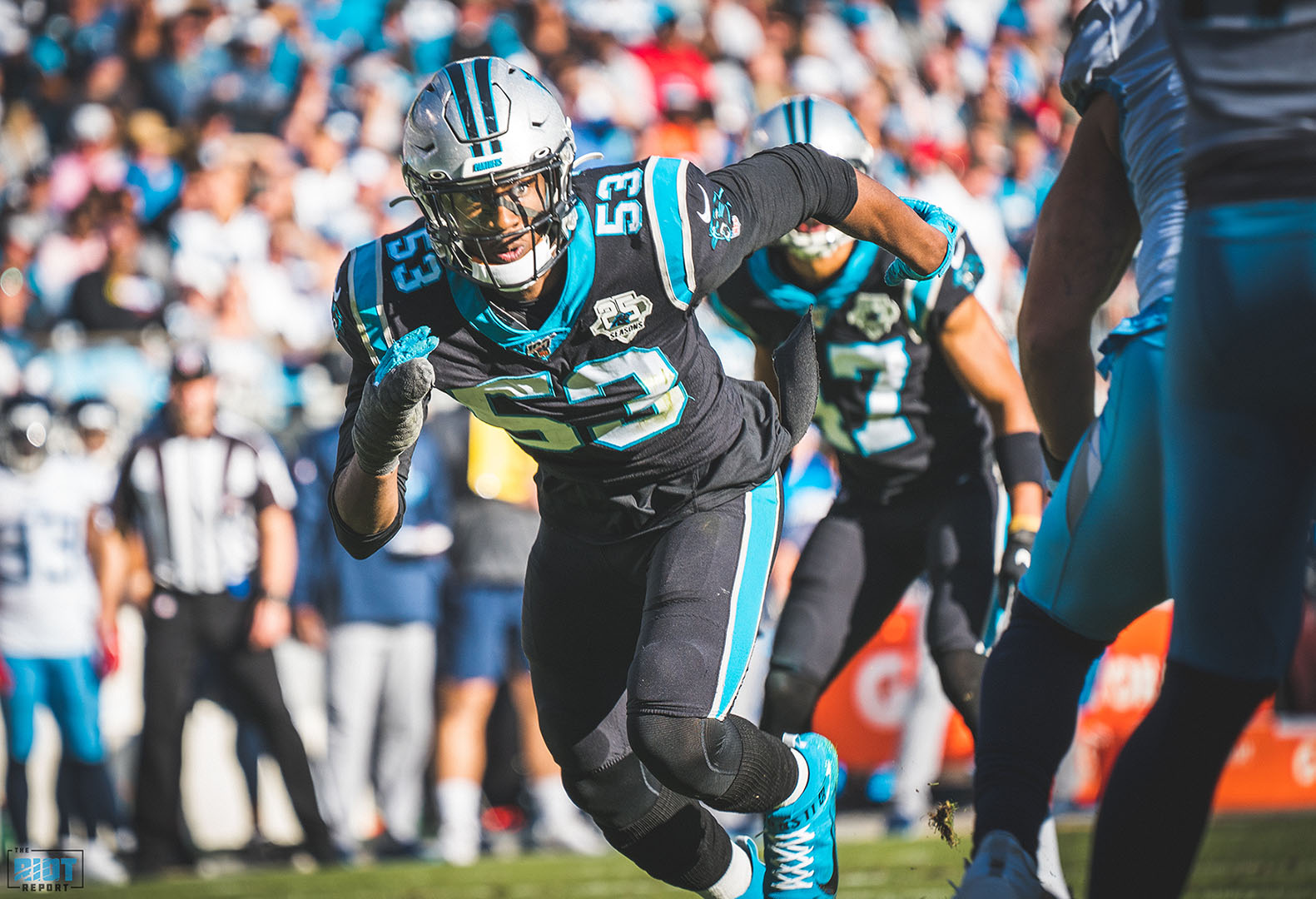 To help take the place of Kuechly after his unexpected retirement, the Panthers signed linebacker Tahir Whitehead after he spent the last two seasons with the Raiders. To begin the season, Whitehead will be the Panthers middle linebacker while Shaq Thompson will be on the outside. But Snow is really excited about the opportunities that his personnel provides in different formations.
"We have a lot of possibilities at linebacker," Snow said. "The beauty of [second-round pick] Jeremy Chinn is he can go out on the field and play the backer. He is 220 [or] 225 pounds and can run. He can do a lot of different things. Can Shaq play the MIKE backer in nickel? We have some flexibility with our linebackers that I'm excited about."
The biggest question when it comes to the Panthers in 2020 is arguably their secondary. With Bradberry gone, Donte Jackson and newly signed Eli Apple are the veterans in the group. Carolina has also signed Juston Burris while drafting Chinn and Kenny Robinson – the defensive backfield is going to be very different than it was last season. Snow thinks some of the safeties are versatile, so he won't refer to them as safeties – rather as simply defensive backs as he moves his chess pieces all over the field, allowing the same formation on defense to deal with multiple offensive personnel.
Jackson certainly had his issues last season in pass coverage, and he was even benched toward the end of the year. Despite his struggles, Snow believes Jackson has a bright future ahead of him.
"Donte is really tough for his size, Snow said. "He is physical. In today's football, everyone is getting into tight formations to run the football and make the corners tackle, he can do that. So I'm excited about that. You look at how well he runs, he has catchup speed. The problem is – he needs to get a little bit more detailed, and we've talked to him about that. With our DB coaches, they're working well with him. He has some talent, so I'm excited to watch him grow with the people that are going to coach him."

What should help the Panthers this season is the pressure will be off during Snow, Rhule and the rest of the coaching staff's first season in Carolina. The Panthers have brought in several young players who the team will hope to develop for the future.
Snow knows it will be growing pains with a young defense full of new players – only three players on the defensive roster are over 28 years old. But he's hoping to reap the benefits down the line.
"There's no substitute for experience," Snow said. "The way we all learn is we get our butts kicked, right? In your business, in our business, that's how you learn. So they're going to go through some growing pains. But I think we hired the best guy to coach them in [defensive pass game coordinator/secondary coach] Jason Simmons. If you look at Jason's history, he's taken a lot of good, young players and made them really successful."
"So if we can do that with those young guys and let them grow, then I think we'll be in pretty good shape."
(Top Photo Via Jerry Larson/Waco Tribune)