Matt Rhule's full Panthers staff is slowly coming together – after this weekend's news that Jake Peetz will be moving to quarterbacks coach and the reported hires of tight ends coach Brian Angelichio (Rapoport) and presumed running backs coach Jeff Nixon (Thamel) rounding out the offensive staff, the attention turned to the defense as some of the media had a chance to speak with new defensive coordinator Phil Snow Tuesday morning on a variety of topics – from how he was enjoying Charlotte (his hotel room and the stadium are all he's seen thus far) to what kind of defensive scheme he might run in Carolina.
Snow has been with Matt Rhule at both of his head coaching stops in college – Snow and Rhule both helped to turn the programs around at Temple and Baylor – and has led tough, hard-nosed defenses everywhere he's gone – Snow is likely to be the most experienced coach on the Rhule staff with 37 years of coaching experience, including four seasons on the defensive staff in Detroit; at Temple, the Snow defense led their conference in 2015 & 2016, with the unit ranking third nationally in total defense (282.5 ypg) in 2016.
Last season at Baylor, Snow's defense finished second in takeaways (30), third in interceptions (17) and eighth in sacks per game (3.31) – with Al Holcomb joining the defensive staff as run game coordinator and Snow bringing linebackers coach Mike Siravo with him from Baylor, Snow's staff is beginning to come together and while he wouldn't go into specifics on personnel, he gave a hint as to how his defense might look in Carolina in 2020.
Check out some of his answers from the Q&A today:
Have you had a chance to do a personnel evaluation and how would you characterize some of the core values of your defense?
Well, the personnel thing, [that's] still in process, so we'll be able to do that later on. But, I don't care who coaches defense, you know, we didn't invent the game. There's a way to play it – you've got to play it fast and physical and you've got to create turnovers and not give up big plays. So that's what we're all trying to do. So if you characterize a good defense, they play fast and physical, they don't give up big plays and they create turnovers. So that's what everything we design is intended to do.
How would you describe your relationship with Matt Rhule?
Well, I've known coach Rhule since 2001 – and our roles have completely changed. He was my graduate assistant when I was the defensive coordinator at UCLA and now I'm working for him. We've got great respect for each other, he's really a good football man. Really a good head football coach.
Players like him, he gets to know them [and] we've just had a great relationship so, when he took the Carolina job, he asked me if I would come as a coordinator and I said yes, so here we are
Matt Rhule said in his opening press conference he prefers to run a 4-3 and it looks like that's primarily been your background, how do you think the Panthers current personnel fits that and what's your philosophy?
I've done just about everything on defense over the years – last year at Baylor, we were a three-man front. So we've done a variety of different things and I think what what's smart to do – we'll be multiple – but what's smart to do is use the people that you have. You know, our team is not settled yet. There's a lot of things that have to happen before we know what we have. So we'll utilize the people that we have, but we're going to be multiple anyway. So you'll see us in four-man, three-man, bear, you'll see us in a lot of different stuff. I think today, you have to be multiple to give the offenses some problems from a schematic standpoint – so we'll see what we have and then we'll put it together.
How do you plan on dealing with the loss of Luke Kuechly and proceed with the linebacking group moving forward?
I only know Luke from watching him on TV and obviously he's a great football player – anytime you lose somebody like that, we'd have loved to have him. But he's not here – so we have to move on and we'll evaluate the linebacker situation as we go. We're in the process of doing all those things right now and and so I'm not educated enough yet to comment on how that's all going to unfold – but as the week's go by, I'll be much more knowledgeable in those areas.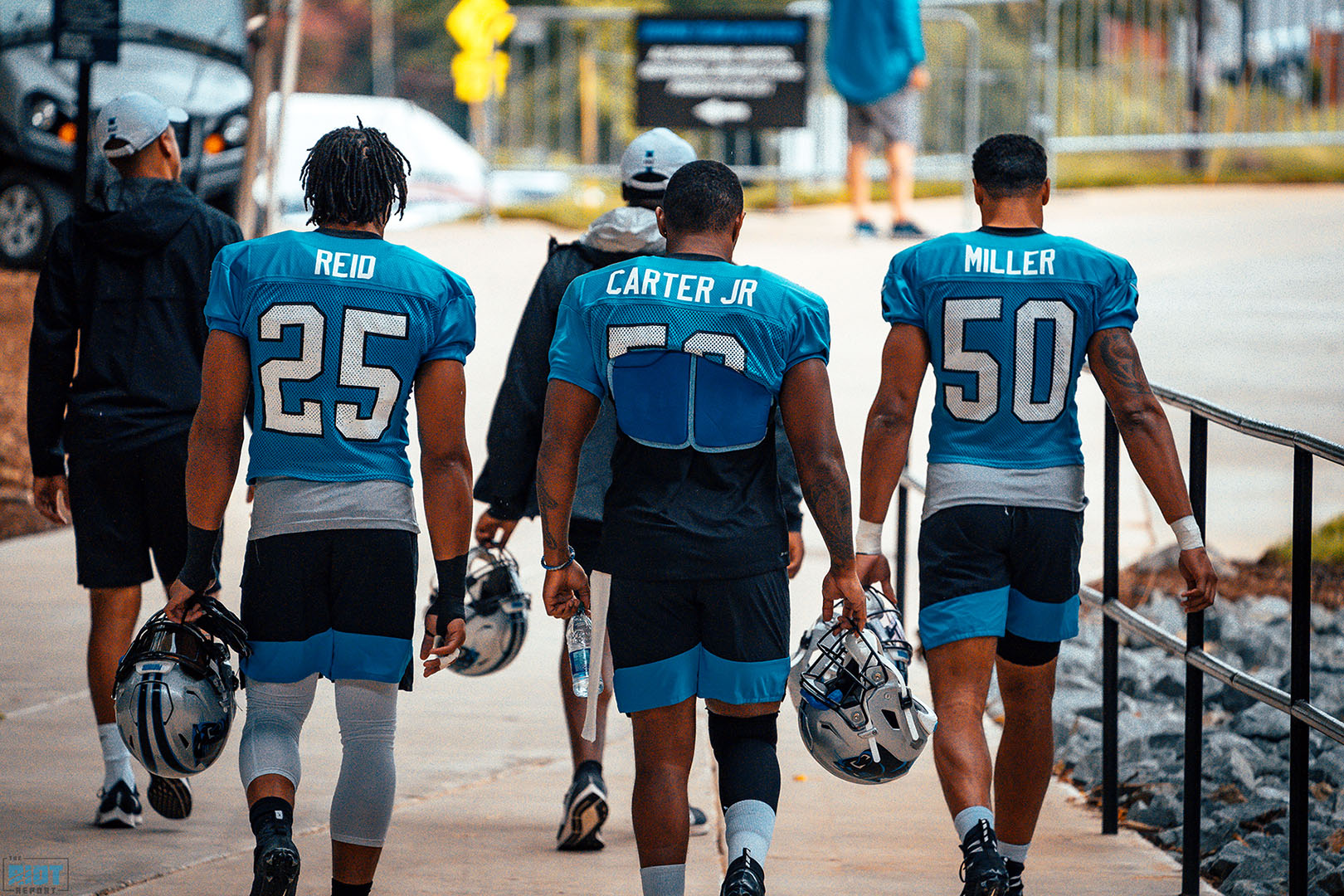 You were able to rebuild the Baylor defense in three years and really turn that unit around. What was the key to rebuilding the defense so quickly?
When you say quickly – normally, I've gone to places and turned them around in one to two years. We actually did it the third year there and the reason [was that] we started with 20 freshmen and they had to grow up a little bit.
But we've had good success if we can coach players for two to three years, we normally develop them and they end up playing pretty well. So it was just a developmental issue and we got them to a point where they understood football and went out and played it the way it's supposed to be played.
With Al Holcomb coming in as the run game coordinator, will there be a passing game coordinator? Would that be someone working hand-in-hand with you to fill that role?
Coach Rhule's handling all that, but in today's world, that that's what you have – you have a lot of different area guys, right? So I'm sure when the whole staff is announced that we'll have some different titles, but coach Rhule's handling all that…..I'd rather not comment on the staff and let coach Rhule do that first and then after it's announced, I'll make some comments.
What kind of problems or opportunities might the jump to the NFL present to you as opposed to molding young men throughout college?
I've coached in the NFL before. Here's the deal: anytime that you can make somebody better and they know you can, they're all the same – whether they're 18 or 25. I have kids that have gone through all those stages; people are people. So it's not that big of a difference – now, if they don't think you can make them better, then they don't listen – but if they know you can make them better, there's not that much of a difference.
You're a teacher. And you're teaching people how to play football….Even when a person is 26 years old, you can still learn from older people, things about life. So we're still educating people even though we're dealing with men. I'm 64 years old, so I'm sure I can shed some light on some subjects that they need some education on.
So you're still educating and teaching no matter what level you're at.
How would you characterize your teaching style?
[I'm] fairly aggressive. I'm loud on the field and those type of things; but a good teacher makes the complicated simple. And the only way to do that is [by knowing] your subject matter. Anybody that really knows their subject matters can make it simple and we believe we know our subject matter – we've been doing a long time. It's easy to communicate with somebody when they can understand what you're saying. So we're still teachers – that's what we do.
What did you take from your time with the Lions?
We actually, I think, learn more from failure than we do success. And you find out about who you are and I think you learn a little bit more. So [when] I was in the NFL with Detroit, we were not successful there. So there were a lot of things I learned from that experience that [will] help me today.
How are you liking Charlotte so far?
Well, I've been here about two weeks – I was at the Senior Bowl, but you know, I've seen my office and then the hotel I'm staying in. So hopefully this weekend, I get out and about because I've got to buy a house here – so I've gotta start looking.
Last year at Baylor you used some interesting looks in the secondary with three safeties, was that just the personnel that you had on the roster? And how important do you think it is to shift your philosophy to who's on the field for you?
Yeah, it was based on on the personnel that we had. And I think that's what good coaches do – you just don't run a system if you don't have to players to run it. The players win the football games, not the coaches. So we've got to put them in the best position to play and then we'll decide on technique and schematic, what that is, as we develop this roster.