On November 9th of last year, the Chicago Bears pissed Mike Davis off.
Davis was made expendable when the Bears drafted David Montgomery in the third round of the 2019 Draft and was seldom used in 2019; the Bears opted to waive him a little over half a season into a two-year, $6 million deal. For Chicago, it was simply part of doing business in the NFL – but that was of little solace to Davis, whose 11 carries for 25 yards and seven catches for 22 yards in eight games were hardly the sort of opportunity that he expected.
"Anybody would be pissed off when they're cut. I don't know any other way to take it," said Davis. "As far as the opportunities, honestly, I can't tell you. I don't know what happened in that department."
Just two days after being cut, Davis was picked up off the scrap heap of the waiver wire by the Carolina Panthers. And as fortune had it, he not only managed to stick around – but he has gotten the best opportunity he's ever had in the NFL.
As the substitute running back for Christian McCaffrey, Davis has proven himself – with feeling – as a dynamic and punishing runner. In three games since McCaffrey went down with a high ankle sprain, Davis has been integral to the Panthers' three-game winning streak by bowling over defenses to the tune of 219 yards and a touchdown on 45 carries. Not only that, but he's proven an apt receiver, catching 22 passes for 132 yards and a pair of touchdowns.
As if that weren't enough, he also leads the NFL in broken tackles (30) despite only being a featured back for three of a possible five games.
Compared to the explosive McCaffrey, Davis fits the mold of a much more traditional running back. A viciously angry sort of rusher, Davis has impressed in the way he invites contact and churns through tacklers in fighting for yards. It's the sort of style that old school football aficionados certainly appreciate – Particularly when it's accompanied with the vernacular of violence.
"I don't think it's a bad thing to run pissed off or angry – I'mma always do that," said Davis. "… When I'm on the field, I just feel like the person in front of me shouldn't be there. I just be wanting to destroy the person that's in front of me."
With Christian McCaffrey remaining out of the lineup – he was not at Wednesday's practice – Davis' path of destruction is set to continue this Sunday. And sure enough, the next team in his way happens to be the very same one that let him walk.
In a league where players constantly move from team to team, "revenge games" can be a bit overstated. They make for an easy storyline, and there are times where they can be very dramatic. But more often than not, a player's individual desire to stick it to his former team carries with it a risk to his team's collective success.
If a player hypes themselves up to the point where they see red against their old team, bad things – penalties, freelancing, and other mental errors among them – can very easily occur. Which is why both publicly – and privately – Davis seems to have not put too much stock in facing the Chicago Bears.
"Any time a player gets too excited for a game, they run the risk of not following the process that has gotten them to that point," said Matt Rhule. "Mike hasn't said anything to me about being too hyped up for this game. That's why I sort of always have that steady message about the same process every week, do the same thing."
"Mike's playing really well, and he's playing well because he's practicing well, because he's entering the game really focused. I'm excited to see him play another game. I would anticipate him being the same guy this week that he has been."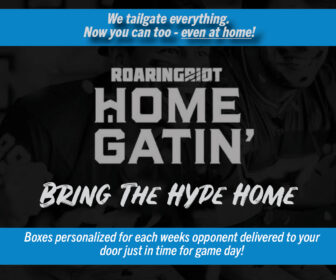 "I'm just treating it like another game," said Davis. "I'm a veteran, so I don't want to go out there and try to do more than what I do. … Don't try to make the game bigger than what it is. Just be me, don't go out there and do stupid things like get penalties or something like that that affect the team. Just go out there and just do whatever Coach tells me to do."
Keeping a level head is duly important for Davis, as McCaffrey's injury has created an opportunity for him to not only have a larger role in the interim, but moving forward as well. During the Panthers' winning streak, there has been outside noise about exactly how important McCaffrey really is to the Panthers' offense, with San Francisco 49ers cornerback Richard Sherman suggesting that McCaffrey not being on the field actually makes the Panthers more difficult to gametoplan for.
Meanwhile, the Panthers have not yet activated McCaffrey off ofInjured reserve: Their first opportunity to do so came this week and will pass, though it should be noted that McCaffrey's timetable for recovery was set at approximately four to six weeks – we're still very much in the early portion of that timeline.
Davis' success doesn't mean that Carolina is content to keep Christian McCaffrey on jackstands. But it also doesn't mean that Davis is going to go back to being a benchwarmer once McCaffrey returns.
"I can't wait to get Christian back, no matter if we have Mike or whoever else playing," said Rhule. "You never want to apologize for having great players, and Mike's playing like a great player right now. I'm excited about what he's doing – it just gives us all the more options. That being said, as soon as Christian's able to get out there, I'm fired up for that too."
"… I didn't want to hire an offensive staff that just said 'Hey, here's our offense.' I wanted to hire an offensive staff that could figure out how to move the ball, score points, but most importantly win games with different subsets of people. We can play with three tailbacks, we can play with four receivers, five receivers. We have the coaches and the players to do it."
For now, Davis is going to have to channel whatever emotions he feels towards the visiting Bears into getting the best of a very difficult defense at all levels. In their own tradition of tough defense, the Bears have a unit headlined by star defensive end and former NFL Defensive Player of the Year Khalil Mack, who is just the tip of the Midway's iceberg.
"They've got a great defense," said Davis. "It isn't just Khalil Mack, they've got a lot of guys up front. They've got [safety] Eddie Jackson back there, they've got [cornerback] Kyle Fuller. I know a lot of those guys too, so I know what a lot of them are capable of."
"It's not that we're just keying on one person. It's just another team. We've just got to go out there and do what we do."
Perhaps somewhere in the recesses of his mind, Mike Davis will take special satisfaction in running over the Bears – after all, he's riding high off some of the best football of his career just as he goes up against the team where he arguably was not valued. It's far more likely, however, that Davis sheathes his emotions while letting on to other things that tick him off.
Like Teddy Bridgewater's nickname for him.
"I've got to get Teddy for telling the media that my nickname is Milk Dud. I've got to get him back for that," said Davis. "… I've got to find something for him. I don't know, I might need to talk about his haircut or something … I can't let him get away with that."
Mike Davis stays pissed off.
(Top Photos Via AP)