When Scott Fitterer was announced as the new GM in Carolina, he stated that he wanted to be aggressive in his approach – and based on the evidence so far, he wasn't joking.
After reportedly making a serious offer to the Lions for Matthew Stafford before he was ultimately traded to the Rams, the Panthers' sights have very much moved to Deshaun Watson, who, in turn, has made it abundantly clear he wants out of Houston. The fact that a team would be interested in adding one of the elite NFL quarterbacks seems fairly obvious, but whether they will be able to win the race for Watson is less clear.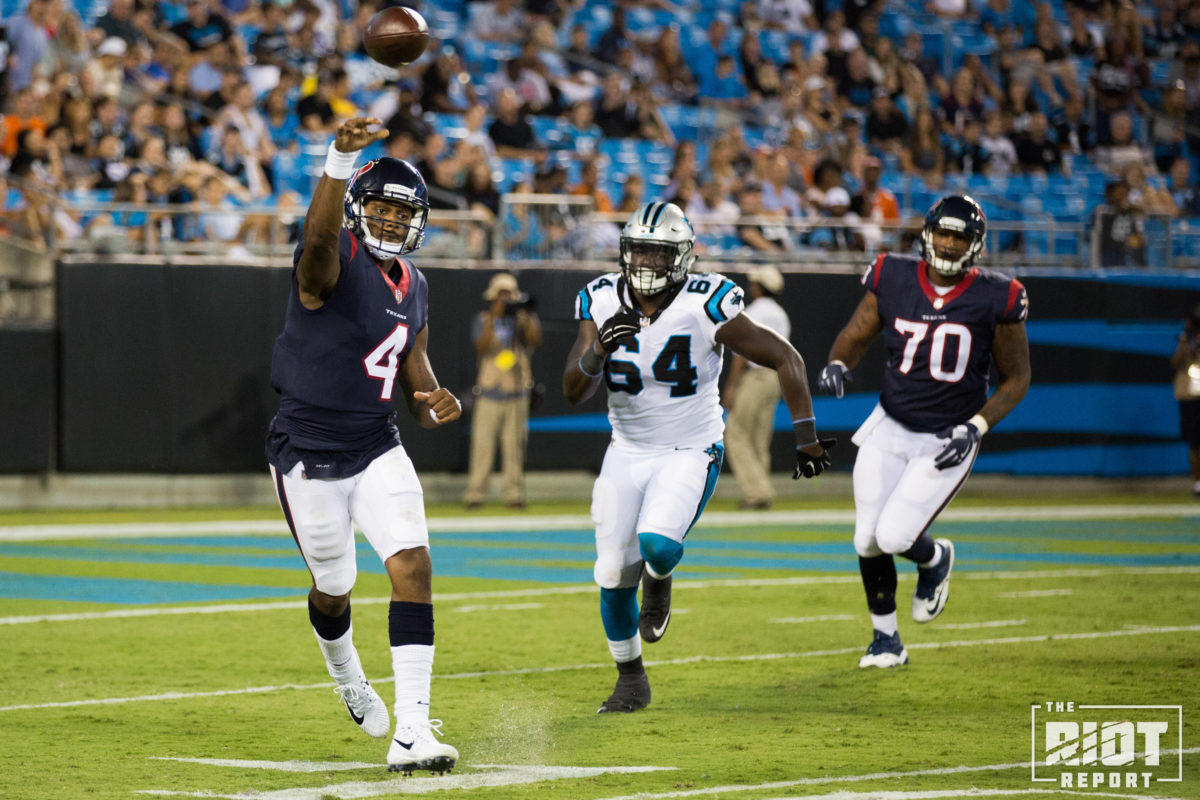 While the number of potential suitors seems to actually be quite small, any deal the Panthers make for Watson is expected to include multiple first-round picks and likely some combination of players as well. Peter King suggested a deal including Christian McCaffrey, Teddy Bridgewater, Robby Anderson, two first round picks, a second round pick and a third round pick, while Good Morning Football's Peter Schrager suggested a package of McCaffrey, Bridgewater, Anderson, two first round picks and Brian Burns.
Either of those two deals would be arguably the biggest trade in NFL history.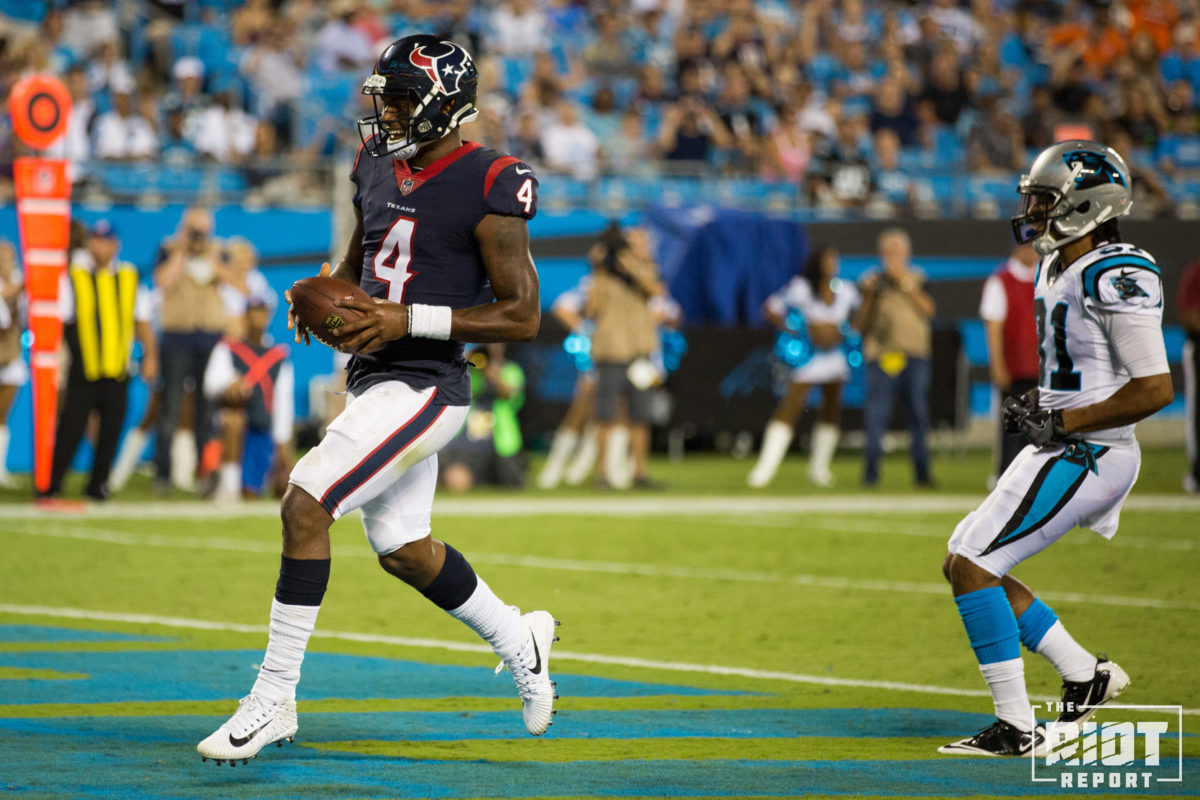 While it's not exactly clear what exactly need to offer to bring Watson to the table, would the Panthers be willing to offer whatever the Texans need to be able to get this deal over the line? And the bigger question: should they?
Let's debate.
Josh Klein: Allow me to go Eminem in 8 Mile and debunk your arguments before you make them.
Yes, trading multiple first-round picks would hurt the Panthers ability to continue building a competent roster around Deshaun Watson over the next few seasons, as shaping your roster through the draft is not only the most prudent way to build your team, but it helps keep your payroll well below the cap number so that you can add more pieces down the road through free agency. Yes, part of the reason why Watson would waive his no-trade clause to come here in the first place would be to play next to the players you'd likely have to include in the deal to get him here.
And yes, this certainly seems to be abandoning the 'Rome wasn't built in a day' mantra that David Tepper was preaching less than 16 months ago.
But here's the thing: I don't care about those things. It's not good process, but sometimes bad process yields good results – this is one of those situations.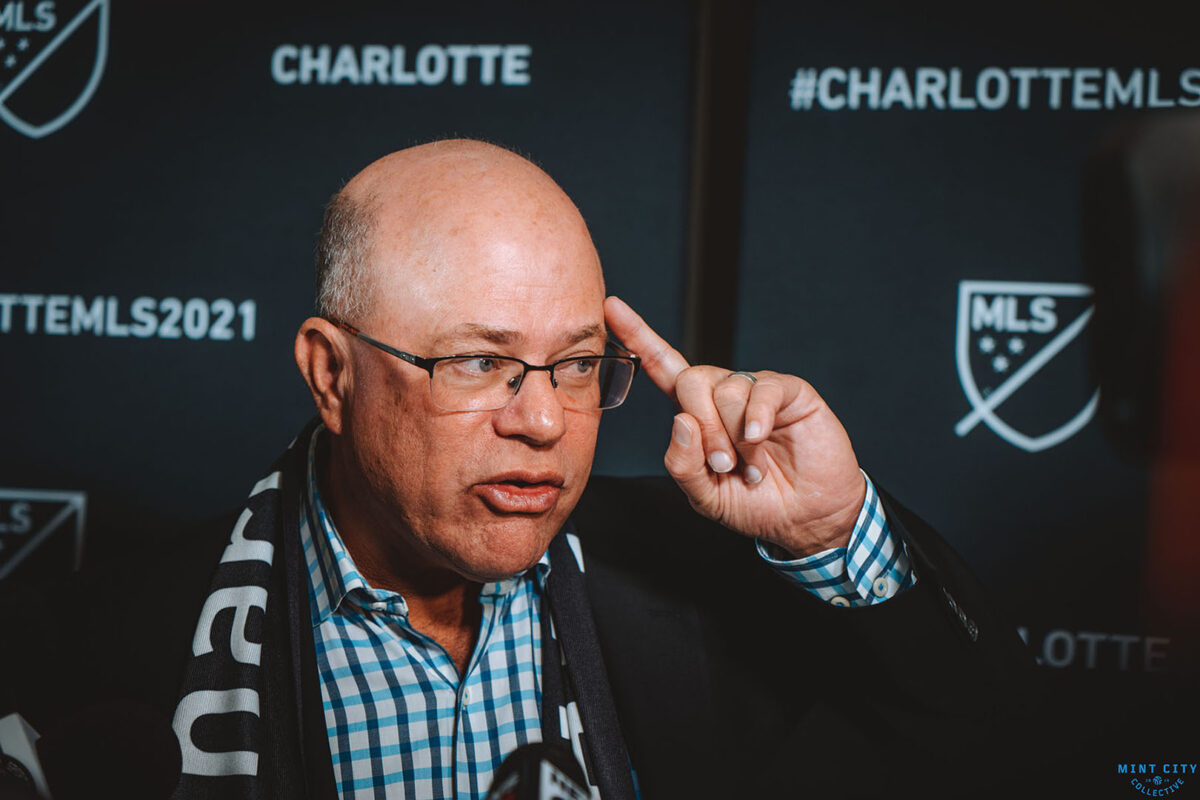 The Panthers clearly have quarterback fever – well, at least the owner does – and if you're going to throw aside the plan one year into the rebuild, I'd much rather go all-in on a proven commodity like Watson than take my chances trading up for the second-best quarterback in the draft. You yourself say that less than 50% of first-round picks are successful and that number gets significantly worse when you talk about the guys under center – trading for Watson takes away the guesswork. It checks the box of franchise quarterback and then you just have to deal with whatever draft/cap quandary you've put yourself in by giving a king's ransom for Watson.
25-year old sure-thing quarterbacks don't become available, well, ever. So when one does and you have the ammo/situation/statues that sit on your desk to go get 'em – you go get 'em.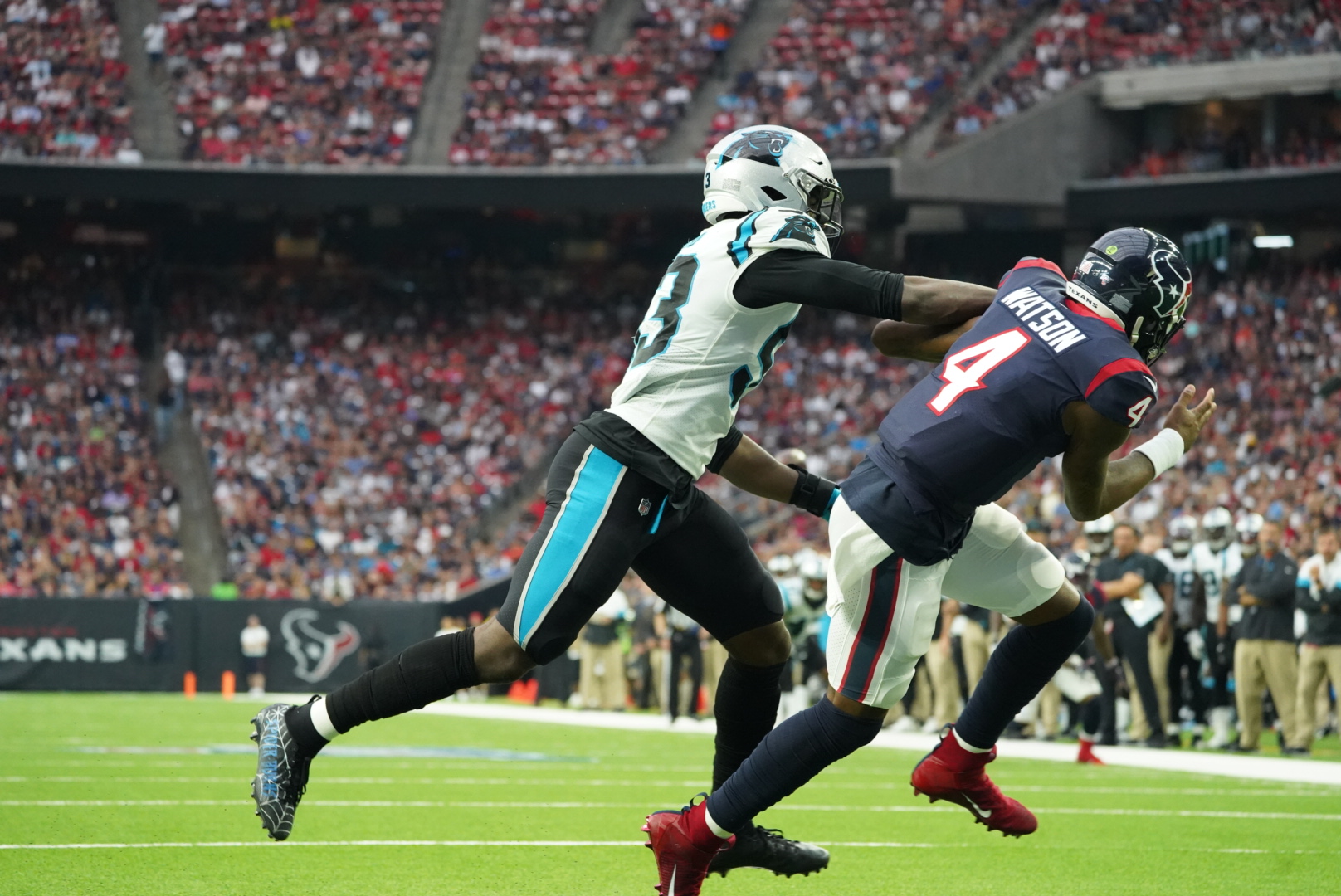 Vincent Richardson: Obviously Deshaun Watson is very good, and the Panthers should definitely have serious interest in bringing him on board, the question is really about where you draw the line about what constitutes too much.
I think it's worth mentioning that trades are never about which team has the most assets, but rather about which team is most willing to part with their assets. If the Panthers are willing to keep adding more to their offer, they will get Watson, at least if he doesn't chose to invoke his no trade clause. The problem with doing this is that you potentially offer so much up for Watson that you not only inhibit your chances to compete in 2021, but you also make it extremely hard for you to build around him in the foreseeable future.
Back in 2018, the Bears traded for Khalil Mack in a blockbuster deal, and combined with other offseason moves this helped them go from 5-11 to 12-4 in the space of one offseason, but having sent multiple first-round picks to the Raiders, they struggled to continue to add surrounding talent and have managed to go just 16-16 since. Blockbuster trades can help get teams close to the top of the mountain over the last few steps, but for a team with as many needs as the Panthers they are just irresponsible.
Many teams have had elite quarterbacks without managing to get anywhere near a title. Matt Stafford, who the Panthers tried to trade the eighth overall pick and more for this offseason, is 74-90-1 for his career. Getting Watson would certainly get the Panthers closer to a title in 2021, but even with Watson, this team is still the best part of a dozen pieces away from contention, maybe even more depending on what is included in the deal.
Any deal that adds to that list of needs while depriving the Panthers of multiple firsts and possibly more is going to take this team away from contending long-term, and races are about where you finish, not how you start.
Josh Klein: Bringing up the Bears actually only adds to MY argument – the Bears traded up for the wrong quarterback in 2017 and have been trying to recover ever since. Their issues have not been with the assets they gave up for Mack, but with the mistake they made with the guy under center.
An elite quarterback puts you in immediate contention for the Super Bowl with only a few key pieces around them.
Depending on the trade, the Panthers next season would essentially be the 2019 Houston Texans, who were buoyed by Watson having an insane season (one of only five QBs since the merger to throw for 26 touchdowns and rush for seven in a single year) and elite players at three positions – tackle, wide receiver and defensive end. That team won the AFC South and was up 24-0 on the Chiefs in the playoffs before falling apart. The Panthers may be trading away draft capital to get Watson, but they can use their salary cap room to snap up bargains in free agency this year and even with Watson's $40m cap figure in 2022/23, they'd still be on track to have more cap room than half the league. And while that cap figure looks high now, once the next round of QBs start signing deals, it'll look better and better.
Not to mention he'll only be four years older than the rookie QBs in this year's draft – building around a franchise quarterback rather than constantly searching for one is a lot easier.
Vincent Richardson: While I'm not about to bang the gong for Mitch Trubisky to be named an All-Pro, it's worth noting that Trubisky was also the quarterback when they went 12-4 in 2018, and while he has not been the player the Bears hoped for when they drafted him, it's hard not to look at the lack of depth on the Bears following those two trades and not think that that was a major factor. When you only have one receiver reaching 700 yards, and only three reaching 400 yards while your running game averages 3,7 yards-per-carry you are going to struggle.
It's easy to compare a hypothetical Panthers 2021 roster to the 2019 Texans, and while the 2021 Panthers minus Brian Burns would likely echo the 2019 Texans in being awful on defense, it's hard to claim the surrounding talents are of similar qualities. Aside from DeAndre Hopkins, Watson had Will Fuller and Kenny Stills to throw to, with Duke Johnson and Carlos Hyde coming out of the backfield (as well as putting up nearly 1500 combined rushing yards on under 330 carries) all while playing behind a mediocre line, but a mediocre line that featured arguably the best left tackle in football.
The idea that the 2019 Texans, at least on offense, was just some guys is false and should the Panthers trade away the like of Anderson and McCaffrey in any deal, as well as likely losing Samuel in free agency, it is laughable to suggest that Watson will be able to reproduce what he was able to produce with Hopkins, Fuller, Stills, Johnson and Johnson when throwing to DJ Moore, Brandon Zylstra, Keith Kirkwood, Ian Thomas and Reggie Bonnafon.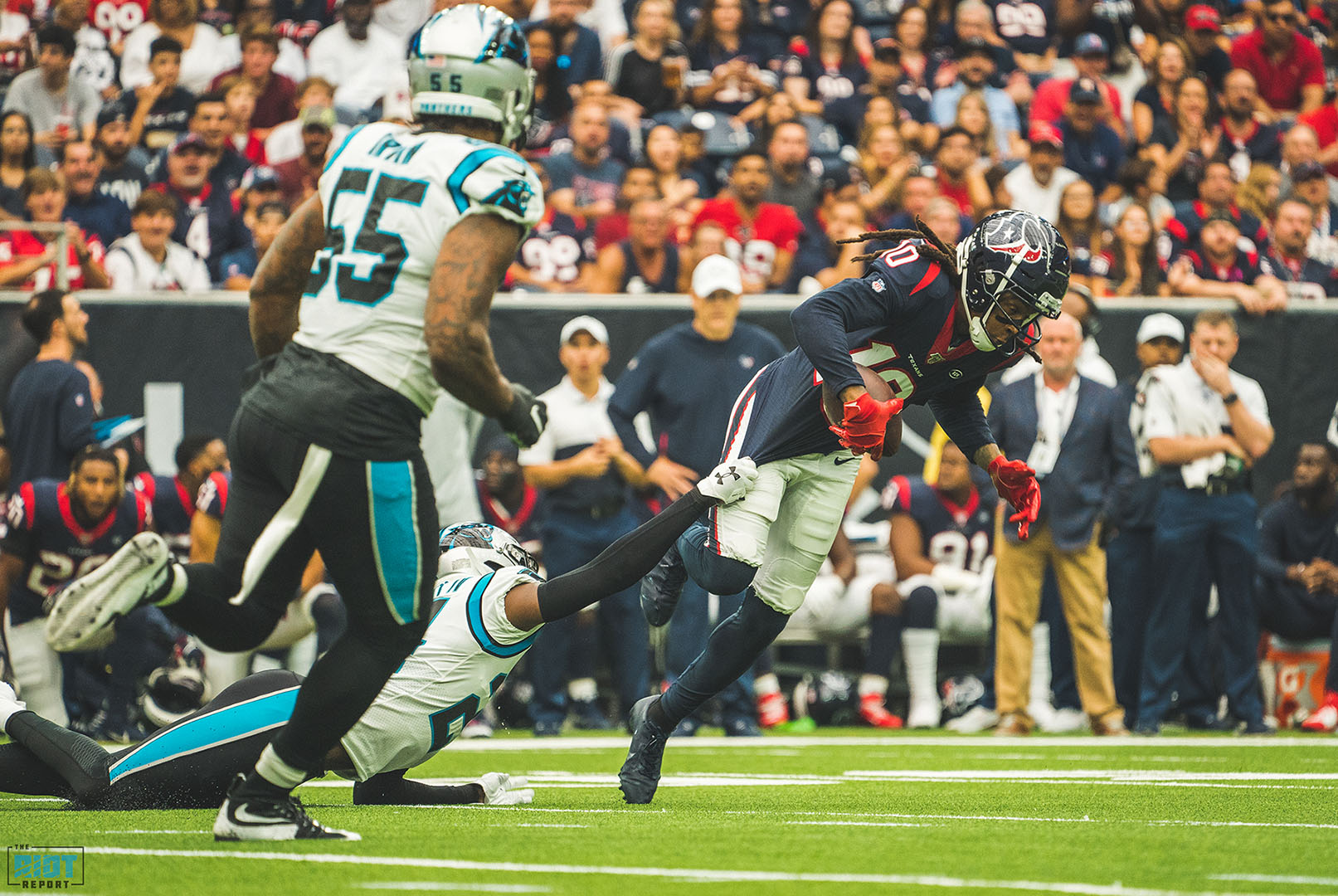 And if the comparison we really want to make is to the 2019 Texans, let's dig into that comparison a little further – despite playing a strength of schedule that PFR rated as more than half as difficult as the Panthers' 2020 schedule, the Texans managed to finish merely 10-6, and won just three games against teams with a winning record. Yes, quarterbacks matter, but they are not all that matters, and sticking Watson behind a makeshift line and asking him to throw to DJ Moore and a load of unproven weapons with a defense that couldn't stop a stiff breeze, you are looking for a long road back to contention.
And if you want an idea of how hard it can be to rebuild a roster when you don't have any draft capital because you traded it all away, take a look at how that 2019 Texans team was able to regroup and come back for 2020, despite having a reasonable amount of cap space and few pending free agents.
Josh Klein: Not going to turn this into some column debating the highs and lows of the worst franchise in football, but when you're singing the praises of guys like Duke Johnson and Kenny Stills – both of whom are just barely above replacement level – and using a year in which the coach/GM was fired four games into the season and had ROMEO CRENNEL as the interim head coach as your example, it's not going to convince me.
The Texans failed to build around Watson, not that Watson failed the Texans.
My larger point is that the Panthers need someone to build around – may as well make it a known quantity instead of the unknown of whomever falls to them with the eighth pick. And let's not forget that not trading for Watson means that Tepper's QB Fever will not have been assuaged, so those assets you don't want to give up just went to the AFC East to trade up for Zach Wilson or Justin Fields. If it's a choice between trading up for one of those QBs and trading more for Watson, give me Watson all day and twice on Sunday.
Vincent Richardson: I realize Panthers fans might not love to hear this, but for his career Kenny Stills has been consistently more productive than Curtis Samuel, with his career average of 9.3 yards per target being better than any year of Samuel's career. This doesn't mean that Samuel is terrible or that Stills is an All-Pro, but if you don't think having a receiver who has averaged over 600 yards a season as well as adding nearly five TDs a year is a big improvement over the likes of Zylstra or Kirkwood, I think you're kidding yourself.
Again, this isn't a comment on the talents of Watson, and I do agree that building around Watson would be good, but that it wouldn't make up for giving away a huge number of assets, the loss of which would make it much harder to build around any quarterback. If it's about a binary choice between Watson and any QB in this draft, including Trevor Lawrence, then you take Watson, but that's not the situation the Panthers are in, and if the base assumption is that the owner is going to do something reckless, it's just a matter of what, then that's not exactly a robust argument for any subsequent plan of action.
Yes, the Panthers should make an offer for Watson, and they should hope they get him, but this is not a bidding war that the Panthers should go to any length to win.
Josh Klein: Whew, you're not winning over many hearts and minds in Carolina by saying Curtis Samuel is just a worse version of Kenny Stills – you realize you're trying to convince people to be on your side, right?
If the Panthers can't get Watson, I'm sticking at number eight and taking the best player – quarterback or not – available there. But I think that's the difference in our arguments – everything that has happened since Marty Hurney was shown the door has made it clear that there will be a new QB in Carolina, come Deshaun or High Water.
If that's the case, then I'm taking the sure thing, even if it means overpaying.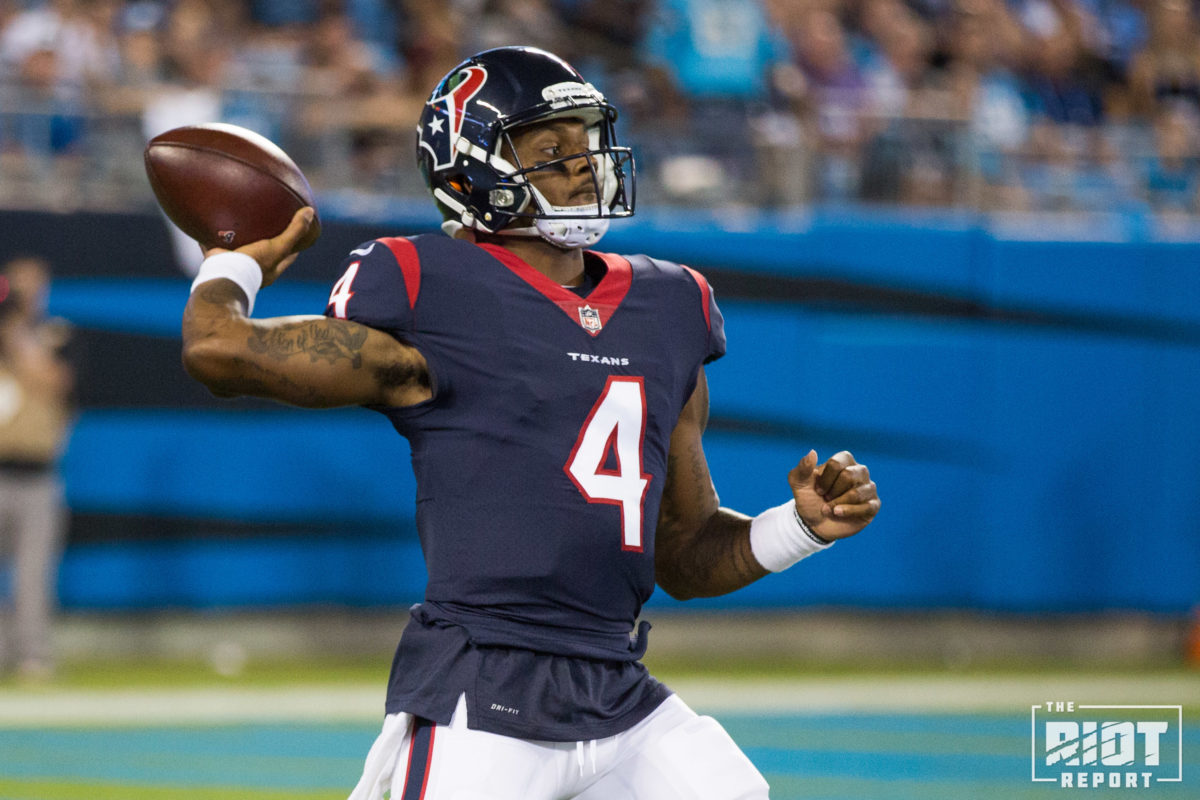 Vincent Richardson: Because that's definitely what I was saying, not that Kenny Stills is actually a legitimately good NFL receiver…
But seriously, I think it's likely the Panthers do make a move at quarterback this year, and while I don't think that is definitely a bad idea, the history of teams that get the quarterback fever is not exactly a glorious one. While Watson is definitely unusual in that he is about a sure thing as you are going when adding a quarterback, to paraphrase Dave Gettleman; "you're never just one player away", and if you look at the Panthers roster entering free agency it should be clear that they are a lot, lot more than a quarterback away from contending.
In a year from now, after they've added more talent on both sides of the ball, a trade like this would make a lot more sense. But right now, I think it would do more long-term harm than good. With that said, neither of us are the ones making the decision, so we'll just have to wait and see exactly how aggressive David Tepper, and by extension Scott Fitterer, is willing to be.