We get it.
When a team loses a game that has so much bearing on playoff implications, a game that they had a chance to win multiple times and failed in all three phases of the game, it is hard to find anything positive in the Panthers' 30-27 loss to the Seattle Seahawks at home.
Yet, the Panthers' production on the offensive side of the ball showed how potent and dangerous this team can be when they are in sync; Cam Newton had a near perfect game — completing 25 of his 30 passing attempts for 256 yards, and tacking on two touchdowns along with 61 yards on the ground, including starting the game with 14 consecutive completions. Christian McCaffrey set a franchise record for most total yardage with 237 yards and was the first player in Panthers' history with over 100 yards both through the air and on the ground.
Carolina's offense produced a total of 476 yards – the most this season – in a losing effort to Seattle, but offensive tackle Chris Clark said despite the hard work of the offensive line to allow guys like Newton and Christian McCaffery to flourish, it means nothing because they didn't leave the game victorious.
"It don't matter what they did stat-wise and numbers," Clark said. "[There's] only one that counts, and that's the win column. We didn't get it today. So, all the individual stats? We don't care about it – all we care about is the win column."
It's tough losing a game that was played so well offensively; a loss like this one must be quickly forgotten about after they watch film as they must stay the course and prepare for next Sunday's game at Tampa Bay.
McCaffrey rushed for 112 yards, with his most notable play coming midway through the fourth quarter as he accounted for every one of the Panthers' 75 yards on a touchdown drive which ultimately gave the Panthers a 27-20 lead over Seattle – Clark said plays like his 59-yard squirt up the middle show why McCaffrey is a major piece of the offense – that's the reason he's played the most snaps of any running back in the NFL this season.
"He was able to do some special things for us," Clark said. "He is one of our impact players that [does] special things, so for us that's normal. That's normal Christian. To the media and everybody else, they look at that like 'oh, he's having an awesome game' — We expect that from him."
"When they take you with the eighth pick, you've got a lot of, I don't want to say pressure, but you've got a lot of people counting on you," said McCaffrey, who is on pace to break the franchise record for yards from scrimmage. "So, I knew I was going to be a pivotal point, but at the same time, I know I still have to earn everything and that's kind of my mindset and that's how it's always been."
Even in a great game individually, McCaffrey said he feels like there are things he could have done better and still needs to improve on.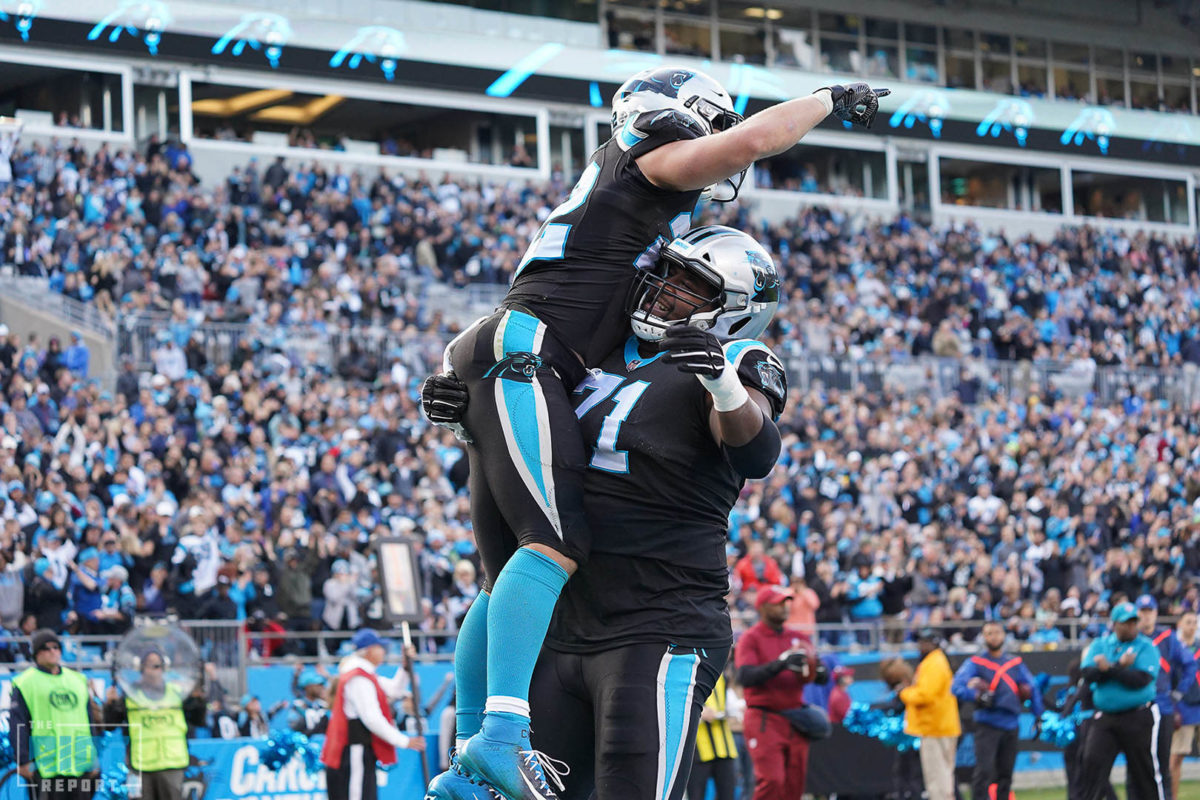 Despite the individual stats, the Panthers failed to convert when it really mattered in the red zone. They found themselves within striking distance seven times, but only scored three times inside the Seahawks' 20 – those points left on the board may have been the deciding factor.
"That's huge, man," said tight end Chris Manhertz. "That's huge. We weren't the most efficient down there today and simply put, we just have to get better. It's easy to point the finger and say who had what or who missed what play and what [was] your reason for the loss but collectively we lost this game."
In addition to allowing the Panthers to rush for 220 yards on the day, they were able to keep Cam Newton perfectly clean, with the Seahawks unable to register a single quarterback hit despite coming in with the eighth-highest sack percentage in the NFL.
"They're incredible," reiterated McCaffrey. "Every one of those guys works extremely hard, day in and day out – Coach [John] Matsko and Ryan Kalil, he's the captain of that ship and is one of the best to ever play the game, and I have a lot of confidence behind them."