Things certainly haven't gone to plan for the Panthers over the second half of this season and, while they are yet to mathematically eliminated, the play-offs look a long, long way away. So, to change the subject, let's take a look at some major free agents the Panthers can choose to sign or let walk this coming offseason.
As the Panthers are not short of pending free agents this could go on for a while , so for the sake of time I hand picked six players to focus on: Cam Newton, Stephon Gilmore, Haason Reddick, Matt Paradis, Frankie Luvu, and Donte Jackson.
So let's get started and power rank all six free agents from most- to least-important.
Haason Reddick
This can hardly come as a surprise, as Reddick has been one of if not the best defensive players on this Panthers team. Taking a one-year "prove it" deal back in March, Reddick has become a blockbuster success in Charlotte, with 10.5 sacks, 17 QB hits, 28 pressures, and is tied for the third spot in ESPN's pass rush win rate metric for edge defenders.
Reddick was signed as a low risk-high reward kind of guy after a breakout year with the Cardinals in 202, and, much like Za'Darius Smith before him, has turned that bank into a home run season in North Carolina. Who knows if he can keep this production up in future seasons, but that he's playing a natural edge instead of the iLB role he was inserted in with Arizona just feels right.
Bring him back.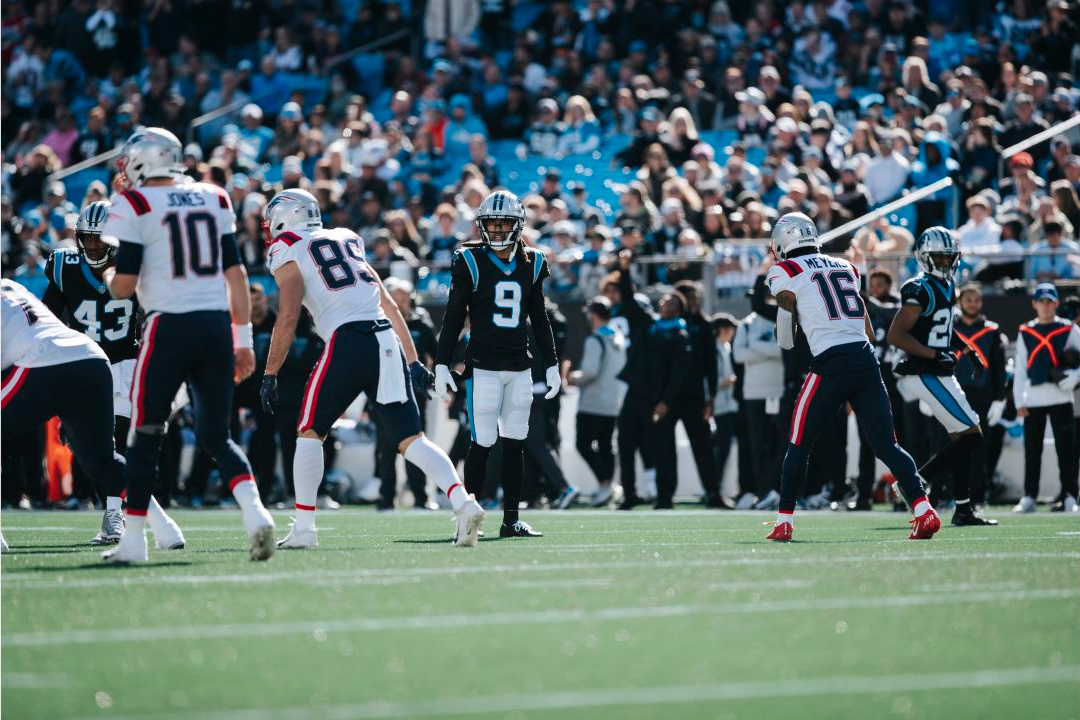 Stephon Gilmore
This is a bit tricky because while Gilmore has been playing really well during his time in Charlotte, the NC native is also 31 years old. Many corners don't play well on that side of 30, but perhaps Gilmore can be an exception.
Against the Falcons last Sunday, it took all but one play for Gilmore to make an impact. Though not a traditional route runner, Cordarrelle Patterson has been a superstar in a RBWR role in Atlanta, scoring endless touchdowns through the air and on the ground. Gilmore sees that and respects it, recognizing the bubble screen route from his opponent.
Notice the burst as soon as Gilmore puts his feet to the ground, The acceleration he generates from there is special in how quick it is, allowing him to gain ground immediately and bring Patterson down for a loss. This is also one of the toughest weapons to bring down too, let's keep that in mind.
Gilmore's footwork is sublime, after all it's what helped him win Defensive Player of the Year two years ago. Unless your name is DeVante Parker, there's little chance you're having a big game against this guy. The first clip features a little soft coverage, but the second includes great recognition of a double move from the Z receiver, where he fails to lose a step on the break up the field. Of course it helps that Matt Ryan wasn't looking their way.
The player himself and his quality is not the issue, it's the age. At what point does Gilmore's body decide to break down? That's what concerns me. And, if the Panthers are calling this era a rebuild, why did they trade for a corner in his 30s? Then again, the Panthers just gave up a sixth rounder to get him.
At this rate, I think the Panthers will bring Gilmore back, especially since he's from around here. At what price is what worries me.
Frankie Luvu
As the Falcons loss showed, the defense needs Frankie Luvu. The linebacker serves as a sort of glue that keeps the back seven playing tight, and Jermaine Carter and Myles Hartsfield just couldn't replicate him. Luvu has had a strong year, it's just how much should you extend a rotational gadget linebacker for.? People always talk about positional value in today's NFL, and Luvu, while quality, might leave the front office hesitant to extend someone that might not be a top three player at the position.
I think Luvu has shown enough to earn some kind of extension, regardless and, if they can get Luvu back, he and Shaq Thompson could form a nice duo, or he could continue to play his somewhat jack-of-all trades role.
Cam Newton
It is great to have Cam Newton back, even if he's not close to the player he was in his prime. As expected, Cam has been a rushing machine, scoring a touchdown on the ground in each of his four appearances and there have been flashes of the good old days through the air, but a terrible offensive line and lack of experience with the playbook have been part of a struggle filled experience for Cam. I'm also not convinced that the laser rocket arm is still there either.
At the very least, Newton deserves to get backup money or be in Charlotte as a bridge gap to the 2023 class. Bad things have been said about much of the QB class for next season, so the Panthers picked the wrong time to be on pace for another top 10 draft pick.
The reason I have Cam this low is we need to see more in these last four games so we can decide whether he belongs or not, but will Matt Rhule have the patience to do so?
Donte Jackson
Donte Jackson's tenure in Charlotte has not been all bad, but I'm afraid it hasn't been enough to warrant a second contract. He has impressive athleticism and a knack for making plays on the ball, but his health and tendency to get burnt at times don't scream CB1 money.
With Jaycee Horn, AJ Bouye, Keith Taylor and CJ Henderson under contract, I just don't see any room for the soon-to-be free agent either, especially if they do go after Gilmore.
Matt Paradis
I feel ill talking about the Panthers offensive line to any degree. Not only is it one of the worst lines in the league, but the injuries and constant shuffling of the interior have made for unpleasant pockets.
Matt Paradis was signed in 2019 to become part of the bread and butter of the Panther's interior line and, after a poor first season, has been fairly solid if largely unremarkable for them over the past two seasons. However, the 32-year old tore his ACL this season and his return would only make sense if the Panthers feel that their existing options are poor enough to be trusted to see the field under any circumstances.