If you've paid attention even in the slightest to what's been said throughout Carolina Panthers training camp, you've likely noticed one recurring word being used over and over again:
Speed.
Beginning a new season with a new coaching staff, new schemes, and new ambitions, the pride of the Panthers so far has been the sheer speed that they boast at their offensive skill positions. With players like All-Pro running back Christian McCaffrey, wide receivers D.J. Moore, Curtis Samuel, and Robby Anderson, and tight end Ian Thomas, Carolina is exceedingly well off at most, if not all, of the playmaking positions.
Considering the current state of the NFL, it's only natural that this has created excitement within the Panthers' locker room. As offenses have become more multiple and defensive play has become more difficult, an arms race has been created not just for exotic schemes on offense, but also the sheer speed to execute them and create the sort of passing attacks that have launched teams like the Los Angeles Rams and Kansas City Chiefs to the Super Bowl.
With the hire of former New Orleans Saints and LSU assistant Joe Brady as offensive coordinator, the Panthers have committed to becoming an explosive offensive team. And with what they currently offer, several players believe the offense is ready to light it up straight out of the box.
"There's so much speed in our room – So much speed," said Samuel of the team's wide receivers. "You've got guys that can just blaze by you. That's a threat, and that's something that we have to our advantage. … You can't determine where the deep ball is coming from, because we've got so many guys that can just run right by you that it keeps the defense guessing who's running deep, who's not running deep. Them knowing that, whoever they match up on, they've got to get running."
"The number one thing [defensive backs] are afraid of is getting beat. Having [speed] as one of my biggest attributes, it allows me to put a lot of fear in corners when they go against me because nobody wants to get beat over the top," said Anderson. "So that's going to open up a lot of other things for me on the field."
"Them guys are blazing fast," said linebacker Tahir Whitehead. "It's a great challenge for us to have receivers with that type of speed in practice. … I don't think there's too many other guys that have that type of speed, finesse, and hands. Their talent, it can keep you up at night."
On paper and on the practice field, there's little doubt that Carolina is loaded with talent. But as anyone who follows the NFL knows, having talent on offense isn't nearly enough – not if you don't have the time to get the ball into their hands.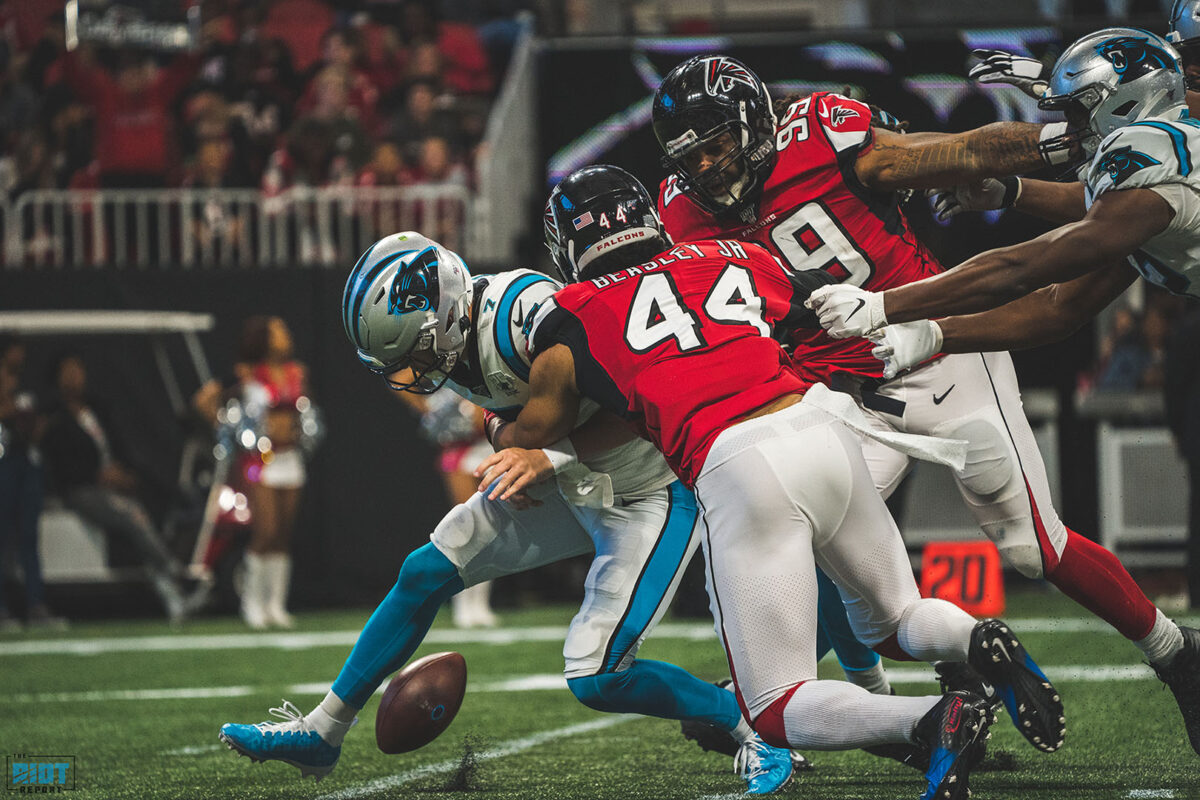 Recent NFL history is littered with teams that puffed out their chest because they were loaded with "weapons" on offense only for them to fail to deliver on the hype and be exposed as lacking what it takes to be a winning team. The 2019 Cleveland Browns, for instance, were hyped to kingdom come as a Super Bowl contender following the addition of star receiver Odell Beckham, Jr. – only for coaching and blocking issues to bog them all the way down to a 6-10 record. And there's a case to be made that the Panthers of last year fell into that same category.
Christian McCaffrey became only the second player in NFL history to have both 1,000+ rushing and 1,000+ receiving yards in a single season. D.J. Moore was dominant, posting his first 1,000+ yard season. Curtis Samuel was frequently wide open. It didn't matter – not with the issues that the Panthers had at quarterback, and not with the amount of times their quarterback was under siege because of the poor blocking in front of him.
There's arguably nothing more frustrating than an NFL offense hyped up over talent or scheme that winds up fundamentally inept. And there's perhaps nothing that NFL defenses enjoy more than stamping these units out: Take last preseason, for instance, when Las Vegas Raiders safety Lamarcus Joyner gloated gleefully about shutting down the Arizona Cardinals' new exotic Air Raid offense under splash hire college coach Kliff Kingsbury.
"It's Pretty Boy Football," said Joyner. "It don't allow the defense to play physical like the game was meant to be. When you go against offenses like that, you have to introduce that physicality to that – because they don't want to do that."
To call someone "soft" is perhaps the gravest insult in sports – but by virtue of their 6-18 record since the second half of the 2018 season, the Panthers have shown that they need to be a much tougher team in order to contend.
A team with plenty of speed in 2019, the Panthers gave up the most sacks in the league, ranked dead last in percentage of runs on third or fourth down with two yards or less to go that achieved a first down or touchdown and their defense was one of the worst in NFL history against the run – all of which aided in ending the season on a nine-game losing streak.
Christian McCaffrey is one of the premiere players who can make Carolina's offense one of the league's fastest. But as a running back, so much of his production depends on the physicality of those in front of him at the line of scrimmage and around him downfield – McCaffrey last week touted the importance of both being fast and being physical.
"You've got to be able to make big plays – But you've got to be able to get in a stance and get three to four yards when it matters. And that's something that our team needs to pride themselves on: Running the ball when you have to and stopping the run," said McCaffrey. "It sounds cliché and it's obvious, but that's the time in a game that really matters."
"We have athletes, we have a great O-Line, we have a great quarterback, we have a good backfield. But from there, it's just executing. It's 'Can you beat the guy in front of you?' That's the part of football that's really tough to coach: It's you on another guy, one on one, and can you win. I believe in our guys, and I think we're very physical."
"But we're gonna have to prove that not just on the first Sunday but every Sunday."
Coaching the Panthers to win their one-on-one battles and implementing a physical identity is just one of the responsibilities that falls on new head coach Matt Rhule. And in trying to build that identity, perhaps his biggest challenge will be to have Carolina's physical tone be set by its offensive line: A group which has had fingers pointed at it time and again, had players get called "fat" and "weak" – a group that is once again being viewed as a liability in 2020.
Pundits such as Sheil Kapadia of The Athletic are down on the Panthers' O-Line, outright stating that the group could have "one of the worst offensive lines in the league" and hold a talented group of skill players back. But that's not an opinion shared by Rhule.
Rhule says that he expects the Panthers' o-line to be good and be a cohesive unit that controls the line of scrimmage; even so, there's no doubt that one of the first items on his agenda is to instill toughness into his team up front and up field.
"I think one of the biggest things is if you want a fast team, you get fast players. If you want a big team, you get big players. If you want a tough team, you go get tough players," Rhule said. "And I think the guys on our offensive line group, there's a lot of guys who are physical, who are tough. It'll come down to practice. When we put the pads on, we'll have to be physical up front. But it's just way easier when you go get guys who you know, 'Hey, this is who they are. This is their brand, they love to win the physical battle'. I think we found those guys."
"They're not always like the 'Name the people here,' but they are the blue-collar, tough guys that make things happen."
Among the "tough players" Rhule is counting on are Dennis Daley and John Miller, who currently project as the Panthers' starting guards. Both could be classified as knowing what toughness is supposed to look like: Miller was on a Buffalo Bills team that made the playoffs in 2017, while Daley came to the NFL by way of JUCO at Georgia Military College.
And according to both, being a tough team is something the Panthers are both working towards and already have in them.
"I feel like we've got a lot of guys on this team that already understand toughness: Mental toughness, physical toughness, we've got a lot of guys that's pretty familiar in that area," said Daley. "It's really not hard for us to pretty much gain toughness as a team. Everybody's pretty much got the same mindset, and everybody takes the same approach to practice."
"We're building the brand here," said Miller. "I think that right now as a team, we're building that brand and we're trying to get better each and every day when we step out there on the practice field and grind and scream with the guys and help each other."
Building a brand as a team isn't an easy task, and the perception of their "brand" is something that the Panthers are going to have to be sensitive to.
If they hedge their bets too much on being a team of speedsters and track stars, the "football guys" of the NFL world – the ornery types seen on championship-caliber teams like the Saints and the Patriots – will delight in pushing them around.
But if they can push back, they stand a chance of fielding an offense that takes full advantage of their skill talent: The sort of team that sees its running back take off for a big gain up the middle by virtue of mauling run blocking and can send their receivers far down the field because the pass protection gives the quarterback five, six, and maybe even seven seconds to let things develop – those are the teams that succeed.
There are countless talented NFL offenses – too many, really – that never figured out how to both push the gas pedal and how to push defenses around. If the 2020 Carolina Panthers are to come anywhere close to the sort of offense they think they can be, they're going to have to make the word "physical" just as prevalent as the word "speed" has been in their formative weeks.