While the first week of free agency has seemed longer than that video of celebrities singing 'Imagine', it's only been four days since the Panthers released special teams ace and two-time team captain Colin Jones and agreed to terms with safety Juston Burris and defensive end Stephen Weatherly. It was four days ago the Texans traded DeAndre Hopkins. Tom Brady and Todd Gurley were on the teams that drafted them four days ago – and now they're both in the NFC South.
The Panthers have transitioned from Cam Newton being their projected starter in 2020 to allowing him to seek a trade to likely having to release the most iconic player in franchise history and Teddy Bridgewater being the quarterback for at least the first few years of the Matt Rhule Era – all since Monday.
So, yeah, it's been a wild week – made even longer by the fact that most of us are staring at our phones waiting for the next bit of terrible news, Panthers-related or otherwise, to roll in.
Let's try to reset and point forward towards football – although what form football will take when the season rolls around in September remains to be seen with the NFL suspending offseason activities indefinitely and Sean Payton announcing he has tested positive for COVID-19 Thursday. But when the Panthers do step on the field, what will they actually look like? Can they be competitive – SPOILERS: probably not – or has the improvements in their division given them an 0-6 headstart towards a top five pick in 2021?
Let's find out what a projected starting lineup chart could look like with the current iteration of the roster – and when I have strong thoughts on the second-string, I'll throw those in, too. There are 53 players on the current roster, including Newton and Luke Kuechly, add the five reported signings to that number and a dozen-ish players coming from the draft and there's —- still a whole lot of players coming to the roster, not all of whom will just be camp bodies. Last year, they signed Javien Elliott and Gerald McCoy in June, both of whom went on to play significant roles on the defense.
So don't expect this lineup to last until September by any means – think of it more as a look at where the Panthers still have holes to fill at the top of their roster rather than the bottom.
Quarterback: Teddy Bridgewater Backup: Will Grier
With Cam Newton moving on, the Panthers will move into 2021 with Teddy Bridgewater starting – and in the best case scenario, Bridgewater looks the part of the next franchise QB and the Panthers are surprisingly frisky in Rhule's first season – but in the more likely scenario, he is just good enough to help the other young players around him develop and the team is looking to find their next leader under center in the 2021 or 2022 draft.
While they brought back Kyle Allen on a one-year deal, the coaching staff prefers what they've seen of Grier and with the GM that drafted him in the third round still in the building, they're unlikely to give up on him so quickly. Could they have achieved their goal of bottoming out in 2020 and finding their next franchise QB after that with Grier leading the offense? Maybe, but that's a different discussion.
Running Back: Christian McCaffrey
While the Panthers can still look to find a trade partner for the best running back in the NFL, if McCaffrey is willing to come back to Carolina and play out the year on his current contract – a big if – the Panthers may choose to hold onto him with the thought that he can still be productive on the other side of the rebuild in 2022. But make no mistake, if someone comes along with two first-round picks, the Panthers would think hard about moving forward – running backs in today's NFL have a lot less value than they used to. Just ask Todd Gurley, Melvin Gordon and Devonta Freeman.
Wide Receivers: DJ Moore, Curtis Samuel, 2020 Draftee, Backups: Seth Roberts, Pharoh Cooper (returner)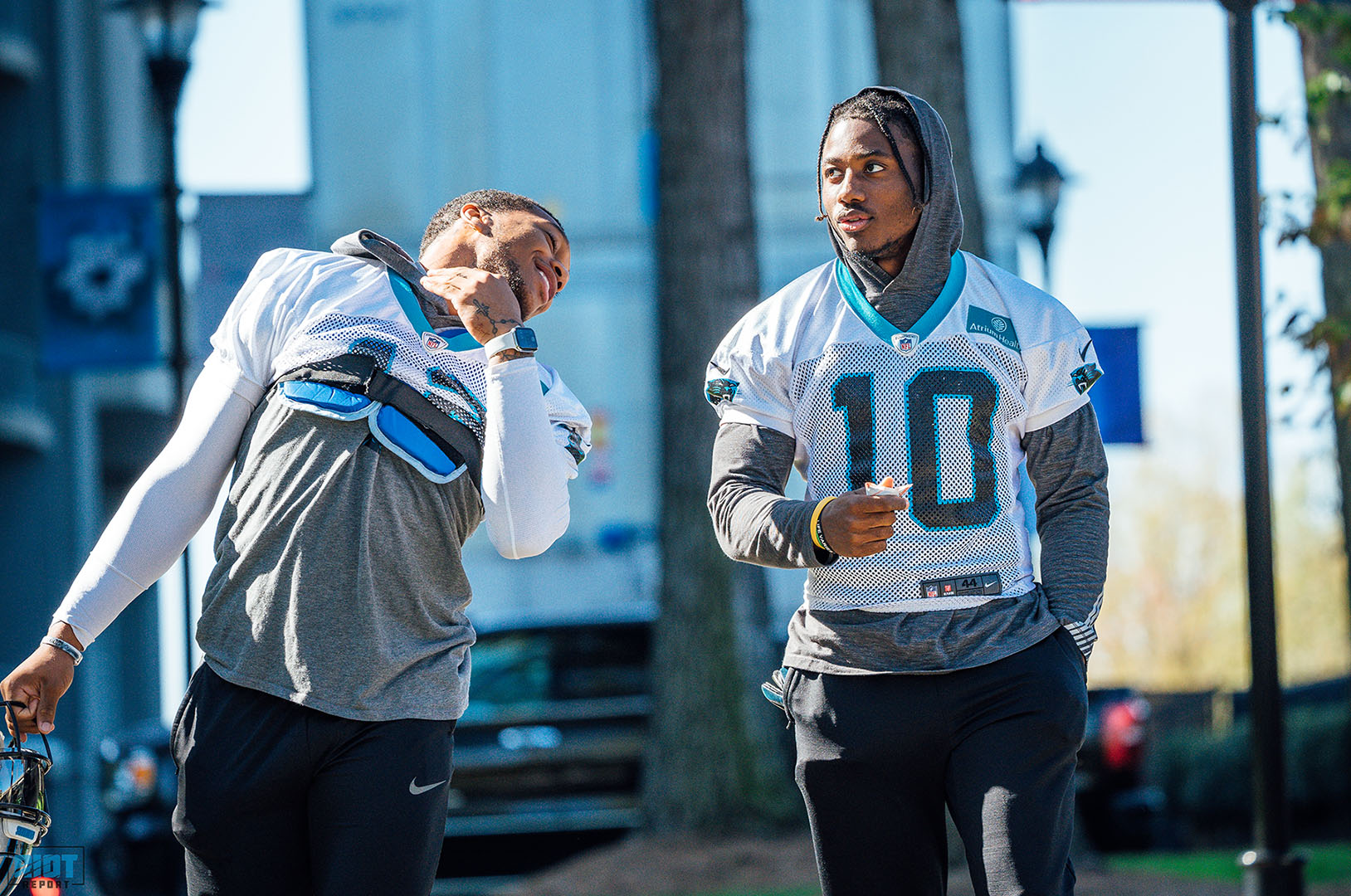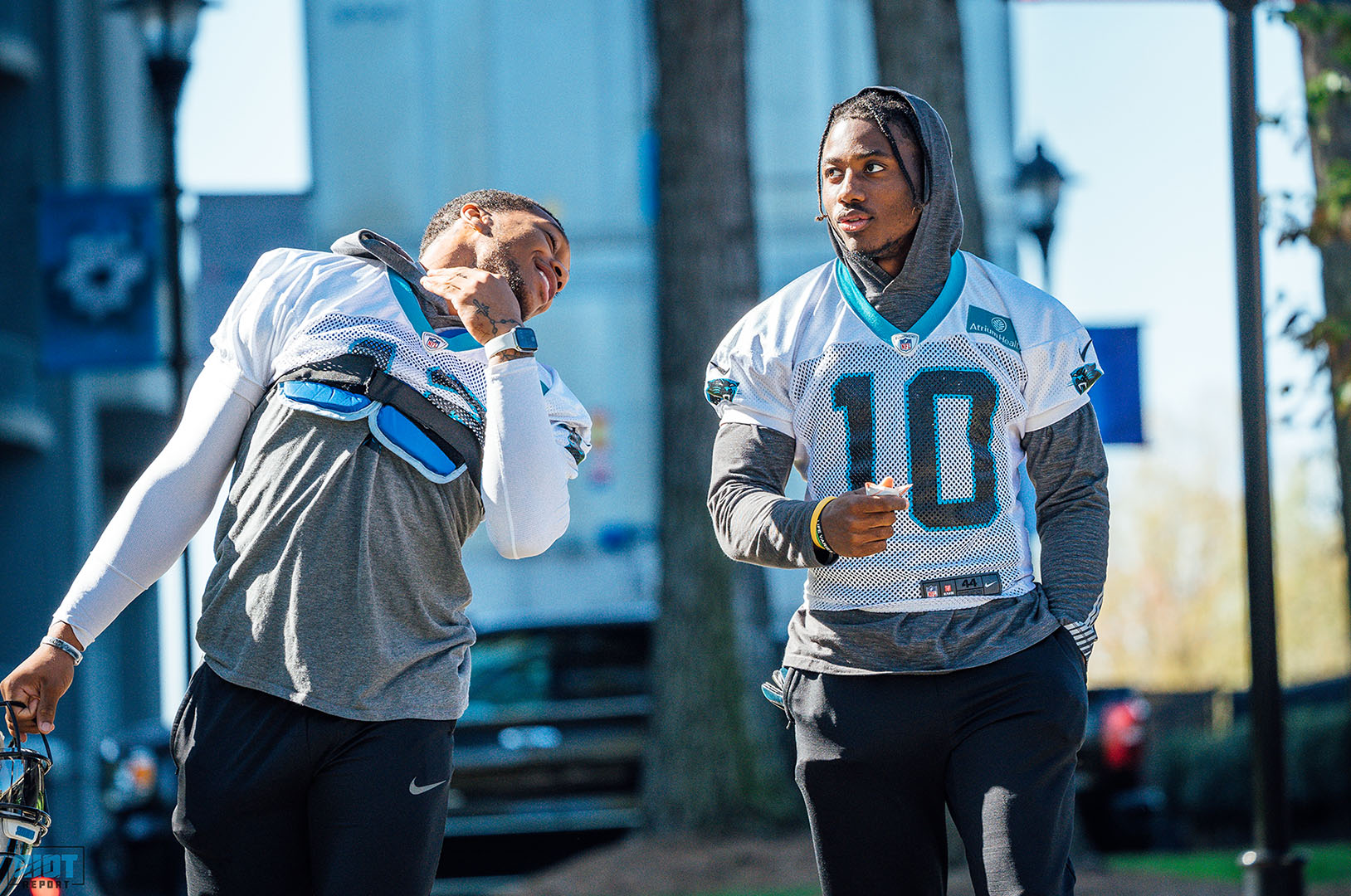 With Samuel entering the final year of his deal, the Panthers will need to take another look at him – the three free agents they've already signed are likely role players and there's still work to be done with this wide receiving corps – especially with the deepest draft class in recent memory about to be drafted next month.
Tight End: Ian Thomas
Joe Brady made a point to mention that he likes having at least five pass catchers on the field and with Thomas' hands, speed after the catch and improved route running, he'll fit in just fine with the new-look Panthers offense. Players like Chris Manhertz and Alex Armah, whose main responsibility was blocking, may not have a fit on the roster – but don't be surprised to find one or both of them in a new home in Washington with former coach Ron Rivera.
Offensive Line: Russell Okung, Dennis Daley, Matt Paradis, John Miller, Taylor Moton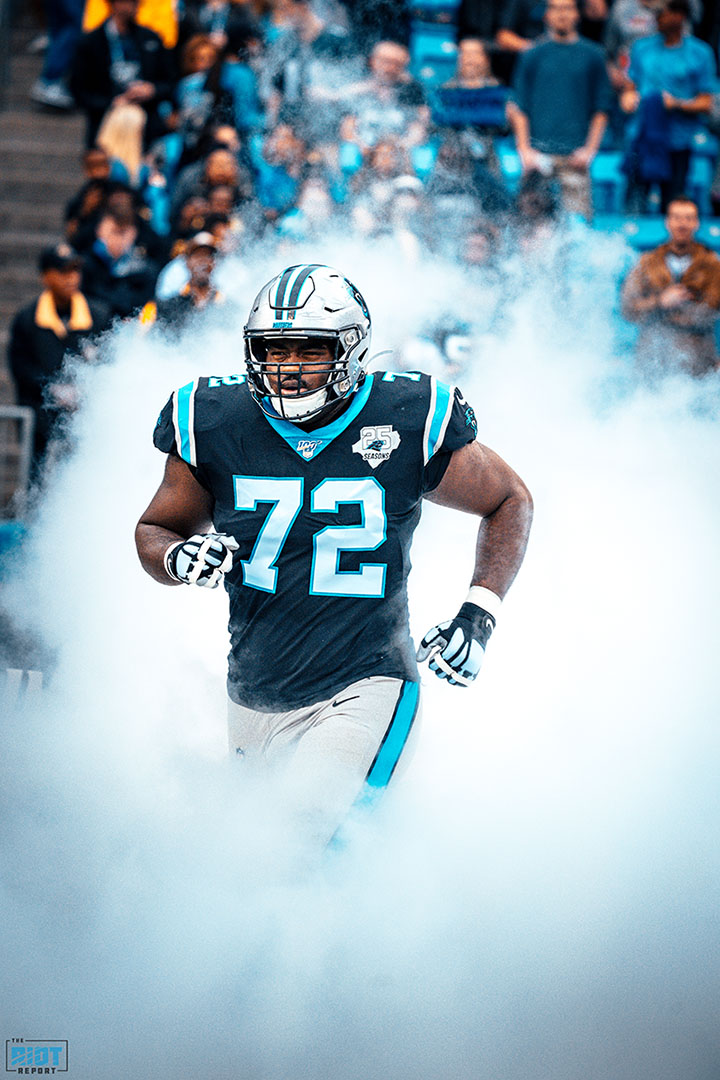 It might make sense to use Okung as a trade chip later in the season for a team needing help at left tackle and the Panthers may draft a player to push Daley/Miller at the guard spot, but for now, this appears to be at least the first iteration of what the Panthers offensive line might look like – I wouldn't be surprised to see the Panthers invest in at least three more offensive linemen in the draft/free agency second/third wave. Taylor Moton's contract is up at the end of 2020 and he'll likely be looking for an extension near the top of the right tackle market, so his replacement, if it's not already on the roster, might be in the draft.
Up Next: The Defense