It would be an understatement to say the Panthers defense has been good thus far this season.
The numbers are closer to ridiculous: the most sacks in the NFL – despite playing one fewer game than nine other teams – along with the second most takeaways (15) and interceptions (9), a dozen players with at least a half sack and seven with more than two; Carolina averages 4.5 sacks per game and Mario Addison has more sacks than the entire Falcons defense in 2019.
Their pass defense, allowing the seventh fewest net yards per game of any NFL team, has held four of their six opponents under their average number of passing yards per game and when put in context – the Buccaneers exceeded their average while down two scores for much of the game in Week 6 and threw in seven turnovers to boot – the defense has been working just the way it's drawn up in coach's meetings during the week.
A strong pass rush leads to mistakes by the quarterback, which the secondary takes advantage of – and in the event the pass rush is staved off for a few seconds, the coverage holds for long enough that the pass rush can get home. The pass rushers may get all the headlines – but the secondary deserves their due for the team's sack total.
"On the back end, we like to take credit for that," grinned James Bradberry, who already has his career high in interceptions with three. "Because we've been causing some coverage sacks."
And now, an opportunistic group of cornerbacks is about to get even more opportunistic – and certainly louder.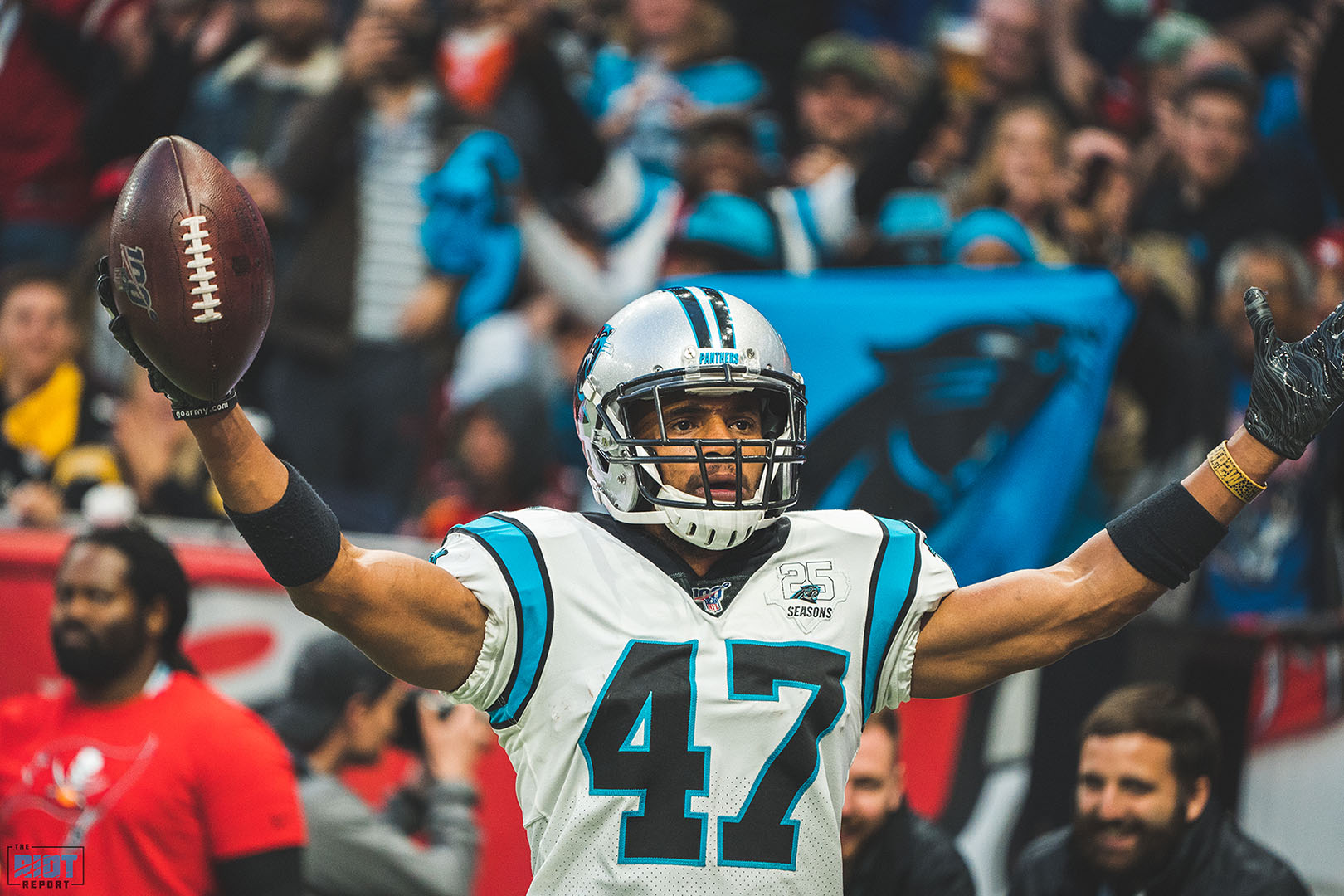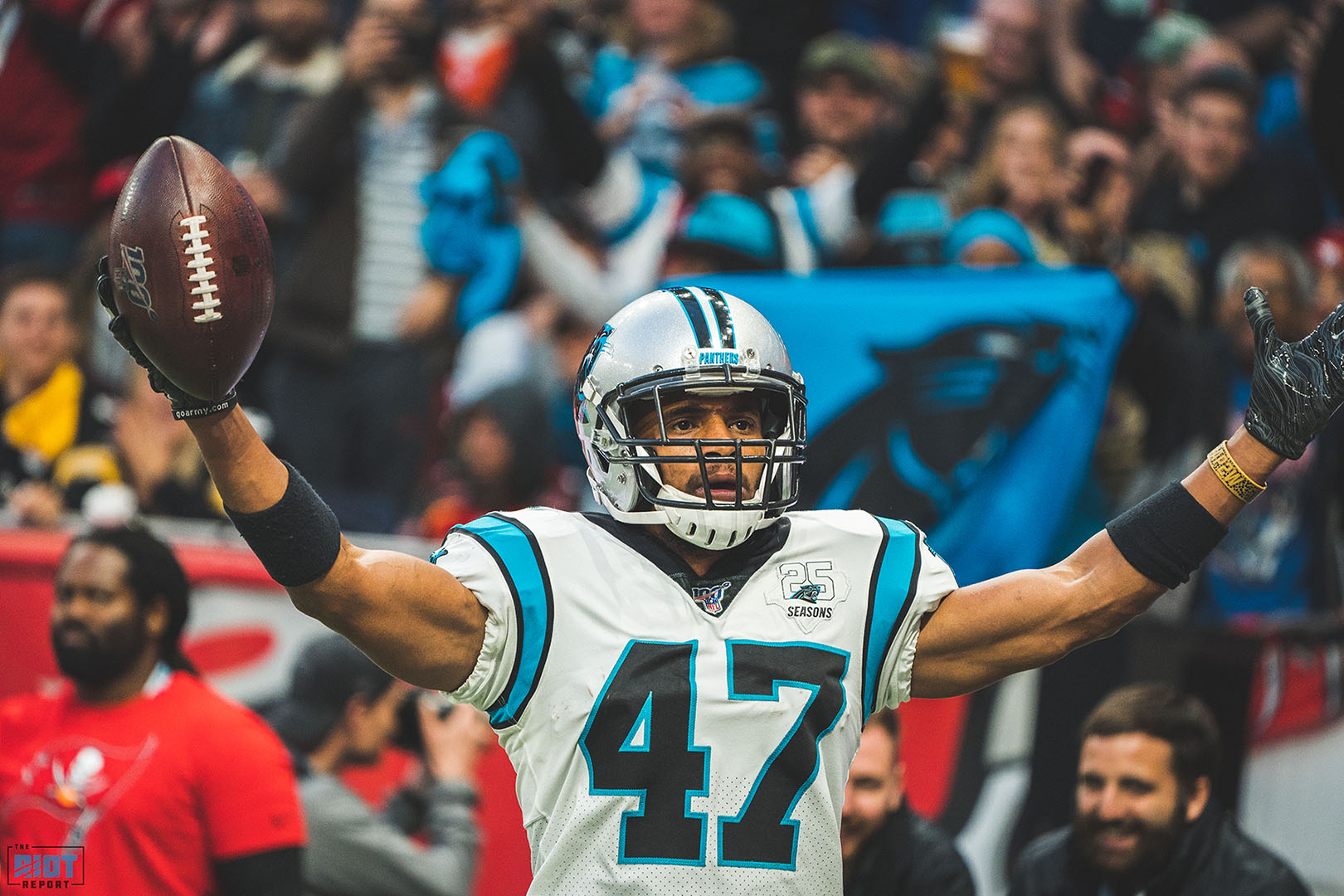 While Donte Jackson nursed a lingering groin injury that kept him out the past three weeks, the Panthers looked to veteran Ross Cockrell to take up the mantel opposite James Bradberry on the outside against the Houston Texans and the player they call 'Pro'  – the one that missed the entire 2018 season after a gruesome broken leg suffered during training camp – delivered when called upon over the next three games.
"We felt exceptionally confident that if he went into the football game that we would get our money's worth from him," said defensive coordinator Eric Washington.
They may have gotten even more than they bargained for – among players who have been targeted more than 30 times this season, Cockrell has allowed the third-lowest QB rating (36) and second-lowest completion percentage (45.7%) in the NFL according to Pro Football Reference and has picked off two passes through six games, the third-highest total in the league.
"I love to see that," said Jackson. "I love to see a guy like Ross [succeed], he's always one of the first in here and the last to leave – everybody's rooting for Ross. He's come a long way since that season-ending injury last year, so we all wanted to see him win."
Bradberry has been just as impressive on the other side of the field, allowing a 46.6 QB rating – fourth in the league among players with 30 or more targets – and the second-most interceptions in the league as he has followed around the opponent's #1 wide receiver through six games.
"James has been playing extremely well," said Cockrell about Bradberry. "The way James has been playing, he's going to get his targets because a lot of times, he's matched up with guys that are going to get targets – so it doesn't really matter if he's got tight coverage on them or not."
"James has been playing at a high level and it's helping us all out."
Javien Elliott, playing the slot corner with Cockrell on the outside, also contributed one of the team's seven takeaways in London. And now, with Jackson – who allowed only a 51.2 QB Rating in the first three weeks of the season and picked off two passes in the last game he played – set to return after practicing all week, it will allow the Panthers to utilize their corners the way they envisioned it when they signed Cockrell before last season.
"Of course, when we get Donte back, he's our fast guy – he's our energy, so we're going to be better when he's on the field," said Bradberry about the brash corner. "We're fortunate right now that we have good depth at that position."
"When you get depth at those types of positions, you do have a certain type of comfort level with whoever goes in, so we just feel really fortunate right now."
With Jackson back, the Panthers will have the luxury of utilizing players based on matchups – Ron Rivera said this week that Cockrell, who played 100% of the snaps alongside Jackson and Bradberry at Arizona in Week 3, where they sacked Kyler Murray eight times and Jackson picked off two passes, had earned the right to see more playing time.
While the Panthers use some zone coverage as well, having multiple chess pieces on the board or tools in the toolbox – choose whichever metaphor you like – makes it that much more fun to move the pieces around the secondary to counteract an offense.
"It gives us a chance to mix and match guys and we'll see the best way to use [them]," said Rivera. "We've got to find ways to get all of those guys on the field because they're all good football players."
"There's no question about it," said defensive coordinator Eric Washington when asked about the addition of a healthy Jackson to Cockrell and Bradberry. "You want as many good players in the secondary that you can get, but to have three guys – not excluding the other positions – to have three guys that are proven that you feel good about from a matchup standpoint that understand situations and understand how to fit runs and will step up and execute our different coverage concepts, it's a great feeling."
"I think it makes it easier for our coaches because they know that each of us does something extremely well and they play to our strengths [and] try to put us into situations where we can excel," echoed Cockrell.
The Panthers will face another tough task heading to San Francisco, where the undefeated 49ers boast one of the best running games in the NFL and an offensive line that has only given up eight sacks through six games, the fewest in the NFL. It's a combination of an impressive offensive scheme put together by Kyle Shanahan that utilizes a ton of pre-snap motion, a three-headed monster of similar running backs and helmed by Jimmy Garoppolo, who has used impressive accuracy when getting the ball out early to get the ball in to the hands of his playmakers.
"He has a quick release, he's very accurate with his passes," said Bradberry about Garoppolo, who is 14-2 through the first 16 starts of his career. "They've got a lot of dynamic receivers – fast, quick twitch guys over there. Their big receiver is pretty much [tight end George] Kittle – we're treating him like a receiver, that's how we're playing it against them."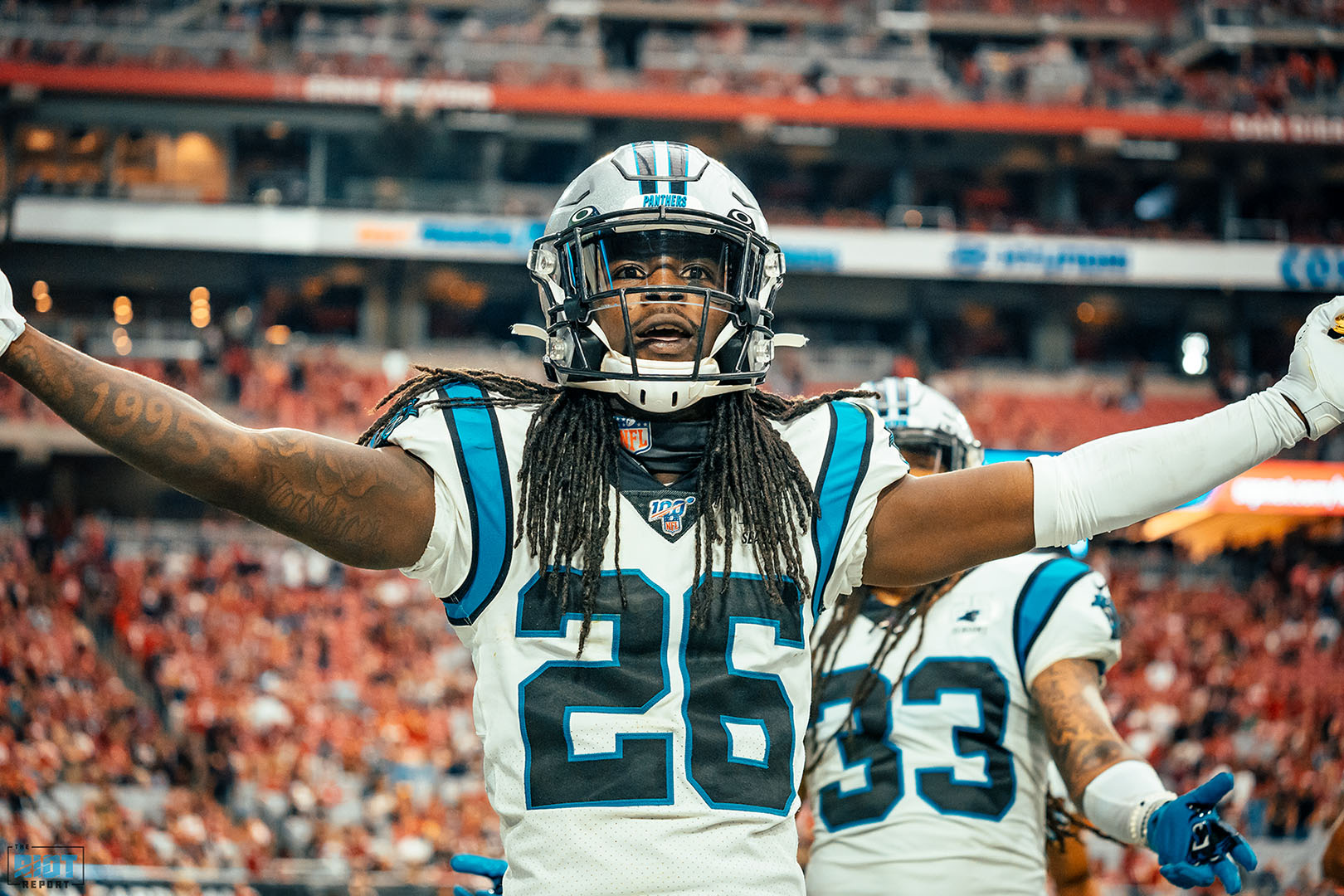 Cockrell, who likes being in the film room, is not only one of the first to arrive in the morning, he's one of the last to head home in the evening – Rivera has noticed the 28-year old Duke grad who has a degree in political science finishing up his work when the coach comes downstairs at 6 o'clock.
The Charlotte native prides himself on putting himself through the paces and studying the opponent carefully each week and it not only helps Cockrell be ready for Sunday, it rubs off on younger players in the locker room – his performance is a testament to his work, preparation and attitude.
"I think it just shows guys how to do it the right way," said Luke Kuechly, who likes to watch a bit of film himself. "The thing that's always been good with our groups is the young guys listen – you can have as good a [group] of older guys as you want, but it doesn't mean anything if the younger guys don't listen."
With the pass rush in attack mode and a diverse group of players in the secondary, the defense has put the league on notice – the 49ers reportedly wanted new acquisition Emmanuel Sanders this week so that he could help their offense against the Panthers.
"One of the things that we've been doing particularly well is attacking the football," said Cockrell. "That's going to give quarterbacks pause to attack us vertically."
"I think that puts fear into some people."
The Panthers have the second-most passes attempted against them on a per game basis and are allowing the seventh-fewest yards per contest – Carolina also has the third-highest interception % in the NFL.
Translation: teams are trying to throw against them – a lot – and not finding much success.
"When you're making big plays and actually turning the ball over and eliminating opportunities rather than giving them another opportunity with an incomplete pass, it makes a huge difference," said Cockrell, adding that over the past three games, the corner could palpably sense when the quarterback was rushing through his reads. "Obviously, our rush has been putting a lot of fear into people as well."
A scary defense gets even scarier.