I am now entering my ninth season traveling to Panthers' away games – my third hitting the road for all eight games and doing this as a fulltime "job" (I feel obligated to toss some quotes around the word job because although setting up away game trips and events is stressful and a TON of work, I don't feel totally right about comparing what I do for a living to all the hardworking professionals out there). You'll never hear me complain about traveling to watch football games every weekend, but it definitely does get taxing and by the end of the season I'm exhausted. I found this past season I was worn out more than the previous season for some strange reason. Actually, it's not that strange – losing sucks.
About this time every summer, three things happen in quick succession: the NFL schedule is released, our new memberships kick-off, and I work around the clock finalizing all of the details for our trips. While I examine all the options in eight cities around the country, I slowly begin to put the past season behind me and get really pumped up to hit the road again. Typically, there is one trip every year that stands out for me.
In 2015, it was obvious that the Jacksonville trip was going to be amazing. We had over 200 people who had paid deposits before the schedule was released and we bought-out all of their poolside cabanas. Once the dates were released and we found out it was the season opener, it felt like Roger Goodell had finally answered all those angry Tweets I had sent him. It was a gift. With over 550 Panther fans invading EverBank Field, our cheering efforts were continuously noted throughout the CBS broadcast and even recognized by Mr. Ace Boogie himself.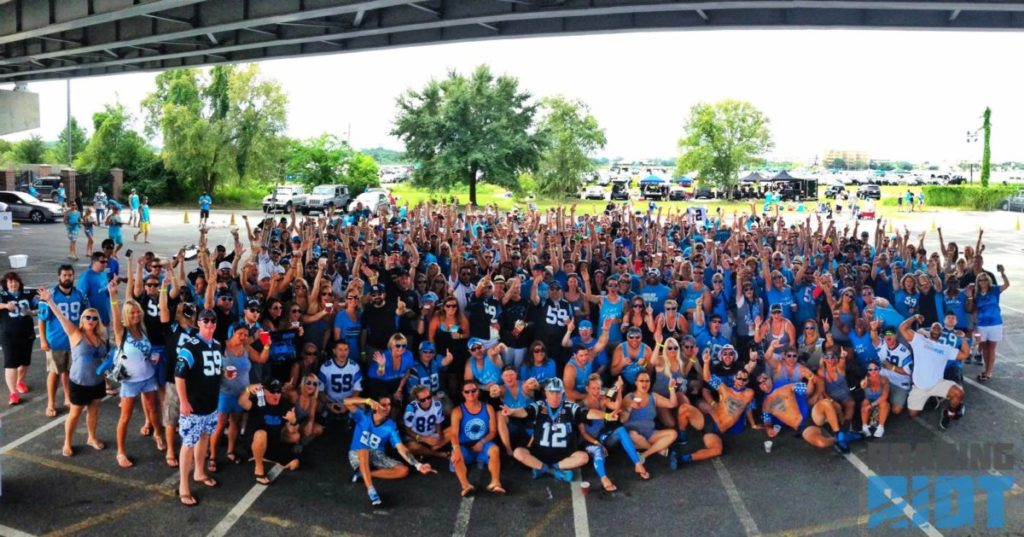 In 2016, it was the Tampa game. First of all, Shephard's in Clearwater is our spot. If you're looking for a nice, quiet weekend on the beach, this ain't it. Shephard's is a nonstop, balls-to-the-wall, let's-get-crazy, hide-your-kids-hide-your-wife, tiki-bar-on-the-beach party, and that's just a on a normal weekday. Getting the chance to spend New Year's Eve there with our Roaring Riot crew was special, but getting to sit with almost 700 Panthers fans in our own section was historic.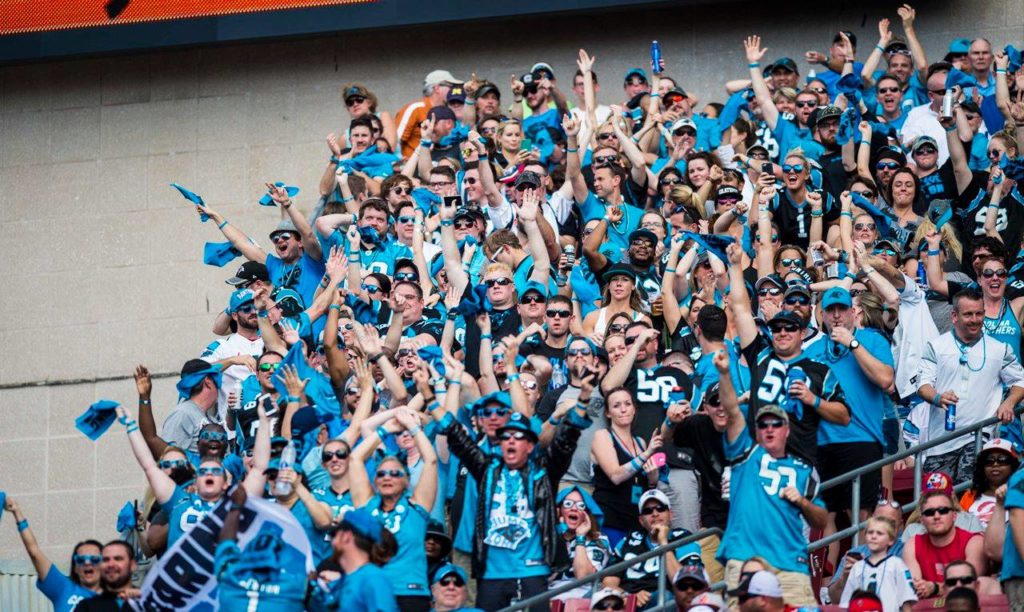 On the 2017 schedule, there are some extremely attractive travel destinations, but just as in year's past, there's a specific destination that's captivating me. Not the obvious cities. Not New England. Not Chicago. Yes, both of those cities are fantastic, both those places have great nightlife, great food, great stadiums, and great history. And yes, both of those cities have solid chapters so the local population of Panthers fans will be loud and proud. But this year, I am most excited about….Detroit. That's right, Detroit.
Let me tell you why.
Detroit has a reputation of being a pretty dumpy city, and to be honest, for the most part, there is some truth to that. But the city has done a LOT to clean up the areas around Ford Field and Comerica Park, and we are staying and playing in the GreekTown area, which is an easy walk to the game, and is full of bars, restaurants, shops, and other fun things to do. Did I mention we're staying AT the casino? Well, we are!  (EDITORS NOTE: Hoo boy. This is going to be a long weekend.) How many NFL cities can you leave the casino and walk to the game? I can think of New Orleans, eventually Las Vegas, and that's about it. If you need me, I'll be at the poker tables.
The venues we've partnered with to host our events are two of the most iconic establishments in the downtown area – Old Shillelagh and Cheli's. It's not easy to get prime locations like these to open their doors to an opposing team's fans, and we've managed to do that. Collectively, these are the best venues we've EVER had for an away game.
We've secured a large block of lower level tickets for the game on the Panthers' sideline. There aren't too many stadiums where we're able to do that, especially against a team that was in the playoffs the year before. We are going to be LOUD and absolutely will impact the game. If you think Cam doesn't notice us at away games, he definitely does. 
Michigan and Michigan State play the Saturday before the Panthers game. Ann Arbor is less than an hour away, so we're going to head over and do some tailgating for a major college football game – a chance those of us in the QC don't get very often. There is also plenty of non-sport related things to do. There's a ton of history in Detroit and I absolutely plan on hitting the Motown Museum and the Ford Plant. Throw in some crisp fall weather, and I'm all in.
So there you have it. Between the casino, Old Shillelagh, GreekTown, the Michigan-Michigan State, singing all the classics at the Motown Museum, the casino, an almost guaranteed Kid Rock sighting, and did I mention we are staying at the casino?, the 2017 trip that is moving the needle the most for me is our October 8th game in Detroit. I'm already designing an Eminem-themed t-shirt. 
Sign up for the Motor City Takeover here and join us. Don't forget Roaring Riot members get priority registration until June 9th and a $25 discount on full packages.