A dual-threat running back that's just as dangerous between the tackles as he is lined up out wide and catching passes.
Sounds familiar, right?
That's exactly what the Panthers will face when they head to Green Bay to face off with the 7-2 Packers – except they'll be facing two of them.
"Both those guys run strong," said Luke Kuechly. "That's what you look for – especially in an offense that's got such a dynamic passer with Aaron Rodgers, you need a guy that's going to get in there and run hard."
That guy is Aaron Jones.
Aaron Jones has gotten the most work on the ground with 122 carries for 496 yards thus far this season and is second in the NFL with total touchdowns with 11, but fellow running back Jamaal Williams has been impressive as well reeling in five receiving touchdowns – that's the most in the NFL for a running back – while both backs average over four yards per carry. In fact, Jones has averaged 4.98 yards per carry since coming into the league in 2017 and this year, he's getting even more of them – the 2017 fifth-round pick from UTEP needs only 11 carries to set a career high.
The Panthers have been porous against the run – they've allowed 100 or more rushing yards in every game but one this season – and will need to be better than they've been in the past if they hope to stop Jones and the Packers; the Panthers run a gap-accountable defense where each gap has a man responsible for it.
And when the man responsible doesn't fit into his gap, the running back finds it – and finds success.
"One of the big disappointments in San Francisco was [not] being gap sound," said Rivera about the Panthers giving up 232 yards on the ground two weeks ago. "I think the biggest reason [when] we've had a lot of success is because we're gap sound. And when we're not, it shows. It's an accountability defense – when you play a gap defense and you're getting beat, somebody's not where they're supposed to be."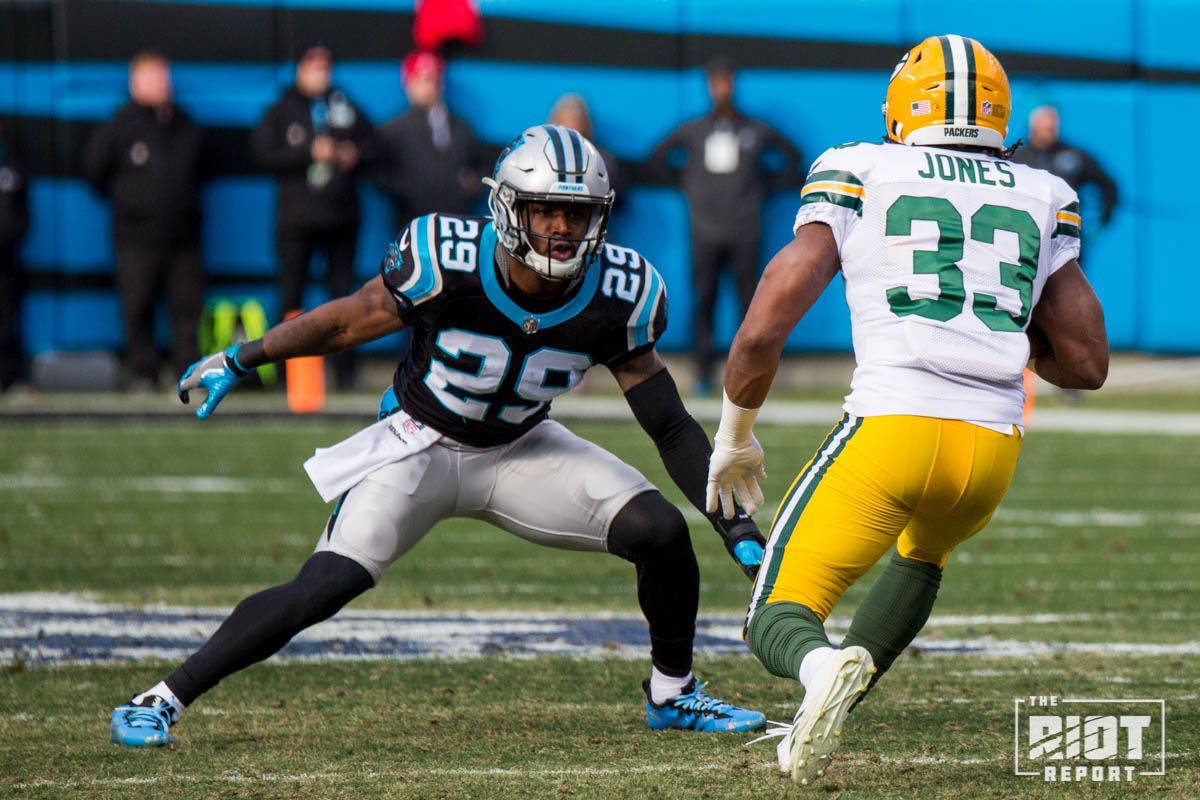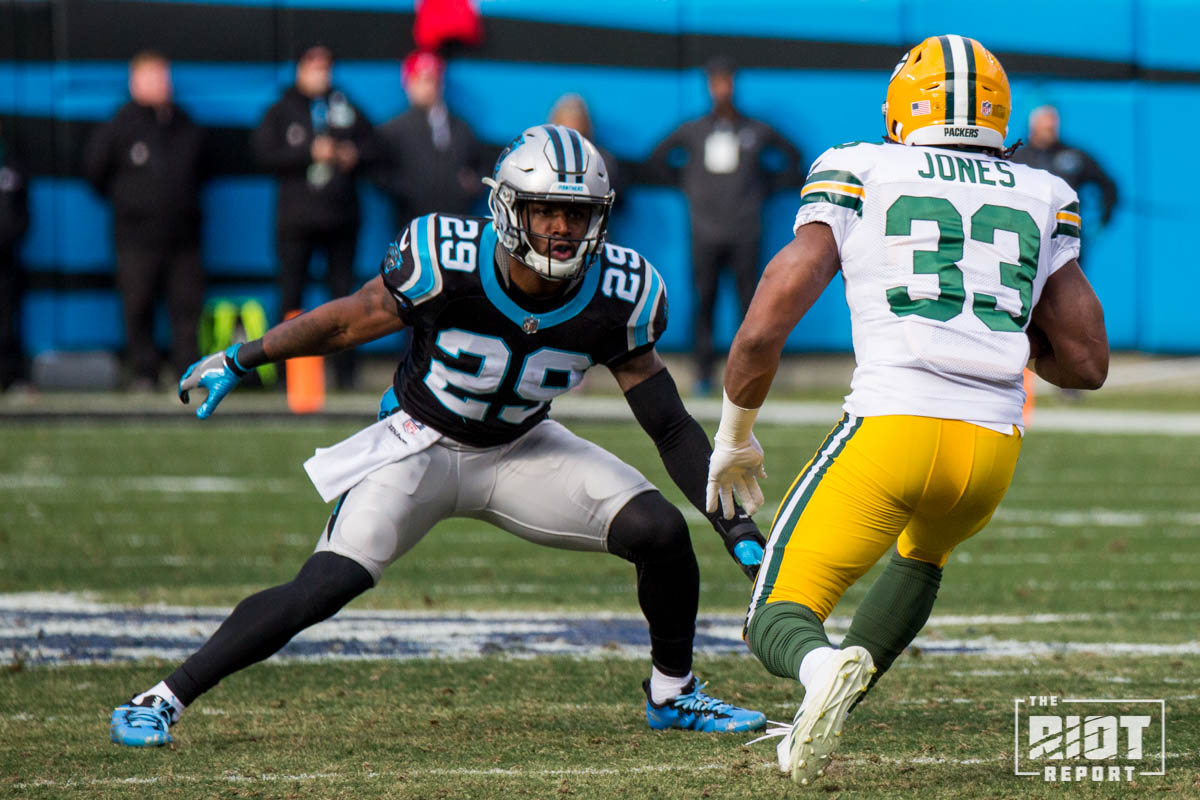 With Davante Adams out, they were lining Jones up out wide and handing him the ball on jet sweeps instead of the wide receiver. Against the Chiefs two weeks ago, they split Jones out wide in man coverage, saw that the running back was matched up with a linebacker and threw it over the top for what should have been a touchdown had Jones not stepped out at the ten-yard line.
"Then they [brought] him back in and threw him a screen," said Rivera. "He's a very dynamic back, very versatile – very similar to what we do with Christian. He runs very well between the tackles; he's not a big guy, but because of that, he's got tremendous quickness and he makes cuts and you don't see him absorb a lot of big hits."
And once the defense accounts for either Jones or Williams, the Packers use misdirection and throw it to former Northwestern "Super Back" Danny Vitale, who ranks first in the league in yards per catch (15.7) of running backs/fullbacks with more than five receptions on the season.
"Good running backs like these guys, you give them space, they create problems," said Kuechly. "When the ball is dropped off in the flat like that, those guys – one foot in the ground, one guy miss and it turns a three-yard catch into 25."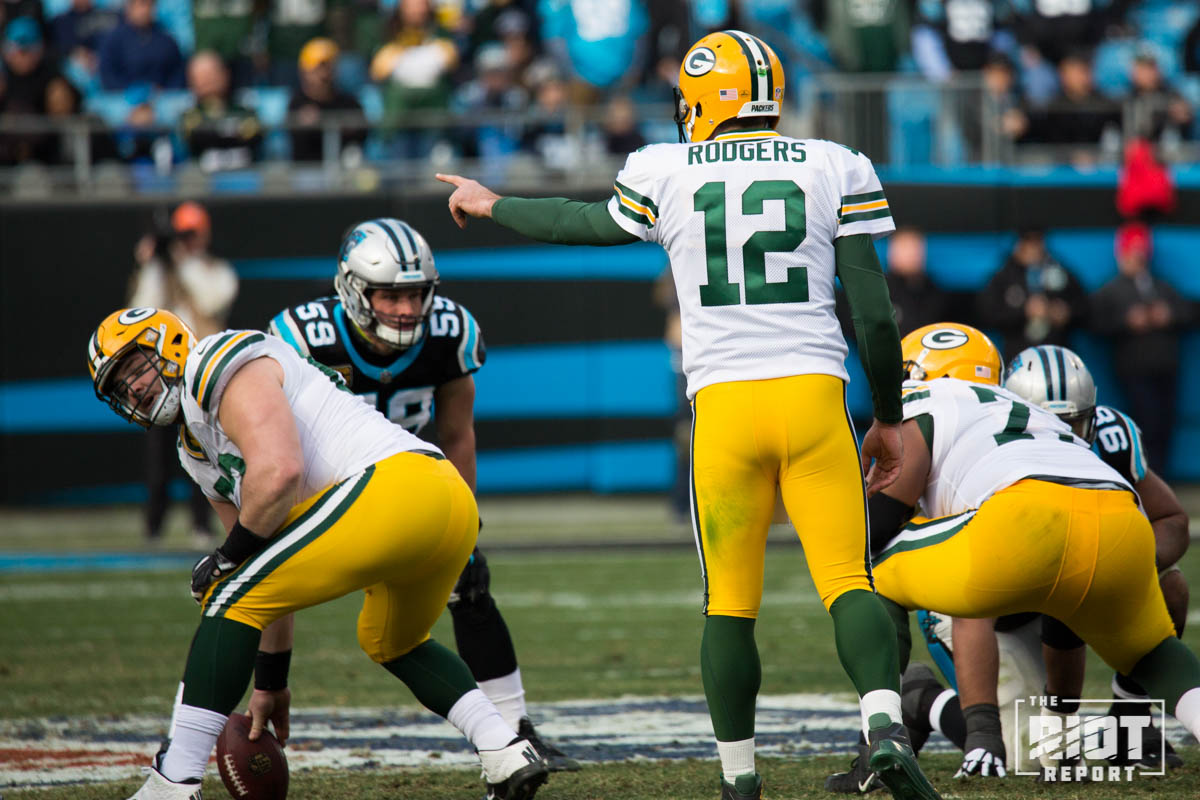 The Panthers have already been excellent against running backs out of the backfield this season, allowing the third-fewest receiving yards (30.12) and seven-fewest receptions (4.38) per game to running backs; Aaron Jones has the seventh-most targets among running backs in the league.
The Panthers won't just have to deal with Aaron Rodgers and the vertical passing game; the Matt LaFleur offense features the multiple playfakes and motions that frustrated and got Carolina out of their gap assignments in San Francisco and can scheme a running back open in addition to one of the best quarterbacks of all-time throwing a wide receiver open or extending a play with his legs – but the Panthers **insert David Caruso pulling down sunglasses gif** won't get fooled again.
"Out there, we had literally our worst game and it wasn't because of stuff moving on us," said safety Tre Boston, who got his first interception last week against Tennessee. "It was just us. I think we've come in here with a good game plan this week, we know what we've got to do when we get there – we've got to execute."
"Coaches can put good stuff in front of you, but if you don't execute, you're going to have a game like that."