Last year, after losing four straight games, Ron Rivera made changes in his coaching staff, firing defensive line coach Brady Hoke and secondary coach Jeff Imamura and transitioning playcalling duties on the defensive side of the ball to himself – over the course of the last few weeks of the 2018 season and into the following offseason, Rivera would mold the Panthers defense in his image, moving from a 4-3 defensive front to a system that favored multiplicity and optionality in terms of which personnel they would use, with the idea being that they could move on a whim from play-to-play between a three- and four-man front.
That's exactly what they've done this season – and it hasn't worked.
13 games into the 2019 season, riding the same four-game losing streak that prompted coaching changes and firings last season, the past month of the season has looked remarkably similar to the stretch in 2018 that cost people their jobs.
Last year, the Panthers gave up 126 points in weeks 10-13; this year, it's been 116.
Last season, they gave up 12 passing plays of 20+ yards in four games – they've allowed 15 in the past four weeks.
Run defense – a consistently stout part of a Ron Rivera defense – has been among the worst in the league this season, culminating in allowed 248 yards rushing on the ground to the 2-9 Washington Redskins, who hadn't rushed for more than 145 yards in a game and entered Bank of America Stadium averaging less than 90 yards per contest on the ground. It's been a multitude of things throughout the season that have affected the defense, but chunk plays have haunted the Panthers, specifically in the run game. The Panthers have failed to fill gaps correctly, been beaten off the line as offenses move the point of attack and have missed tackles downfield, allowing short runs to turn into huge ones.
"That's disappointing – especially as a defensive coach, I'd believe we'd be better tacklers," said Rivera Monday. "Not looking for an excuse, but you lose Kawann Short after the second game and that's a tough pill to swallow, that's a tough player to replace, but I thought some of the guys we have are pretty good football players. We've got to tackle better, something that we've got to become better at."
"Being more disciplined – continuing to work that way and grow that way; because you go back and you look at those plays and it's a guy popping a gap, it's a guy playing behind the ball or a guy trying to gap-and-a-half too soon. That's the thing that's got to get corrected; these guys have got to learn it, got to understand it and continue to play it."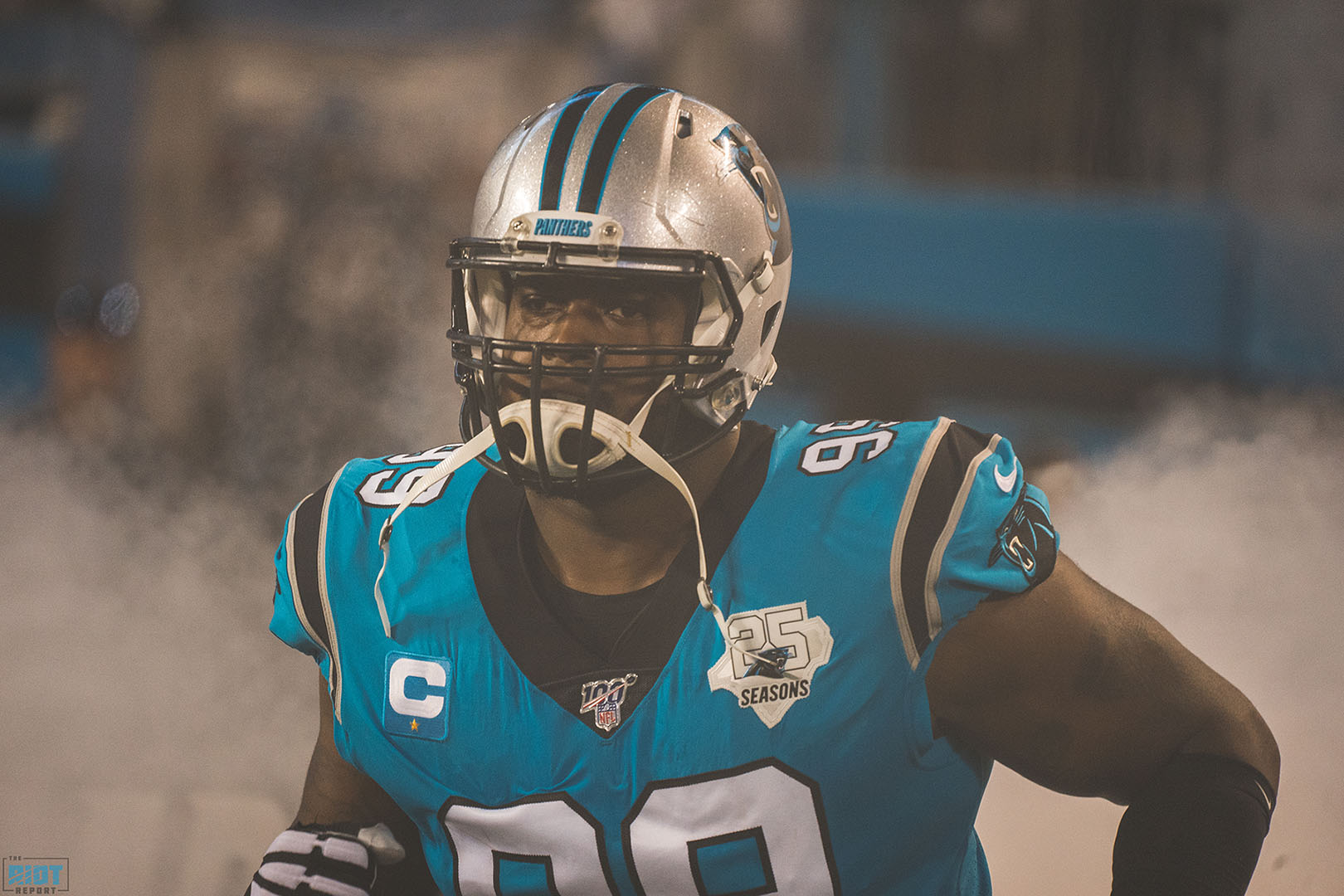 Losing Pro Bowl players like Kawann Short and Dontari Poe have forced Rivera to call plays in a different way, utilizing run blitzes and stunts to try to create a new point of attack and attempting to get defenders into creases where they can stop the run in the backfield, only to see it backfire.
"The hard part is, if they hit you a certain way, they can cut back on you from where you came from and they got us on one," said Rivera. "That's one of those that if I looked at it again, maybe I'd call something different. "
"It's been like that, unfortunately, too many times this year."
While the shift in scheme has certainly improved the Panthers pass rush – they lead the league in sacks with 46 on the season – it has come at the expense of the run defense; the Panthers have ranked in the top six in terms of run defense four of the past seven seasons and have never allowed more than 113 yards per game, never finished lower in the bottom half of the league.
This season, they're allowing 137.5 yards per game, 29th in the NFL.
Their 5.29 yards allowed is the most in the league and they're one of only three teams since 1992 to allow 22 or more rushing touchdowns in their first 12 games; they're one of only eight teams in NFL history to have allowed that many rushing touchdowns while giving up over five yards per carry – the first since the 0-12 Lions did it in 2008.
Injuries have certainly affected the team up front – losing two of your starting defensive lineman, especially players the caliber of Poe and Short, will always put a burden on the coaching staff and on the players who have to step up in their stead, but a defensive-minded head coach watching his defense be embarrassed like this, watching a division rival come into Bank of America Stadium and blow your team out by three scores, allowing 29 unanswered points to a 2-9 team at home – those are unacceptable.
"I take [them] personally because I feel like I let a lot of people down," said Rivera. "Do I sleep well? No, I don't. Do I think about it? Absolutely. Do I know how I get to work in the morning after a loss? No. All I know is I got in the car and next thing I know I'm at the stadium. That's just the way it is because I feel responsible, so I do lose a lot of sleep."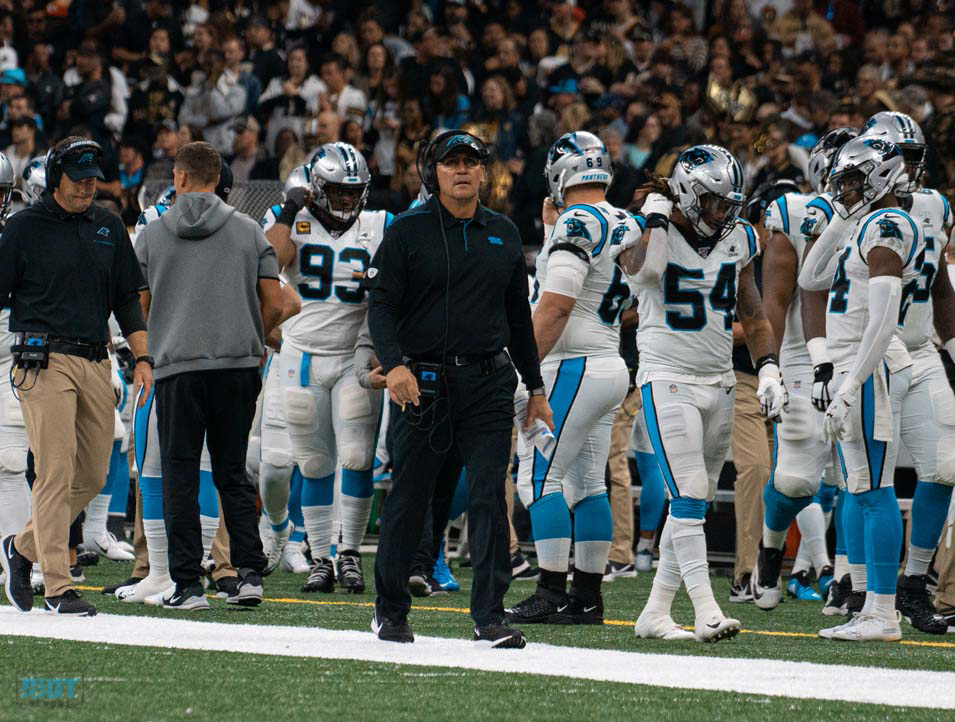 After the Panthers were blown out by Atlanta at home, David Tepper held an impromptu roundtable with local media with the only off-limits topic being the job security of his employees – but many assumed Tepper had put both Rivera and GM Marty Hurney on notice by saying that he would not accept 'long-term medocrity' from his team as he turned his attention from the business side of the franchise to the football side.
Rivera, who earlier this year became the winningest coach in Panthers franchise history, is 29-31 since taking the Panthers to the Super Bowl and winning Coach of the Year in 2015.
"Mr. Tepper's been very fair, very honest, very open and I really appreciate his support on things – but this is football. I get it, I understand it," said Rivera, who said Sunday that he was not worried about his future with the team, only the future of the team. "All I can do is control what I can and we'll continue to work hard, continue to practice hard and continue to play hard."
Last season, a failing defense through 13 weeks caused the defensive-minded head coach to step in and attempt to fix it. Who steps in to fix it now?