Training Camp is truly almost here, and with a trip to Spartanburg comes the usual over-eating, over-heating and over-analyzing. For every position battle and player there will be half a dozen articles on either side of the argument; I may even indulge myself, but in reality it all comes down to a numbers game. There are 53 spots on the season roster, with a further 10 practice squad spots and the potential for another spot for Efe Obada should circumstances work out that way, but there will be 90 players on the summer roster – that means whatever way things play out at Wofford College, at least 26 players will be going home come the start of the season. So who goes where?
Hard Numbers
While 53 roster spots sounds like a significant amount of flexibility, in reality almost all of those numbers are allocated to specific position groups if not individual players, barring injury of course.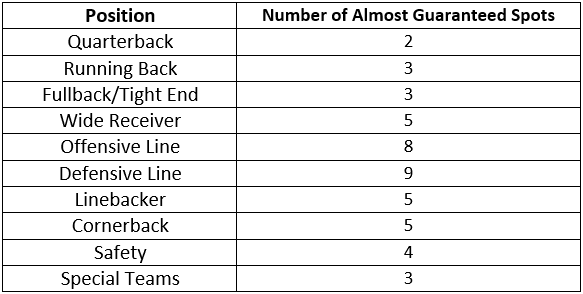 Summed up, that makes for 47 near-certain roster spots in terms of positional assignment, and many players can be written in as well. Cam Newton isn't going anywhere at quarterback, with CJ Anderson and Christian McCaffrey being as close to locks in the backfield as is possible in the modern NFL. Having signed a new contract, and despite a slight scare regarding offseason retirement, Greg Olsen is back and seemingly properly recovered from the injury that derailed him most of last season, and having been drafted in the fourth round just months ago, Ian Thomas isn't going anywhere either. At receiver, DJ Moore and Curtis Samuel's places are both all-but locked in as top 40 picks over the past two seasons, with Devin Funchess all-but-certain to return as a starter. While not as big a name as the others, Jarius Wright would make for a hard cut due to a large dead cap number and the lack of possession types on this roster; you don't tend to sign somebody to a three year, $7.5m contract with $2m guaranteed just to cut them a couple of months later. On the offensive line, both Kalils, Trai Turner and Daryl Williams are almost certain to return as starters, and whether they win a starting spot or not, Taylor Moton and Tyler Larsen's positional versatility should make them all but certain presences on the active roster.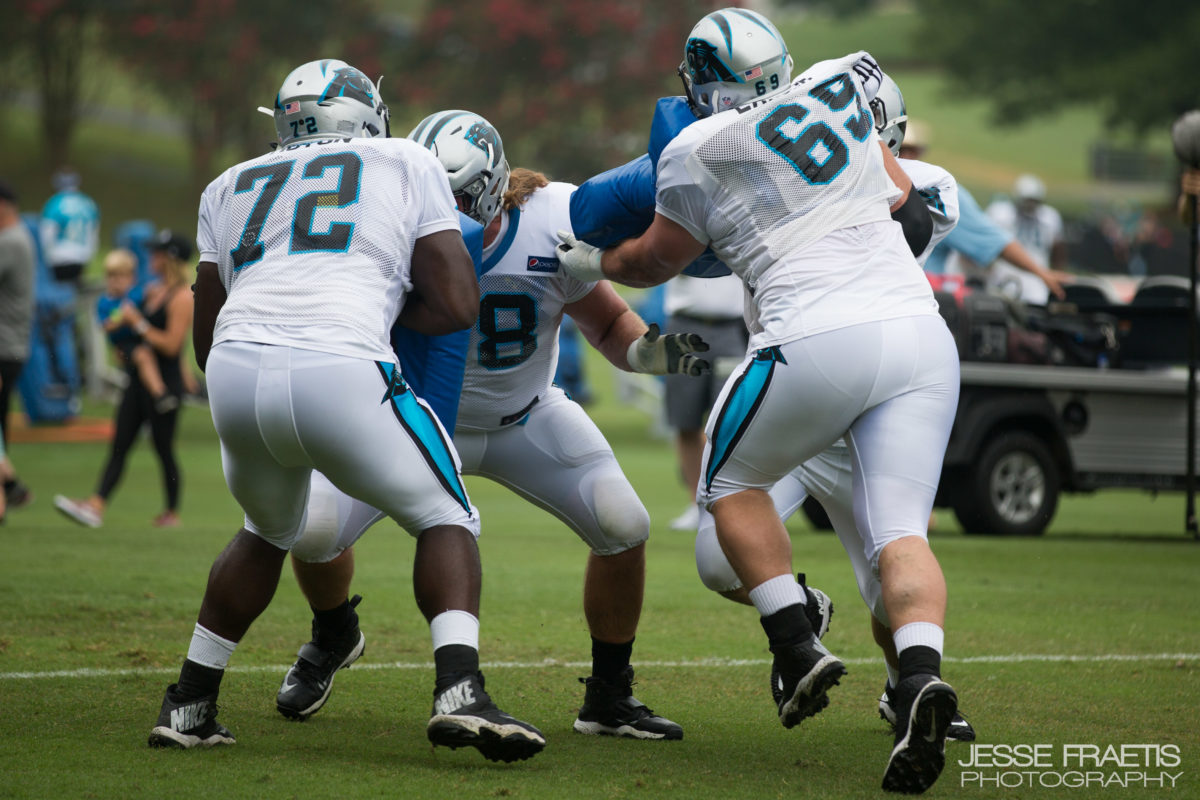 On defense, the defensive line is stacked with talent, but it would be hard to image Julius Peppers, Wes Horton and Mario Addison not making the roster, having put up nearly thirty combined sacks a season ago. In addition, 2018 fourth-round pick Marquis Haynes (who the team traded up for) is another who it would be almost unthinkable to see cut. At tackle, Short, Poe and Butler are also near-certainties with a combined dead cap of a shade under $45m and combined stats of 186 tackles and 19 sacks over the past two seasons. The big three linebackers of Kuechly, Davis and Thompson are also locks and, unless somebody offers a king's ransom of a trade, David Mayo will likely be back as the primary backup linebacker. While not quite as secure, it would still be a significant surprise to see the Panthers part ways with fifth-round pick Jermaine Carter after only one preseason.
In the secondary, Bradberry and Adams will return as starters, with Rashaan Gaulden and Donte Jackson's statuses as high draft picks likely being enough for them to make the cut. Ross Cockrell and Da'Norris Searcy aren't certain of starter status, but with spots available for depth positions at the very least and a combined dead cap nearing $4m they are highly likely to be around as well. The three most secure spots on the roster outside Cam, Luke and KK go to the three specialists, as with no competition on the roster for any of them, the biggest challenge will be for the coaches to keep them motivated throughout camp. Of those 53, that's 36 that you might as well go and buy the jerseys for already; barring injury of course.
Theirs To Lose
As well as those who go into camp with a spot almost certainly secure, there are more who very much go into camp with a spot that they will have to be significantly outplayed to lose. Cameron Artis-Payne might not be a major feature in the running game next season, but when you average over four yards per carry for your career – and over five in limited action last season – with four touchdowns in less than 100 career carries and you'd be in the discussion as one of the best third running backs in the NFL, it would take a lot to see him gone. Alex Armah might not have put up any numbers at all last season, but he reportedly seen a significant increase in duties during offseason practices, including snaps as a ball carrier from the triple option, and with his ability to play both as an in-line blocker and out of the backfield his versatility alone should see him make the fifty three. Finally on offense, the trade for Torrey Smith looks less extreme with Daryl Worley likely going to be cut regardless – and the Panthers could save $5,000,000 in cap space by moving on from Smith – but the coaching staff clearly like him and his leadership value shouldn't be disregarded. He's not a definite, but it would be a surprise to see him cut.
Daeshon Hall was possibly more of a lock a season ago, and as the draft pick of the former GM who missed almost all of his rookie season to injury, his stock is certainly on the way down as of this moment, but the talent that made him a third round draft pick is still there, and a year lost to injury is far better than a year of poor play, so it would be something of a surprise to see them move on barring a significantly sub-par training camp from him, or an excellent one from somebody else. On the other end of the potential-certainty spectrum, the team knows exactly what they're getting from Colin Jones – a free safety who can play a bit of nickel if needs be and an excellent special teams player. From what Rivera has said so far this offseason, he expects Demetrious Cox to challenge him for his spot, but it will likely take a lot from Cox to make that battle go beyond talking. That's another five spots gone, leaving six spaces on the almost-certain 47.
Up Next: The Biggest Battles Of Training Camp