There has been a lot of talk over the past three months, with all of the roster turnover, if the Panthers are in rebuild mode. If they are, no one told Russell Okung
Last month, the Panthers acquired the stalwart left tackle from the Los Angeles Chargers in exchange for guard Trai Turner. And in his first interaction with the Panthers media on Tuesday, when asked directly what it would be like to be an offensive lineman in his thirties on a rebuilding team, Okung said that he actually doesn't see the team rebuilding – especially not after signing quarterback Teddy Bridgewater.
"I've been watching Teddy Bridgewater for years now, and he does a great job with the ball – even watching him through cross film with New Orleans, the guy can really sling it," Okung said. "I'm not here to rebuild – I'm here to win right now. I don't go out there to waste any time and that's the expectation, across the board. The time is always now to go out there and compete and put our best effort out on the field."
"So I'm not thinking rebuild at all."
After back to back losing seasons, including a 5-11 finish in 2019, the Panthers have made a ton of changes since the conclusion of last season. The team brought in Matt Rhule from Baylor to be their head coach and have moved on from many faces of the offense – Turner, quarterback Cam Newton, tight end Greg Olsen – and defense – safety Eric Reid and Pro Bowl linebacker Luke Kuechly are gone as well.
Although many of the familiar names have left the Panthers roster, moves like adding Okung, Bridgewater, and wide receiver Robby Anderson signal this could be more of a retooling more than a rebuilding under first-year head coach Matt Rhule. Carolina also inked running back Christian McCaffrey to a four-year extension averaging $16 million per year this week, which would make him the highest-paid running back in NFL history.
Okung called McCaffrey a "real talent," and he can't wait to block for the All-Pro running back.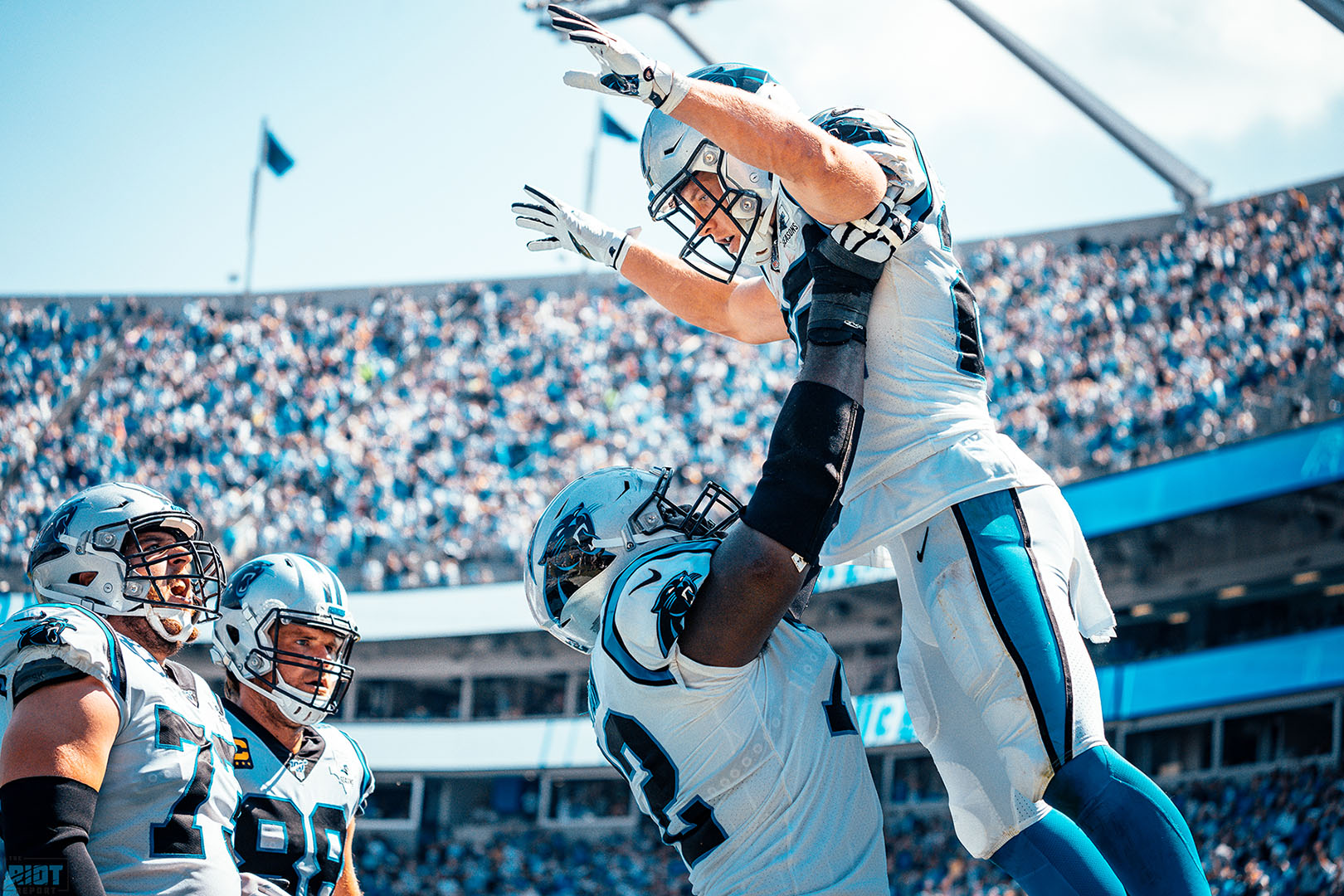 "I think it would be a bit shorthanded to describe him as a running back," Okung said. "He's a playmaker, he makes plays all over the field. I think it is important to mention, he was probably the first call I got when I joined the team – he reached out to me."
"But overall, he is the sort of guy of that I love being around. He's a bellcow, he's a workhorse, all those attributes, he's the real deal, and I can't wait to be on the same field as him. Hopefully, we can open up some good holes, but I know he is going to go out there and be special."
Okung paused to laugh.
"I'm looking forward to a good Christmas present from him."
Last season, the Panthers relied on a couple of young tackles in Greg Little and Dennis Daley for most of the season. The result was mediocre, to say the least, as the Panthers allowed 58 sacks, tied for the most in the NFL. Okung, who is a two-time Pro Bowler and a former Super Bowl champ during his 10 seasons in the league, will be the most experienced lineman on the Panthers roster.
Okung says he is ready to be someone the younger Panthers players rely on in 2020 – especially if they're going to have a shortened offseason because of the COVID-19 pandemic.
"I know they're going to be some changes made with [offensive line coach] Pat Meyer coming in and I, fortunately, had a chance to work with him for three years out in California," Okung said. "I know the expectations will be high. You lead from the front – and I know they're putting a lot on my shoulders in terms of being ready and catching on. I think we do have a young team and a young offensive line. I'm fortunate to [have played] with Matt Paradis…..My goal for us is to be a physically dominating group on the field at all times.
"So my standards are going to be high, and I'm going to demand a lot of myself and those guys."
(Top Photo of Okung: Reinhold Matay / USA Today)