You'll probably hear this story a lot over the next few days.
Ryan Kalil stood in the locker room of the SuperDome in front of his locker – surreptitiously next to Julius Peppers' locker, in what one of their teammates jokingly referred to as the 'phase-out section' – it would be the final time he would stand in a locker room as an active NFL player, likely the final time he would speak to the assembled media, unless they happened to catch him as a disappointing Panthers team cleaned out their lockers Monday morning to disperse into the NFL offseason ether.
He stood and answered every question reporters had for him, just as he had his entire career as he transformed from a green rookie who wore 65 – the ugliest number, according to Kalil – to an All-Pro to a captain six times over; he stood calmly, his eyes occasionally watering with tears as he reflected on his 12-year career and what he had meant to the Panthers organization.
He didn't expect to get emotional.
But, of course, he did.
"At the end when everybody started hugging me, that sort of sealed the deal," said Kalil as his emotions hit him again in a wave. "I thought I was going to get through it, I thought I had gotten all of that out over the past couple of weeks, but I was [just] very humbled by it."
As he answered questions, it emptied out and all of a sudden, there was no other player left in the locker room – the room looked bare and empty, athletic tape and other paraphernalia strewn about the floor haphazardly. But Kalil stood there and answered questions methodically – questions about winning his last game, about whether Ron Rivera should stay, about what it takes to be a leader – which isn't an easy question to answer.
But, as he's done for his entire career, Kalil summed it up perfectly.
"I think the thing I did was try to emulate the players I respected and the guys I wanted to be like; those guys were always the guys that led by example – so I think the best thing the next group of leaders can do is just lead by example," said Kalil. "That's being a pro, it's coming to work everyday, not riding the rollercoaster of the season, of the game – it's just being steady Eddie and that goes a long way. The best to play it – guys like [Peppers], they did it a long time because of that."
"The game will go on without me, it was fine before I got here, it will be fine long after I'm gone."

He was walking out of a locker room for the final time – but while the locker room may be physically empty – he's leaving it stocked.
As the leaders slowly depart – Kalil has confirmed his retirement and Ron Rivera all but confirmed Julius Peppers' after the Panthers win over the Saints, saying that it was "probably the best way to send Ryan and Pepp off on their way- [they're] two great Panthers" and questions swirl around the future of Thomas Davis, who clearly wants to come back but it's unclear if the Panthers will re-sign the 35-year old in the offseason, new leaders and captains must arise.
Luckily, they're already on the team.
"I think C-Mac and Luke are the blueprint. If you're building a team, like they obviously are here, you may have some veteran guys leaving, you want guys that work like those two, that take care of themselves like those two – are good citizens [and] good men," said veteran wide receiver Torrey Smith, whose future with the team is also in doubt as his $5m 2019 salary is non-guaranteed. "I respect those two a lot and I think when you think of leaders and what they're supposed to look like, they fit the bill."
"It's easy when you've got guys like that to look up to – it's kind of how it rolls when you've have guys like that and you follow them," said McCaffrey, who became only the third player in NFL history to go over 1,500 yards both as a rusher and a receiver in their first two seasons. "Eventually followers turn into leaders – they'd probably say the same thing, they probably had great guys in front of them that they learned from."
"As a role model, as a friend, as a captain and as a teammate, it's been extremely special. I can't wait to keep in touch with him in the future – I wish I had more time with him. This organization's going to miss him."
As the accolades continued to roll about Kalil – he joked that if you ever want a confidence booster, just retire and you'll hear more great things about yourself than you've heard in years – they came from everywhere, from his coach, from his brother Matt, who feels lucky to have played with his brother even if the younger Kalil's time in Carolina hasn't been as planned; he summed it up thusly.
"[He's] the greatest lineman to come out of this franchise – ever."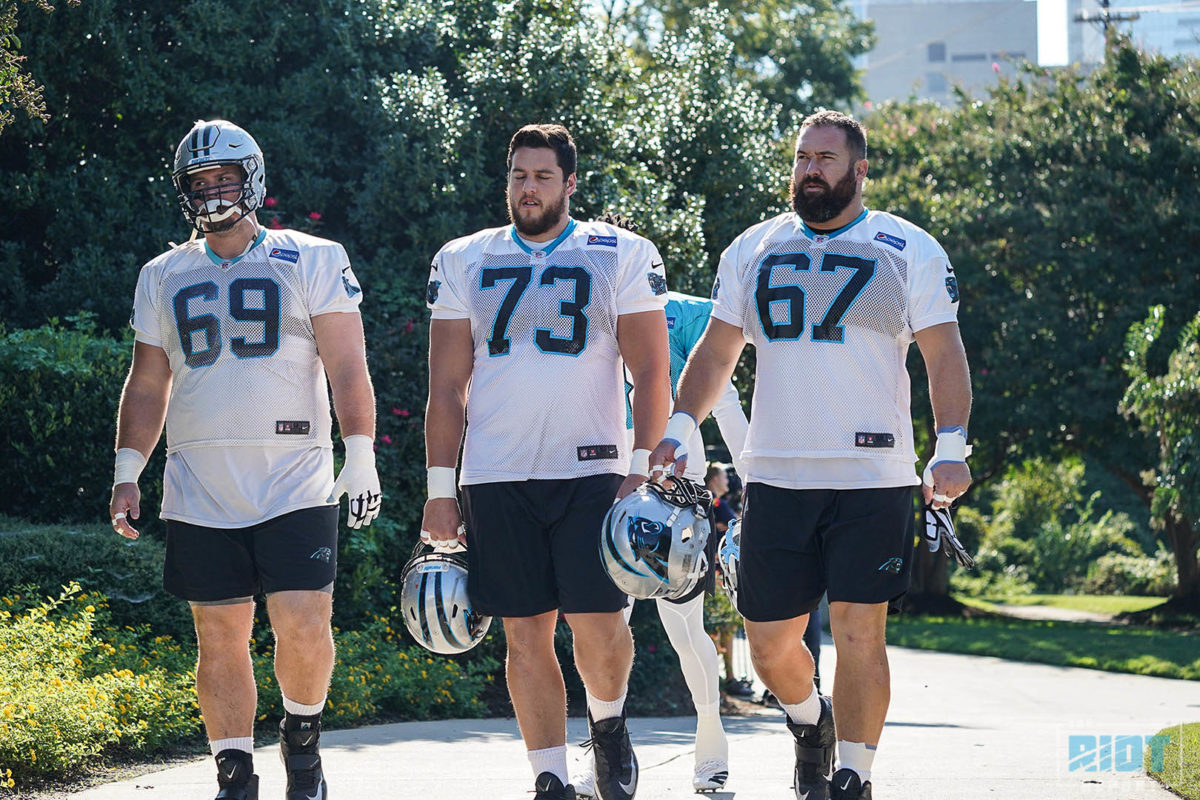 Tyler Larsen, who played over half of the 2017 season at center as Kalil nursed a neck injury, said he emulated Kalil in college to be a better center – guard Greg Van Roten said he watched tape of Kalil when he first entered the NFL to learn how to play the position.
"Being a part of his room and his offensive line, it really is one of the coolest things and for sure my most favorite thing in my whole entire career thus far," said Larsen with a smile. "He's one of the greats that's ever going to play this game."
Peppers, not surprisingly, chose not to speak to the media, likely saving his statement – retirement or not – for a time when he has his thoughts fully formed.
But Kalil stood and answered every question, just like always – steady Eddie – and eventually, the interviews were over, the accolades had finished and it was time for Kalil to leave the locker room for the final time – but before he left, he hugged every beat writer in that locker room.
And when he walked out that door for the final time, the room felt truly empty.