In a little over a month, Ryan Santoso's fortunes as an NFL kicker have changed in a hurry. From the end of July to the beginning of September, Santoso has gone from being an extra specialist and roster afterthought on the New York Giants, to a training camp standout and tradeable asset, to the role he now finds himself in as we approach the first game of the 2021 season: Kicker for the Carolina Panthers.
As he walked off the field following a Thursday joint practice between the Giants and the Patriots, Santoso was whisked away and informed he had been traded to the Panthers, and that he should prepare to play in their preseason finale on the Friday night. Five made kicks later, the job as the Panthers' kicker looked to be his.
We spoke to Santoso to find out more about how his path to this point has prepared him both for life as an NFL kicker and his new home in the Carolinas.
Still fresh off the plane from the Meadowlands, and with just over a week left before Carolina's Week One opener, Santoso has had to adjust to his new surroundings quickly, something that has certainly been made easier by the reception he has received.
"I can't thank the Carolina Panthers enough for giving me a chance. From the top down, everyone has just been amazing just trying to get me acclimated as fast as possible, and it's been super easy," Santoso told The Riot Report. "I've been loving the culture here, loving my teammates. So, I'm still just trying to figure out different personalities on the team, and it's been really fun to get to know some different players that are closer to my locker. Especially with (long snapper J.J. Jansen) and (punter Joseph Charlton), getting the whole specialist group together more often, getting that unity going."
While not two situations are ever exactly the same, Santoso benefits from the significant links between the Panthers' and Giants' special teams set-ups. In New York, Santoso was coached by Giants' special teams coordinator Thomas McGaughey, who served in the same role with the Panthers in 2016 and 2017, while his special teams coordinator in Carolina is Chase Blackburn, who spent the majority of his NFL playing career as a standout special teamer with the Giants.
More significant still is the link with former Panthers' kicker Graham Gano, who spent eight seasons in Carolina (albeit one of them spent on IR) making 165 field goals and 247 extra points.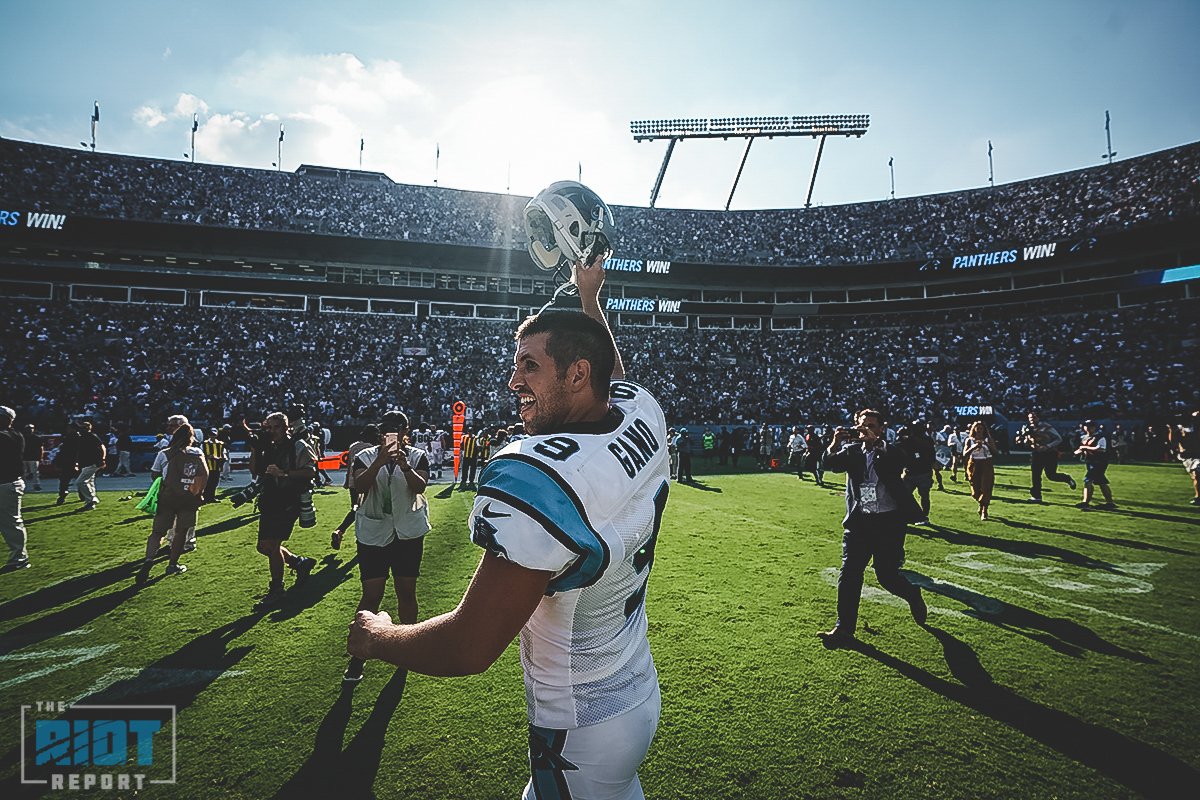 Santoso was an admirer of Gano's long before their paths crossed professionally, with both cutting their teeth kicking in the Pensacola, Florida area's high schools and it is Gano that Santoso credits with the initiative that has ultimately led him to the same role and same uniform.
However, for Santoso, Gano is more than just a role model, as the 34-year-old veteran took Santoso under his wing during their shared time in New York and has been an important resource for him as he adjusts to his new home.
"I talk to Graham almost every day. So he's been able to help guide me on different things around Charlotte," said Santoso. "And then the coaches – I mean, it's super cool to see how similar things can be with similar personnel, similar people, similar verbiage even in meetings. It's cool how it all comes back full circle … I can come in here and feel comfortable with these guys because everything that I've heard before I got down here from T-Mac and Graham has been everything is positive."
When Santoso began at Pace High School he was taught to play both punter and kicker and subsequently played both positions at points both in high school and then also in college at Minnesota. Entering the NFL, Santoso believed that his pro football path would actually be as a punter and, while that isn't how things have ultimately played out, his versatility helped him find his way onto rosters early on.
Santoso spent two preseasons with the Detroit Lions in 2018 and 2019, serving as both a punter and kicker behind veteran kicker Matt Prater, before earning a brief spot on the Titan's active roster as a kick-off specialist, recording nine touchbacks on seventeen attempts over three games. After struggling to find a full-time role on an NFL roster, Santoso then opted to take an alternate path as the kicker for the Montreal Alouettes of the CFL, whose practice squad he had spent time on in 2019, for the 2020 season.
However, after the CFL season was cancelled in August due to the COVID-19 pandemic, Santoso was left without an opportunity to play, with NFL teams already midway through training camp and opportunities limited.
"Going up there for me was just like 'Alright, I just want to play ball.' It was an opportunity," said Santoso. "Loved the coaches up in Montreal. I was up there for practice squad for a little bit, I believe in 2019, and just fell in love with it and wanted a chance to go back up there and was super grateful for it … But (the cancellation) happened, and there was a couple weeks in-between that statement of the season being cancelled and me signing. There were just some normal things that happen when you're out on the streets – There's guys right now that are out on the streets that are experiencing it – You're just trying to work every single day to get better and just trusting your process, trusting your routine. And no matter what, knowing that if you just work hard today, that's all you have. Just take advantage of today and tomorrow will take care of itself."
That tomorrow brought him an opportunity on the Giants' practice squad, where he spent the 2020 season as an option for use in the event that either Gano or punter Riley Dixon was sidelined due to COVID – A scenario that was narrowly avoided as Gano dealt with COVID during the Giants' Week 11 Bye. It also brought him the chance to work directly with Gano, whose influence led to him figuring out his identity as an NFL player and work towards realizing it.
"Initially when I went to New York, I was still kind of in that between of 'Am I a kicker? Am I a punter?'", recalled Santoso. "I was more of a punter when I got there, and then just talking with a lot of guys – the specialists there, the coaches there, and then kind of feeling myself – I was just like 'You know what, I think it's time to figure out which one I want to be.'
"Being able to do both got me a chance in the NFL, but I really wanted to pursue one. And having Graham there really helped me understand that I wanted to be a kicker."
A year of work later, that path certainly appears to have paid off as following a strong training camp and preseason with the Giants, the Panthers traded a conditional seventh round pick to New York in order to secure Santoso's services.
"We felt like he was the option that we wanted. We had seen enough of him to know he was a guy we wanted to bring in here for a few days and see if he was the right guy for us," said head coach Matt Rhule. "For him to get off the plane basically with a whole new operation and make a 52-yarder, I thought that showed tremendous moxie from him. We just felt very compelled that he was a guy we wanted to give the first look at."
However, in order to validate the Panthers' investment, Santoso is tasked with a more abstract challenge. Not only does he need to consistently execute throughout games but also to produce when the Panthers are relying on him with the game on the line.
This was something that Gano excelled at, and something that's been missing from the kicking game the past two seasons – A large part of Joey Slye's undoing after two seasons at kicker was his performance in big spots, as he had major misses when it mattered most despite a powerful leg.
While it's hard to project 'clutch-ness', Santoso certainly has some history with clutch kicks, having made a 52-yard game-winning field goal to beat Purdue while in college.
<iframe width="560″ height="315″ src="https://www.youtube.com/embed/po5E0sJyeYA" title="YouTube video player" frameborder="0″ allow="accelerometer; autoplay; clipboard-write; encrypted-media; gyroscope; picture-in-picture" allowfullscreen></iframe>
However, he would rather games don't consistently come down to last-minute heroics.
"Hopefully it doesn't come down to that, because the team will be doing really well – Offense will be rolling, defense will be stopping the other team," said Santoso. "But I think it's all part of our job to be prepared no matter what, whether it's the first play of the game or the last play of the game that makes the deciding factor of the outcome. So we're just trying to approach it all the same and be confident in our abilities."
The outcome that Santoso would prefer, perhaps, would be to continue a tradition of longevity and performance that has been an understated hallmark of Panthers football. With a few others sprinkled in, the Panthers have had just two players serve as their kicker for most of their history: Franchise great John Kasay from 1995 until 2010, and then Gano from 2012 until 2018.
There's a long way to go yet until Santoso can be included in the same category as either of those two, after all he has not even played an official game yet, but the significance of kicking for the Panthers and following those who have filled that role in the past is something that Santoso is very conscious of.
"It would be an honor," said Santoso when asked about being with the Panthers for a long time. "Every single day that I walk into that facility, I try and take a moment and just understand who has come before me, what it means to be in the NFL and play for an organization like this."
"I'm just trying to take it one day at a time and try and stack up two good days at a time. Just getting good reps with the guys, and it's really cool to have the history here of good specialists. So, you know what, hopefully I can be one of those guys too. But today, I'm focused on how I can get better today."
(Top photo via Chanelle Smith-Walker/Carolina Panthers)