Each week this offseason, we'll be focusing on one position and how the Panthers may choose to address their needs; whether they're in the market for an upgrade at starter or just a reliable backup, every player on the 53-man roster is going to be important in 2018.
This is Running Back Week.
With Jonathan Stewart being released just before the NFL Combine, the Panthers could well be in the running back market once again in the 2018 Draft. While this probably won't see the Panthers spend back-to-back first round picks on the position, it should be seen as a serious option as early as the second round; in particular, the Panthers could do with someone who can compliment Christian McCaffrey as part of a rotation, which would most likely mean adding somebody with more of a power game. With that in mind, what does the 2018 draft have to offer?
The Big Board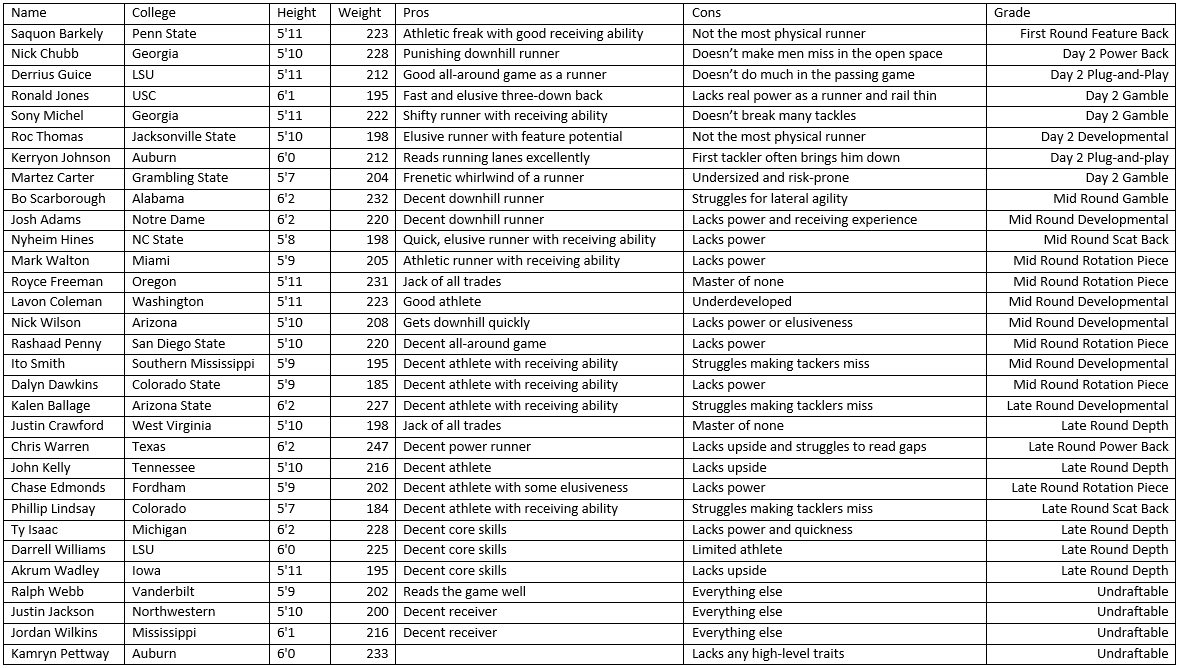 Saquon Barkley is widely regarded as the top running back in the 2018 draft and that is probably correct; while his lack of power as a runner makes it hard to place him in the very top tier in terms of historical running back prospects, he is an elusive runner who threatens on every down and this, combined with his receiving potential, should make him the feature back wherever he lands.
Of those who have any chance of falling as far as 24, let alone 55, Nick Chubb is probably both the best player and a good fit for the Panthers. Chubb has never quite returned to his all-conquering pre-injury form, but is still an excellent downhill runner who breaks tackles with regularity; he wasn't used heavily as a receiver in his last three years at Georgia, but he demonstrated the core skills in this area both at the Combine and as a freshman to give teams hope in this area as well. Derrius Guice is probably the other option at 24, and is a similarly good power runner, even if he does lack some of Chubb's raw power; either would be a great addition – but would the Panthers take running backs with back-to-back first round picks, especially when last year's was in the top 10?
Ronald Jones is an interesting prospect as he has a lot of nice traits, but his lack of power will concern some and his slight frame could well be an injury concern going forward; the Panthers need someone to compliment McCaffrey, not necessarily someone who only weighs 195 pounds. His best comparison is probably Jamaal Charles, for better and for worse. Sony Michel is also somewhat of a gamble as while he shows a lot of nice things on tape, how he might best be used in the NFL is a little unclear; he isn't a classic feature back by any means, but also isn't a true scat back. If a team can find a way to use him as effectively as a rotation piece as Georgia did, then he has a lot of valuable skills to offer.
In terms of other options the Panthers might have on the second day of the draft, Roc Thomas, Martez Carter and Kerryon Johnson offer very different but equally intriguing skill sets. Johnson is a good if not great athlete and isn't much of a 'wow' runner, but reads gaps well and is able to consistently pick up yardage as an inside runner. Thomas is actually very similar to Barkley in many ways; like Saquon, he lacks the power to be seen as a complete runner, but flashes all the elusiveness and athleticism, if somewhat more inconsistently. If a team is willing to spend a season or so developing his game, he could be a hidden gem in this class. Carter is an extremely hard player to tie down, despite being quite undersized he could be seen by some as more than a scat back as he does run with some power, but what really stands out is his frenetic running style. Similar to Tarik Cohen last year, this works both for and against him, but there are only a handful of players in this class who are more electrifying at their best.
The Panthers could always look to add somebody on the final day of the draft, and there are some intriguing developmental options such as Lavon Coleman, but the quality falls off very quickly in this running back class, and there are unlikely to be many players left beyond the top 15 or so who are capable of being more than mediocre rotation pieces or who don't come with a significant risk attached. If all else fails, somebody like Chris Warren could at least offer the short-yardage option the Panthers are currently lacking after the departure of Stewart.
The Panthers have a lot of needs to address in the 2018 draft, and it is unclear at this stage when each will be addressed, but if there was a draft to need a running back in, the 2018 class looks to be a good one, especially on the second day.