Each week this offseason, we'll be focusing on one position and how the Panthers may choose to address their needs; whether they're in the market for an upgrade at starter or just a reliable backup, every player on the 53-man roster is going to be important in 2018.
This is Tight End Week.
With Greg Olsen likely back to full strength for the 2018 season, the Panthers need at tight end this offseason might, at first glance, seem limited. However, Olsen enters next season aged 32, in the final year of his contract and coming off a major foot injury. The only other tight ends currently on the roster are Evan Baylis and Kent Taylor; of course, the Panthers are certain to add or resign at least one tight end during free agency, but depending on how confident the Panthers are in Olsen's health and his desire to continue playing for the Panthers, tight end could be seen as being anything from one of the team's biggest needs to a position where they might want to add a talented youngster to develop behind Olsen. With that in mind, what does the 2018 draft class have in offer at the tight end position?
The Big Board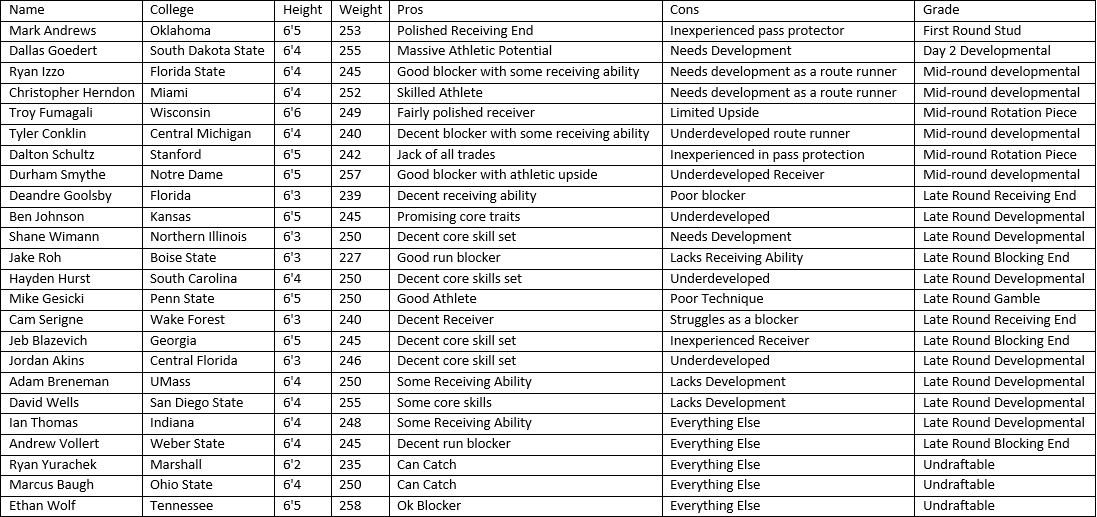 With many colleges barely using a tight end in the NFL's traditional sense, there is a significant dropoff from those prospects who show signs of being starting tight ends at the next level and those who are either destined to be backups or who will need a significant amount of time to develop before they are able to contribute in a significant way. In 2018, there are two prospects who really stand above the rest: Mark Andrews and Dallas Goedert.
Andrews might not be the most obviously dominant athlete, but he is a technically-developed prospect with possibly the most polished receiving game seen in a tight end coming out of college in the past five years. While there are areas where he still needs to improve, he is the most likely to come in and contribute from Week 1. Goedert is more underdeveloped as a small-school prospect, but his dominant athleticism possibly gives him a higher ceiling; either way, both stand a good chance of having very successful NFL careers. If the Panthers draft a tight end before the final day of the draft, it had better be one of these two.
The gap between them and the next best tight end on my board is significant, with the second tier being composed of promising athletes who will need to develop beyond how they were used in college in order to maximize their athletic ability and those who, while quite polished, are unlikely to develop into quality NFL starters due to athletic limitations.
Ryan Izzo, Christopher Herndon, Tyler Conklin and Durham Smythe all have the potential to be good tight ends at the NFL level, but all need development to various extents and in various ways. A common theme in these players is a lack of route running nuance on limited route trees; many college teams essentially use tight ends exclusively on play-action and drop-off passes, and these prospects will need to develop as more well-rounded receivers to feature significantly in the NFL. The other common area for improvement is blocking, with many players expected to play tight end in the NFL essentially being used as receivers in college. If the Panthers want an athletic prospect to develop behind Olsen, any of these would make sense, but it would be surprising to see them contribute significantly early on.
Troy Fumagali and Dalton Schultz both have a fairly polished game, and may be able to contribute immediately at the NFL level, but neither showed significant athletic ability in college and could well be limited to being either subpar starters or solid rotation pieces at the next level. If the Panthers want to add some depth at tight end as the draft goes on, they could be options, but are unlikely to ever step up to replace Olsen.
The remaining tight ends are a mixture of those who will likely serve as either roster padding or those who possibly have the potential to develop into rotation pieces; with these players, teams will likely not view them as worth more than a late-round pick. Those who test well at the combine could see their stock rise slightly, as teams will be more willing to invest time developing one of these players if they believe the eventual payoff might be more significant. It would be somewhat surprising to see the Panthers spend a late-round pick on somebody purely for immediate depth, but nothing is out of the question.