Each week this offseason, we'll be focusing on one position and how the Panthers may choose to address their needs; whether they're in the market for an upgrade at starter or just a reliable backup, every player on the 53-man roster is going to be important in 2018.
This is Wide Receiver Week.
The Panthers enter the 2018 offseason with a reasonable amount of uncertainty at wide receiver; while Devin Funchess appeared to emerge as a genuine #1 option on the outside before a late-season shoulder injury, there are significant questions beyond that, with injuries to Curtis Samuel and Damiere Byrd making it harder to ascertain where they lie: are they rotation pieces or solid starters? However, given that both Byrd and Samuel looked promising prior to their injuries and their youth and potential to develop further, it would be somewhat surprising to see the Panthers draft a receiver early in the 2018 draft. With that said, there is certainly space on the Panthers' roster for another receiver, and they could look to target this area as early as the second day of the draft, so who is there that they might be interested in?
The Top Prospects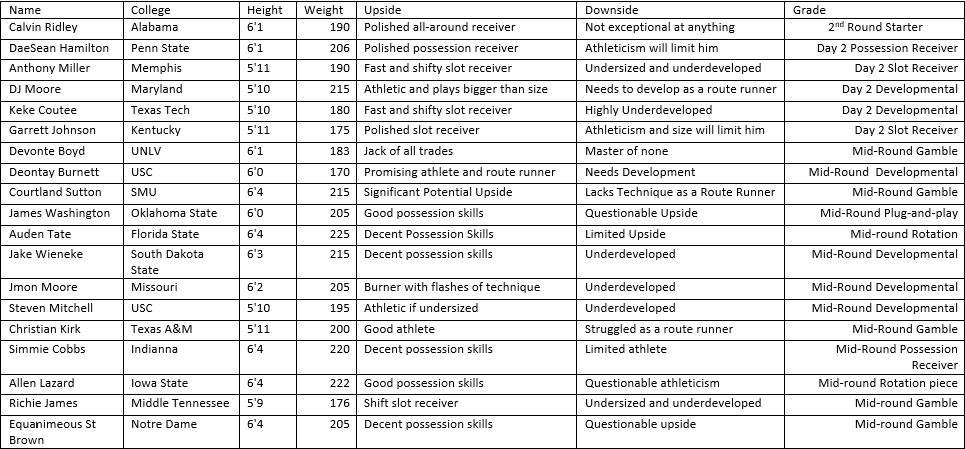 This is possibly the weakest receiver class in recent memory, with there being no prospect who really establishes themselves as an elite prospect on tape. Calvin Ridley is comfortably the most well-rounded on tape, and while he could well develop into a good starting receiver in the NFL, he will need to advance significantly as a route runner to be considered in the same category as consistent comparison and fellow Alabama alum Amari Cooper. Besides Ridley, there are a number of other reasonably well developed possesion and slot receivers, but DJ Moore is probably the only other receiver who stands a chance of developing into a true #1 option, despite his size. Moore needs to show a lot more as a route runner, but is an impressive athlete with good ball skills and has the requisite quickness to encourage teams about his ability to develop as a route runner.
The one area where this draft does look reasonably strong is in terms of slot receivers. Anthony Miller, KeKe Coutee, Garrett Johnson and others all show flashes of developing into dangerous slot options; unfortunately, Miller's age should have scouts concerned about how likely he is to develop significantly in the NFL. Richie James is another possible option for teams looking for somebody to come and work out of the slot, but he doesn't flash as a route runner in the same way the other three do.
DaeSean Hamilton possibly has the highest floor of any receiver in the class; he comes out of Penn State as a polished route runner with the ability to separate effectively underneath; he is unlikely to have the athleticism to develop into a #1 option, but for a team like the Panthers he could make a lot of sense. Simmie Cobbs, Allen Lazard and Equanimeous St. Brown all shows the ability to contribute in this way as well, albeit to different degree; all will need to develop significantly at the NFL level to be valuable.
Boyd, Burnett, Sutton, Wieneke and Mitchell all have the potential to develop into good receivers in the NFL, but all are lacking in polished route skills and any team that drafts them will be doing so more on what they might become rather than what they currently are. Sutton in particular has a huge NFL ceiling, but teams will have to make their own decisions about how likely they think he is of every reaching it.
Two of the more disputed receivers in this draft are James Washington and Christian Kirk; both show flashes of being good NFL receivers. Washington almost certainly will be, but will need to develop as a route runner if he is to be any more than a secondary option, and will likely be limited ultimately by his ability to separate vertically. Kirk is clearly an excellent athlete in terms of his ability to get deep and to stretch the field, but he doesn't impress as a route runner and, at the NFL level, that is ultimately what distinguishes the good from the replaceable. If a team thinks they can develop him in this area then his ceiling is quite high, but he is unlikely to be contributing as anything other than a deep threat early on.
Late Round Options

All of these players are flawed, otherwise they would be higher up the draft board, but if they are still around towards the end of the draft, teams might well think them worth taking a risk on. They can largely be grouped into those who will be limited by their ceilings and those who could well develop into quality players, but all will need a lot of work to overcome apparent technical flaws. While it would be surprising to see the Panthers spend a draft pick given that they have a reasonable number of borderline players already on the roster, if they view any of the more developmental prospects as being worth the risk, they might pull the trigger later on in the draft.
The Other Guys

Some of these players, such as Daurice Fountain and Byron Pringle might intrigue teams right at the end of the draft or as priority free agents, most of these players will be seen as training camp bodies. It would be borderline shocking to see the Panthers spend a draft pick on any of them, but it cannot be totally discarded as an outcome.
This draft board might look significantly different from others that are publicly available, with a more significant emphasis on route running and release over athletic potential. As described in another piece coming tomorrow, receiver prospects are generally underdeveloped in these areas, and it is the ability, or rather the inability, to develop that has led to a high 'bust-rate' in wide receivers in recent years. Some lower-valued receivers on this draft board will likely add the skills they lack in college, but the majority will not, and drafting players is about their floors as much as their ceilings. Some questions might get answered as the offseason goes on, but drafting players like Washington, Sutton or Kirk with a first-round pick without recognizing the significant amount they will need to develop to be successful in the NFL presents major bust potential.
While receiver could be seen as one of the Panthers more significant needs, should Samuel and Byrd return healthy then it could well be somewhat of a secondary concern; with an uninspiring draft class, the Panthers could pass on receiver unless somebody falls towards the end of the second day, but if other needs are met during free agency, it could be seen as more of a serious option in the earlier stages of the draft.