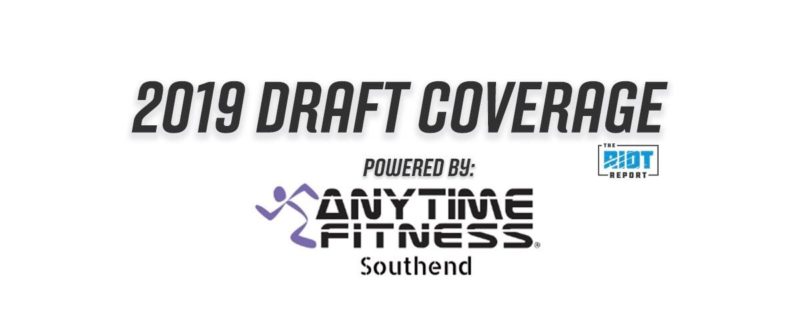 With both #WideReceiverWeek and #LinebackerWeek now in the rear view mirror, we can turn our attention to the tight ends, and while it would be surprising to see the Panthers invest much draft capital in the position given the play of Ian Thomas last season and the hopeful return from injury of Greg Olsen, nothing can be ruled out altogether and even if the Panthers don't take a tight end, it is useful to know what is out there and how this might affect how other teams approach free agency and the draft.
Before we dive into a look at TJ Hockenson, have a gander at my Big Board and take a listen to our latest episode of The Great British Drafting Show, where we run down the tight end position and what to expect from Thomas, Olsen and the newly-minted-with-a-contract Chris Manhertz.
Seeing as the Panthers aren't likely to target tight end early and that this draft class isn't stuffed with appealing late round options at tight end, for tight end week we are taking a slight step back from our Panthers focus and instead looking in detail at the big three tight ends in the 2019 class. Having already looked at Irv Smith Jr., we now turn our attention to TJ Hockenson of Iowa. So what does Hockenson offer prospective teams, and how does this differ from Smith?
Blocking Ability
For many college tight ends, blocking is very much a secondary concern, but for Hockenson, it was a core part of what he was asked to do on a down-by-down basis, and that starts in the run game. In this regard, he showed a consistent ability to secure inside location with his bunch – and used that to direct defenders away from the ball carrier:
He also did a good job of continuing to make effective blocks even after the defender was able to twist sideways – a move which often results in holds by blockers; by keeping his hands inside and using this control to push the defender from the side, where they aren't able to put up as much resistance, he blocks more effectively.
Of course, nobody is perfect on every play – and there were some snaps on tape where he didn't manage to get inside position:
But he generally did a decent job of relocating.
The only real concern with his hand usage from tape was his strength to deal with counter moves. It isn't clear whether this is a strength issue that isn't going to improve, something that can be worked on in an NFL weight room or if it's simply a matter of playing with better balance, but this is merely a slight dampener on Hockenson's otherwise good hand usage as a run blocker.
What can also be seen from these earlier clips is Hockenson's good but not amazing power as a blocker – in short, there shouldn't be any concerns about him being pushed around as a run blocker, but he probably isn't going to be blocking anybody off the field.
Of course, there is more to run blocking that just hand usage, and as good as Hockenson is in terms of hand usage, teams should be concerned about both his control and pad level. In terms of pad level, Hockenson isn't calamitous, but there are a number of times when he simply isn't able to get any push due to most of his force being directed upwards rather than across:
However, by far the biggest concern for me regarding Hockenson's blocking ability is his apparent lack of control at times. Much of the issues arise due to his tendency to lean significantly into blocks, which makes it harder to naturally lower and widen the arms in order to restore balance while keeping track of the defender – it tends to make the blocker vulnerable to late movements. All of which lead to some pretty troubling whiffs:
He does, however, also show some of the same ability to block zonally that Smith did so encouragingly:
The key here is that he doesn't look to drive the defender backward, but rather guide them away from the ball carrier. There are reasons to be optimistic about Hockenson's ability to improve in this regard, but it is hard not to find the following plays concerning:
The other aspect of blocking that tight ends are sometimes asked to perform is pass protection, and while most NFL teams don't look to heavily feature tight ends in this way, this can be a way to add value, especially off play-action. This is something that Hockenson did quite well at Iowa, showing a nice combination of hand usage and lateral agility:
Though the balance concerns were also present here:
In summation, Hockenson is a good blocker, possibly the best in the class, with his hand usage being particularly impressive, but while his pad level is probably something that can be fixed with coaching, his relatively persistent balance and control issues are more concerning and should be something that NFL teams look to explore in individual workouts.
Up Next: Receiving Ability and What It Means