Football is a weird and complicated game. Sometimes you can do everything right, be in the right place at the right time – but because of a weird bounce of the ball or a wet spot in the grass that causes you to lose your footing for a split-second, you're out of position and everything goes wrong. Or you can take the wrong angle, fill the wrong gap on the defensive line – but you get a tackle or force a fumble because the running back happened to choose incorrectly and ran right towards you – or the quarterback made a mistake and threw it right between your numbers.
In football more than any other sport, there are times when doing the right thing doesn't net you the accolades – you occupy the double-team so that your edge rusher can go one-on-one to the QB. You shade the tight end that forces the quarterback to make wrong decision. Do the right thing so that the man next to you – and by extension, the rest of the team – can flourish.
That vibe – do the right thing so that everyone can win – has a very 2020 type of feel to it.
Shaq Thompson has been that type of player, one to do the right thing to help the rest of his defense, for the first three years of his career – and he doesn't plan to make any changes heading into his fourth year.
"Trying to help this organization win games," Thompson said when asked about his goals during a teleconference with the media this weekend. "I'm not really focusing on myself – I'm a team player and that's what I'm focusing on…. I'm all about this team."

For the first three years of his career, Thompson had the best linebacker in the league next to him for advice – on the field, in the locker room or simply in life.
Even though Luke Kuechly has traded in the locker three down from Thompson for the scouting booth upstairs, Thompson doesn't have to ask his former brother in the linebacking corps for advice – he already knows what Kuechly would tell him.
"Just go out there and be a leader," said Thompson. "That's what I'm going to for him, myself and this team that we have."
He'll have to. After having his best season as a pro in 2019 – 109 tackles, 11 tackles for loss, and three sacks and the highest snap count of his career – and being rewarded with a four-year, $54m extension in December, the thought that Thompson would need to be a vet leader for the Panthers at only 26 years old had likely already occurred to him.
That was before the team parted ways with Mario Addison, Gerald McCoy, Bruce Irvin, Dontari Poe and Kuechly retired in January. Thompson didn't necessarily have to step forward in a locker room full of natural, vocal leaders with resumés full of Pro Bowls and sack totals before now – but with Thompson now one of the elder statesmen in the locker room despite this being only his fourth year in the league, he's ready to make that transition.
"Shaq is a ball magnet," said Kawann Short about the man who plays behind him. "Every highlight around here, every tape around here, you just see Shaq in the picture. And Shaq is just one of those guys, he is doing everything to put himself in position. Every film we turn on we are like man Shaq is a ball hawk."
"So now it's a competition to get to the ball, recover that fumble, or whatever the case may be. I think Shaq is one of those guys that come from Year 1 to Year 4 that improved every year. And now he has put himself in one of those positions to be one of those dominant linebackers right now."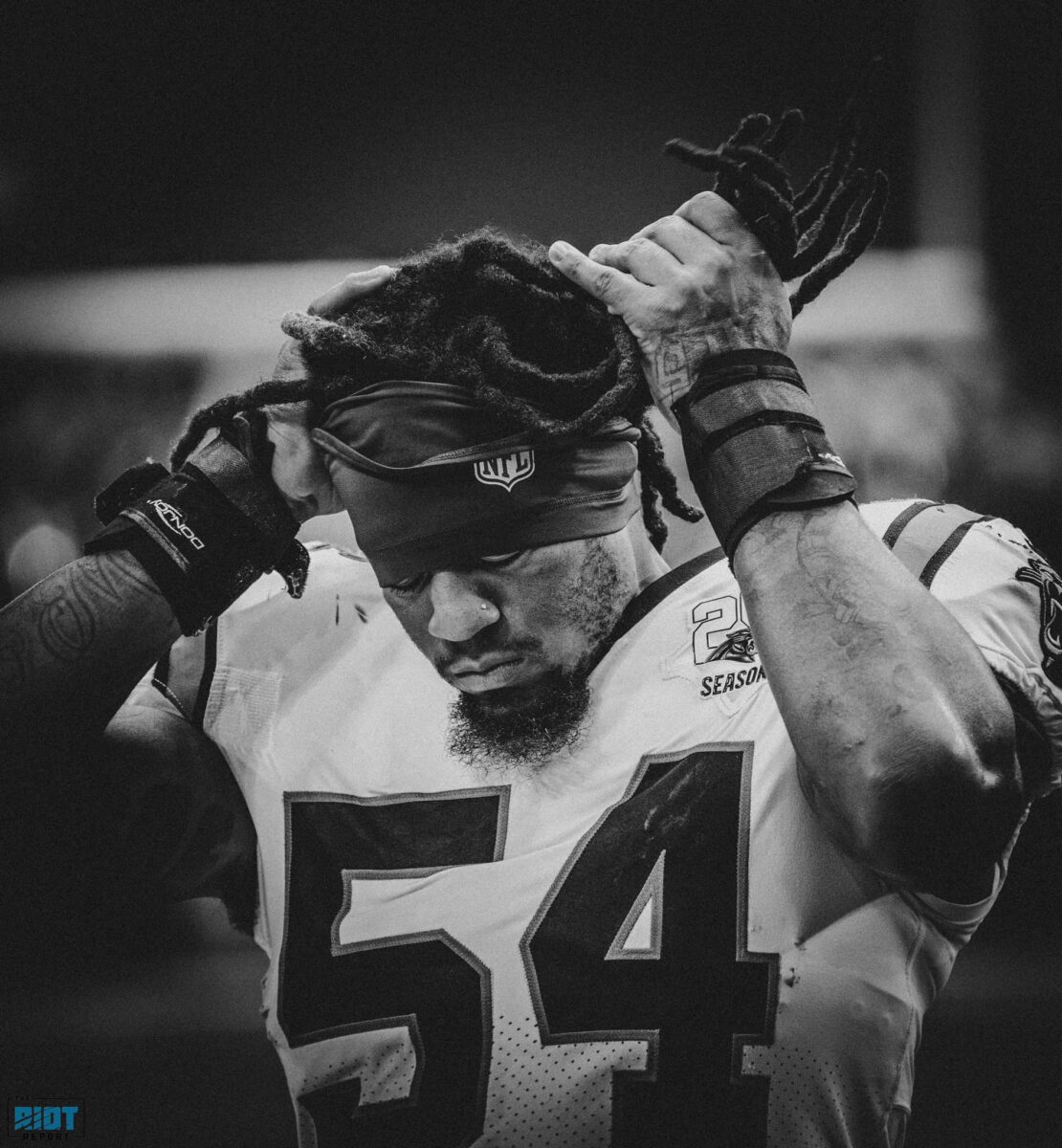 After a disappointing 2019 season that saw the traditional stout Panthers defense reduced to one of the worst in the history of the league against the run, Thompson isn't willing to dwell on the past – that's never been his style. In fact, he's determined to look forward and embrace the new challenges surrounding him, whether that's reaching out to the newly signed middle linebacker Tahir Whitehead to establish a relationship before camp – "it just popped off right off the bat" – or finding a way to connect with rookies through a virtual meeting or in the short time since they've been back at Bank of America Stadium this weekend.
"Having a young team, I just think it's a lot of inexperience, but at the end of the day, it's just football," said Thompson. "They've got to know and we've got to teach them that the game's going to move fast, but [we've got to] just settle them down – man, it's just football. You've been playing football your whole life. Just go out there, play your game, play your technique and your assignment in the defense and you'll be alright."
But in the age of COVID-19, it's not just teaching rookies about the speed of the game that's important, it's teaching them how to act off the field. During any other offseason, being a community leader, participating in Black Lives Matters marches and being a voice for social justice – all of which Thompson more than accomplished in Charlotte this spring – might have been enough, but this was anything from a normal offseason.
After months of quarantining, binging Netflix and finding ways to work out that ranged from filling bags with water and curling them to biking almost a hundred miles in the Florida heat, NFL players returned to facilities this weekend for the first time in months. And if the NFL hopes to have a 2020 season that looks more like the successful campaigns of German soccer league Bundesliga or the NBA bubble in Orlando and less like the parade of canceled games and overall soup-sandwich that is Major League Baseball, it will be up to the players to make good decisions.
And for players just out of college who now have hundreds of thousands of dollars in their bank accounts, that's not an easy ask – yet another time for a man like Shaq Thompson, who has a fiancé and two children under five at home, to step forward and not only lead by example but to be a vocal advocate for smart decisions and doing the right thing for everyone – not just for yourself.
Being a leader in 2020 isn't just making sure your will linebacker or single-high safety is in the right spot on the field – it's making sure he has the right mindset off of it.
"At the end of the day, I'll teach them [and] they will learn how to be professionals," Thompson said about stepping forward. "We've already talked about it in team meetings and stuff like that – guys here have done a great job of just staying away. I think they've got it, I think they're all professional – we have some intelligent rookies who are smart. So I think they've got it down."
"Guys have got to be smart. You can't be selfish during this time and during COVID, you've got to think about other guys and their families, their health issues and whatever they have going on – you've got to be smart about that, especially the young and single guys who want to go have fun. That stuff has to wait – wait until next year or wait until we figure out COVID.
"Right now if you want to play, you've got to be smart and just think about other people instead of yourself."
Football echoes life, especially when you're trying to play football in a global pandemic – sometimes you have to do the right thing so that the whole world can survive.
Shaq knows all about it.