Shaq Thompson has seen the articles. He's heard the radio shows and the debates on television. He knows the perception around the league about his team – backup quarterback, lost three of four and just blown out at home, still have New Orleans, Seattle and Indy left on the schedule. Everyone has written off the Carolina Panthers – just like they've done in the past.
And that's just the way he likes it.
"I like all the negative stuff," said Thompson in the locker room Wednesday as the Panthers prepare to head to New Orleans as nearly ten-point underdogs against the 8-2 Saints. "I'm cool with positivity, but I like the negative stuff. That's what motivates me."
"I know, as a football team, we don't get enough recognition, but we like being the underdogs. We take a lot of pride in that and going out there and playing football."
Even as a part of the 2015 Panthers team that won the NFC Championship after going 15-1 in the regular season, the team blocked out the noise – and the additional media coverage that comes with being successful – to focus on those in the locker room. And that's what they now must do on the opposite end of the spectrum as they face needing to likely win the rest of their games in order to live up to the high expectations that not only the players have set for themselves, but that the fans will hold them to.
"Ever since I've been here, nobody gives us enough credit, but at the end of the day, it's all about us in here," said Thompson. "That's really about it – and whoever supports us."
"There's nothing but positivity in here regardless – we can still make the playoffs."
According to Football Outsiders, the Panthers have a less than 2% chance of making the playoffs after starting the season 5-5 – but a win on Sunday against a divisional opponent will make that percentage rise significantly.
"In these losses, we're just not playing like ourselves," said Tre Boston, who led the team in tackles on Sunday. "Literally, it's us. It's just us beating ourselves, whether it's on special teams, offense, defense, we've got to find a way to stay consistent."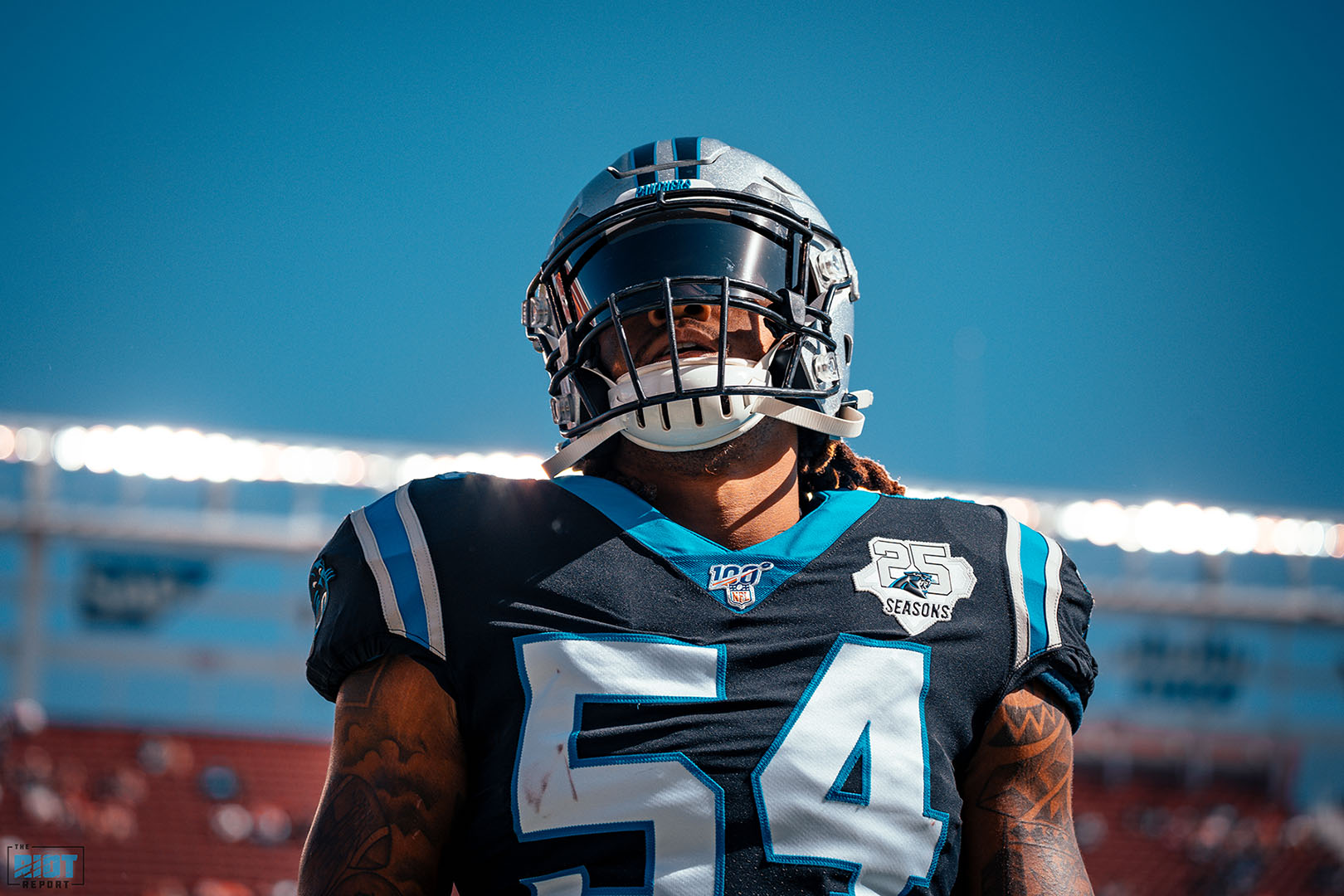 While the Panthers defense as a whole has struggled this season – they're allowed the seventh-most points per game and their rush defense ranks near the bottom of the league – Thompson has had the best year of his career with 78 combined tackles, three passes defended and three sacks as he has played almost every defensive snap thus far this season. Thompson played behind Thomas Davis for the first four years of his career and this year, in the final year of his rookie contract, he's been able to shine.
His nine tackles for loss in 2019 is the third-most among NFL linebackers and he's one of only three players in the league with 70+ tackles and at least three sacks.
Thompson lost his mother – someone that truly motivates him more than anything else and whose picture still hangs in his locker – earlier this season and with the help of his family both on and off the field, he is starting to become the football player he always knew that he could be.
"It took me a couple years to get my opportunity, but I think it's paying off," said the 25-year old Thompson. "This is just the start of me and what I can do – those four years, [now] I understand football, I understand the game, I understand how people like to attack us, [their] formations and schemes."
"I think it's just opportunity. I wouldn't change my journey for nothing – just learning behind AJ [Klein] when I first got here; him helping me out [even though] he already knew that I was coming to be the other 'backer, but he didn't have no shade about it. He took his role and he helped me out – AJ will forever be my brother and my mentor. Thomas Davis [is] the same thing – he'll forever be my brother and my mentor. He taught me a whole bunch – he taught me about leadership on and off the field, how you should carry yourself. And Luke, Luke's been my guy since I got here."
"I wouldn't change that four years for nothing."
Thompson has gone from a rotation piece in the defense to a leader and a trusted veteran, someone that jumps off the tape when preparing for the Carolina defense.
"He's an explosive player. We've seen his versatility, there aren't many linebackers that can jump in kind of in a nickel role and handle receivers the way he does," said Saints coach Sean Payton. "He's one of those guys that from sideline to sideline, he can run; [I've] seen his development, just being in his division and then watching him on tape this week."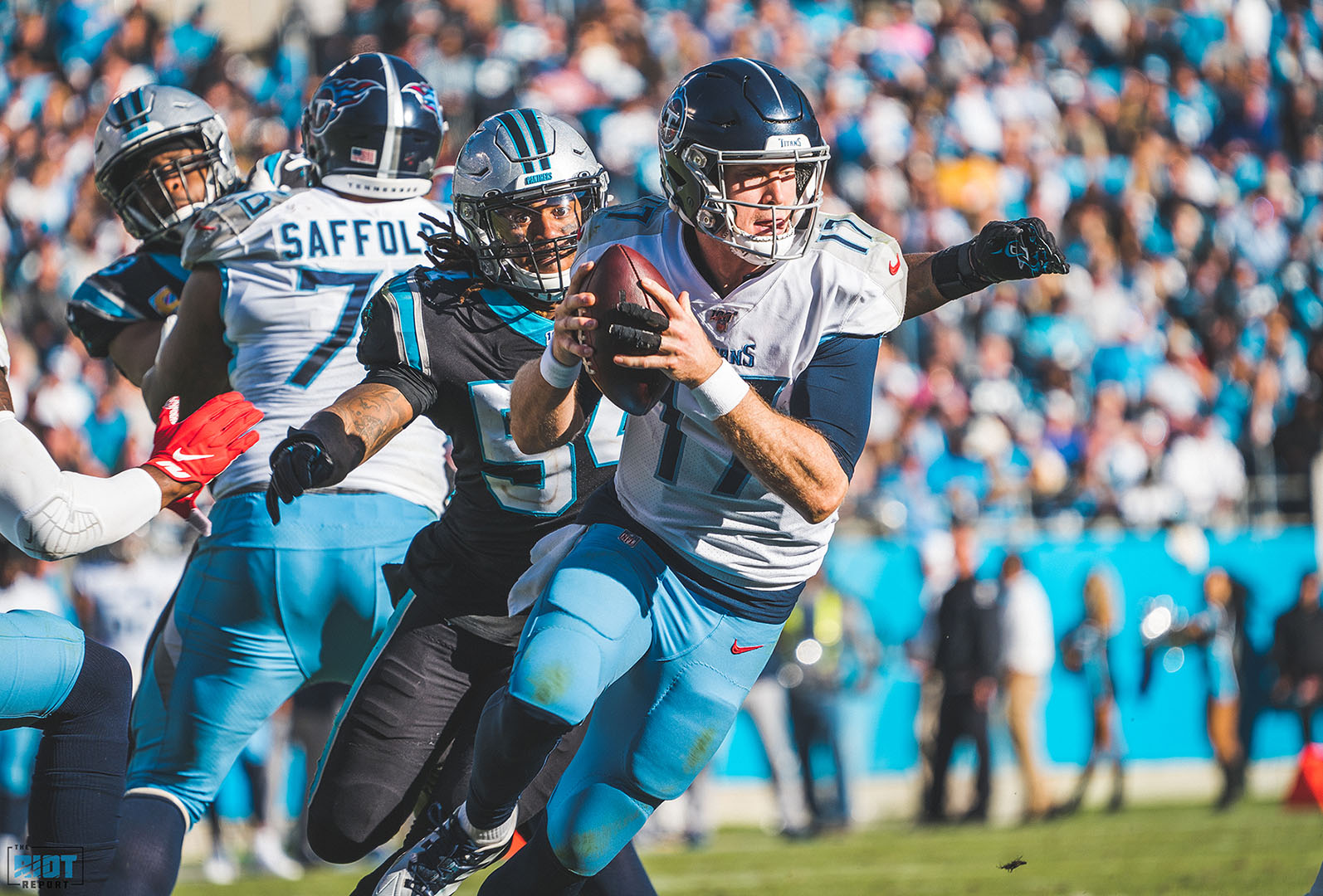 Thompson will continue to use the headlines and the disrespect he feels his team has attracted to fuel him on the field and try to recreate the 2014 eight-game win streak that turned a 1-3 start into a playoff berth – a season he remembers because it began with a loss in Seattle when he was starring at the University of Washington – but it starts with one win on Sunday at New Orleans.
"The whole thing about football is short-term memory," said Thompson. "I've just got to have that short-term memory and move on, there's a lot of plays."
"The play doesn't care who makes it, you've just got to make it."