The Panthers dropped a disappointing game on Thursday Night Football 20-14 to the Tampa Bay Buccaneers and while there were certainly personal highlights – Luke Kuechly had a great game, the special teams – after a rough start by Ray-Ray McCloud – bounced back to help keep the Panthers in the game until the end and Greg Olsen had six catches for 110 yards, the individual efforts weren't enough to even the Panthers' record at 1-1.
Ultimately, the Panthers couldn't put everything together – they had 13 drives, eight of which ended in Tampa Bay territory, but couldn't put points on the board to finish them out. They were 3-for-14 on third down and 0-for-3 on fourth, all of them being fourth-and-1. Like last week, a winnable game slipped through their fingers – here were the plays that made the biggest difference.
Questionable Challenge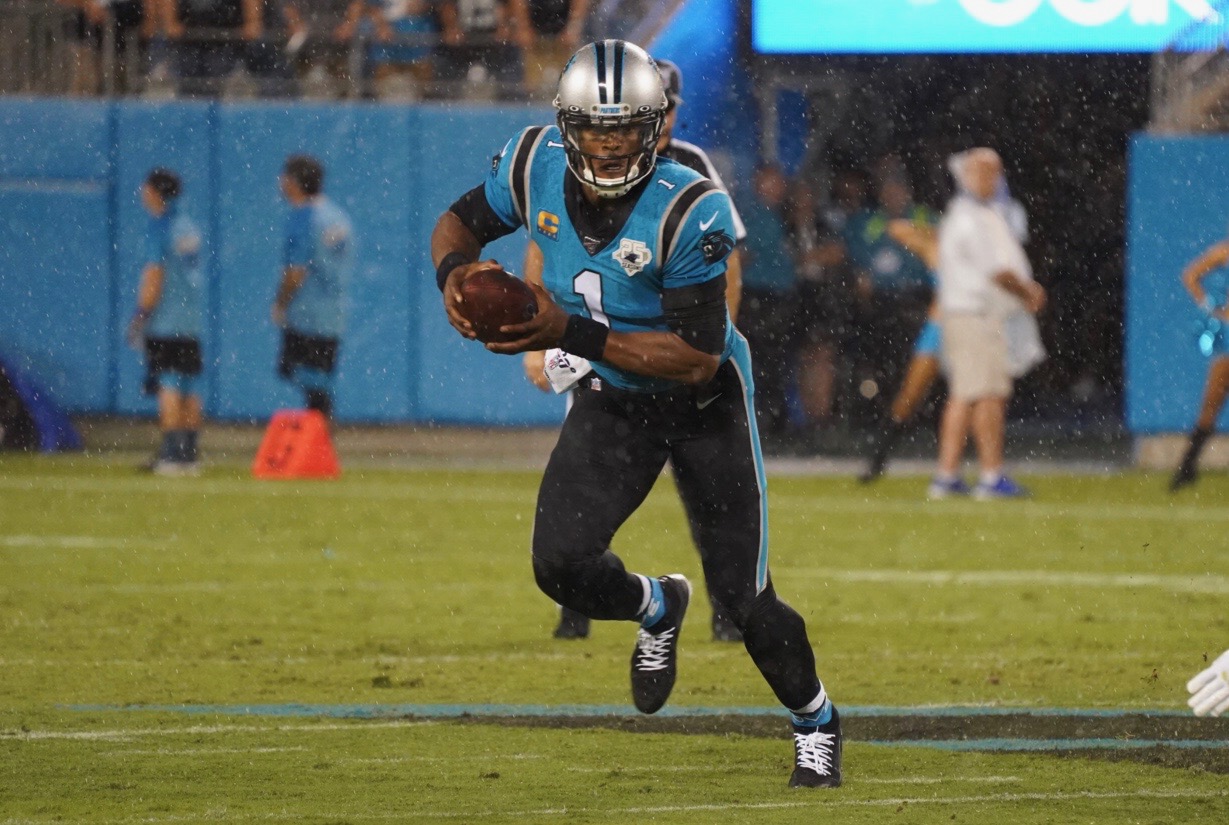 Last week, the Panthers had a promising first drive derailed by a DJ Moore fumble – this week, they started moving the ball early as well, with Cam Newton completing his first four passes, including a third down completion to Christian McCaffrey that the running back couldn't quite stay in bounds long enough to turn upfield. Had he been able to, it would have been a 62-yard touchdown.
After two McCaffrey carries that amounted to three yards, Cam Newton hit wideout Jarius Wright on a crossing route over the middle but Wright wasn't able to slither away from corner Carlton Davis III, who brought the third-down specialist down a yard shy of the first down. As the weather took a turn for the nasty – the game would be delayed after this play for 27 minutes as they cleared both the field and the seating bowl – Ron Rivera brought the Riverboat out of the marina, but Cam Newton was tripped up on a read-option run by Jordan Whitehead and the quarterback appeared to stretch the ball out for a first down. With the refs marking the ball short, Rivera threw the red flag, but it may have been ill-advised. Because of lightning in the area and the heavy rain that fell in Bank of America Stadium, there were fewer cameras than usual in operation, and the limited view did not show conclusive evidence to overturn the spot – even though it looked to the naked eye as if he might have gotten it.
"Unfortunately, there was only one camera that was working," said Rivera after the game. "From where I was standing, on the first down marker, when I saw Cam reach, I saw his arm go past me. I assumed that that would have been a first down."
"Unfortunately, they didn't have enough confidence in that camera to rule one way or another so they stayed with the call on the field."
The Bucs would take the ball – after play restarted – and need only 32 yards to jump out to an early 3-0 lead.
The Deep Ball
Well… Well… Well…#TBvsCAR | #KeepPounding pic.twitter.com/iIGY1cZCdi

— Carolina Panthers (@Panthers) September 13, 2019

It would appear that Cam Newton and Norv Turner heard the narrative about how Cam hadn't thrown a deep ball accurately in Week 1 and the quarterback, who told the media this week to ask the Bucs' defensive coordinator if he could throw it 20 yards, started off the Panthers' second drive with a bang as Newton went deep down the left sidelines to Curtis Samuel with just over five minutes left in the first quarter. Samuel had plenty of separation on corner Vernon Hargreaves and had Newton hit him in stride, he might have gone for a touchdown. But the Panthers still used the 44-yard gain – 39 of which was in the air – to even the score at three in the first quarter.
"I knew it was going to come," said Samuel. "That's not my job, to worry about when a ball's going to get there or how it's going to get there or if he can get it there – my job is to win at the line of scrimmage and give him the best chance to give me the best ball so I can make something happen for the team."
Newton would attempt to go deep a couple of other times in the first half, but was inaccurate down the right sideline – overall, it appeared that he did better when targeting the right side; according to NFL's Next Gen Stats, the Panthers QB was 9-for-9 for 117 yards to the left side in the first half and only 2-for-8 for 15 yards on the right side of the field.
Newton would finish 25-of-51 – the second-most attempts of his career – for 333 yards and no touchdowns.
Good Godwin, Mr. Jackson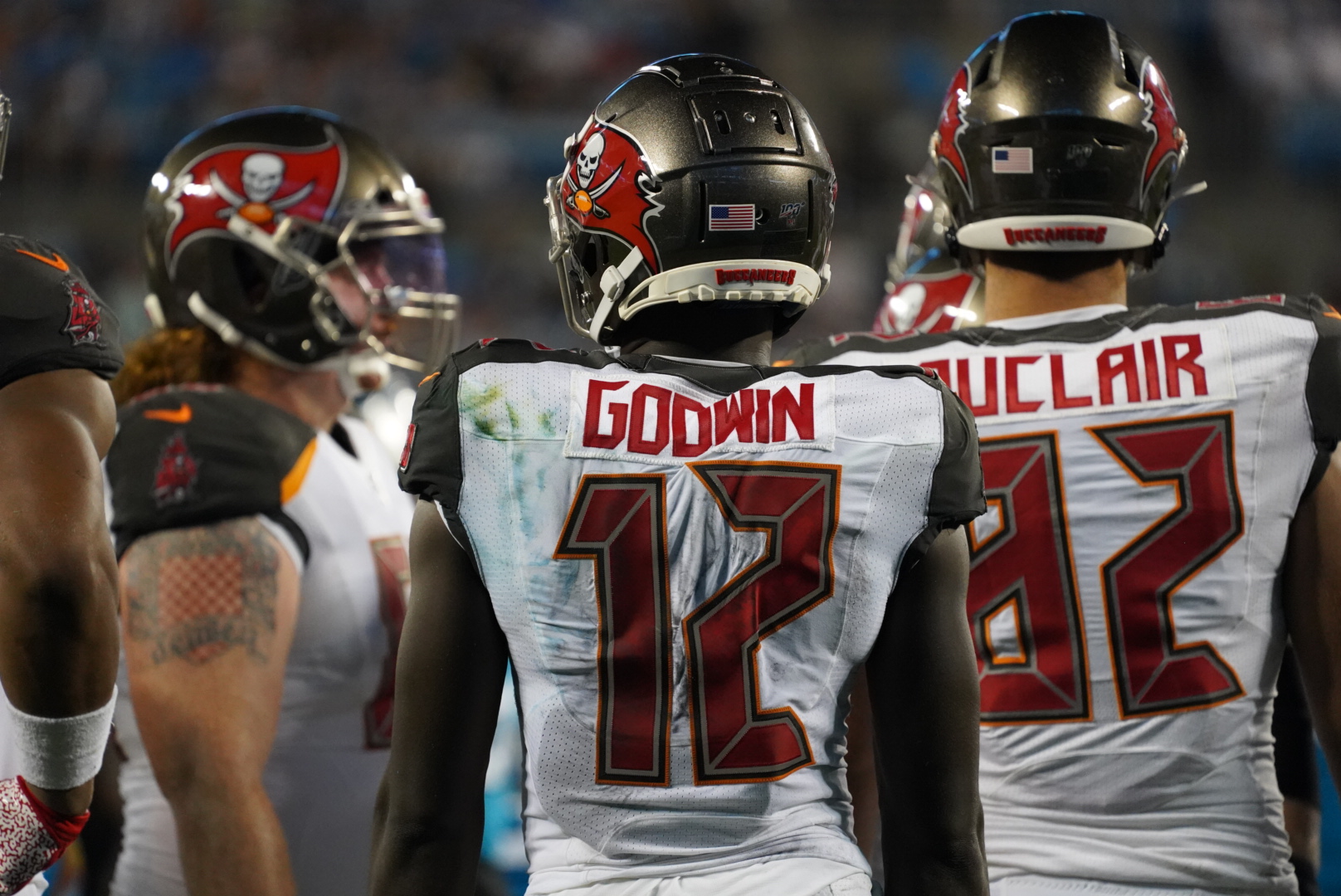 Jameis Winston had an efficient first half, not making the mistakes that plagued him in Week 1 where he threw a pair of pick-sixes, carving up the Panthers defense for a 133.9 rating on 14 attempts and 146 yards – Bruce Arians and the Bucs' coaching staff clearly found an advantage in the matchup between Chris Godwin and Donte Jackson. Godwin, who had 842 yards and seven touchdowns in his sophomore campaign last season, caught all five of his first half targets, including a wide open 20-yard touchdown on the right side that saw Jackson try to undercut Godwin's route as Winston put the ball out in front of his receiver. The Bucs would lead 10-9 at halftime after a Panthers' drive that started at their own 25 and ended with a 54-yard Joey Slye field goal as the half expired; the Panthers elected to run the ball with Christian McCaffrey with 12 seconds left and a timeout – McCaffrey lost two yards before Slye was true for another long kick.
Godwin would finish with 121 yards and a touchdown on eight catches.
Double Turnovers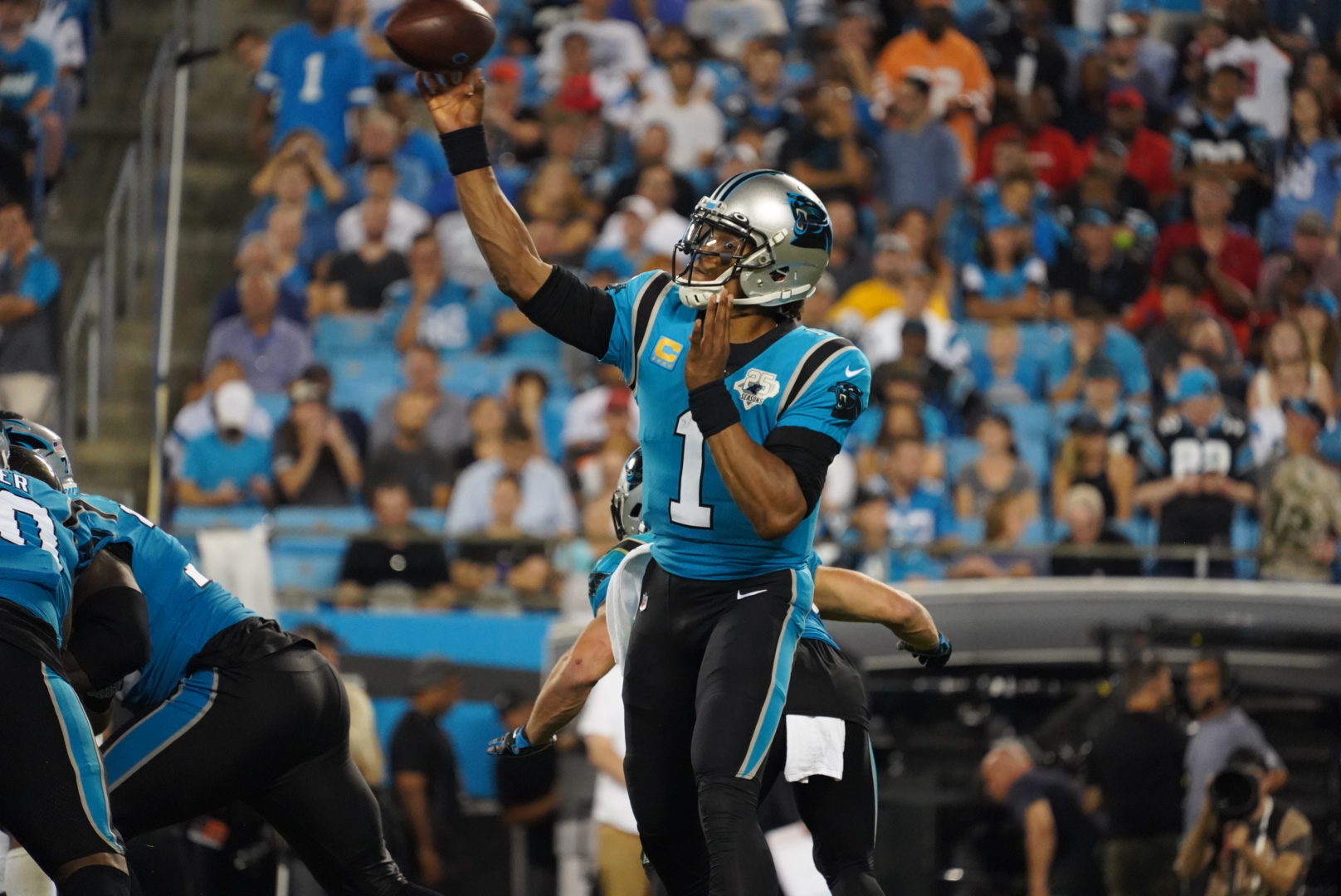 After a Bucs touchdown on their opening drive of the second half to put them up 17-12 – a drive in which they rushed for 36 yards after only 25 yards rushing total in the first half, Cam Newton looked as if he made a bad decision, trying to squeeze a ball into coverage to DJ Moore – linebacker Kevin Minter picked it off in a play similar to the back-breaking interception that Newton threw last week against the Rams in the fourth quarter. Fortunately for the Panthers, they were bailed out – at least initially – by a questionable defensive holding call on Carlton Davis, who was covering Moore.
However, two plays later, Norv Turner dialed up a designed run for Newton on second-and-7, who didn't run the ball well last week – it was the first game of his career with negative rushing yardage – and as Newton tried to get back to the line of scrimmage facing heavy penetration, he fumbled the ball. Newton, for whom the threat of running the ball has always made him one of the hardest quarterbacks in the league to defend, is either hesitant to run because of the foot sprain he suffered in the preseason, worried about taking another hit to his surgically-repaired shoulder or something else.
Newton has rushed for zero or negative yards in four games in his eight-year career. Last week and tonight were two of them.
Safety Dance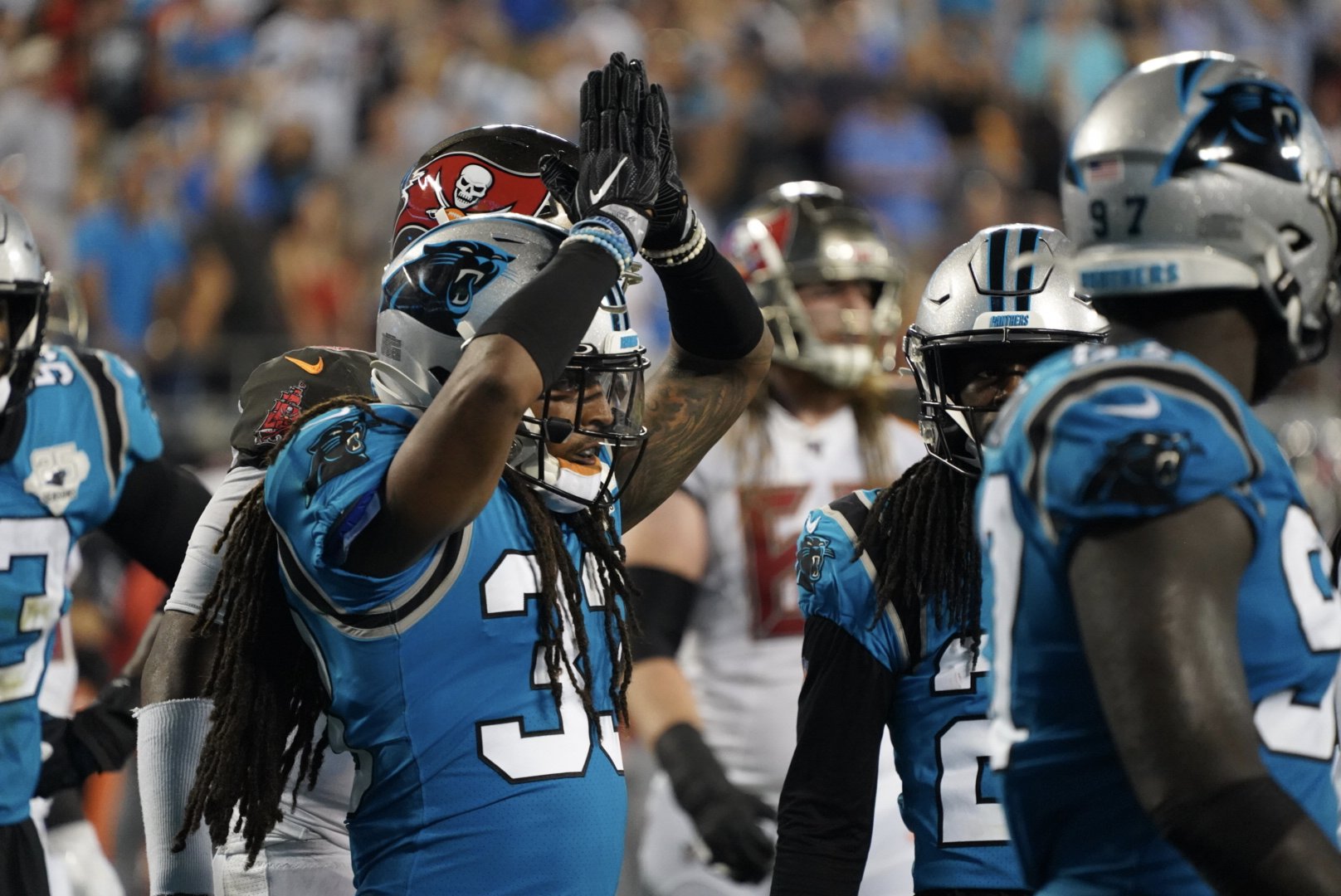 Down 17-12 and with their offense listless, the Panthers special teams and defense took getting points into their own hands – after a Michael Palardy punt was downed by gunner Natrell Jamerson at the Tampa Bay two-yard line and a delay of game penalty took the Bucs back to the one-yard line, Kuechly, who had an unreal game with 17 tackles, including two for a loss, knifed into the backfield to tackle running back Peyton Barber in the end zone and cut the Bucs lead to 17-14 with 13:21 left in the game.
"KK made the play," said Kuechly. "Everybody's going to look and see that I made the play on it and I made the tackle, but KK made the play on that. He shot a gap and opened it up clean for me."
So Close, Yet So Far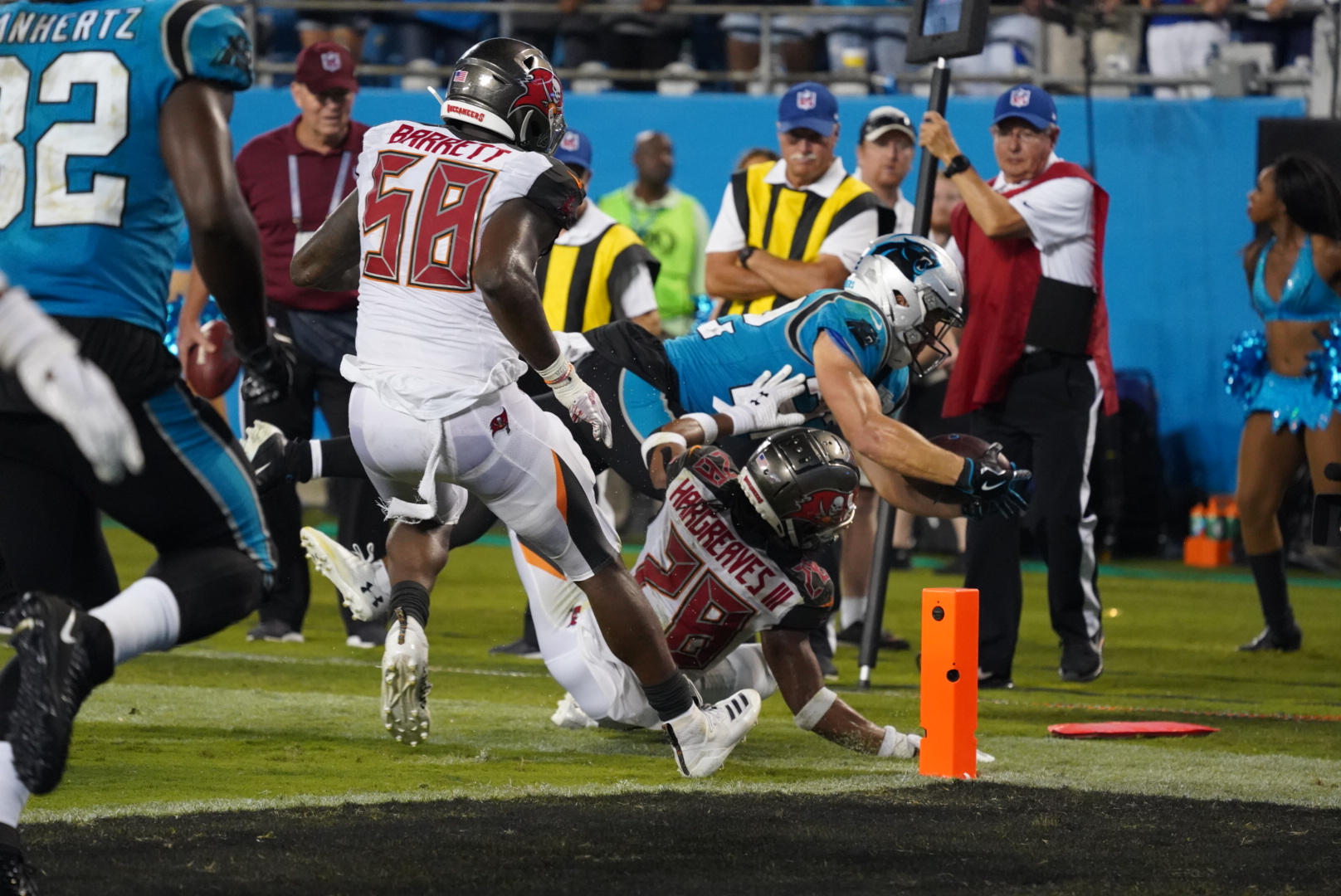 Even after falling down 20-14, the Panthers got the ball back with 2:26 left, two timeouts and 75 yards to go to score a touchdown and emerge with an ugly win. They needed 75 yards, but they were only able to get 74 as a fourth-and-1 play, a variation on the "Philly Special" in which Christian McCaffrey, who finished with only 53 total yards after having more than 200 last week, took a direct snap and faked a toss to Curtis Samuel – the fake didn't fool Vernon Hargreaves III and he was able to ride McCaffrey out of bounds as he dove for the pylon. He not only prevented the touchdown, but prevented the Panthers from picking up a fresh set of downs with over a minute left and allowed Jameis Winston to run out the clock.
"It looked like it was going to be the Philly special from the Super Bowl," said Hargreaves after the game. "A reverse pass. When Cam walked up to the line of scrimmage, that's what I thought it was going to be – as the play developed, McCaffrey faked it and he came right to me. I just stayed at home and he came right to me."
Just after midnight on Friday the 13th, the Panthers carriage turned back into a pumpkin, they fell to 0-2 and will have to answer questions about what kind of team they are for the next ten days.
"I don't have the answers," said a chagrined Greg Olsen. "It was brutal – I don't know. I don't have the answers."