I had made a mistake.
After the first session of Panthers minicamp was over, Curtis Samuel was asking reporters if they had seen a play near the tail end of practice – a play Samuel insisted he couldn't have made over the past two offseasons as he battled back tightness and hamstring issues his rookie season which kept him out of spring practices and then recovery from ankle surgery which slowed him during last spring's OTAs.
"I feel much better – y'all seen that last play?" grinned Samuel as he gestured back towards the practice fields. "I wasn't able to do that the whole time last year just because of aches and bruises. I feel confident and now I'm able to have that burst and take my speed up a little."
"I [haven't] really had the chance since I've been here to be healthy in the offseason so being able to put in the rest, put in the time…investing my time into something I love to do has been amazing to me."
"It helped me get better."
I assumed I had seen the play Samuel was referencing – a sprawling catch as the 22-year old wideout fell out of the field of play, tapping his feet inbounds as he pulled in a frozen rope from Will Grier for a 15-yard gain that would have certainly netted him a spot on the 'Toe Drag Swag' segment on NFL Network's Good Morning Football.
But I was wrong.
The catch Samuel – who last year scored seven touchdowns on only 47 touches and became only the third wide receiver in Panthers history to score as both a rusher and a receiver in the same game – was referring to was a ball over the middle near the end of practice in which the 5-11 wideout dipped his shoulder, split two defenders and raced to the end zone, only slowing when he was at the five-yard line.
The big plays are coming fast and furious for Samuel thus far – blink and you'll miss them.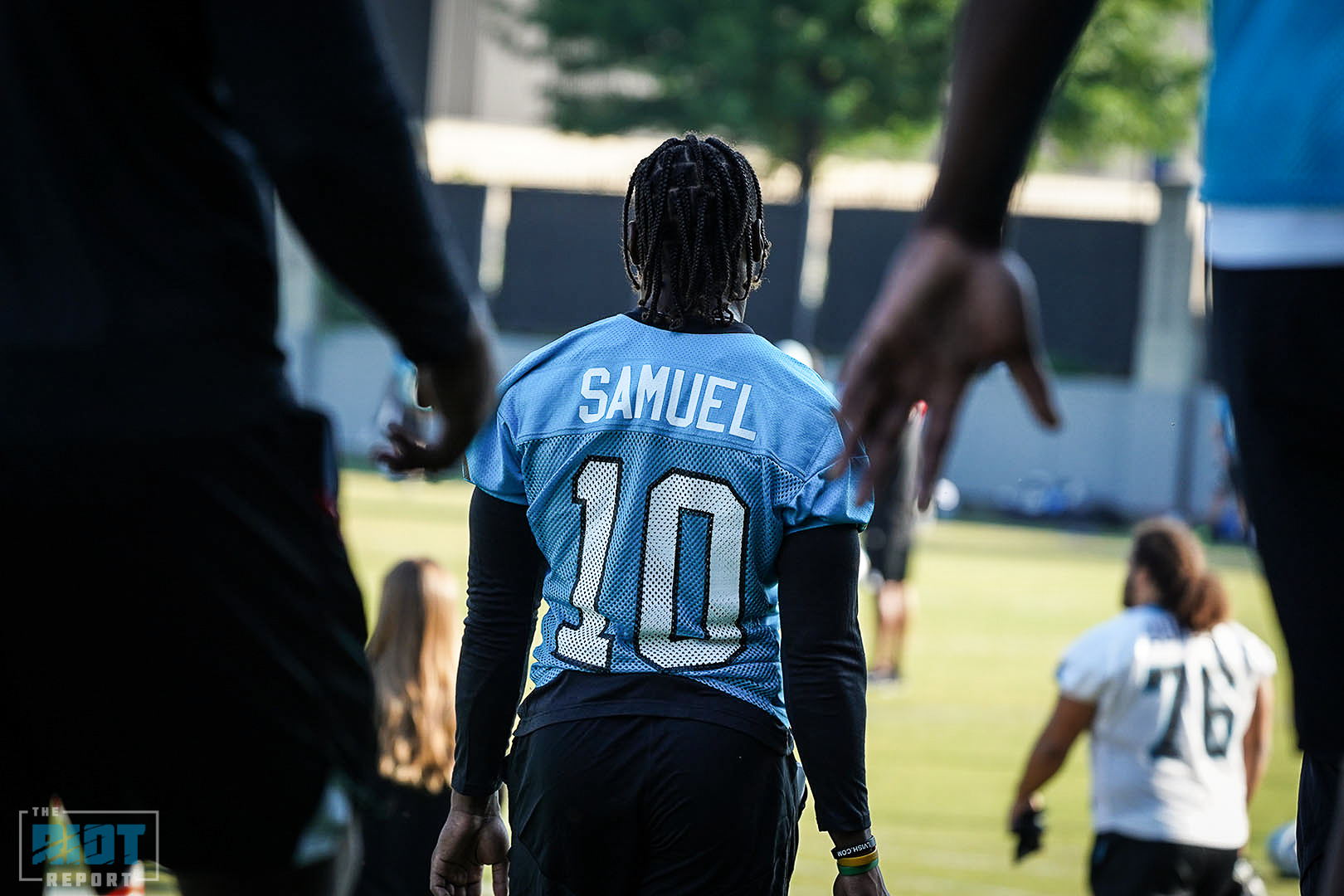 It's been an impressive spring thus far for Samuel, who spent the offseason training in Miami to get stronger and – if you can believe it after he clocked a 4.31 40 at the combine – faster. But speed and strength haven't been the only thing that the 5-11 wideout knows he needs to improve as he takes over a bigger role in the offense – like the rest of a young Panthers offense, Samuel is looking to improve his consistency, both in his play and his ability to stay on the field.
The latter is perhaps the biggest hurdle for a player that missed a combined ten games over his first two seasons.
"Knowing that I'm going to get more snaps, just being consistent each and every play, making each play look the same or even better," said Samuel, who played only 44% of the snaps in 2018 but will have a much bigger part in the offense now that Devin Funchess has left for Indianapolis – a role he began to take on last year as he was on the field for over 82% of the snaps in five of the Panthers' final six games after barely grazing 40% the previous seven. "Don't take off [if] you're tired; stay focused, stay positive and keep it going when things go down – have that energy to bring the team back up. Somebody's got to have the spark and my [goal] is to be consistent and to be healthy."
"The better I get, the better we become as a team. Playing a bigger role, my impact is a must – I must go out there and compete [when] I'm out there on the field – and perform."
One of the reasons the Panthers likely felt comfortable letting Funchess go was not only the performance of Samuel the second half of the year – 27 of his 39 receptions came in the final seven games of the season – but the emergence of multiple playmakers; from Samuel to Christian McCaffrey to second-year tight end Ian Thomas to fellow wide-receiver-under-23 DJ Moore, the Panthers have no shortage of targets who the Panthers are expecting to take a step forward in the second year of playing in Norv Turner's offense.
"We've got a lot of weapons and the tough thing is there's only one football," said Ron Rivera. "You guys know one thing I always talk about is [that] I love to see the ball get spread around."
"There was a lot of [talk about] who the wide receiver one is and all that, but we've got a lot of playmakers on this team at each and every position," said Samuel when asked about his relationship with DJ Moore and the rest of the pass catchers on the team. "We have a great guy in Greg [Olsen]. Like – oh my God – people forget about him, he can do multiple things, catching the ball and everything on the field. Having multiple guys on the field that can make plays, that helps us be able to spread the ball and nobody can key on us."
While there are veteran pass catchers in their locker room – from Olsen to wide receivers Torrey Smith and Chris Hogan – the Panthers will lean on their trio of 23-and-under playmakers in McCaffrey, Moore and Samuel to make a huge impact on the field in 2019 even though they're one of the youngest groups in the NFL.
"[DJ Moore and I] are both young – it's about teaching each other things. We've got older guys in the room that we both look to to help us learn different things…we've just got to learn from the older guys and try to prolong our careers to the level that they're at and try to get better each and every day."
Curtis Samuel is a cheat code 😱

Panthers regain the lead over the Bucs #TBvsCAR pic.twitter.com/j1lqH5HLhn

— FOX Sports: NFL (@NFLonFOX) November 4, 2018

For now, Samuel's happy to be on the field and feeling 100% – and his teammates feel the same way.
"He's going to be a heck of a player for us this year and for a long time – it's been fun watching him get better," said Christian McCaffrey, one of only two Panthers to have more all-purpose yards than Samuel in 2018. "He's obviously a heck of a physical talent – [it's been fun] seeing him develop, learning where to sit in certain zones, getting in and out of cuts, catching the football."
"The sky's the limit for him."