When the kicking unit takes to the field and it's time to put the ball through the uprights, the success or failure to score is always attributed to the kicker as the most prominent of a team's specialists. A kicker is expected to be cool under pressure, consistent in his delivery, and ultimately to score field goals and extra points whatever the distance. Lost in that, however, is that a successful kicking game is a process that takes three specific steps that all must be done correctly: The snap, the hold, and the kick.
In 2020, the Panthers' kicking unit did not have the sort of season that could be called satisfactory. Second year kicker Joey Slye's numbers might not have been helped by multiple attempts at breaking the NFL record but by going 29-36 on field goals (80.6%) and 33-36 on extra points (91.7%) he failed to fully grasp the chance to secure his spot as the Panthers' long-term kicker. Of particular concern was his record from beyond 50 yards, where his 1-6 record included a missed would-be-game-winning 54-yard attempt against the Vikings.
To address his weaknesses and continue to justify his job as the Panthers' kicker, Slye has been doing his due diligence this offseason and he is now seeing a sports psychologist as he tries to become stronger mentally and approach his kicks with a clearer mind. However, while Slye tries to control what he can control, the Panthers are working to make sure that the other parts of the kicking operation are also putting him in the best possible position to be successful.
Last year, the Panthers had a new holder in rookie punter Joseph Charlton, whose holds for Slye were inconsistent at times – contributing to misses at certain times in the year. As Charlton enters his second year on the job, he has adjusted his methods through both the counsel of Panthers special teams coordinator Chase Blackburn as well as Slye, who counts on Charlton to have the ball exactly where it needs to be.
"For me, comfortability and the confidence to know that the ball is gonna be where it's supposed to be all the time is big so that I can go in and just have free thought (and) be able to swing as full as I can," said Slye. "If you miss the spot by a couple inches, or even a couple half-inches here and there, it can really affect the ball where I make contact with it …That's kind of what we've been focusing on, giving him an area where he can miss that I know that I can still make my kicks, and just understanding those as well."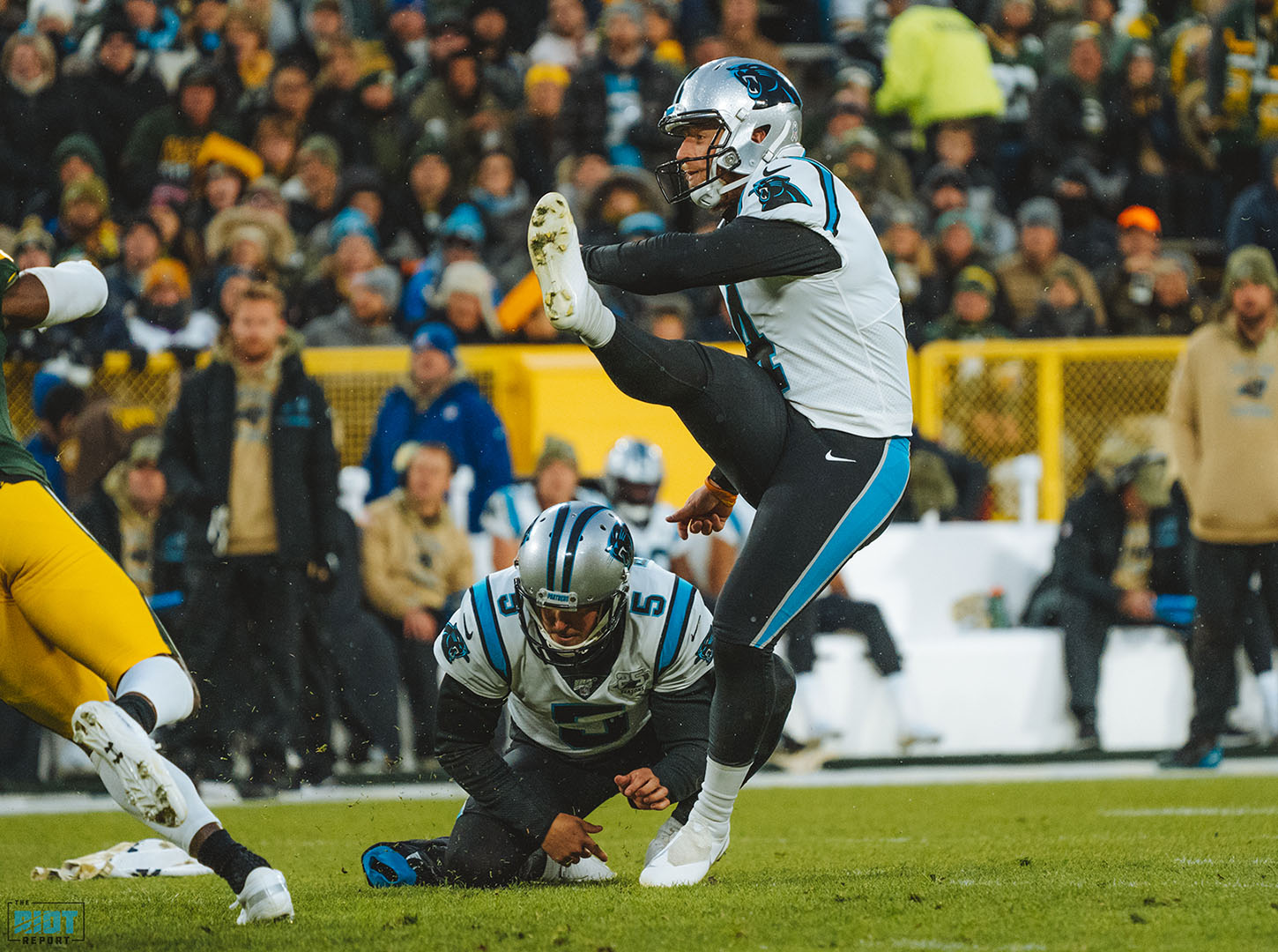 Speaking to reporters, Blackburn shared that the extracurricular work with Slye this offseason has been enormously beneficial to Charlton, who joined the Panthers as an undrafted free agent out of South Carolina after veteran punter Michael Palardy tore his ACL during offseason training.
"They went together and did their stuff, twice a week or whatever, and they just got together about setting up what he wants to see, what Joey wants to see visually from the stance, and what makes it look best and most appealing to put the ball down and certain holds," explained Blackburn. "Just those reps have developed so much confidence in Joe Charlton to being a holder and confident with his hands. And then coming out here and we throw him 100 balls a day and he has to put him down, that's been big for his growth as a holder."
Exactly who delivers Charlton and Slye the ball is another matter to be resolved as after having been the team's undisputed long snapper for over a decade while spanning three coaching staffs, veteran J.J. Jansen is now facing competition from rookie Thomas Fletcher, a sixth-round draft pick out of Alabama. To the trained eyes of the Panthers' special teams coaches, the long snapper battle is shaping up to be a fiercely contested one, with the 35-year old Jansen being pushed to be at his absolute best while Fletcher gets to learn just what it takes to be a pro from one of the best around.
"J.J.'s had a tremendous focus coming into this camp. I think just that push has helped him kind of rejuvenate himself a little bit – Just that little extra drive and desire to be perfect on everything that he does and be laser-focused," said Blackburn. "Where I think it's also given Fletch a lot of competition because he's like 'Oh, just because I got drafted, it's not my job,' and making him protect more and understanding some of the small things that J.J.'s done in (being) able to play for so long."
Chief among the details the Panthers are focusing on with Fletcher is protection and blocking for the holder and kicker and, while the rookie had taken a little while to get up to full speed in this regard, the coaching staff feel he is now starting to bring his protection up to the same standard as his snapping:
"The first couple weeks, he was kind of going and his velocity was good, his accuracy was good, and we started introducing a little bit of protection stuff. And you saw a little bit of dip just with the nerves," said Blackburn. "And then after he's been settled in for four or five days, I think he's really picked back up. It'll be a good battle as we go through it."
However, as much work as they have undertaken to improve the individual mechanics of the special teams operations, it is just as imperative for the Panthers' special teams unit to grow and solidify themselves together as a group entering the second year of the Matt Rhule era. Something that should be helped by not everything still being virtual, and by the fact that Joe Charlton was only signed during training camp last year leading to limited time together before they had to take the field against the Raiders.
With that extra time together, and with OTAs actually happening this year, the Panthers will hope to replicate the past success of units featuring the likes of John Kasay and Graham Gano, the latter of whom has some of the more memorable game-winning field goals in recent NFL history. The more they are able to successful rep every element of the operation, the more the confidence that they will be able to do just that build.
"It's been a focal point for us obviously to build some confidence within our unit. I think the more we continue to do that, the more success that we can have on the field," said Slye. "It's been imperative for us to get it figured out, but we've definitely taken huge strides in figuring it out for sure."
(Top photo via Brandon Todd/Carolina Panthers)