In Week 5, the Panthers gave Christian McCaffrey (56) some time off – it just wasn't due to the circumstances we thought it might be.
While the Panthers had a mini-package for backup running back Reggie Bonnafon (11) installed and he was on the field for a couple of dual running back sets in the first half, in the fourth quarter, Christian McCaffrey's body gave out – at least for a moment – as his legs cramped up and the Panthers' bellcow rusher had to come off the field after already tying a career-high and franchise record for yards from scrimmage. Luckily, Bonnafon was more than ready as he broke off a 59-yard touchdown up the middle – and perhaps more importantly, an 18-yard run as the Panthers tried to run the clock out. Bonnafon finished with 80 yards on five carries.
McCaffrey only played less than the 86% snap percentage he saw against Jacksonville twice last season – in Weeks 1 & 17.
With blocking tight end Chris Manhertz out, the Panthers leaned heavily on 11 personnel as Jarius Wright (50) saw 77% of the offensive snaps and Curtis Samuel (59) and DJ Moore (63) stayed on the field for almost the entire game. Ian Thomas (12) and Alex Armah (5) were used sparingly – the Panthers also used the jumbo package with extra tackle Bryan Witzmann (5) multiple times.
Sixth-round pick Dennis Daley, in the first start of his career, played every snap at left tackle.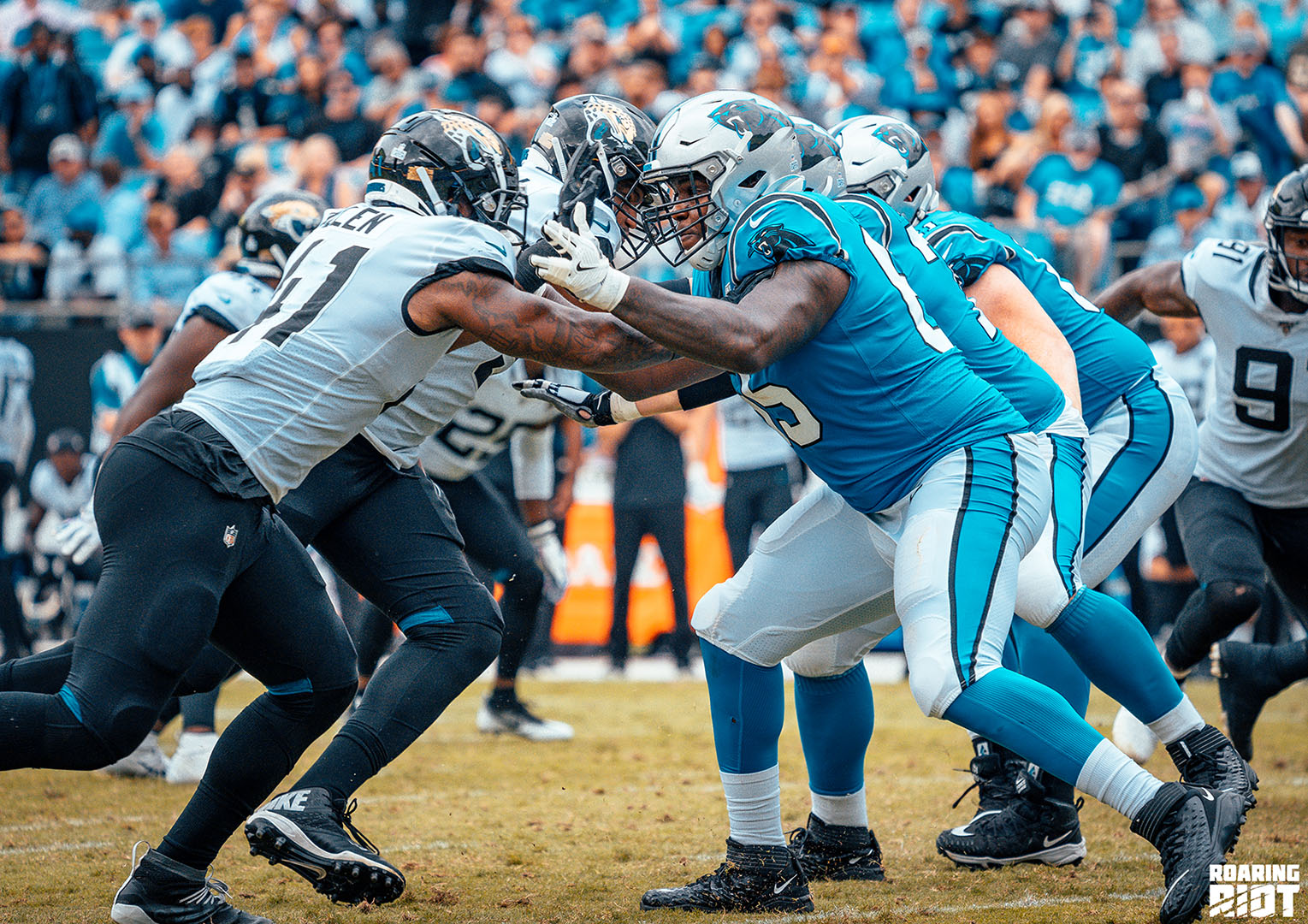 Mario Addison (59), once again, led the defensive end/outside linebacker rotation with 70% of the snaps and in his second game of the season Bruce Irvin (54) may be getting closer to his true workload – he only had 25 snaps last week but that number more than doubled against Jacksonville. Brian Burns (37) played his lowest percentage of the season but that may have been due to an injured wrist that the rookie appeared to aggravate mid-game – he was still able to pick up three tackles, a fumble recovery, forced fumble and a sack in less than half of the defensive snaps.
Javien Elliott (56) saw the field for two-thirds of the defensive snaps again as with Donte Jackson out, Ross Cockrell (83) got the call on the outside and Elliott occupied the nickel position.Vernon Butler (31) got his largest snap count of the season by far with Kawann Short ruled out for the season earlier in the week – the defensive tackle had two tackles, one for a loss. Luke Kuechly (83) led the team with 12 tackles and Shaq Thompson (81) followed up with nine of his own – both are in the top five in the NFL in total tackles through five weeks.
Check out the full snap counts here:
| Player | Position | Offensive Snaps | Percentage | Defensive Snaps | Percentage | Special Teams | Percentage |
| --- | --- | --- | --- | --- | --- | --- | --- |
| T Moton | T | 65 | 100% | | | 7 | 21% |
| D Williams | T | 65 | 100% | | | 7 | 21% |
| G Van Roten | G | 65 | 100% | | | 7 | 21% |
| D Daley | G | 65 | 100% | | | 6 | 18% |
| K Allen | QB | 65 | 100% | | | | |
| M Paradis | C | 65 | 100% | | | | |
| G Olsen | TE | 64 | 98% | | | | |
| D Moore | WR | 63 | 97% | | | | |
| C Samuel | WR | 59 | 91% | | | | |
| C McCaffrey | RB | 56 | 86% | | | | |
| J Wright | WR | 50 | 77% | | | | |
| I Thomas | TE | 12 | 18% | | | | |
| R Bonnafon | RB | 11 | 17% | | | 13 | 38% |
| A Armah | FB | 5 | 8% | | | 11 | 32% |
| B Witzmann | G | 5 | 8% | | | 7 | 21% |
| J Bradberry | CB | | | 84 | 100% | 7 | 21% |
| E Reid | SS | | | 84 | 100% | 6 | 18% |
| T Boston | FS | | | 84 | 100% | | |
| L Kuechly | LB | | | 83 | 99% | 6 | 18% |
| R Cockrell | CB | | | 83 | 99% | 4 | 12% |
| S Thompson | LB | | | 81 | 96% | 6 | 18% |
| M Addison | LB | | | 59 | 70% | 1 | 3% |
| J Elliott | CB | | | 56 | 67% | 10 | 29% |
| G McCoy | DT | | | 54 | 64% | 5 | 15% |
| B Irvin | LB | | | 54 | 64% | 2 | 6% |
| D Poe | NT | | | 52 | 62% | 6 | 18% |
| B Burns | LB | | | 37 | 44% | 8 | 24% |
| V Butler | DE | | | 31 | 37% | 5 | 15% |
| K Love | NT | | | 27 | 32% | | |
| E Obada | DE | | | 21 | 25% | 14 | 41% |
| M Haynes | LB | | | 19 | 23% | 25 | 74% |
| C Miller | LB | | | 10 | 12% | | |
| J Carter | LB | | | 5 | 6% | 21 | 62% |
| C Jones | FS | | | | | 27 | 79% |
| R Gaulden | SS | | | | | 21 | 62% |
| A Smith | LB | | | | | 21 | 62% |
| R McCloud | WR | | | | | 18 | 53% |
| J Scarlett | RB | | | | | 17 | 50% |
| J Kunaszyk | LB | | | | | 17 | 50% |
| N Jamerson | CB | | | | | 14 | 41% |
| J Slye | K | | | | | 13 | 38% |
| J Jansen | LS | | | | | 12 | 35% |
| M Palardy | P | | | | | 12 | 35% |
| B Zylstra | WR | | | | | 11 | 32% |