Snap counts, especially during the preseason, can reveal who the coaching staff wants to get a better look at – and who is perhaps in the lead for a roster spot.
For the first preseason game, Ron Rivera decided to rest every single starter on both sides of the ball, even leaving Graham Gano at home with a 'sore leg' and allowing Joey Slye to act as the kicker for the evening. On the offensive side of the ball, the Panthers started young linemen Dennis Daley (48) and Greg Little (48) on the left side with Brandon Greene (65) and Taylor Hearn (64) on the right – Greene was the only Panther to play every snap; with the starting offensive line sitting out, the Panthers only had nine linemen to rotate and guard Rishard Cook only had one snap.
Terry Godwin (40) and DeAndrew White (34) got long looks at wide receiver and Reggie Bonnafon and Elijah Holyfield logged 23 each – Bonnafon had 53 total yards on eight touches while Holyfield had 39 on 11 – but Holyfield found the end zone twice. Wide receiver Andre Levrone (31) led the team in receiving yards with 51 and logged just under half the offensive snaps.
Kyle Allen got the start and played 21 snaps with Will Grier having the most snaps under center at 27 and Taylor Heinicke picking up 17 snaps to finish the game.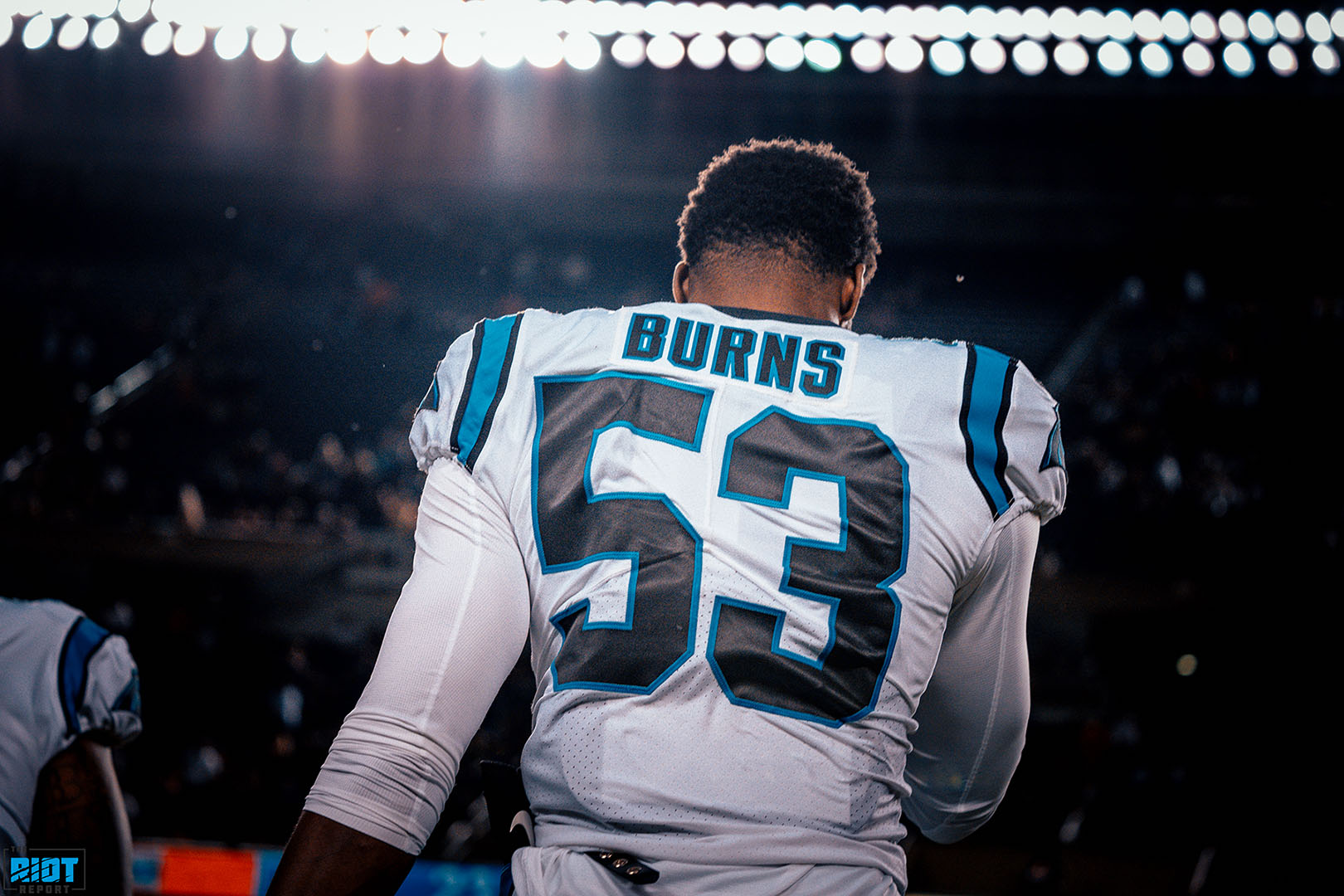 Brian Burns had a huge impact on the game in only ten snaps with two sacks early while fellow 2019 draft pick Christian Miller (44) led the team in defensive snaps but didn't record a stat, saying after the game that "pressures are nice, but they don't exactly count." Ryan Pulley (39) and Josh Thornton (39) led the corners in snaps and both played a fair amount on special teams, but it was Rashaan Gaulden (21) who made an impact in the secondary with four tackles, a pass deflection and a peanut punch.
Andre Smith (36) played well in extended time and led the team in tackles and Tre Boston (22) got some run, but did not start, as he works his way back into midseason shape.
Check out the rest of the snap counts below!
| Player | Position | Offense | Percentage | Defense | Percentage | Special Teams | Percentage |
| --- | --- | --- | --- | --- | --- | --- | --- |
| B Greene | G | 65 | 100% | | | 5 | 17% |
| T Hearn | G | 64 | 98% | | | 5 | 17% |
| D Daley | T | 48 | 74% | | | 5 | 17% |
| G Little | T | 48 | 74% | | | 4 | 14% |
| T Godwin | WR | 40 | 62% | | | 5 | 17% |
| D White | WR | 34 | 52% | | | 7 | 24% |
| T Larsen | G | 34 | 52% | | | 2 | 7% |
| A Levrone | WR | 31 | 48% | | | 8 | 28% |
| K O'Brien | G | 31 | 48% | | | 5 | 17% |
| J Mickens | WR | 28 | 43% | | | 7 | 24% |
| W Grier | QB | 27 | 42% | | | | |
| J Vander Laan | TE | 26 | 40% | | | 11 | 38% |
| T Hemingway | TE | 25 | 38% | | | 5 | 17% |
| R Bonnafon | RB | 23 | 35% | | | 9 | 31% |
| E Holyfield | RB | 23 | 35% | | | 6 | 21% |
| K Allen | QB | 21 | 32% | | | | |
| I Thomas | TE | 19 | 29% | | | | |
| A Robinson | WR | 19 | 29% | | | | |
| N Price | T | 17 | 26% | | | 3 | 10% |
| K Amichia | G | 17 | 26% | | | 1 | 3% |
| T Heinicke | QB | 17 | 26% | | | | |
| C Artis-Payne | RB | 16 | 25% | | | 1 | 3% |
| C Manhertz | TE | 13 | 20% | | | 3 | 10% |
| A Armah | RB | 13 | 20% | | | | |
| D Jeanpiere | WR | 9 | 14% | | | 6 | 21% |
| R Ross | WR | 5 | 8% | | | 8 | 28% |
| C Hunt | TE | 1 | 2% | | | 6 | 21% |
| R Cook | G | 1 | 2% | | | | |
| C Miller | LB | | | 44 | 73% | 9 | 31% |
| M Haynes | DE | | | 41 | 68% | 9 | 31% |
| J Thornton | CB | | | 39 | 65% | 14 | 48% |
| R Pulley | DB | | | 39 | 65% | 13 | 45% |
| E Obada | DE | | | 38 | 63% | 3 | 10% |
| A Smith | LB | | | 36 | 60% | 11 | 38% |
| J Norris | LB | | | 36 | 60% | 10 | 34% |
| W Hamilton | DT | | | 36 | 60% | 4 | 14% |
| Q Blanding | DB | | | 31 | 52% | 9 | 31% |
| B Jackson | NT | | | 28 | 47% | 2 | 7% |
| A Williams | LB | | | 24 | 40% | 6 | 21% |
| B Cox | DE | | | 22 | 37% | 6 | 21% |
| T Boston | FS | | | 22 | 37% | 3 | 10% |
| C Luke | CB | | | 22 | 37% | 3 | 10% |
| R Gaulden | FS | | | 21 | 35% | 7 | 24% |
| C Elder | CB | | | 21 | 35% | 5 | 17% |
| L Doss | CB | | | 21 | 35% | 4 | 14% |
| S Teuhema | LB | | | 20 | 33% | 7 | 24% |
| J Elliott | CB | | | 18 | 30% | 1 | 3% |
| J Kunaszyk | LB | | | 17 | 28% | 18 | 62% |
| C Ballard | DB | | | 17 | 28% | 11 | 38% |
| D Parms | SS | | | 15 | 25% | 9 | 31% |
| V Butler | DT | | | 14 | 23% | | |
| B Burns | DE | | | 10 | 17% | | |
| J Carter | LB | | | 7 | 12% | 1 | 3% |
| C Jones | SS | | | 7 | 12% | | |
| K Love | NT | | | 7 | 12% | | |
| R Cockrell | CB | | | 7 | 12% | | |
| J Slye | K | | | | | 11 | 38% |
| M Baugh | TE | | | | | 11 | 38% |
| J Jansen | LS | | | | | 9 | 31% |
| M Palardy | P | | | | | 9 | 31% |