Efe Obada thought there would be more.
He had played a quarter of the snaps along the defensive line in the first five games of the season and felt like he was getting better, felt like he was improving – both from a technique standpoint and from a strength standpoint – but it wasn't showing on the stat sheet. The defense had jumped out to their highest sack total (20) through five games since 1996, but Obada had only nine tackles thus far – so he went to Ron Rivera and wanted to know if he was holding his own on the team even as the stat sheet wasn't filling up for him in his second season.
"I told Efe, 'the thing you have to understand is that when one of the guys that you line up next to is being productive and you're not, you have to look at the things that are happening to you. Are you being double-teamed? Are you getting into the crease and getting vertical and the quarterback is stepping underneath you and all of a sudden, he's getting hit by Brian Burns?'" recounted Rivera. "Those are the kind of things that he doesn't quite understand and get, because a lot of things that are happening for him are happening for the first time."
For Obada, who didn't pick up a football until he was 22 years old, he's still learning, but the raw ability that he's shown, whether it was in his brief tryout with the Dallas Cowboys or his time in the International Pathways Program to simply making the team – last season, he was the first player ever from the program to make a team's 53-man roster – Obada has shown the physical, mental and emotional traits necessary to be a professional football player.
He just needs the experience.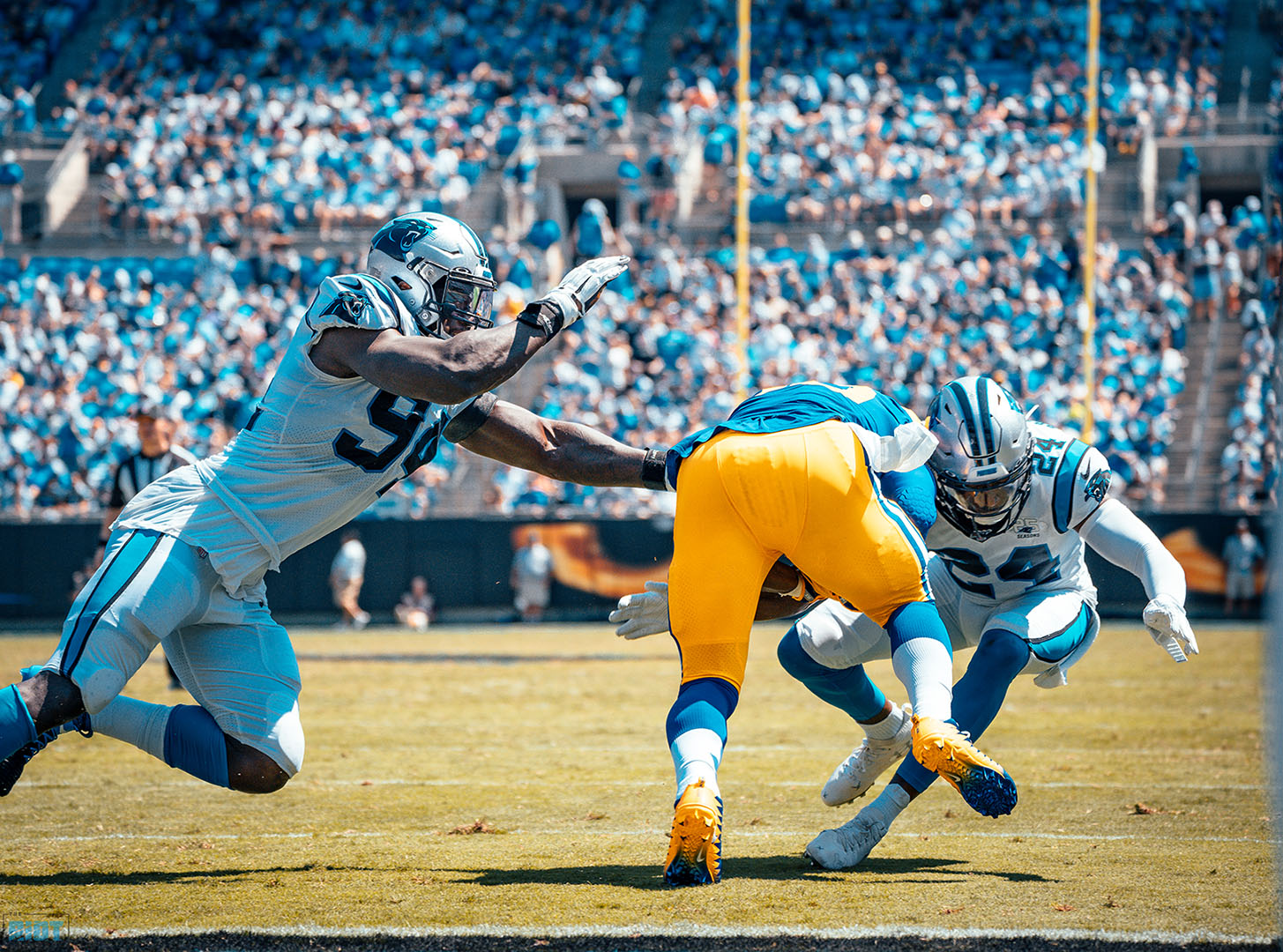 "The focus is there," said defensive coordinator Eric Washington. "As Efe continues to have experiences in pro football – and football, period – not just pro football, but the game and the business of football, he's getting better. He's starting to anticipate certain things, he's putting himself in a position to use the technique that we teach and apply that to different situations and ultimately, to win."
"Efe is starting to do that more and more."
So when he felt like he wasn't pulling his weight on the Panthers defense, Rivera – and Obada's teammates – said the opposite.
If the man next to you gets a sack because you pushed the quarterback in his direction, that's partly your sack. If you occupy your gap and force the running back backwards into another man's arms, that's your tackle for loss. If you continue to do what you're supposed to do, good things will happen.
"He calmed my nerves and [told me] to stay the course," said Obada about the message from his coach. "The veterans guys have said it's going to come to me and just stay the course, stay in my responsibility and just do my job."
Obada – one of the nicest and most well-liked guys in the locker room – was catching some flak from his teammates already as he prepared to be one of the biggest stars on the team this week as he led his team across the pond.
"Is it cold in London, Efe?" Tre Boston giggled loudly from across the locker room as the media gathered around Obada's locker to talk about the defensive end's return home.
"Did y'all know Efe is from London?" Greg Olsen grinned at reporters.
"We've been bugging Efe since we found out we were going over there [during] OTAs," said Donte Jackson before pausing to yell across the room at Obada, who was in the middle of another interview. "What's it like, EFE?!? Efe, What's the good food places!??!"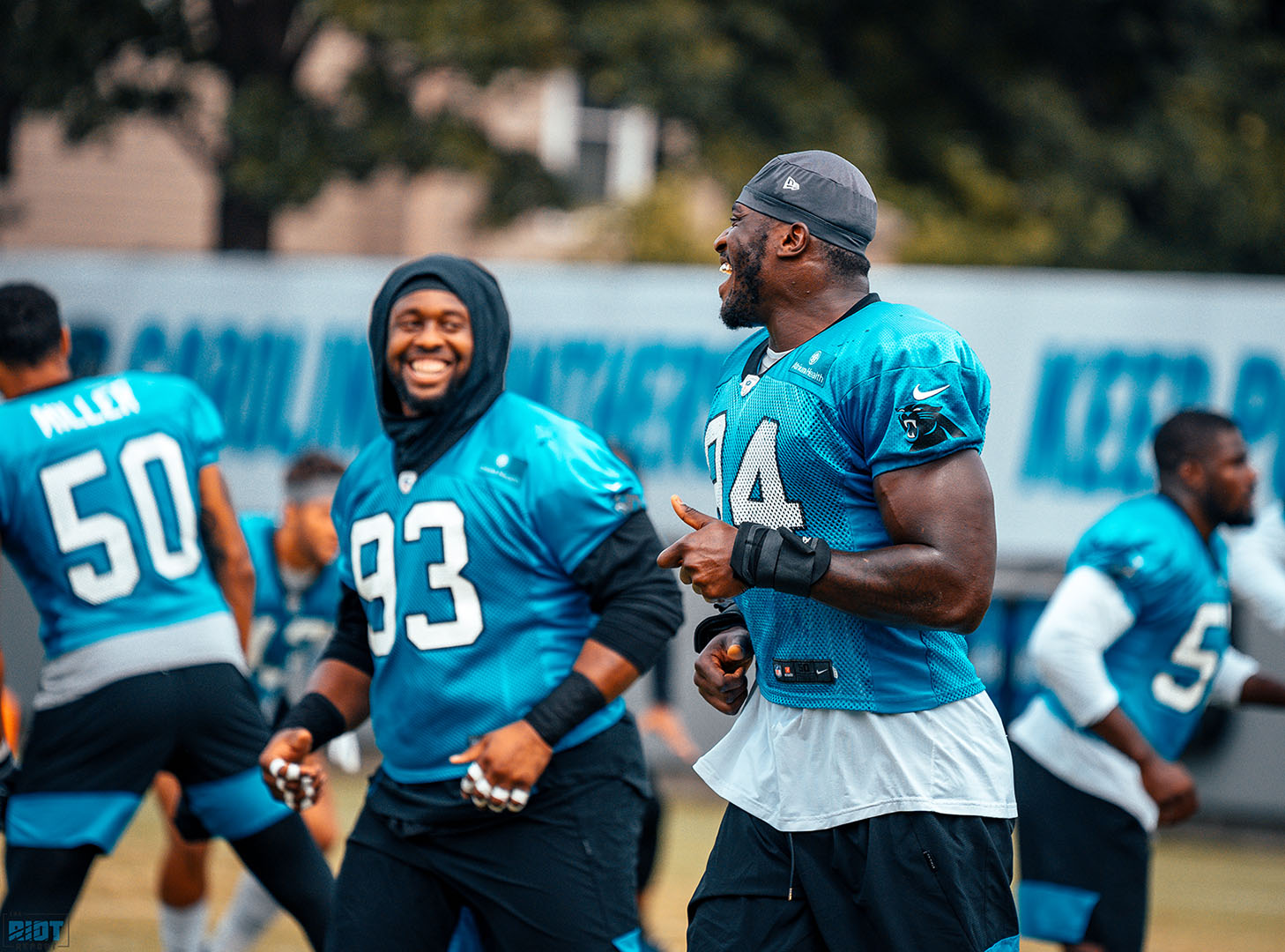 Obada will try to shut out the noise and the added attention this week, which will be hard as he is almost certain to be the focus of most of the assembled European media once they touch down in London – although he attempted to tell the coaches that he was just focused on getting the win in London and heading into the Panthers' bye week with a 4-2 record, he acknowledged that he'll have a lot of friends and family in the stands at only the second NFL game at the newly constructed Tottenham Hotspur Stadium as he goes "full circle" – from playing wherever his first football team – the London Warriors – could find an open field, to wearing an NFL uniform and playing in front of 62,000 screaming NFL fans, many of whom will be wearing a jersey that has his name on the back.
"Stadiums?! Whatever field is available, that's where we go and we played – we rented it out," said Obada about his time with the pay-to-play Warriors. "It's just lack of opportunities for most of these guys, it's an amazing way out, it's an amazing outlet – it's teaches people amazing things, teamwork and a sense of belonging as well. Those are the sorts of things that it's offered me….that's what sports can do for people and how it changes people's lives."
He also won't try to brush aside the Hollywood-style perfection of his football story beginning in London and now getting the chance to head back as a part of an NFL roster.
"What are the chances of me being on the team that is going to go back to London?" smiled Obada. "For me, that's what I'm grateful about, the stars are aligning and I'm just going to make the most of it, enjoy it, and stay focused and help this team."
"I would hate to get on a ten-hour flight over there and then lose."
And what if he fills up that stat sheet and gets his first sack of the season in London?
"You will see me spaz out," laughed Obada. "I will spaz out."