With the NFL Draft in the books and the bulk of free agency finished, it's time to take a look at the Carolina Panthers' roster and where it stands at this middle stage of it's development. Don't expect more splashy moves in free agency – bringing in running back CJ Anderson was a move that made too much sense not to pull the trigger on, but the team may have exhausted it's limited cap and roster space, at least until the team begins making cuts closer to training camp; barring three more additions that will likely come out of the invited tryout players from this weekend's rookie mini-camp. So with less than three months left until the team heads down to Spartanburg for it's yearly trek through the sun to the regular season and the roster beginning to take shape, let's take a look at how the team stacks up at each position vs. how they ended 2017.
Also, be sure to take everything with a large grain of salt. It's only May – the season starts in September; last year at this time, the Carolinas were abuzz with the release of Tre Boston and the team exercising their fifth-year option on Kelvin Benjamin – so a lot can change.
Quarterbacks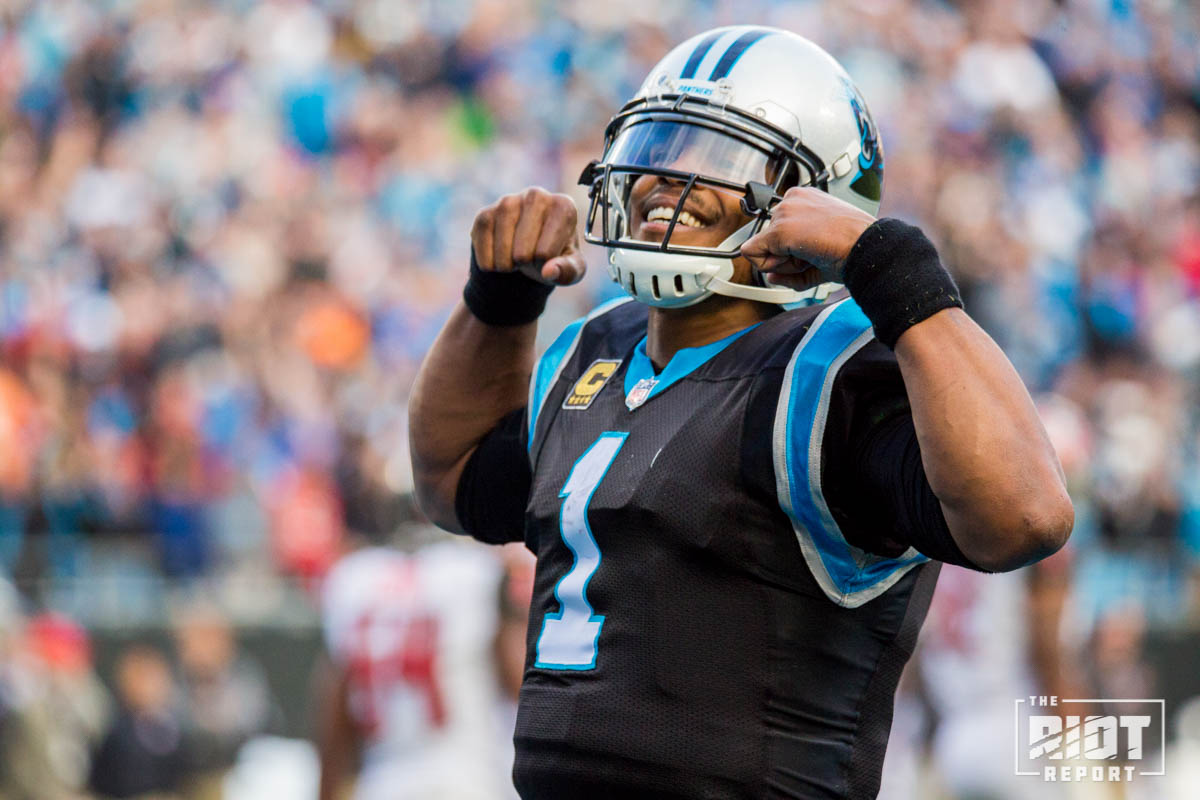 2017: Cam Newton, Derek Anderson, Garrett Gilbert
2018: Cam Newton, Garrett Gilbert, Kyle Allen, Taylor Heinicke
The name at the top of the list is not going to change anytime soon, but it's the backup slot where there are some questions – after failing to bring in a veteran or draft a quarterback, Marty Hurney and the Panthers decided to bring in undrafted QB Kyle Allen from the University of Houston by way of Texas A&M to provide some competition for SMU product Garrett Gilbert and former Texan Taylor Heinicke. While Allen is accurate and has a reasonably strong arm, don't be surprised if the Panthers still end up with a certain golf-course loving quarterback who has been Newton's backup for almost his entire career by the time training camp rolls around, Allen still feels like he has lots to learn after this weekend's rookie mini-camp. While backup QB is not a focus for the Panthers, the Eagles showed last season how important having a quality backup can be as they won the Super Bowl even after losing Carson Wentz for the season.
Running Backs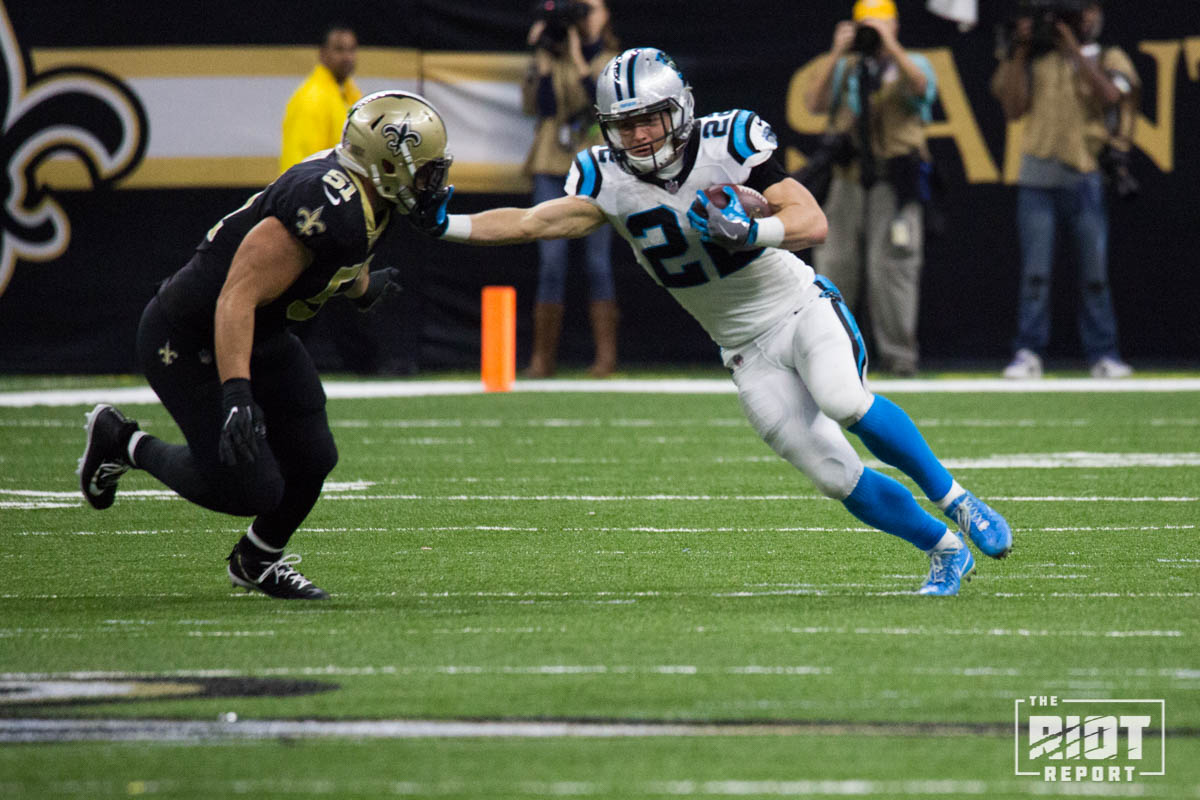 2017: Jonathan Stewart, Christian McCaffrey, Fozzy Whittaker, Cameron Artis-Payne
2018: CJ Anderson, Christian McCaffrey, Cameron Artis-Payne, Kenjon Barner, Elijah Hood, Reggie Bonnafon
With franchise rushing leader Jonathan Stewart departing in the offseason for the New York Giants after being released, many wondered who would carry the load along with second-year rusher Christian McCaffrey, and it wasn't until this week when the Panthers added free agent CJ Anderson to take some of the early-down or short-yardage carries from the shifty back who spent much of last season in the slot or out wide that Marty Hurney emphatically answered that question by signing a 27-year old that rushed for over 1,000 yards in 2017. Expect either Artis-Payne or Barner to make the roster, if only for their special teams contributions now that Fozzy Whittaker has been placed on IR –  but if both the native Charlottean Hood or UDFA Reggie Bonnafon impress in training camp, those jobs may be in jeopardy; the salary cap difference between those four from a salary standpoint isn't much, so the Panthers will go with whomever they think can bring the most to the roster – Barner and CAP have the advantage by already knowing the system, but if Hood or Bonnafon are too intriguing to be ignored…..
Tight End/Fullback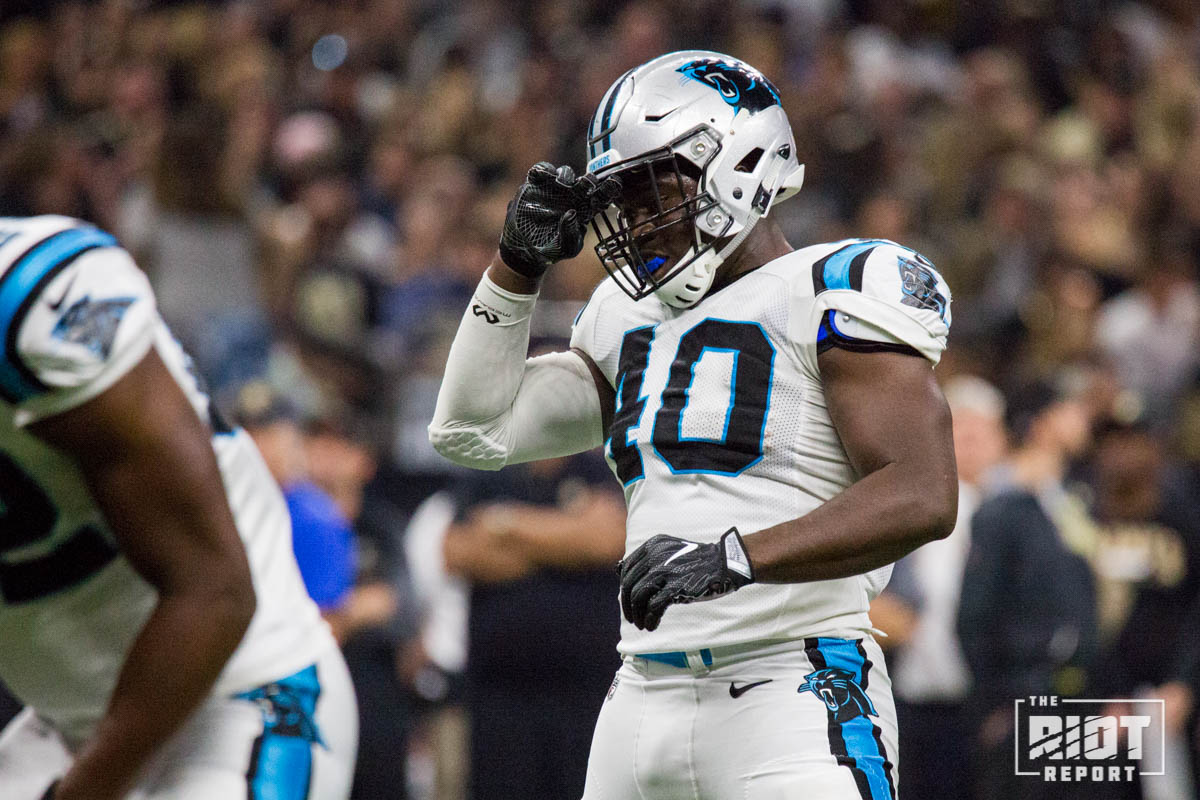 2017: Alex Armah, Greg Olsen, Ed Dickson, Chris Manhertz
2018: Alex Armah, Greg Olsen, Ian Thomas, Chris Manhertz, Evan Baylis
With Greg Olsen missing much of 2017, Alex Armah was promoted from the practice squad as Olsen was placed on injured reserve, playing in nine games but inactive for three of the final four contests – the Panthers actually began the season without a fullback on the roster, choosing to use Ed Dickson in the traditional h-back role. With new offensive coordinator Norv Turner taking the reigns and Dickson departed for Seattle, we may see more of Armah, or the team may choose to use more of Manhertz, who was active for every single game in 2017. Fourth-rounder Ian Thomas is a physical specimen with soft hands, but is still raw; how well he responds to coaching will determine whether he or Manhertz will get the bulk of the TE2 snaps in 2018.
Wide Receivers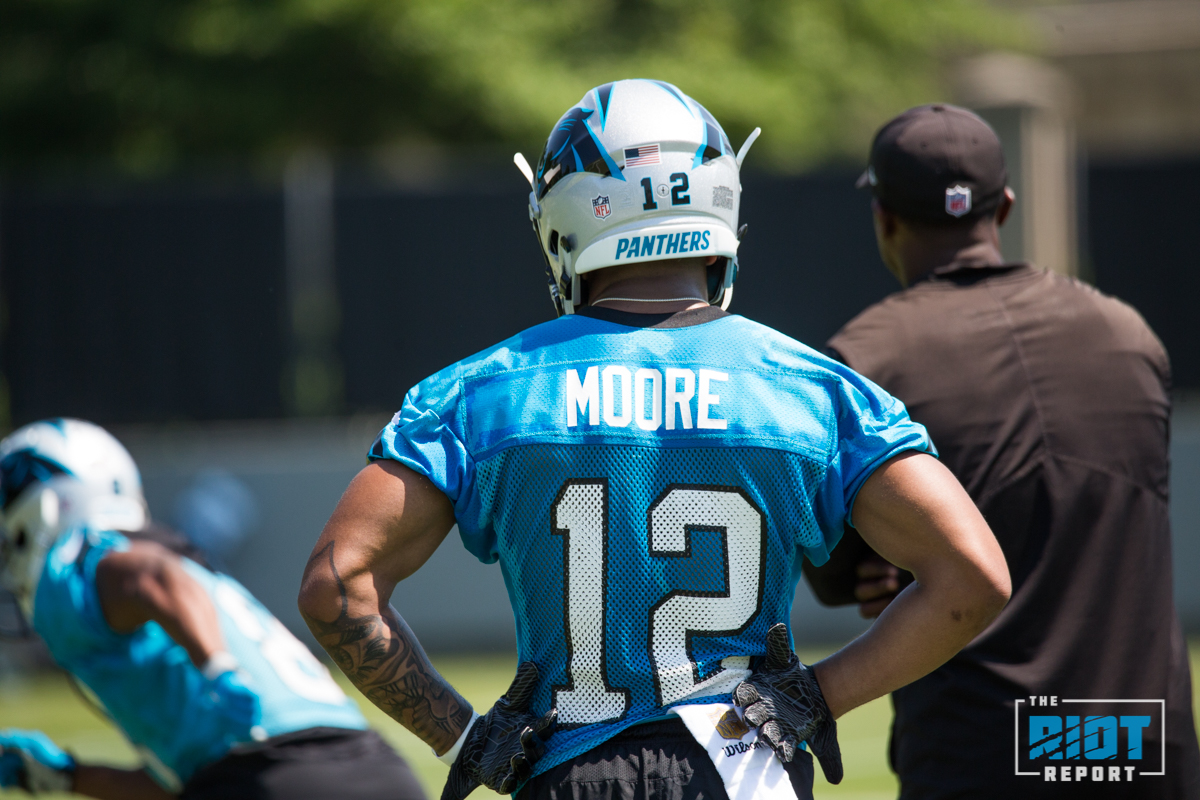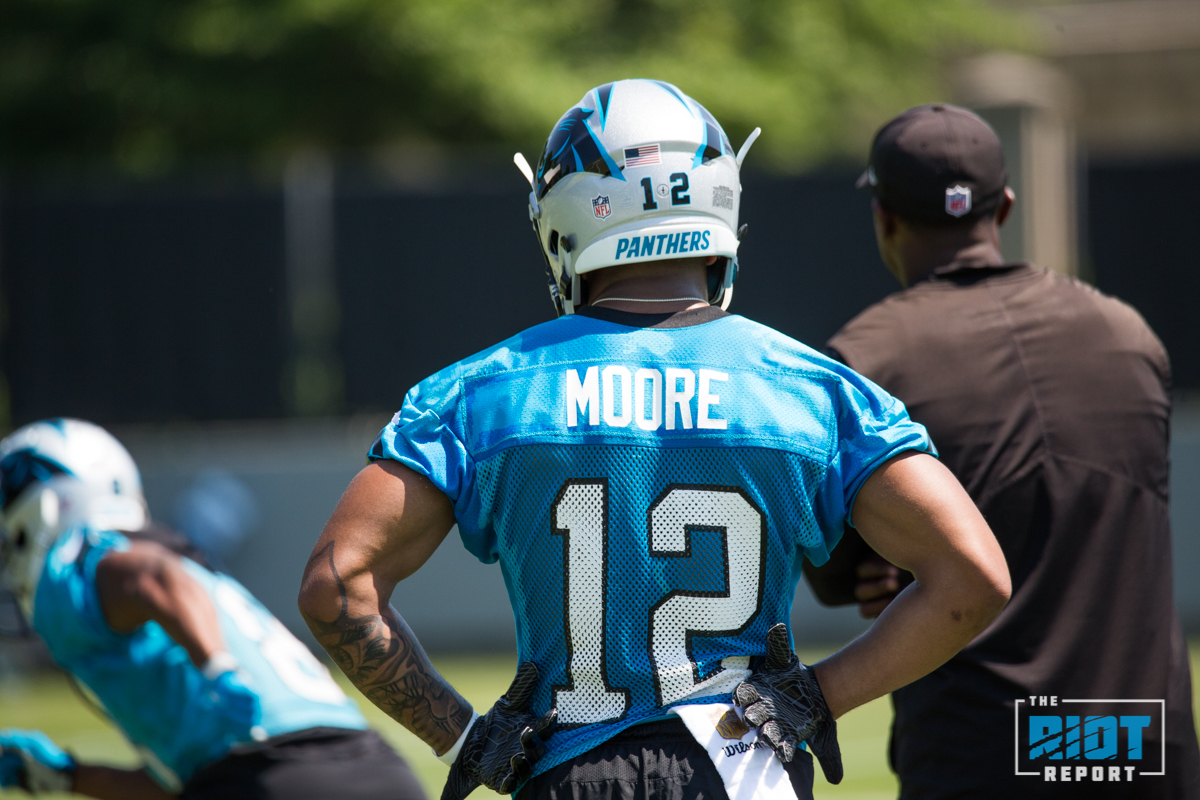 2017: Devin Funchess, Russell Shepard, Brenton Bersin, Kaelin Clay, Mose Frazier (Curtis Samuel, Damiere Byrd)
2018: Devin Funchess, DJ Moore, Torrey Smith, Curtis Samuel, Jarius Wright, Russell Shepard, Damiere Byrd, Rasheed Bailey, Jamaal Jones, Austin Duke, Mose Frazier, Fred Ross
The position that received the most scrutiny as the season ended, with injuries forcing practice squad players Bersin and Frazier into playing time, has certainly led to the Panthers covering their bases with a dozen wideouts currently on the roster. While Bailey, Jones, Duke, Frazier and Ross are not likely to make the final 53-man roster, there may not even be room for the remaining seven wideouts, all of whom saw significant playing time in 2017 (if you include first-rounder DJ Moore). If Curtis Samuel is healthy enough to start the season – there's no guarantee of that happening after ligament damage cost him the final six games of the season – that may leave Russell Shepard, who only had 149 yards receiving over the final 15 games of the season, as the odd man out once the roster is trimmed.
Update: The Panthers have released Russell Shepard and signed WR Bug Howard.
Tackle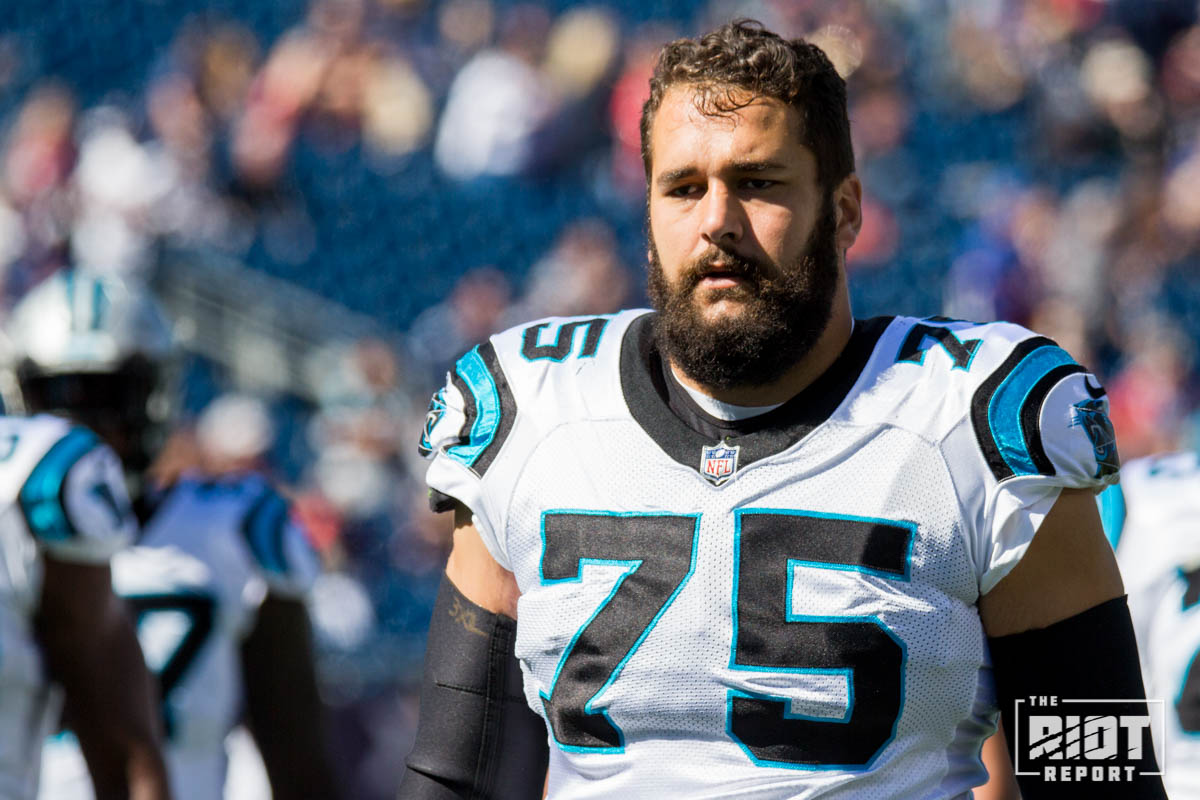 2017: Matt Kalil, Daryl Williams, Taylor Moton
2018: Matt Kalil, Daryl Williams, Taylor Moton, Zach Banner, Korren Kirven, Blaine Clausell
The biggest offseason acquisition of the 2017 offseason led to the least amount of change, with the Panthers choosing to add depth behind their two starters and holding strong with 2017 second-rounder Taylor Moton as the 'swing tackle' backing up both players on the outside. Moton will get a chance to compete for the guard spot, and he'll have a real chance at it, but signs point to the second-year pro getting another year as a depth piece before perhaps being asked to replace Williams – the 2017 second-team All-Pro will be a free agent after next season. While the 6'8, 360 pound Zach Banner is a fun physical specimen to think about, he is more likely for the practice squad and a depth piece unless he can be used on the inside as well.
Update: The Panthers have added invited tryout player Quinterrius Eatmon.
Interior Offensive Line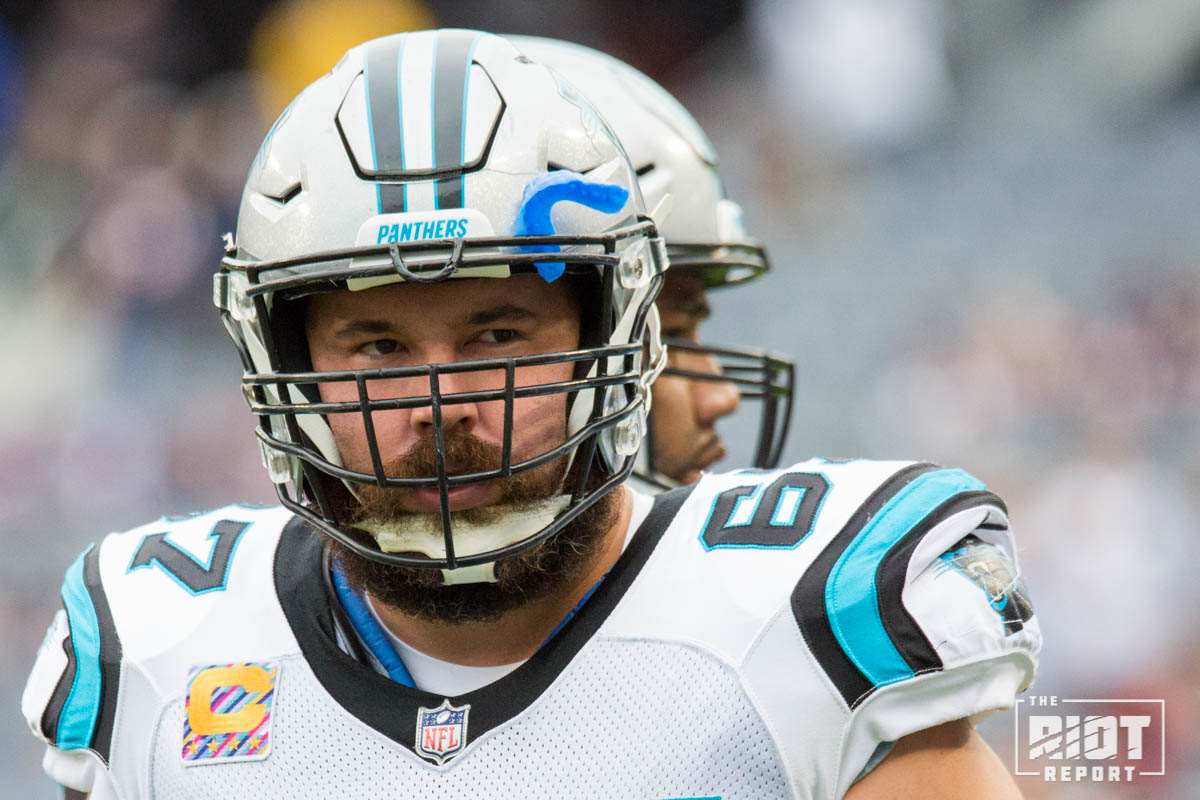 2017: Andrew Norwell, Ryan Kalil, Trai Turner, Amini Silatolu, Greg Van Roten, Tyler Larsen
2018: Ryan Kalil, Trai Turner, Tyler Larsen, Jeremiah Sirles, Amini Silatolu, Greg Van Roten, Dorian Johnson, Kyle Bosch, Brendan Mahon, Taylor Hearn
The Panthers' biggest – literally – loss of the offseason was seeing All-Pro Andrew Norwell head to Jacksonville to become the highest paid guard in the NFL, and who will be replacing him is perhaps the biggest question mark as we continue towards training camp. Questions abound on the interior of the line: Will Tyler Larsen, who started at center in the absence of Ryan Kalil for much of 2017, take Norwell's spot? Can Kalil play a full slate after missing 18 games the past two seasons combined? Who will replace Kalil once he retires, as he says he will do at the end of 2018? Would that spot go to Larsen? Greg Van Roten, who the team just resigned to a two-year deal? Can newcomer Jeremiah Sirles make an impact, and might there be a spot on the roster for an undrafted free agent like Brendan Mahon to take the Andrew Norwell path to stardom? Will Taylor Hearn follow in Ben Boulware's footsteps as 'former Clemson player who is beloved at training camp'? Will Amini Silatolu continue as the main backup to each guard or is he truly the favorite for the left guard slot? Could Taylor Moton win the starting guard spot and also be the first backup at tackle? So many questions, but the only easy answer may lie in the steady play of Trai Turner, who has made three consecutive Pro Bowls while starting 45 games over the last three seasons.
Update: The Panthers have added C Kyle Friend, an invited tryout player from rookie mini-camp.
Next Up: Defense!