When you lose a game 20-3 there are generally a few areas for improvement, even during the preseason, and, while not everything that happened in the Panthers' loss to the Ravens on Saturday was a negative, there were definitely some players who will be hoping for a bounce back performance next week as well as coaches who are under pressure to address areas of concern.
So, what were some of the negatives from the Panthers' performance against the Ravens?
1. Running Game Struggles
The Panthers' starting offensive line only played one series and none of the three running backs who played last season were active, but the Panthers will be disappointed in how poorly they ran the ball on Saturday. The numbers paint a pretty bleak picture, as the Panthers didn't have a single carry of over ten yards and managed just 33 yards rushing on seventeen carries. That is not good and was something that Matt Rhule touched on when discussing the Panthers' struggles in the red zone.
"We are trying to run good old-fashion football plays and get in," explained Rhule. "We threw the one pass but even on fourth and one, maybe that is a run-pass option or something but right now we are trying to establish if we can get that yard or not. We didn't get that yard tonight so that's something we have to improve upon as a team."
The starters only got one series against the Ravens and, while they ultimately failed to punch the ball into the endzone on that drive, they did manage sixteen yards on three carries to reach the one-yard line before going backwards slightly. That might not be the most impressive of stat lines either but compares well to the frankly appalling 19 yards on 12 carries that they managed for the rest of the game.
The Panthers appeared to largely abandon the run game in the second half due to their inability to have any real success, something which contributed to their overall offensive struggles in the second half. If this carries over into the regular season, then this is going to be a real problem.
2. Third Down Offense and Defense
The Panthers weren't good on third down in 2020, ranking 25th in the NFL in terms of third down conversion on offense and 31st in terms of third down conversion allowed on defense. Neither of those things got much better on Saturday as the Panthers went just 2-11 on third down while allowing the Ravens to convert of ten of 17 third downs as well as their lone fourth down attempt. In particular, the Panthers really struggled to counter the Ravens short passing game that consistently allowed them to move the chains outside of short yardage situations.
Once again, it is important to note that the Panthers only played their starters for one series and that they were only using a fraction of their playbook, and so the lack of improvement in this regard during the second preseason game isn't something that should be sounding alarm bells just yet, but the Panthers do need to make real strides in this regard and is something that fans should keep an eye on as we move into the first few weeks of the regular season.
3. First Team Run Defense
The Panthers' first team defense only played four plays and one of those was an interception. Based on that it's really quite hard to be cross about, but if the Panthers wanted to remove any questions about their run defense then the first three plays they faced on defense weren't super encouraging.
The Ravens do have one of the better rushing attacks in the NFL, but the fact that their second-string offense was able to notch 23 yards on three carries, all of which kept them ahead of the chains, against the Panthers' starting defense wasn't the best of starts. No team should get into a panic about anything barring injuries based on three preseason snaps, but for a team that ranked 28th in yards-per-carry allowed in 2020 this is perhaps a slight warning sign that not everything has been remedied over the offseason.
The starters will likely get a more extended run against another strong rushing attack in the Steelers on Friday, and if they are able to limit them on the ground then that will be a much stronger indication than the three snaps against the Ravens, but those three snaps weren't exactly reassuring.
4. Offense Line Depth (and by extension PJ Walker)
A lot will be made of the 17 points the Panthers conceded in the second half, but while the defense wasn't perfect it is far more concerning that in an entire half of football the Panthers' third string accent managed just 18 yards on five drives, all of which were three-and-outs. An entire half without a single first down. Not good.
This certainly isn't what PJ Walker would have wanted, and after a first preseason game where he made a really strong case to be the Panthers' #2 quarterback, this was a definite step backwards. Even though it is hard to apportion a huge amount of blame to Walker in terms of missed opportunities or poor throws, it does make it very clear that the disparity between Walker and Grier is likely much more about who gets to play with the second team as opposed to anything else.
However, the real thing that was highlighted in the second half was just how poor the Panthers' depth is on the offensive line when you move past the second string. Yes, not team expects their third-string offensive line to go out and look like All-Pros but the Panthers struggled to protect on short passes and couldn't run the ball effectively at all. The Panthers have invested in the depth of their offensive line this offseason, and the relative strength of the second-string line is evidence of that, but this is still a work in progress and the Panthers got a reminder of that on Saturday.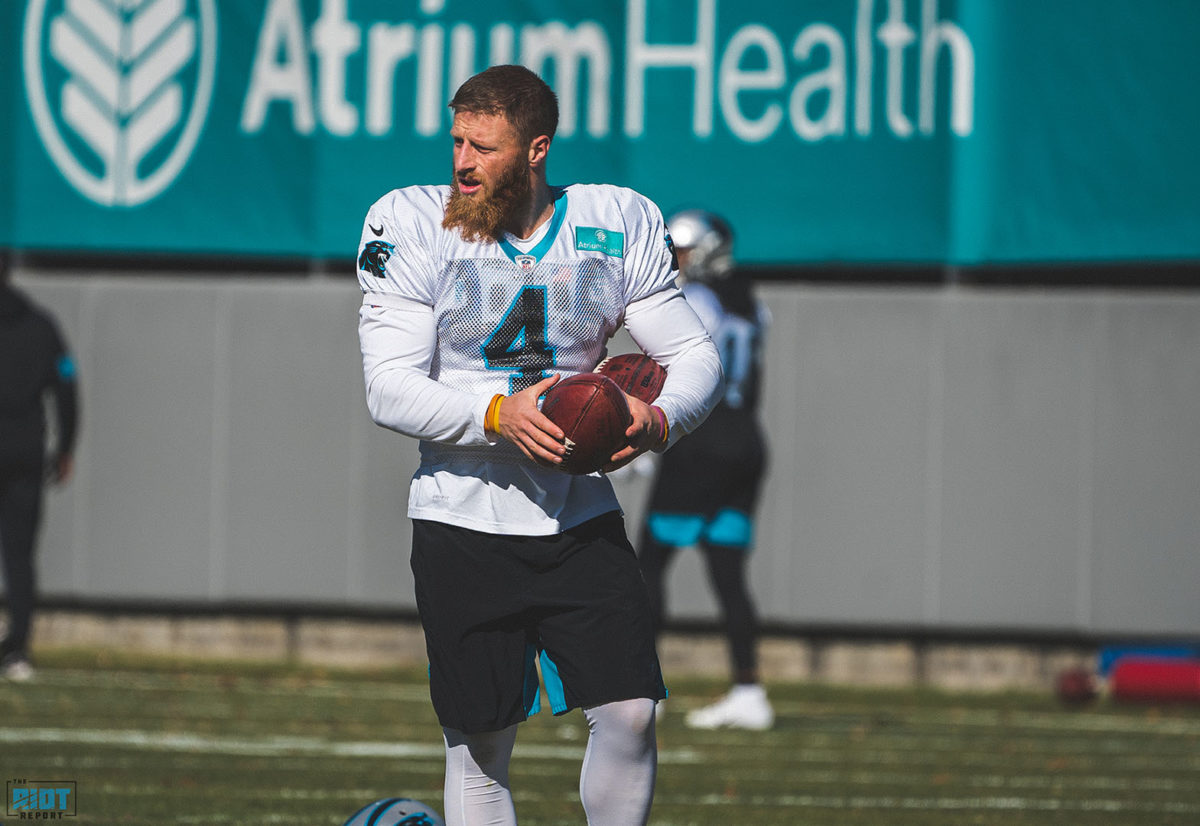 5. Joey Slye Still Not Perfect
Joey Slye hasn't had to face any competition as a kicker through camp, but despite positive reports on his play during practices he is still leaving too many plays out there during the games. It is always going to be hard to accurately assess players from very small sample sizes but with three misses including XPs through two weeks of preseason, it is fair to say that the Panthers' coaches are feeling slightly underwhelmed.
"You have to produce and so far, Joey has not produced at the level we need him to," admitted Matt Rhule. "I think he would be the first guy to say that. We have to find a way to get over that hump with him."
Given this, the Panthers will be hoping he is perfect against the Steelers on Friday, with the option for either a trade or a waiver wire acquisition still on the cards as we move towards the regular season, but the best-case scenario for everybody involved would be for Slye to take a step this year.
He just needs to actually back up that trust with his play during games.
The Panthers' players will get one more game to stake a claim to a depth chart or roster spot against the Steelers on Friday, and while there are some areas that are likely to be works in progress as the Panthers move into the regular season, this will also serve as a chance for the Panthers' starters to put to rest any lingering concerns with their only extended playing time of the preseason.
The Panthers are ultimately still an ascending team and there are going to be some growing pains associated with that, as well as some areas where the back end of the roster takes some time to catch up with the front, but they will hope that the areas covered here show progress against the Steelers.
(Top photo via Chanelle Smith-Walker/Carolina Panthers)