When a team puts up a franchise-best 35 points in the first half and scores on five consecutive possessions, there are going to be highlights – sometimes too many to count.
We could probably write about Greg Olsen's one-handed touchdown catch and his insistence after the game that he doesn't wear sticky gloves – "I know when that ball goes in the air, he's coming down with it a high percentage of the time; I don't care if he wears sticky gloves, un-sticky gloves, hospital gloves, small gloves, big gloves, kitchen gloves – he'd catch it," said Cam Newton about his tight end, who caught all six of his targets for 76 yards. Or we could talk about Eric Reid's interception or the fact that he gutted out almost the entire fourth quarter after suffering a shoulder injury – "Very courageous – the young man came in and had a big interception, a big return and set us up for a touchdown, which was great and helped start the momentum for us," Ron Rivera said about the safety who also received the game ball.
How about the DJ Moore 32-yard reverse. Or the Alex Armah one-yard touchdown. Or the Curtis Samuel skinny post where he went upstairs to bring in a touchdown to extend the lead to two scores in the fourth quarter.
But you know which two plays we're going to talk about. They're the ones you'll be remembering at the end of the season.
"I was like, 'OH! I Didn't Know He Could Do That!"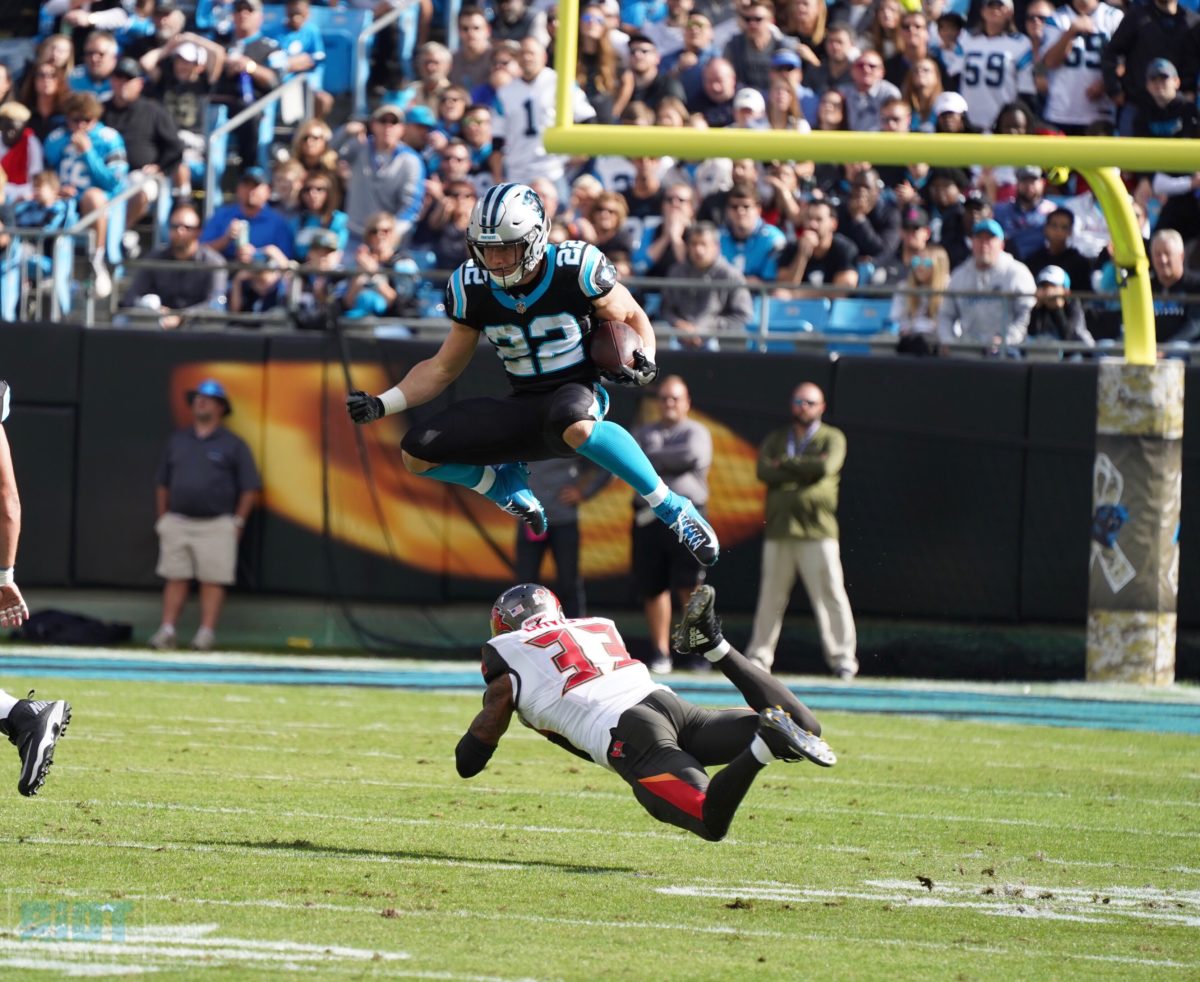 The jokes were the same from his teammates – not only echoed by multiple guys on the sideline, but expected when McCaffrey, he of the 157 total yards and two touchdowns, took a screen pass from Cam Newton and leapfrogged rookie corner Carlton Davis III.
"White men can jump," McCaffrey said with a grin. "[I] got a lot of those, but I saw those coming."
A beautifully designed play by Norv Turner that started with an option play-action fake to McCaffrey and featured a pump fake to DJ Moore on the right sideline before Newton came back to the running back – when he caught the ball, he turned upfield and saw green grass ahead as offensive linemen cleared a path for him – but it was up to McCaffrey to make someone miss. And how else to make someone miss but go right over him.
"It's very instinctual – you don't really plan for that stuff, you just kind of react," said the running back who has made a habit of leapfrogging players – he'd done it at least twice last season. "I'd love to sit here and go through my mindset during that, but I don't remember – football's a very instinctual game and it's all very fast-paced so you kind of just react and that's kind of what went through my head at the time, I guess."
As Trai Turner and Ryan Kalil held their blocks, McCaffrey hurdled Davis and then had the presence of mind to accelerate after landing, speeding down the sidelines for 30 more yards to set up the Panthers second score of the game. When a play like that works, sometimes it's less about the play itself but the way it's set up; the Panthers have run plays similar to that one where the swing pass goes to DJ Moore so the slightest hesitation by two defenders allowed for McCaffrey to have all the space he needed.
And then he did the rest.
"It's pretty solid and then for him to keep his balance," said Cam Newton. "I know we all saw that commercial of him and [JB] Smoove – the cat, he was like a cat right there."
"It Felt Like Fifty Yards"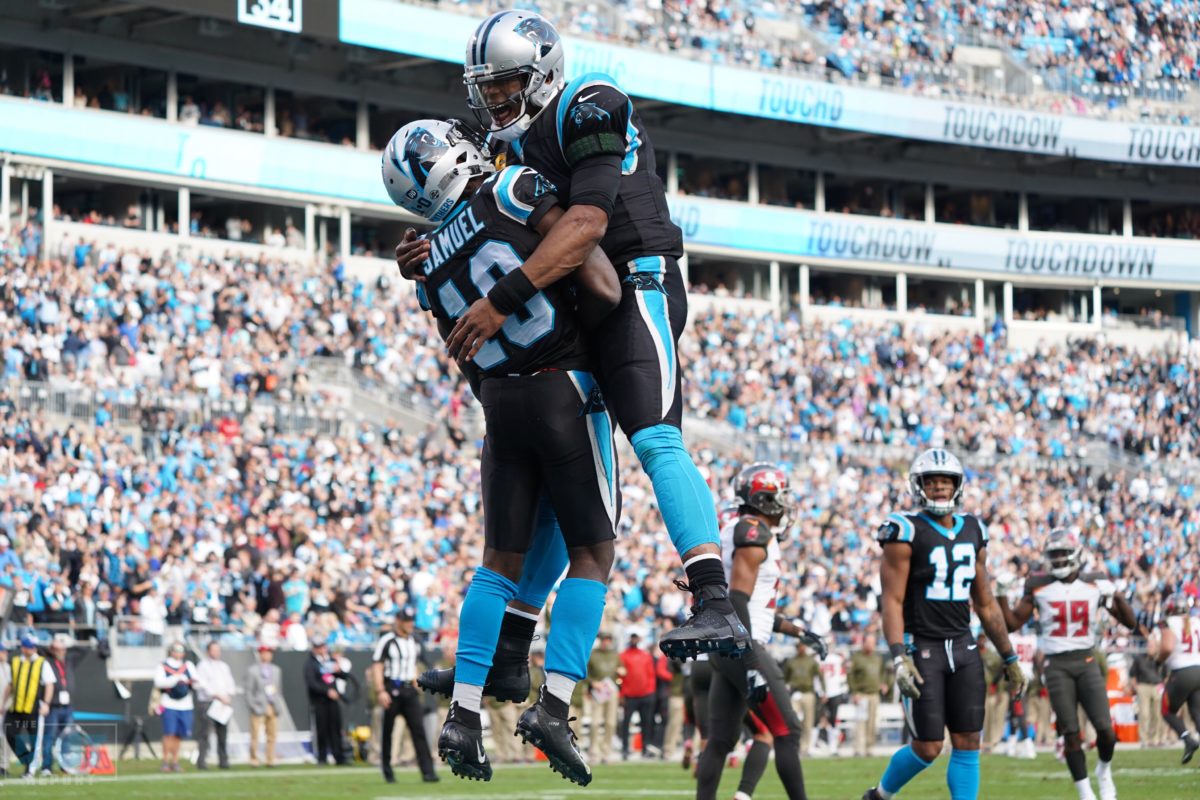 Curtis Samuel only has eleven touches this season – four of them have finished in the end zone.
"It feels great to be that guy to have a huge impact on this game, whether it's on offense or on special teams – it feels great," said Samuel after the game. "Every week, I just look forward to go out there and doing my job and helping this team win games."
Like the McCaffrey Leap, this play again involved trickeration – a play-action fake to McCaffrey, followed by a flip to DJ Moore before the rookie flipped the ball to Curtis Samuel – the reason the play works is because the team has run similar plays before, only this time there's a twist that freezes the defense for an extra instant.
"We haven't showed that all year," Samuel said about the double reverse as opposed to the single reverse. "DJ's a threat any time he steps on the field, so they see that reverse and they're like 'Hold on' – they got a little scared. And to add that double reverse, the defense was caught all off guard – it was a great playcall by [Norv Turner] and we executed it well."
While the play will go down as 33 yards, NFL's Next Gen Stats had Samuel running 103 yards to the end zone as he reversed field to find open space for the end zone; Samuel said it didn't feel like 103 yards, more like fifty – "Only fifty. I'm pretty fast, [so] everything moves kind of fast."
"When you play a defensive unit with as many talented athletes that they have that can run well, you've got to get them off balance," said Ron Rivera about the need for misdirection and why it worked so well. "We were able to do that early on with the first reverse and then coming back with a double reverse, I think really caught them again because they over-pursued."
It didn't hurt having a 6-5, 245 pound lead blocker.
"I've been seeing a lot of folks didn't want no smoke from your boy," said quarterback Cam Newton when asked about being out in front on reverses. "I'm a
football player. I just so happen to play quarterback and I think a lot of people kind of get that misconstrued. Whatever this team asks me to do – run, pass, catch, block – I'm all for it."
Samuel has said that since returning from missing the first three games of the season following heart surgery that he feels faster and he reiterated that in the locker room after the game – his speed definitely helped, especially as he accelerated away from the Tampa Bay defenders who didn't have the speed to pursue him across the field.
But the key to both plays, and truly the key to the Panthers offensive success overall, has been the ability of offensive coordinator Norv Turner to put the right players in the right spots to make plays – there are a lot of playmakers on this offense and whether it's McCaffrey or Moore or Samuel or Olsen or Funchess or Newton in space, when you get them the ball, they have the opportunity to make big plays.
"It's definitely special to have so many guys on the field at one time," said Samuel. "Usually you can look out there and say 'OK, he's the guy right there – he's going to make something happen' and when you've got a bunch of us out there on the field, coaches get all unbalanced and they don't know who's getting the ball and the defense can't key on one guy."
If they can't key in, they can't stop you.