Cliché as it may be, Taylor Moton has always been the kind of guy who is worried about controlling what he can control.
So, in the 128 days between the Panthers placing the franchise tag on the 26-year old tackle, who hasn't missed a start since taking over the job three seasons ago, and signing a four-year, $72m contract to make him one of the highest-paid tackles in the NFL, Moton knew just what he wanted to do – even if it took a little longer than expected.
"It was a whirlwind of a day, for sure," Moton explained about his deal with the Panthers, which was completed just eight minutes before the NFL's cut-off for franchise-tagged players. "It's truly a blessing. I'm very happy that I'm sticking around the Carolinas – I love it here. I think we have a bright future ahead of us and I'm excited to be a part of it."
"It turned into a no-brainer for me to stick around the Carolinas."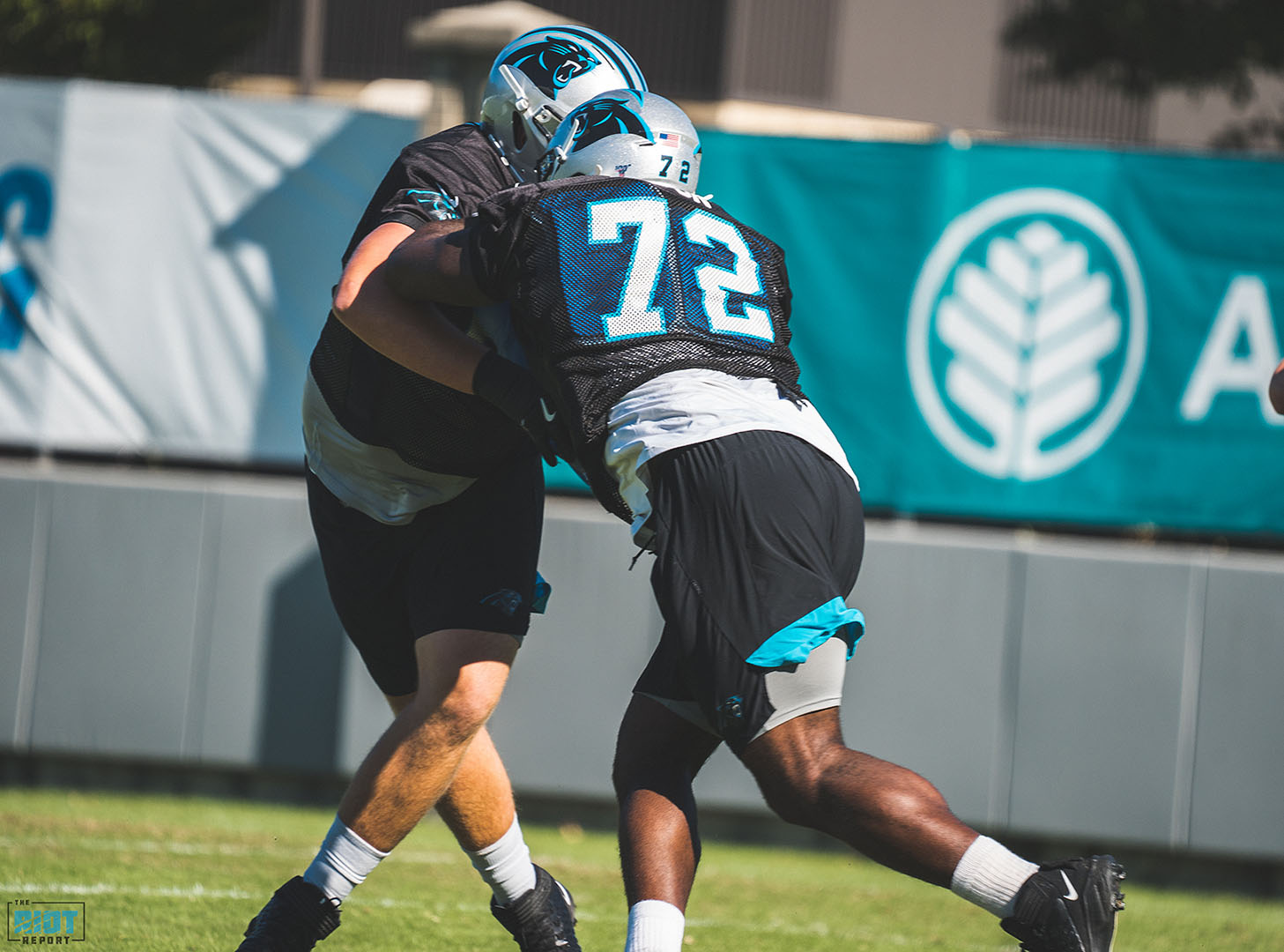 Moton got more involved in the decision after OTAs and mandatory mini-camp – and once the Panthers knew that he wanted to stick around, it was up to GM Scott Fitterer and Moton's team of agents to find the right number….and before the deadline. Which meant Director of Player Negotiations & Salary Cap Manager Sameir Suleiman, who was getting married in Arizona, drove 36 hours to finish negotiations just before the deadline.
A drive all the more worth it for the right kind of player.
"That's the type of guy you want to pay and get done," said Fitterer. "When it comes down to it, Coach Rhule really wanted him here, Mr. Tepper really wanted him here and he's one of our cornerstone players."
Signing an extension to be the leader of the offensive line in Carolina for the foreseeable future was a decision that Moton could control – where he plays on that offensive line will not be up to him.
That's uncertainty is not something that bother Moton, however, and he has prepared to take reps at left tackle should the Panthers call on him to man Sam Darnold's blindside. Though has started every game but one at his stalwart right tackle spot since he came into the league, he is planning to prepare to play both positions, just as he did back in his rookie season.
"I'm ready for wherever the coach puts me – just like my rookie year," said Moton about the left tackle spot, saying that he took some time this offseason to work on the left side as well as the right. "Coming in, I don't know where they might put me or where they want me, but I'll be as ready as I can, wherever that may be."
"I went back to my first couple of years when I didn't know where I was going to be playing and I just told myself that I want to be as prepared as I possibly can be – on either side of the line."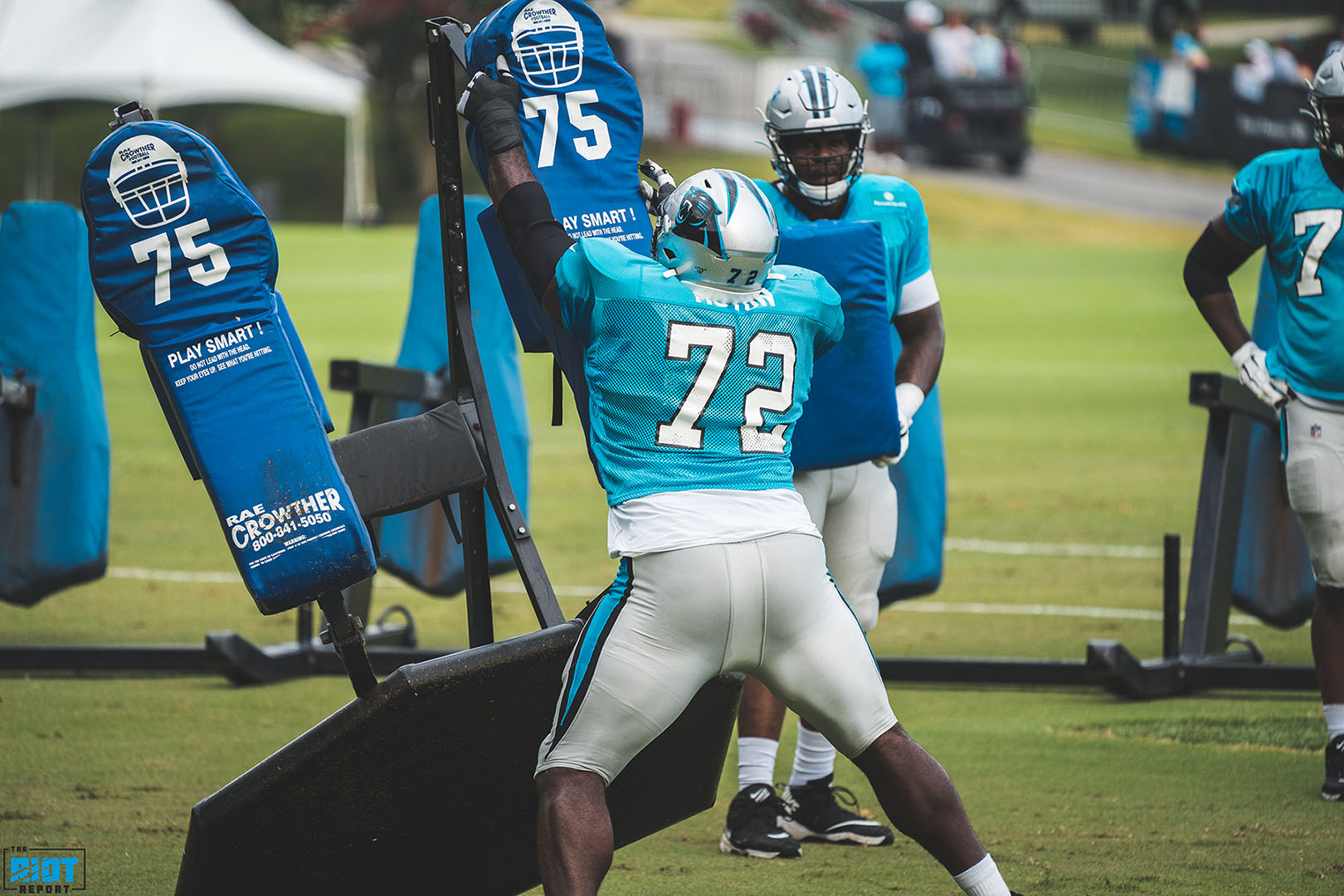 Even though the Panthers brought in Cameron Erving, who has spent time at left tackle throughout his career, as well as having other options like Trent Scott, Greg Little and Dennis Daley on the roster, the 6-5, 291 pound Moton might end up being not only the highest-paid tackle on the roster, but the best option to occupy the most important position, even if the NFC South does boast some impressive rushers coming off the right side.
Ultimately, the question may not come down to how Moton looks on the left side, but how Erving or the other options at their natural positions compare to Moton flipping over to a position he isn't as familiar with – not to mention how a replacement for Moton would look on the right side.
"We'll probably give [Moton] some reps on the left, just to see how that plays out," said Rhule. "We're trying to find the best five….we'll give him some reps here and there and then just kind of get a feel as we go of who the other four best guys are."
If rookie Brady Christensen excels in camp and in the preseason at right tackle, does that make the decision easier for the coaching staff? Especially if Erving, Scott or Little look demonstrably worse than Moton?
These are the kind of questions that will get answered not over the course of the next month in Spartanburg, but over the course of two joint practices with the Colts and Ravens.
Moton can't control any of those questions, so he's not going to think about it; he'll just continue to show up to practice with his lunchpail and do what he's been doing for his entire career – being the best Taylor Moton he can be. Even if the subject of playing on the left side, an idea which has previously been tossed to the side without deference, is being treated with a little bit more plausibility heading into his fifth training camp.
"Wherever the chips may fall, I believe in our room," said Moton. "However the starting five pan out, I believe we're going to be a great unit and I'm going to just play my part and do what I can to help us be the best unit that we can be."
Controlling what he can control – now it will be up to Rhule to see where the biggest and most talented piece of the offensive line puzzle fits in.
(Top photo via Chanelle Smith-Walker/Carolina Panthers)