For a year, Taylor Moton patiently waited.
Just over six weeks after the Panthers signed Matt Kalil, the player they hoped would be their franchise left tackle but would ultimately underperform and miss the entire 2018 season only to earn a large portion of his 2019 paycheck playing for the Texans, the Panthers didn't go into the 2017 NFL Draft necessarily looking to add to their tackle group – but when the 6-5, 319 pound Moton was still available at the 64th pick, noted Hog Molly enthusiast Dave Getttleman pounced.
"Taylor, that's a heck of a pick at the bottom of the second round," Gettleman said at the time. "That's a big-ole' powerful, tough hog molly who is smarter than this entire room. It's about value, and he's a great value there."
Little did Gettleman know just how valuable Moton might be.
After spending a year playing sparingly in jumbo sets while Daryl Williams and Matt Kalil started all 16 games, Moton entered the 2018 season as the primary backup again when disaster struck the offensive line as the Panthers lost three tackles in four days of training camp and Moton quickly went from the 'next man up' to simply 'up', starting the season at left tackle before kicking over to right tackle and anchoring that side of the line for the final 15 games, where he was one of only six tackles in the NFL to register over 500 snaps while allowing just three or fewer combined sacks and hits, according to Pro Football Focus.

But Moton doesn't feel content to rest on his laurels, spending the offseason in Charlotte – "Charlotte's home for me now" – training at Bank of America Stadium, where he fulfilled his draft night promise to continue working and always striving to have his next game be better than his last.
"I just did what I can to get bigger, faster [and] stronger – work on my pass sets, work out my footwork stuff in the run game [and] all that," said Moton after OTAs last week, where he said even though things are starting to slow down for him, there's still work to be done on the practice field. "It's a little different because you get a little bit more comfortable year over year; but the mindset's still the same – get better and better every practice."
"I would say the game is starting to slow down more and more for me. I know the coaches are starting to put a lot more expectations on me, but I put a lot of expectations on myself as well."
Moton's transition into a leadership role in his third season hasn't gone unnoticed by the coaching staff, with Ron Rivera impressed with Moton's confidence on the field as he helps to mold rookie left tackle Greg Little, who the Panthers drafted in the second round with the hopes that the Ole Miss product could start immediately, something that Moton wasn't ask to do – and Moton is trying to impart the wisdom he's learned from the veterans along the way.
"I do what I can to pass on the knowledge that I learned from guys like Daryl [Williams] and Ryan [Kalil] and Trai [Turner] – even though they don't play tackle, I try to instill that mindset of being a professional and performing at a high level like they do," said Moton about trying to mentor the players younger than him, including Little.
"The thing that Greg's learning very quickly is that he can't just rely on his athleticism anymore, he's got to understand the technique and he's got to understand the plays and what the plays are for," Ron Rivera said about Little's transition to the NFL. "When you put the tape on and watch him [in college], he's a guy that, because he was such a great athlete, he really could get away with some things [that] here, he's not going to be able to and I think Greg has learned that very quickly."
"[Taylor is] a guy that really pays attention to the little things; I think some of the younger guys are kind of taking that from him as well. Taylor, in his own way, has done some nice things to lead some of these young guys."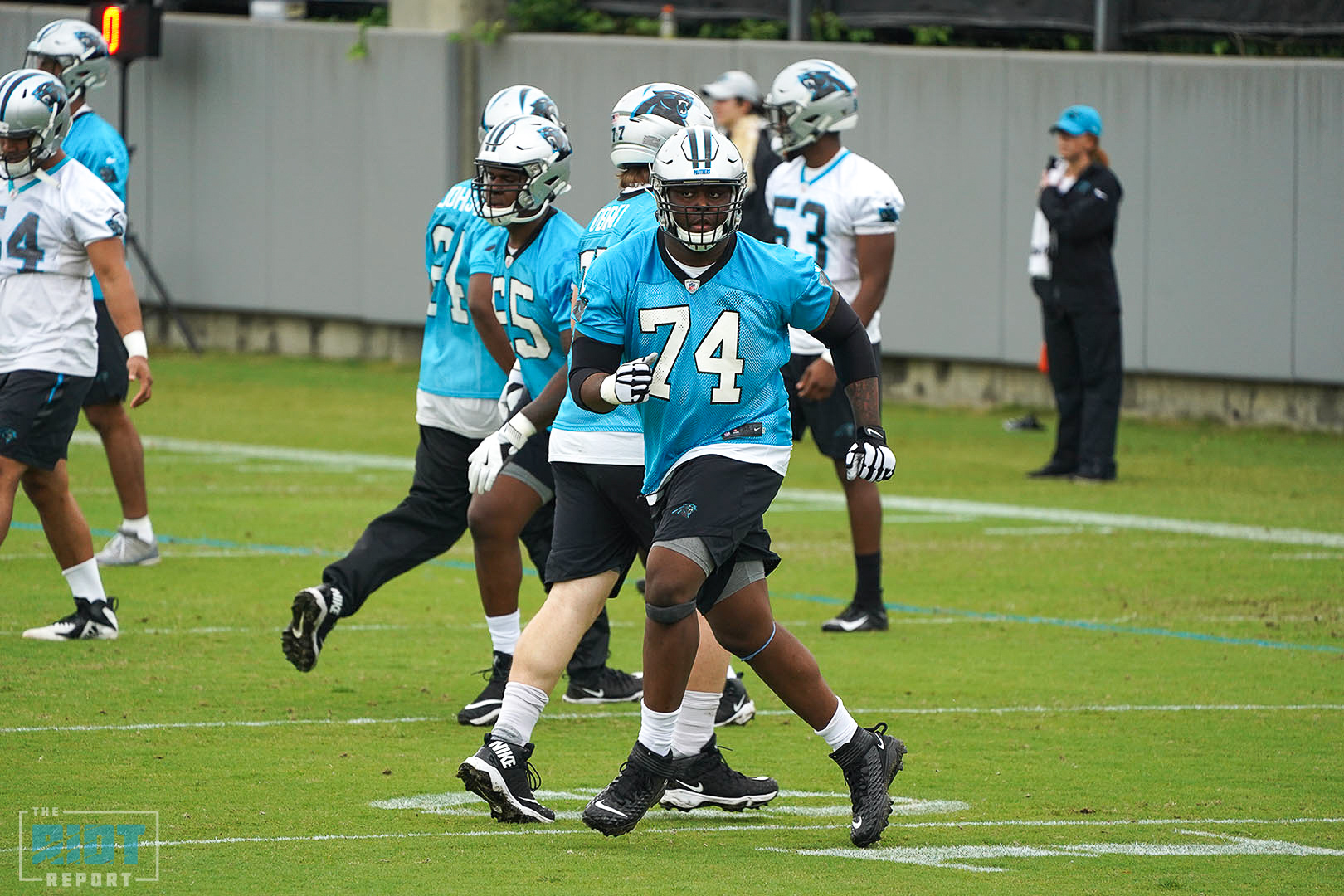 That means sweating the small stuff like going over game notes, practice notes and studying the proclivities and skillsets of the defenders lined up against them each week – Moton keeps notes of the tendencies of his opponents he sees on tape and reads them before the game to be fully prepared.
Moton, along with returning Pro Bowler Trai Turner and the rest of the offensive line, will hope to improve on a season in which they allowed pressure, but ultimately allowed the fifth-fewest sacks per pass attempt in the NFL over the course of the season. The patchwork offensive line allowed only 12 sacks during the first half of the season and helped the Panthers jump out to a 6-2 start – but the wheels came off during the second half of the season as the line allowed 20 sacks during the final eight games.
Even as veteran journeyman Chris Clark eventually gave way to Marshall Newhouse opposite from him, Moton continued to be a bright spot on the line, securing the third highest pass-blocking grade, tying for fifth in pass-blocking efficiency and seventh in pressure rate allowed among NFL right tackles who played 500 snaps or more, according to PFF – all while he played on every offensive snap but five throughout the season.
He's continued working to get better and more cohesive with new additions like Matt Paradis and Little, even without the Panthers' franchise quarterback standing behind them during OTAs thus far.
"The most important thing is to get better and better day in and day out and continue to build that chemistry between us," said the ever-humble Moton. "We have great leaders like Trai, Matt Paradis stepping in and Daryl Williams coming back – so I think we have a lot of leadership in the group and a lot of people that can contribute and make sure [we] just keep blending and blending."
"Whoever the quarterback is, we make sure that our main job is to keep them upright and keep him protected."