On Sunday, as the Panthers disappointing season that will eventually be squarely at the crossroads at two eras of the Carolina Panthers comes to a close, there will be at least one memorable milestone that stems from the 2019 Panthers season besides a top ten draft pick and two consecutive seasons containing a seven-game losing streak as Christian McCaffrey needs 67 more receiving yards to become only the third man in NFL history to join the exclusive 1,000/1,000 club.
And he has a great shot at getting it – Sean Payton knows it: "We felt like we had a good plan last time, and he would've gotten in," the Saints coach said on a conference call when asked how to stop the Panthers third-year back. Interim offensive coordinator Scott Turner says the team is going to do "anything we can" to get the ball into McCaffrey's hands – the only question would be whether interim head coach Perry Fewell will pull McCaffrey before he gets the record….and that doesn't seem like it's going to stand in his way, either.
"We're going to try and win a football game. So he's our guy – if he eclipses the milestone, then so be it. But he's our guy and we're going to try and win a football game," said Fewell. "He'll want to be in there. Or he'll be battling me on the sideline, and that won't look too good."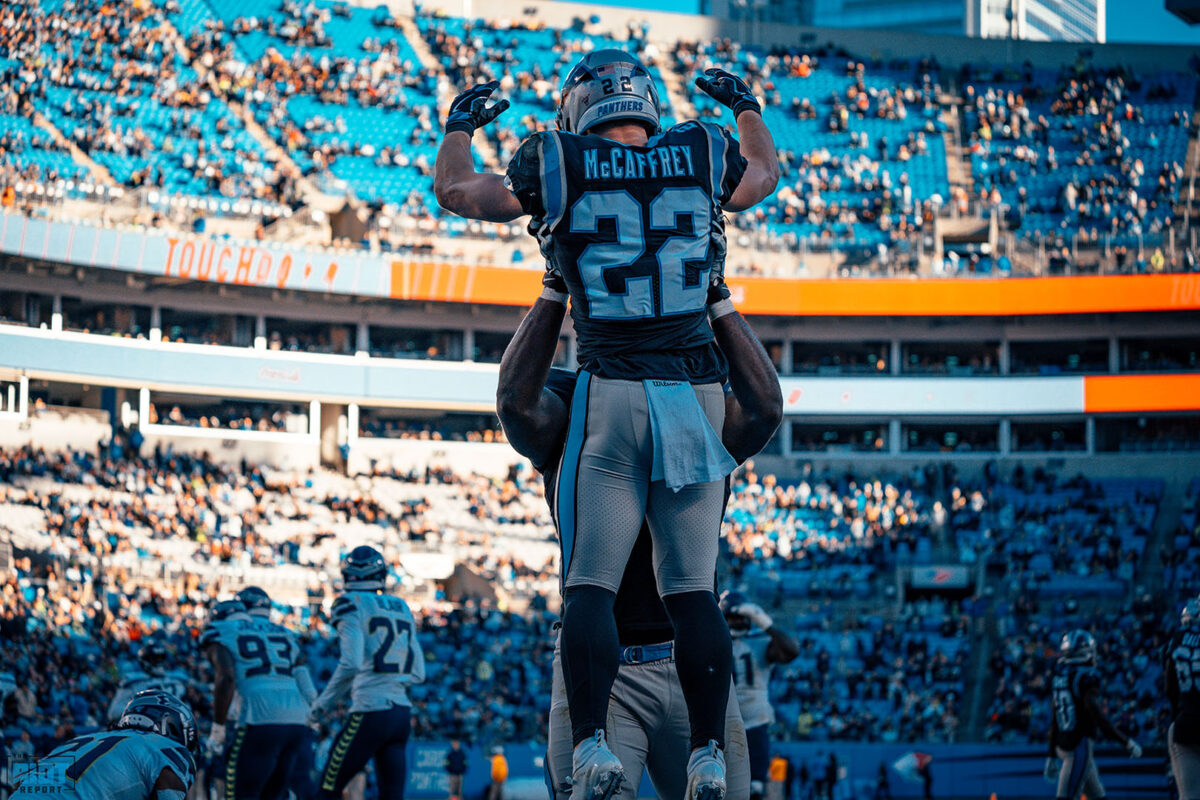 McCaffrey's opportunity to join legends like Marshall Faulk and Roger Craig – both of whom he's watched the tape on to try and improve his own game – is too good of an opportunity to pass up, and seeing as McCaffrey has gone over the requisite 67 receiving yards in five of his past six contests and the Panthers will likely be playing from behind, it seems as if the record is squarely in his sights, even if McCaffrey doesn't want to talk about it.
"It's one of those things where, obviously, there's a record out there that people are talking about, but at the end of the day, I'm just preparing to try and win a football game," McCaffrey said Thursday, sidestepping any questions that had the words 'thousand' or 'milestone' in them as deftly as he's avoided tacklers throughout the season.
While McCaffrey didn't want to talk about it, the rest of the locker room did – so we asked the folks that helped him get there, from the offensive linemen that blocked for him to the quarterbacks that threw him the ball, how it would feel to help McCaffrey get to the top of a mountain only two men before him have climbed.
They had a lot to say:
Will Grier: It'd be awesome. I want that for him; I think it would happen organically, I don't think I need to force anything to him. He seems to get a lot of touches on Sunday, so it's an honor to be a part of that in any way – obviously, pulling for him and hoping that we get there. [He doesn't] just run what it says on paper, he finds a hole, finds a soft spot, be friendly to me, so it helps a ton.
Kyle Allen: He helped me out a lot. He was always easy to throw the ball to – it's not like those throws were hard for me, a lot of them were just, 'Here, you do the rest,' so it's cool, man – it's cool to be his teammate, it's cool to be his friend, it's cool to see a guy accomplish a lot of things who sets the right example. It's a guy that I've looked up to since I've been here, even though we're the same age and we're friends since high school. It's cool to see someone do it the right way and be rewarded for it. If he doesn't do it this year, he'll do it this year or the year after.
It's going to be cool to see his name pop up and think that — *pauses for laughter* — I threw him a bunch of checkdowns to get him the ball – I don't know how much of it was YAC, but he made my job a lot easier.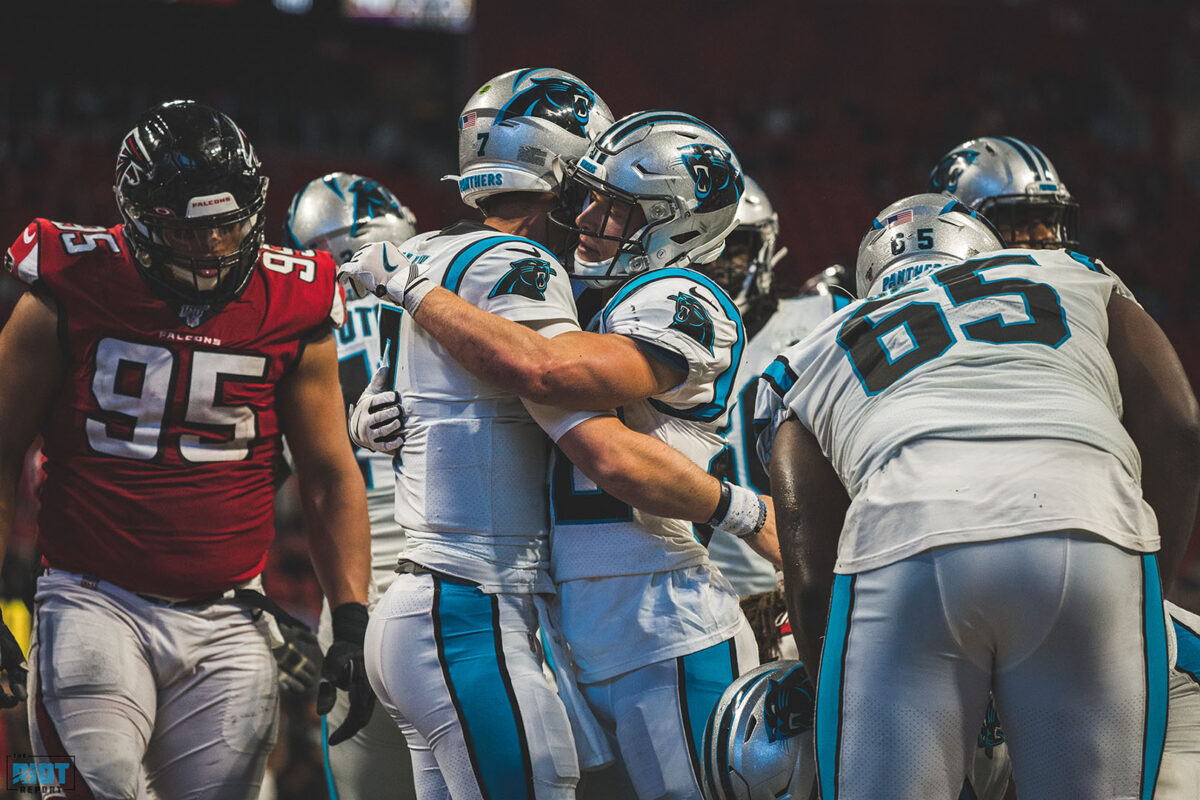 Daryl Williams: It means everything, man. Just to play with that guy is special, so hopefully we get it for him this Sunday. 
Taylor Moton: It'd mean a lot. He's obviously a great football player, but he's also a great person and I'm just happy and blessed to be able to be on the same team and him and help him accomplish everything he's got going on and has had going on all year. Ultimately, I'd just be really happy for him if he got the record and it'd just be cool to be a small part of that and helping by doing my job and help do his job to the best of his ability.
Trai Turner: It's amazing, man, first and foremost, for him. Everyone plays a part in it; I know he'll be the first to tell you that we play a big part in it, but him, being the guy that he is and the hard runner that he is and finding those tough yards – people don't see those two and three and four yard runs, that's big, man, because they may not be as exciting, but those are the things that really punish teams and help you to get going up front. You don't get those yards by accident. I couldn't be more happy for Christian. 
Dennis Daley: It's a great accomplishment, man. He's not a regular back – he's an elite back, a great back. It's an honor to lead up front; it's an honor to be able to say that I was one of the guys that blocked for him. I'm extremely proud of him, I'm glad he's able to accomplish everything that he's accomplished.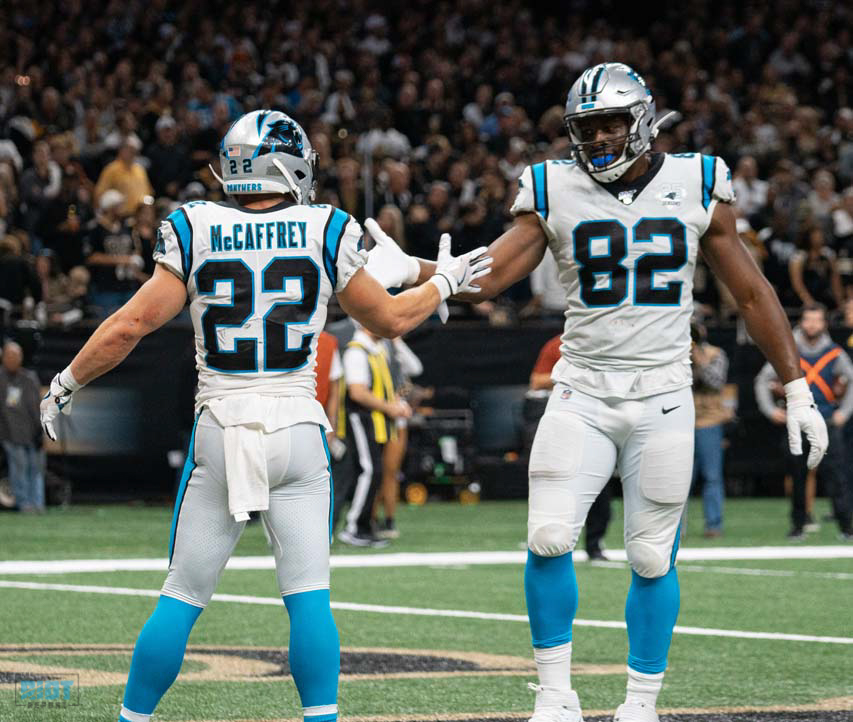 Chris Manhertz: It's definitely a good feeling knowing that you're a part of something like that – obviously, Christian has gone and put in the work, that speaks for itself, but knowing that there's a group of 10 guys out there blocking for him and making it possible, it makes it that much better. Numbers and these accolades and the 1000/1000, if you didn't know any better, you wouldn't hear it from him – he goes out there and he puts his hard hat on everyday, he's a pro and the results and the numbers speak for themselves. That's just a testament to what kind of player he is, how much attention to detail he pays and how much of a pro he is.
Eric Reid: In a season like we're having, it's definitely a silver lining. If I'm Christian, I'm definitely happy with the way I performed and what my contributions are to the team; it's something that you can be happy with, because you know that your hard work paid off and I hope that's a feeling that all of us can have. 
Luke Kuechly: It's a fantastic thing that he's on the verge of; it gives a lot of guys a lot of excitement, it gives us something to watch in-game when we're sitting on the bench. He's put on a show the whole year for us. We're very lucky to have a guy like that on our team and have somebody in the NFL and in this city that makes as many plays and is on the verge of something that not a lot of people can say that they've done.